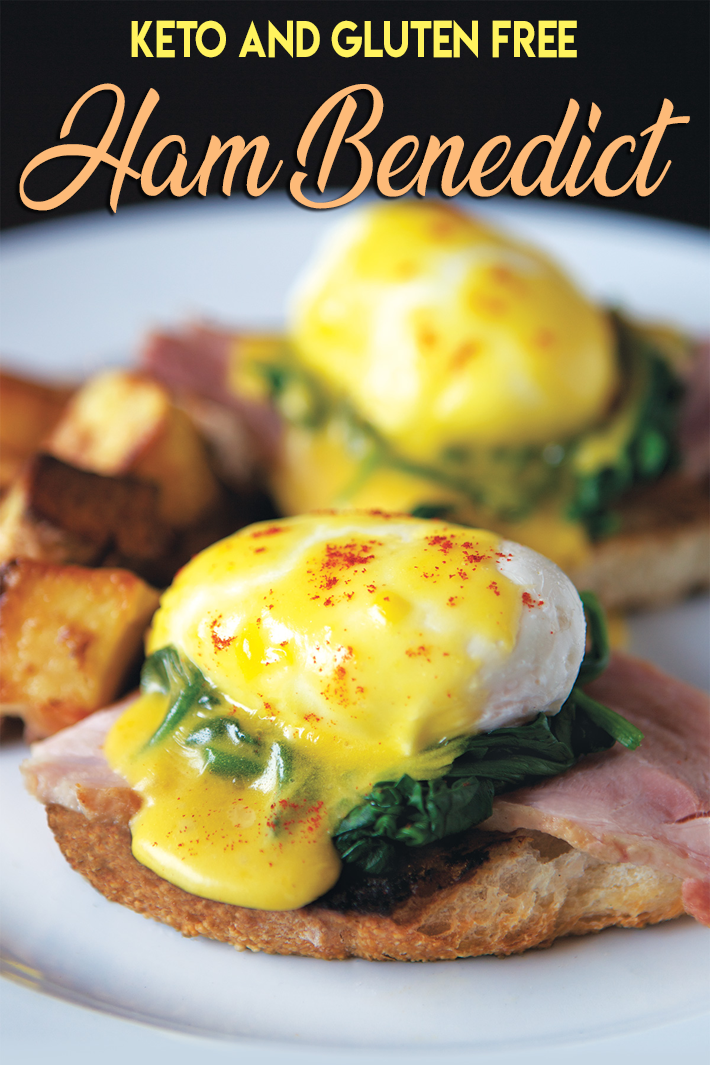 These Keto and Gluten Free Ham Benedict are the perfect idea for a lazy Sunday brunch!
I'm pretty sure the best thing about eating ketogenic and low carb is the ability to enjoy hollandaise sauce without guilt. Hollandaise tastes good on almost everything, but I think it tastes its absolute best on a poached egg. Simple, classic, delicious.
I'm a big fan of eggs benedict, and love to make it in a variety of ways — combining salmon, spinach, asparagus, steak, poached eggs, fried eggs, bacon, crab — the possibilities are endless!
This particular preparation is beyond simple. We had some extra ham on hand, prepared with a perfectly poached egg, and topped with the aforementioned hollandaise sauce. The toughest part of this is getting the egg right. A few years ago, my dad introduced me to Michael Ruhlman's badass spoon. This perforated spoon allows some of the less desirable whites to drain off before cooking so you're left with the meatier portion of the egg. Get yourself a badass spoon, and whip up some benedict for breakfast. Or lunch. Or dinner.
Keto and Gluten Free Ham Benedict
YIELD: basic recipe serves 1 and can be easily scaled to the number of servings you need.
HOLLANDAISE SAUCE:
2 yolks from large eggs
1 tablespoon of fresh squeezed lemon juice
1 stick butter
pinch of salt and pepper
pinch of paprika
PREPARATION:
Melt stick of butter in a pan or microwave
Place all other ingredients in your blender and pulse a couple of times until the ingredients are mixed
Using the little hole on the top of your blender (this is totally what it's for!) slowly pour the butter while you have your blender on low until fully incorporated, but no more than a minute.
Use immediately. I tend to discard any extras, as it is a recipe made of raw egg yolk.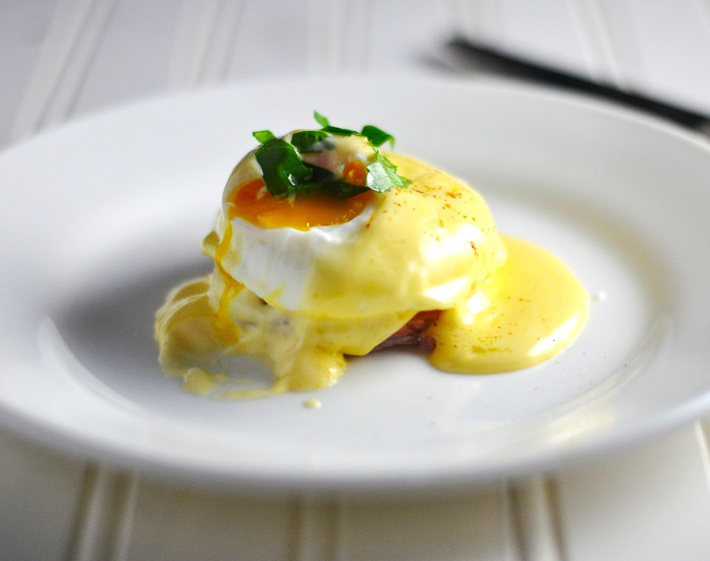 INGREDIENTS:
1 egg
hollandaise sauce
ham steak or a few thin ham slices
1 tbsp butter
1 tsp chopped parsley
salt and pepper to taste
pinch of paprika
PREPARATION:
Fill a saucepan about 2-3″ with water, enough water so you'll be able to cover eggs completely. Turn heat on high and bring to a low boil.
While the water is boiling, fry ham steaks in butter in a small pan to brown a bit on each side, about 90 seconds per side.
When water comes to a low boil, crack your egg(s) and gently ease them one by one into the pan (I use my perforated spoon to do the job).
Place cover over pan and turn off heat. Allow egg to cook in the pan for 5 minutes. The recipe is best (at least in my opinion) with a runny egg, so you'll want to experiment with times to get you to the desired doneness. I find five minutes to be just about right, especially if I have multiple eggs in the pan, maybe slightly less time for just one egg.
Use the spoon to remove your egg. Drain onto paper towel to remove any excess water.
Place ham steak on plate, add egg and top with hollandaise.
Garnish Ham Benedict with chopped parsley, paprika, salt and pepper. Enjoy!
Nutritional Info per serving: 249 calories, 18 g fat, 3 carbs
Source: modernlowcarb.com