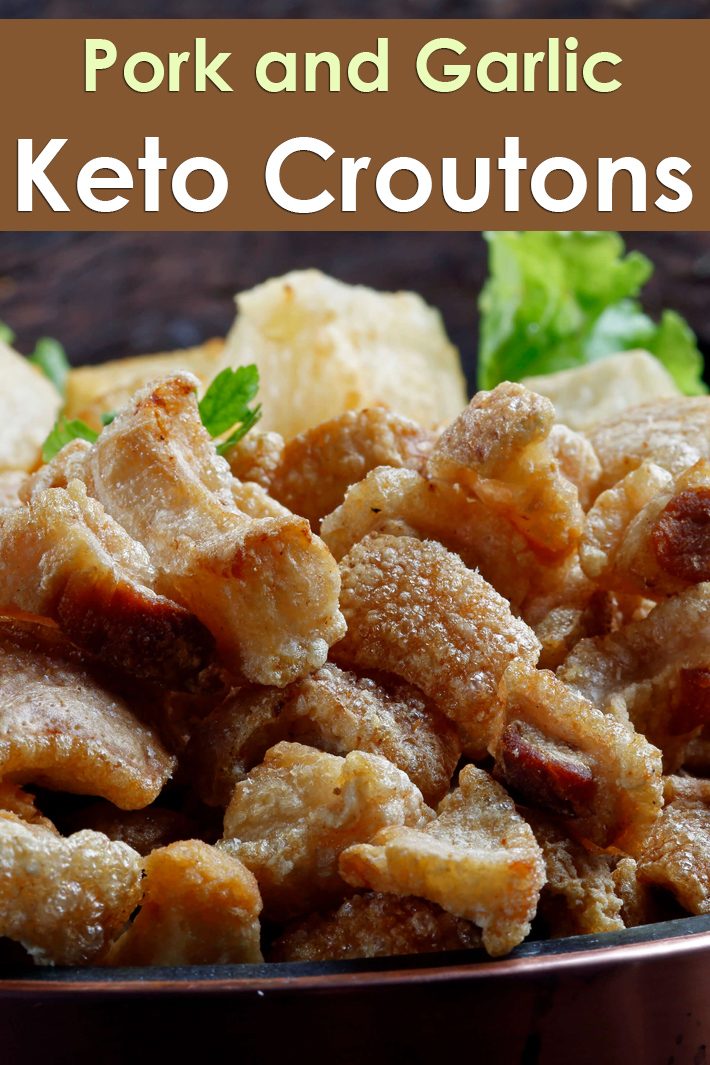 Do you miss the bold crunch of croutons on your salad? Do you want seriously delicious and simple keto croutons? If the answer is yes, then you have to try out this simple keto croutons recipe!
Pork and Garlic Keto Croutons
YIELD: serves 1 to 4    Cook Time: 4 minutes    Prep Time: 2 minutes
Ingredients
1 ounce fried pork rinds (Utz)
1 tablespoon unfiltered extra virgin olive oil
1 clove garlic, peeled and sliced thin
granulated garlic
kosher salt
fresh ground black pepper
Instructions
Pick out the smallest pork skins in the bag. UTZ pork skins are the best for having smaller pieces!
Heat olive oil and sliced garlic clove in a small nonstick, oven safe, skillet over medium high heat. When garlic JUST begins to turn golden, remove and reserve. Tump pork skins into hot oil. Remove from heat. Add granulated garlic, kosher salt, and freshly ground black pepper. Keep tossing the oil and pork skins to get them to absorb as much oil as possible. Finish for 3-4 minutes in a preheated 350° oven until pork rinds are very crispy. Remove from heat, add the garlic slivers back to the skins, and serve immediately on top of salads or soups.
Nutritional Info
Per 1 ounce serving:
286 Calories;
24g Fat (77.6% calories from fat);
14g Protein;
1g Carbohydrate;
trace Dietary Fiber;
1g Effective Carbs
 

Please follow us on Pinterest and enjoy our collection of recipes, crafts, fitness, health tips, gardening, DIY and more…