15 Minute Easy Donuts From Scratch
These 15 Minute Easy Donuts From Scratch, light and fluffy cake donuts are so incredibly delicious you may end up eating the whole batch! If all cake donuts recipes were this quick, easy and scrumptious, we'd be in serious trouble!
This quick and easy donuts recipe is one that I make a lot more often. It's simple delicious!
Ingredients for Easy Donuts From Scratch:
1 1/4 cups all-purpose flour
2 tsp baking powder
1/4 tsp salt
1/4 cup milk
1/4 cup buttermilk
1/4 cup granulated sugar
3 Tbsp melted butter
2 cups vegetable oil , for frying
Granulated sugar , cinnamon sugar or powdered sugar, for coating
Instructions:
Preheat oil over medium heat in a 10 inch non-stick fry-pan (keeping an eye on it as it is heating).
In a small mixing bowl, whisk together flour, baking powder and salt.
In a medium mixing bowl, whisk together milk, buttermilk, sugar and melted butter.
Using a fork stir in dry ingredients and mix just until combine (think of making biscuit dough, you just want to incorporate the ingredients).
Once the oil has reached 350 degrees, measure out 1/2 tablespoonfuls dough and using your hands gently roll into a ball (gently rolling to keep them fluffy, think of rolling something really fragile. Again this is like a biscuit dough you don't want to overwork it).
Gently place dough ball into oil and fry until golden brown on bottom then flip and cook reverse side until golden brown.
Carefully remove with metal tongs or a fork and drain onto a paper towel lined plate.
Roll in sugar.
Repeat this process with remaining dough (you can fit about 8 donuts in the pan at once if you can work that fast :).
Note:
These are best enjoyed the day they are made, but if you want to frost the doughnuts, allow them to drain on paper towels and cool completely first, then dunk the top half into any type of glaze or frosting you prefer.
 

Please follow us on Facebook Page and enjoy our collection of recipes, crafts, fitness, health tips, gardening, DIY and more…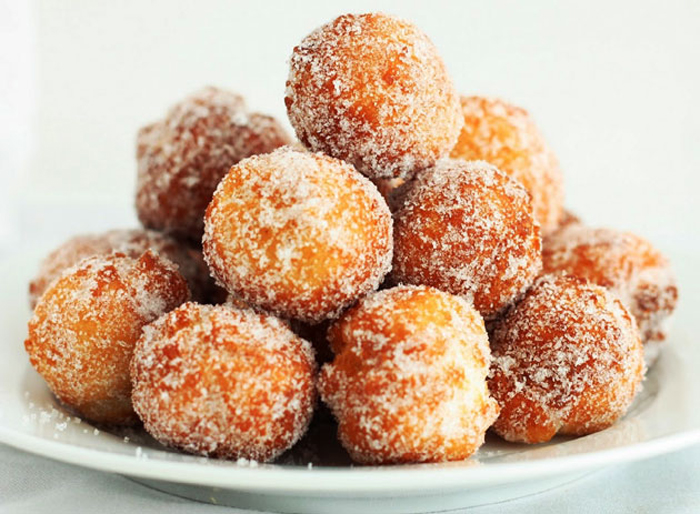 Source: cookingclassy.com