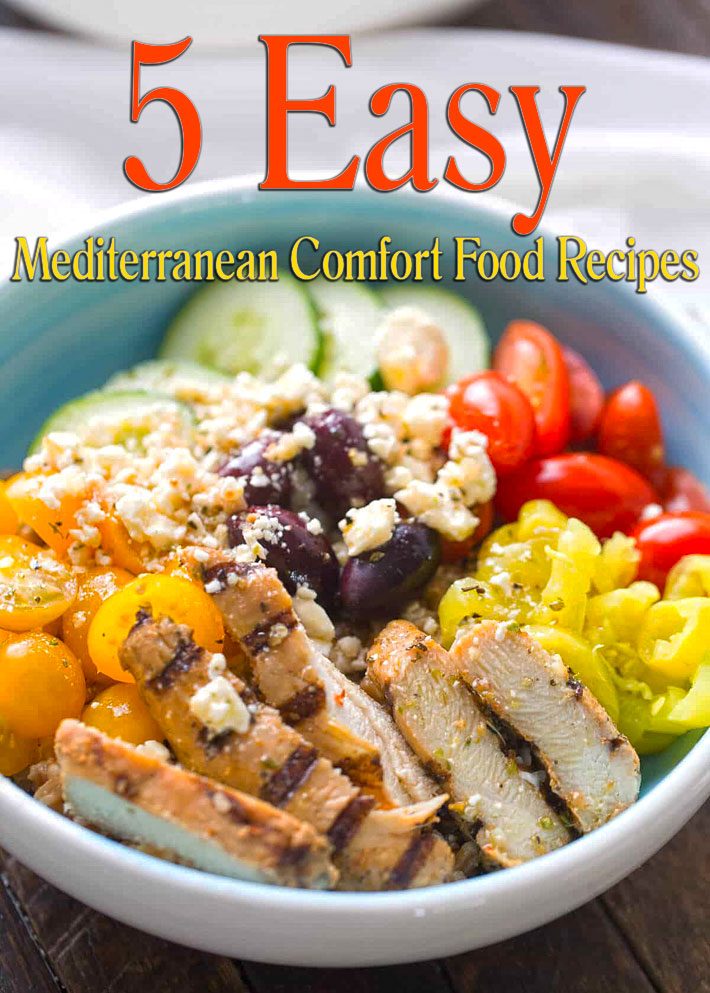 Your resolve to eat healthier just got easier. It's possible to eat hearty meals without putting on the pounds by taking a cue from the cuisine of the Mediterranean, which relies on olive oil, nuts and spices to deliver flavor, while fish, beans and vegetables provide the backbone of this healthy cuisine.
And the good news keeps on coming. A new study cites the overwhelming advantages of a Mediterranean diet, which dramatically trims the risk of heart disease and stroke while still allowing plenty of indulgences: dark chocolate, nuts and red wine are firmly on the menu. Read more about the wide variety of foods available, and try one of these five recipes that don't substitute flavor just to save a few calories.
5 Easy Mediterranean Comfort Food Recipes
Chicken With Orzo Pasta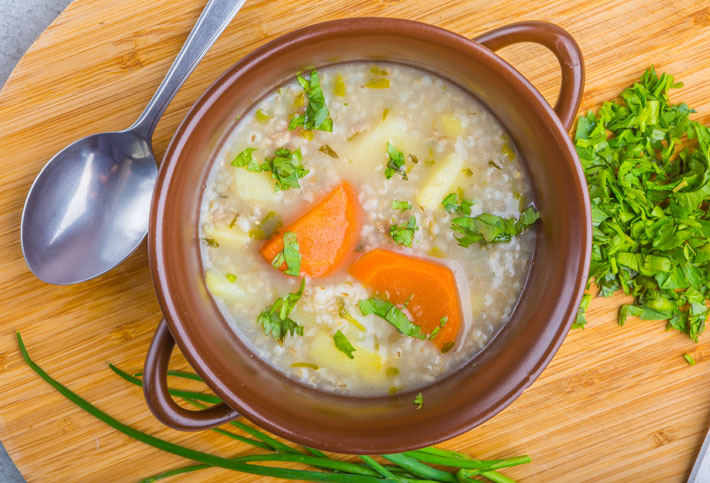 Here's a hearty soup for cold afternoons. The longer it simmers, the better it tastes.
Ingredients
1 pound new winter potatoes, sliced
3 carrots, chopped
1 white onion, sliced
2 pieces celery, cut lengthwise and chopped
2 tablespoons olive oil
4 ounces cremini mushrooms, sliced thin
1 tablespoon dried oregano
1 tablespoon dried parsley
Half rotisserie chicken, white and dark meat
1 quart water
1 quart vegetable stock
8 ounces orzo
1/2 cup dry white wine
1 tablespoon sea salt
1 tablespoon red pepper powder
2 tablespoons cooking sherry
Time estimates
Prep time: 40 minutes
Total time: 1 hour 40 minutes
Directions
Heat oil in large heavy-bottomed cooking pot. Sauté onions and celery. Stir until onions are tender, 2 to 3 minutes. Add dried oregano and parsley. Continue stirring until fragrant, about one minute.
Add white wine, broth and water. Toss potatoes and carrots into pot. Bring contents to a boil over medium-high heat.
Add pasta. Cook contents for about 12 minutes or until pasta is tender. Reduce heat.
Place chicken, cooking sherry and mushrooms into pot. Add salt and red pepper. Simmer until ready to serve.
Serves: 4
BBQ Chicken Polenta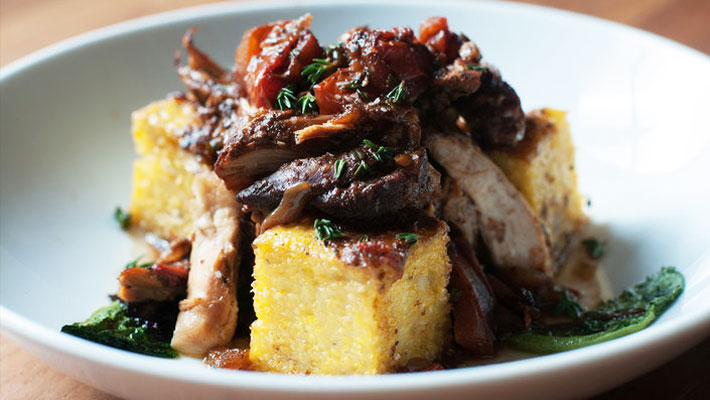 Stack shredded barbecued chicken on top of flying saucers of golden polenta to create a crowd-pleasing appetizer.
Ingredients
2 ripe avocados, mashed
1 lime, juice and zest
1 clove garlic, minced
3 tablespoons olive oil, divided equally
1 teaspoon sea salt
2 teaspoons plus 4 ounces water, divided
Half red onion, diced
1 tablespoon red wine vinegar
1 teaspoon sugar
Half rotisserie chicken, shredded dark and white meat
1 cup barbecue sauce
18 ounce tube polenta, cut into ⅓-inch to ½-inch sections
Time estimates
Prep time: 40 minutes
Total time: 60 minutes
Directions
To make the avocado spread, combine avocados, lime, garlic, 1 tablespoon olive oil, sea salt and 2 teaspoons water in large bowl. Stir until the consistency is creamy, about two minutes. Set aside and chill.
To make the barbecued chicken, heat 1 tablespoon of olive oil in large skillet. Add onions, vinegar and sugar. Stir gently until onions turn brown, about 10 minutes. Add rotisserie chicken, 4 ounces water and barbecue sauce. Salt to taste. Simmer over low heat.
Brush each cut section of polenta with olive oil. Place sections on a contact grill and heat until rounds turn golden yellow, about 10 minutes. Remove from grill and allow polenta to cool.
Using a teaspoon, place a dab of avocado sauce and barbecued chicken on each polenta round. Serve warm.
Makes about 18 rounds
Rosemary Oven Fries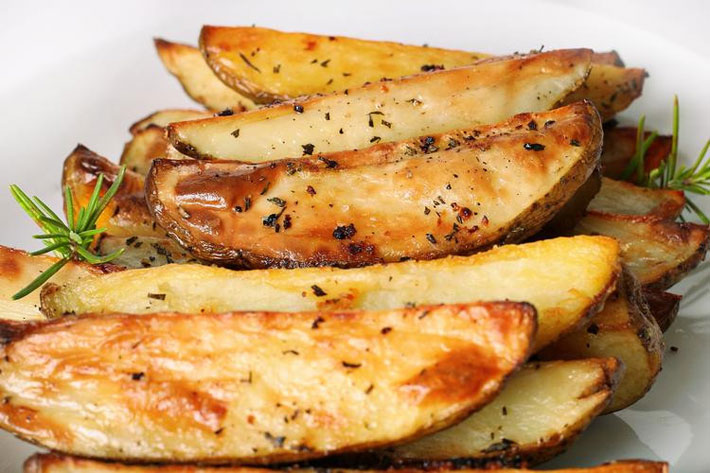 Fries that are crispy on the outside and soft in the middle are a perfectly delicious way to warm cold fingers.
Ingredients
1 1/2 pounds sweet potatoes
1 1/2 pounds new winter potatoes
2 tablespoons olive oil
3 sprigs fresh rosemary
1 teaspoon sea salt
Time estimates
Prep time: 15 minutes
Total time: 40 minutes
Directions
Preheat oven to 425 degrees Fahrenheit
Peel, halve and quarter potatoes. Place in mixing bowl of cold water. Remove potatoes after about 10 minutes and pat dry with paper towels.
Remove water from mixing bowl. Combine potatoes with olive oil. Stir until potatoes are evenly coated.
Place potatoes on lightly coated baking sheet. Sprinkle with salt and top with rosemary sprigs.
Place baking sheet on middle rack of oven, after 12 ten minutes turn baking sheet 180 degrees, from back to front. Flip fries with spatula. Cook for about 12 more minutes, or until edges of fries turn brown and the skins are crispy.
Serves 4 to 6
Swiss Chard and Spinach Pasta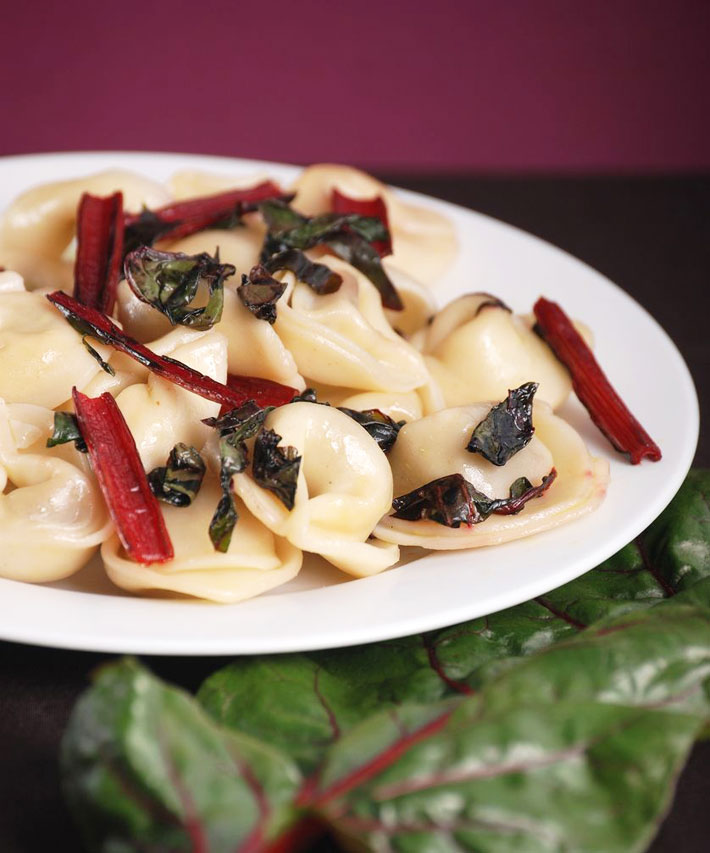 Instead of smothering pasta in heavy sauce, why not bring out the best in vegetables with olive oil and pine nuts?
Ingredients
8 ounces fresh Swiss chard, chopped coarsely
8 ounces fresh spinach, chopped coarsely
2 tablespoons olive oil, divided evenly
1 clove garlic, minced
2 tablespoons pine nuts, toasted
2 tablespoons golden raisins
8 ounces dry pasta
2 ounces Romano cheese, grated (garnish)
Time estimates
Prep time: 10 minutes
Total time: 30 minutes
Directions
Rinse vegetables and pat dry on paper towels. Cut off lower part of stems. With your fingers, roll leaves and chop into bite-sized sections.
Bring large pot of water to rapid boil. Toss pasta into pot. Add dash of salt and a few drops of olive oil. Cook until tender, about 12 minutes. Turn off heat. Drain contents and return pasta to pot.
Meanwhile, heat 1 tablespoon olive oil in large skillet. Sauté garlic over medium-high heat about two minutes.
Add remaining olive oil along with spinach and chard. Stir and reduce heat when leaves begin to wilt, two to three minutes.
Add pine nuts and raisins to frying pan. Stir gently about one minute and remove from heat.
Add contents of frying pan to pot of cooked pasta. Blend contents over low heat. Serve warm.
Serves 4
White Beans With Sage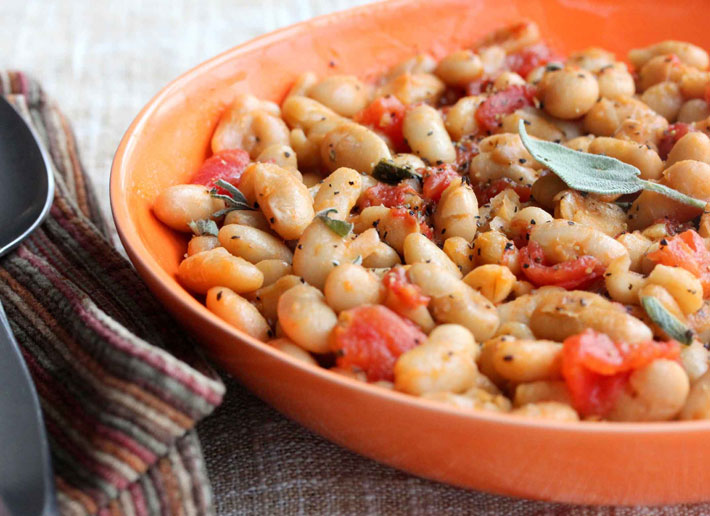 This is a quick-to-prepare soup, but the longer it simmers the better it tastes.
Ingredients
2 15.5-ounce cans cannellini white beans, drained
1 28.5-ounce can diced tomatoes
1 medium yellow onion, diced
2 carrots, chopped
1 celery stalk
2 tablespoons fresh sage, minced
4 tablespoons pine nuts, toasted
Half lemon, juice
2 sweet Italian sausages, cooked (Carnivores can add before serving.)
Time estimates
Prep time: 15 minutes
Total time: 40 minutes, plus 16 hours to cool
Directions
Heat olive oil in large heavy-bottomed cooking pot. Sautee carrots, onions and celery until onions turn soft, two to three minutes. Add sage and cook until fragrant, about one minute.
Add tomatoes and heat through allowing the surface to bubble, about 10 minutes.
Add beans, lemon juice and pine nuts. For best results refrigerate overnight.
Serves 4
Source: mnn.com