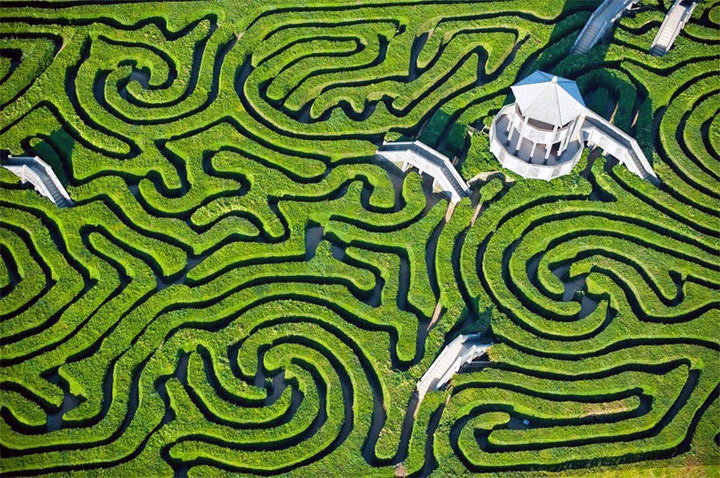 What do you picture when you think of a hedge maze? Lovely ladies strolling through fastidiously trimmed hedgerows in the countryside? Or an extended panic attack?
Whatever you imagine, a journey through one of these giant interactive puzzles can be both relaxing but also confusing. It depends on how you feel about dead ends, wrong turns and the possibility that you might spend an afternoon utterly lost.
With the advent of computer-based landscape design and smartphones, hedge mazes have evolved since their heyday in Renaissance England. Back then, they were a horticultural must-have that served a dual purpose: looking pretty and providing a delightfully disorienting outdoor diversion. Although they still do both those things, modern hedge mazes now are bigger, badder and far more bewildering than their well-pruned 18th century predecessors.
We've rounded up eight exceptional mazes currently open to the public. All but one of our picks is a classic garden maze. Most of them, not surprisingly, are located in the ancestral home of the garden maze: England.
Pineapple Garden Maze
One of only a small handful of permanent botanical mazes remaining in the United States, this tropical fruit-themed labyrinth is on the grounds of Ohau's Dole Plantation, "Hawaii's Complete Pineapple Experience." According to the Guinness Book of World Records, it's the largest maze in the world at more than three acres with over two-and-a-half miles of winding pathways and 14,000 native plants.
Sure, a potential anxiety-inducing stroll through a plus-sized pineapple puzzle may not be on the top of your relaxing Hawaiian getaway list. But, if anything, a visit to the maze is a good way to walk off those Lava Flows you guzzled the night before. It's Hawaii, so bring water and plenty of sunscreen. And provided that you eventually find your way out, save room for a Dole Whip as a celebratory treat.
Hampton Court Hedge Maze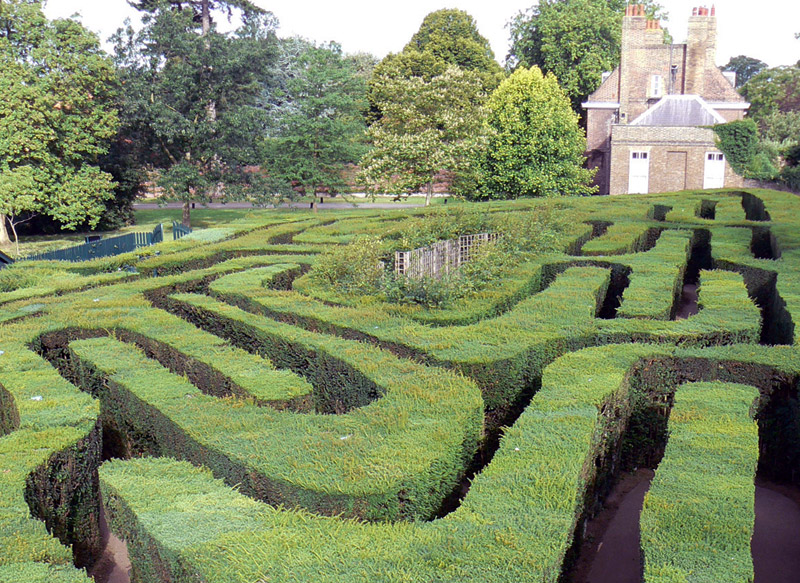 The grand dame of Elizabethan hedge mazes, this popular, trapezoid-shaped feat of landscape architecture in Surrey, England, has been delighting and disorienting visitors since the late 1600s. It's the oldest surviving maze of its kind in the U.K.
The maze was designed by 17th century horticultural superstars George London and Henry Wise for King William III and Queen Mary II. The 1/3-acre maze with its 7-foot tall yew hedge walls marked a departure from popular garden maze design. It was created with a multicursal (multiple paths with numerous dead ends) instead of a unicursal (single path) configuration, making it a pioneer of puzzle mazes. The Hampton Court Hedge Maze is still one of the hottest outdoor attractions at Hampton Court Palace along with a plus-sized grapevine planted in 1769, the famed rose garden and a magnificently restored royal kitchen garden.
Longleat Maze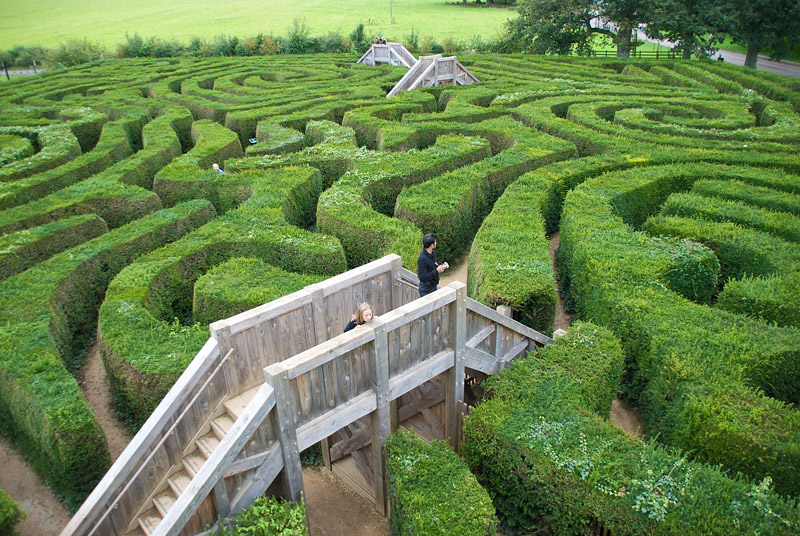 Wild beasts normally found on the Serengeti. Check. Elizabethan county manses filled with antiques. Check. Alien spacecraft. Check. The world's longest hedge maze. Check.
It would appear that Longleat, a sprawling 16th century country estate in Wiltshire, England, truly has it all. It's perhaps best known for being home to the first drive-through safari park outside of Africa and located about 20 miles west of another confounding and quintessentially British tourist attraction, Stonehenge. The Hedge Maze at Longleat is a relatively new addition to the estate having been commissioned in the mid-1970s. It's composed of 1.69 miles of twisting pathways and tended to by stilt-wearing gardeners. The most notable feature of this massive interactive puzzle are the six elevated bridges that help befuddled visitors keep an eye on their goal: the observation tower in the middle of the maze. And contrary to what some publicity shots may lead you to believe, you won't find safari animals roaming among the maze's 16,000 yew trees.
VanDusen Botanical Garden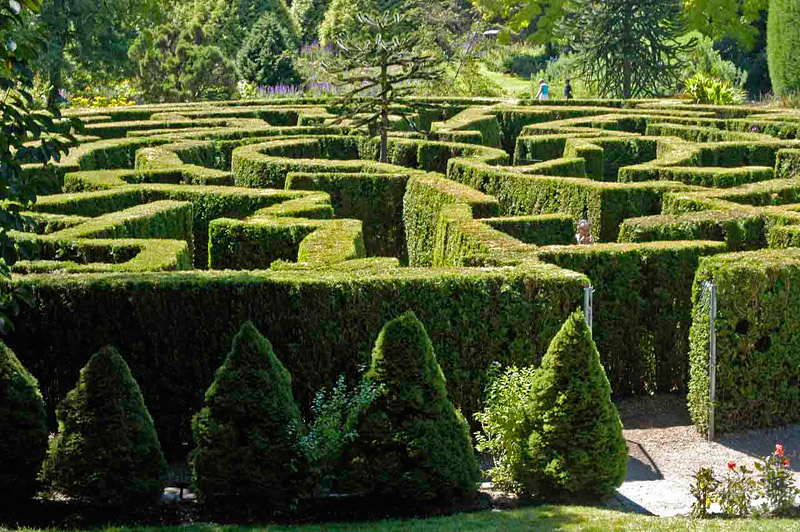 While not particularly big, old or gimmicky, the classic Elizabethan hedge maze at VanDusen Botanical Garden in Vancouver is incredibly pretty.
Planted in 1981 with 3,000 pyramidal cedars, the maze is a perfect place for quiet contemplation. You'll find it on the far west side of the garden near the apiary, the fern dell and the veggie patch. Just be sure to get your bearings before the gardens close for the night. It's just one photogenic horticultural highlight of this superb 55-acre facility. Aside from the plant collections themselves, don't miss the botanical garden's visitor centre, a gorgeous work of sustainable architecture designed to meet the super stringent criteria established by the Living Building Challenge.
Maze at Leeds Castle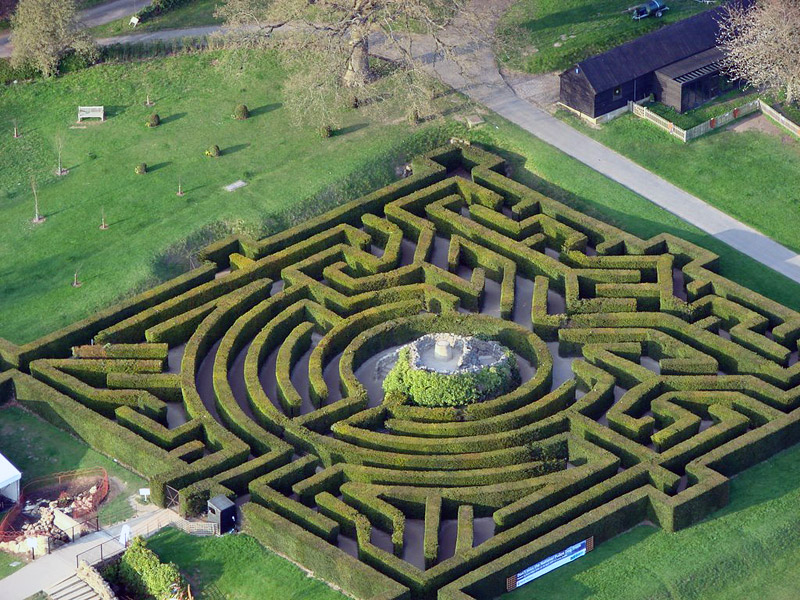 What this newbie on the British garden maze scene lacks in history, it makes up for in difficulty and the treat that awaits visitors at its center.
Opened in 1988 along with a now-shuttered aviary, the Maze at Leeds Castle in Kent, England, is perhaps best known for the underground grotto that dazed maze-goers eventually stumble across at the end of their confusing journeys. Populated by seashell-adorned, rock-carved mythological monsters, the "secret" grotto is attached to a tunnel that also conveniently serves as the exit. That way you don't have to spend another 30 minutes backtracking your way out. The maze has 2,400 yew trees and is shaped like a queen's crown and chalice as a nod to the medieval castle's former royal lady-residents. And once you've emerged from the underworld, don't forget to pay a visit to the, yes, Dog Collar Museum, also at Leeds Castle.
Peace Maze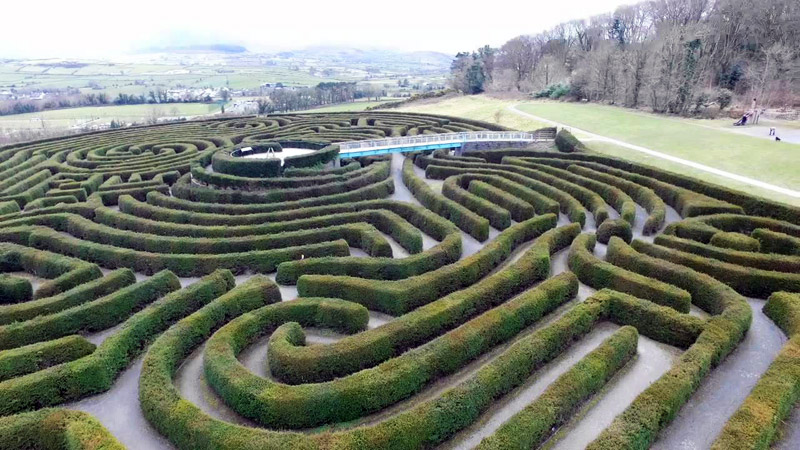 Peace may not be what you experience while wandering lost inside this much-visited permanent maze. However, peace — specifically, a peaceful future for the people of Northern Ireland following decades of violence and strife — was the catalyst behind this nearly 3-acre maze sporting over 2 miles of paths.
Opened to the public in 2001, the Peace Maze at Castlewellan Forest Park was largely funded by the European Union Special Support Programme for Peace and Reconciliation in Northern Ireland. Conceived by landscape architect Beverly Lear with design input from thousands of local school children, the 6,000 yew tree maze was actually planted by residents of Northern Ireland during community planting days.
In a highly symbolic deviation from standard hedge maze design, the walls within Peace Maze are markedly lower in order to encourage cooperation between maze-walkers. And once the center of the Peace Maze is reached, visitors ring the Peace Bell — one of the most frequently rung bells in Northern Ireland — to announce their accomplishment to the world. The Peace Maze was the world's largest maze until Dole's Pineapple Maze stole the top spot in 2007.
Samsø Labyrinten
Want to tackle mazes that are relatively compact and immaculately manicured? Go elsewhere. This daunting and huge labyrinth on the wind-powered Danish island of Samsø also once held the title of largest maze in the world per the folks at Guinness.
In a departure from the other mazes on the list, Samsø Labyrinten is much more a forest maze than a proper garden maze. Its disorienting networks of frequently dead-ending pathways are lined by more than 50,000 mature trees instead of neatly trimmed hedges. Roughly the size of a dozen soccer fields, the over 646,000-square-foot maze is also home to a variety of animals including deer, fox, hare and a whole lot of birds. Don't count on these woodland critters, however, to point you in the right direction. It's all very "Blair Witch Project" meets "Alice in Wonderland" with an ample dose of Norse mythology.
Villa Pisani Labirinto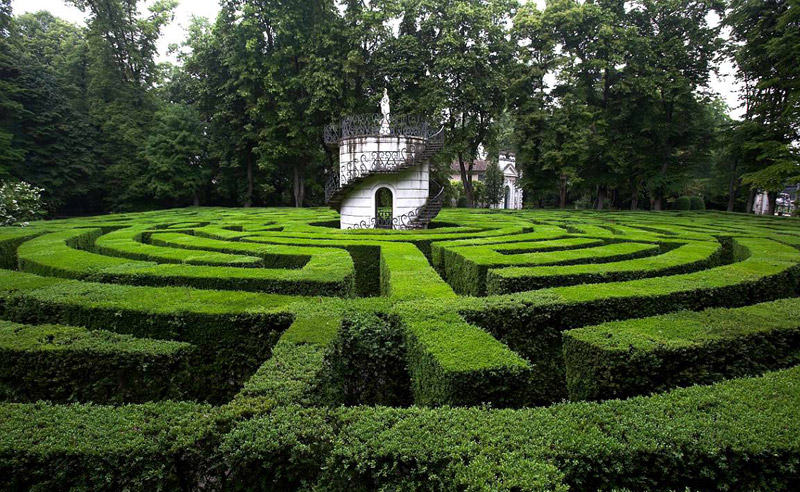 For those who have found themselves becoming a bit panicky while attempting to navigate the famously formidable garden maze at Villa Pisani, you're in good company.
Legend has it that Napoleon Bonaparte, a former owner of the uber-ornate 18th century Venetian villa in Stra, Italy, got himself good and lost within il labirinto and subsequently steered clear of it. (Perhaps it was the maze's extra-high walls that lead the diminutive French conqueror, for only the second time in his life, to surrender.) Some years later, at the beginning of the 21st century, the author of this article followed in Napoleon's bewildered footsteps and failed to make it the center of il labirinto as well.
Source: mnn.com