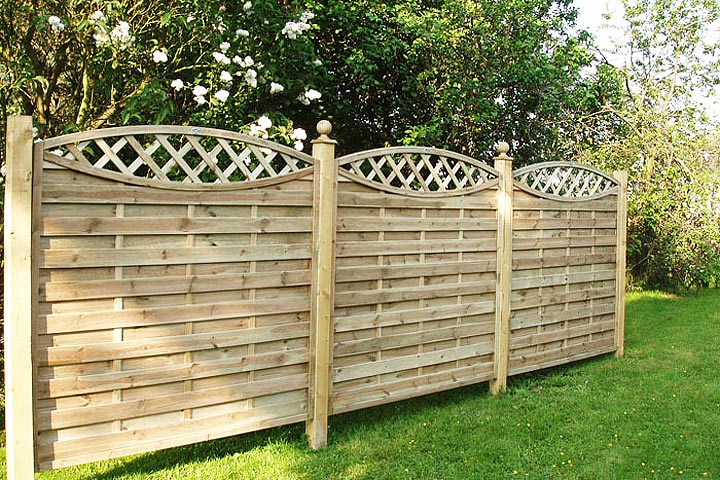 Fencing is versatile and has many uses in the small-space garden. High panels of solid fencing can be used to create a wall-like barrier that will provide privacy and shelter.  Fences are also cheaper, easier to erect, and lighter than walling-in your garden (thus ideal for roof-spaces and balconies). Openwork fencing, or trellis, is often used to decorate or extend the height of existing walls. Other types of garden fencing can be used as a boundary demarcation.
Rather than acting as a barrier, boundary fencing will give you a glimpse of the outside world and increase the feeling of space in your small patch. Within a small garden space, different types of fences can be used to screen unsightly structures, provide shelter (for both people and plants), create secluded areas, frame interesting glimpses or features, or as a decorative support for climbing or trailing plants.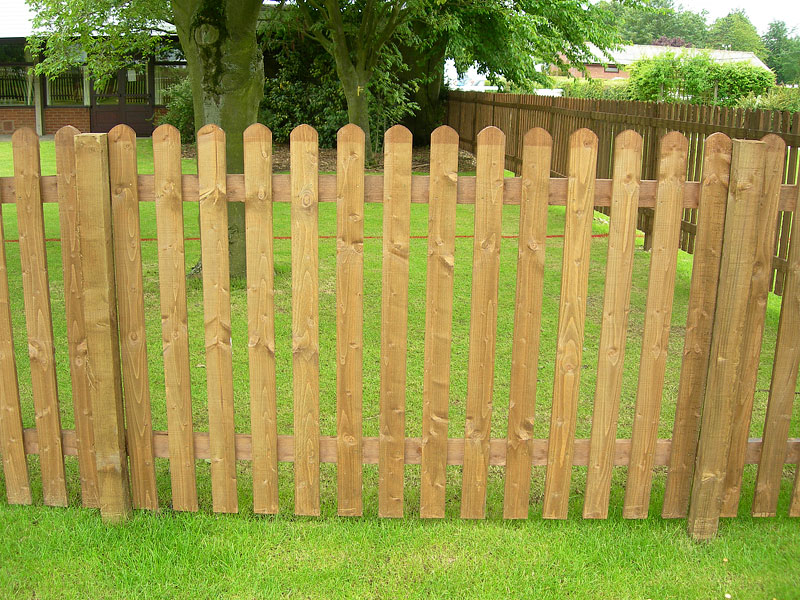 There are countless types of fences. Some are prefabricated, such as "larchlap" fencing or trellis, which is bought in panels. Others can be constructed, for instance chain link held in a wooden border, or bamboo fastened to rush matting. Depending on the height and shape of a garden fence and the material from which it is made, the finished effect will range from crisp and architectural to natural and rustic. Your choice will depend on what kind of barrier you need as well as the color and texture of the other materials used in your garden, such as brick, concrete, wood or metal.
Decorative Divisions
It is often necessary to create some sort of division between a garden space and its surroundings. You may need to divide your small front yard from the street. Or you may want to replace a low chain and post fence that divides your strip of garden from its neighbors with something that gives you at least some measure of privacy. Before choosing a particular type of garden fence, ask yourself a few questions. Do you want to seclude your space from the outside world? Or do you just want some sort of attractive boundary demarcation? Or do you want to retain the pleasant view on one side of your garden and hide an ugly building on the other?
Fencing All Around
In our zeal to give ourselves privacy and/or shelter, we all too often box in our space with high, solid fences, which exaggerates the limitations of the garden size and can make it feel claustrophobic too. There are several ways of minimizing this effect. One is to balance the area of fencing visually with a strong structural pattern within the garden, as you might if your space were surrounded by high walls. Another is to soften the outline of the fencing with bold masses of plant material. Fences will keep pets and children in as well as defining the boundaries of your garden.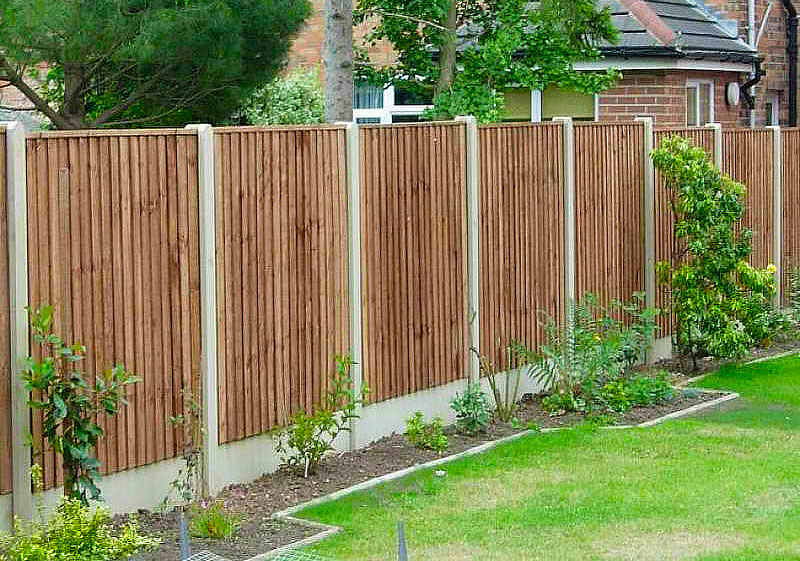 There are numerous types of open fencing (chain link and trellis to name two); choose one that complements the style of your garden space. Openwork fencing is a good support for climbing plants, which are ideal for small gardens because they take up so little ground space. They can be used to infill areas of see-through fencing to provide seasonal or year-round shelter and privacy, or grown up trellis-work to decorate a wall. Wires stretched between timber verticals make an excellent form of fencing/plant support and can be easily constructed. Fencing is much lighter than walling and thus can be used to give a balcony or roof-space privacy and shelter, without imposing too much strain on the structure. Make sure that you are not infringing any planning regulations and that the fence is well secured so that the wind does not blow it over.
Fencing Within the Garden
Fencing (including railings or a metal fence) can be used within your garden space as well as around it. It can be used to hide parts of a garden you would rather not see—garbage cans, an oil tank, or a compost heap, for instance. Woven panel or close-board fencing will do the job admirably, as will open fencing covered with an evergreen climber.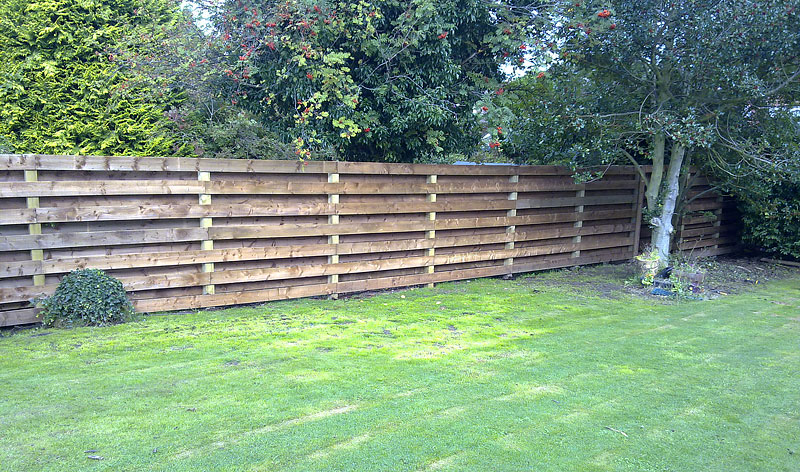 A small area used for eating or sunbathing will assume a room-like atmosphere if it is either partially or completely screened by fencing and, depending on your choice of fence, will offer privacy and shelter from the wind. Screens made from fencing can be used purely for their visual effect too, to frame a feature within the garden—a piece of sculpture, for instance—or just to create interesting shapes in their own right. Another advantage is that a glimpse through a trellis or any other type of closely spaced screen will, by blurring the outlines of what lies beyond, give the smallest of spaces an illusion of size.
Choosing a Fence
Garden fencing should suit its purpose as much as its location. Black trellis-work, for instance, would make a sophisticated screen for an eating area, with minimal planting and chic, black furniture, whereas plain timber picket fencing would make a simple, decorative boundary between a small, country-style town garden and the street. Plastic, metal, and timber are the most common fencing materials (concrete is usually only used for fence posts). Many types of fences are prefabricated and are assembled on site, but some such panels may be too large for your site. By designing your own fencing, you can tailor it to fit the exact dimensions of your space, and to suit the style of the rest of your garden space.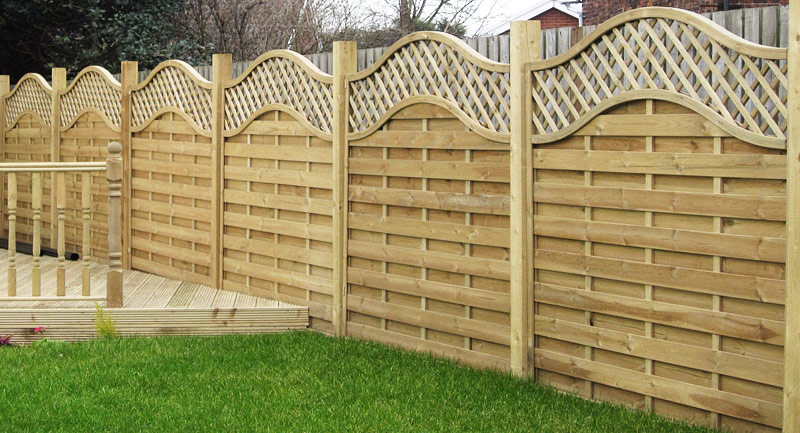 Plastic suits urban locations better than rural ones and is maintenance free. Most prefabricated, plastic fencing is low-level and serves to define a boundary rather than enclose it. Metal fencing in the form of rolls of wire mesh and chain link (sometimes covered in plastic) is ideal for curving around awkwardly shaped spaces. It can be supported by metal, concrete, or timber verticals, or fixed into a frame. There is a style of timber fencing to suit just about every practical purpose and every location.
Unless you use very expensive hardwoods, timber must be stripped of bark and then treated with a wood preservative, or sealed and then painted, to prevent decay. Timber rots if left in direct contact with the ground, so timber verticals should be placed in a metal shoe, which in turn should be set in a concrete foundation, and timber fencing panels raised slightly above the ground.
Source: Small Garden © 2006 Dorling Kindersley Limited