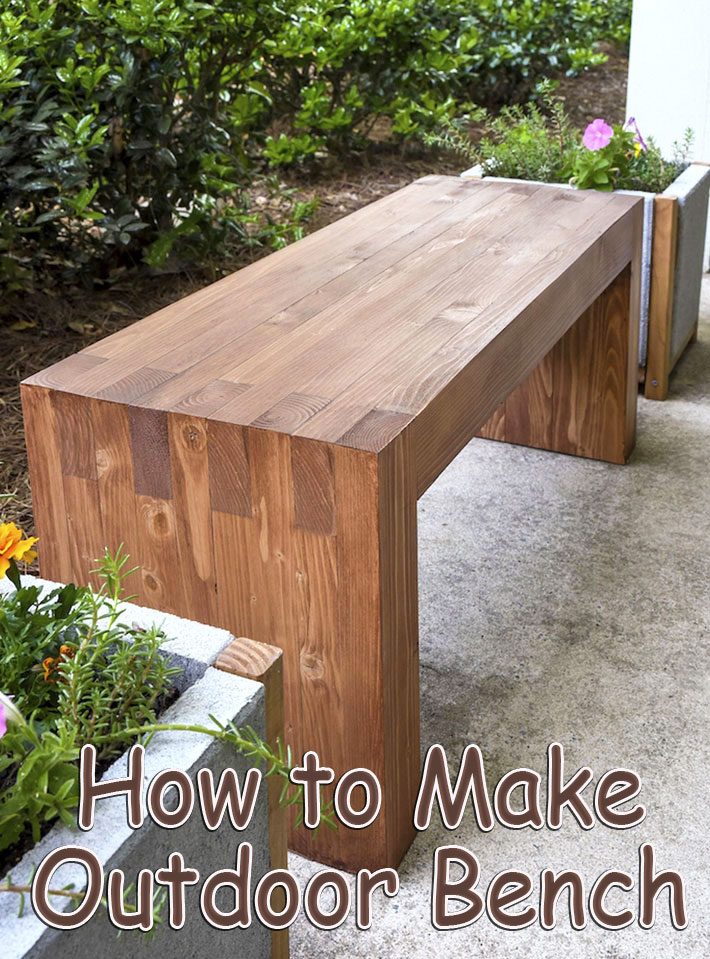 Every porch needs a bench, at least that's what Steve and I decided the other day. Actually Steve has had the concept for this bench in his head for awhile. He wanted to make something without screws and hardware . . . completely with adhesive. Yet he had some other qualifications as well – the bench had to be modern, inexpensive, load bearing (no falling apart please), and look great.
This outdoor bench meets all those qualifications and more!
And it was quite a coincidence that we were flipping through a Williams Sonoma Home catalog the other day and found this Larnaca Outdoor Coffee Table that looks somewhat similar, yet has one BIG difference. The Larnaca coffee table costs $1,295, while Steve's version is $35. Now ours is a outdoor bench while the Larnaca is technically a coffee table, but the idea is the same, and you can always modify the size of this modern bench to fit your desired specifications.
So here's how to build this outdoor bench, with a finished size of 16″ high x 40″ long x 13.5″ deep.
Gather These Supplies:
Regular 2 x 4s – pine, not pressure treated (see Cut List below; also you may want to use pressure treated wood if your bench is going to be exposed to the elements, though it is more expensive)
Exterior grade Liquid Nails (or other construction adhesive made for wood)
Bar clamps
Thompsons water seal and stain (Nutmeg)
Paintbrush
Rag
Table saw
T square – or something to make sure edges are square
Hand held belt sander with a 80-grit and 120-grit
Sanding blocks – 80-grit and 120-grit
Surface protection – cardboard box, tarp, etc
Optional – drill and four feet if you don't want the bench to touch the patio or ground directly
Cut List – you might notice that the measurements don't quite add up – this is because the ends were milled off and sanded to get the resulting finished size bench.
33.5″ long (five pieces)
40″ long (four pieces)
16″ long (ten pieces)
12.75″ long (eight pieces)
Step One: Do this before you cut your pieces down to size. Using the table saw, "mill" the 2″ edges of every piece of wood so that you get a very square edge (as opposed to the rounded edges that come on a 2×4). This will give your bench a more modern look.
You can also use a planer to create perfectly parallel faces on your wood. Wood purchased from the hardware store is hardly ever even, hence the need to cut it down as Steve has done.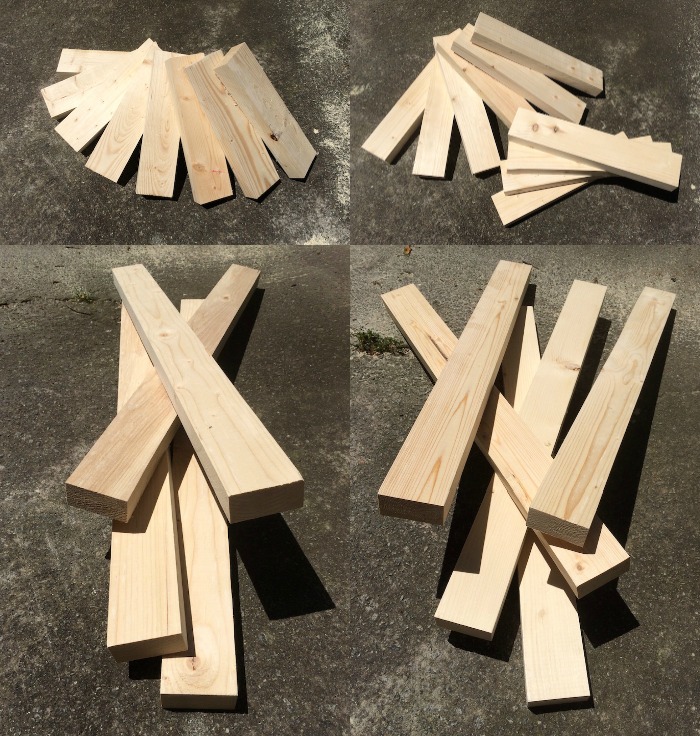 Step Two: Cut the pieces of wood according to the cut list above. Keep in mind, these measurements produced a finished bench that is 16″ high x 40″ long x 13.5″ deep . . . AND a little extra was left for the milling and sanding process. If you want to customize the size of your bench, you'll need to adjust these cut lengths.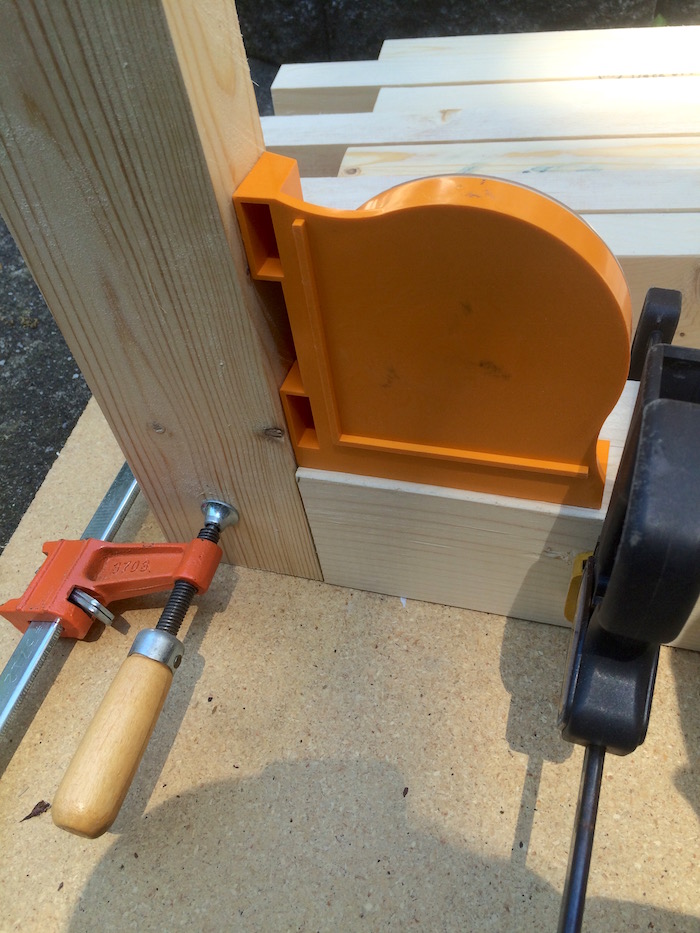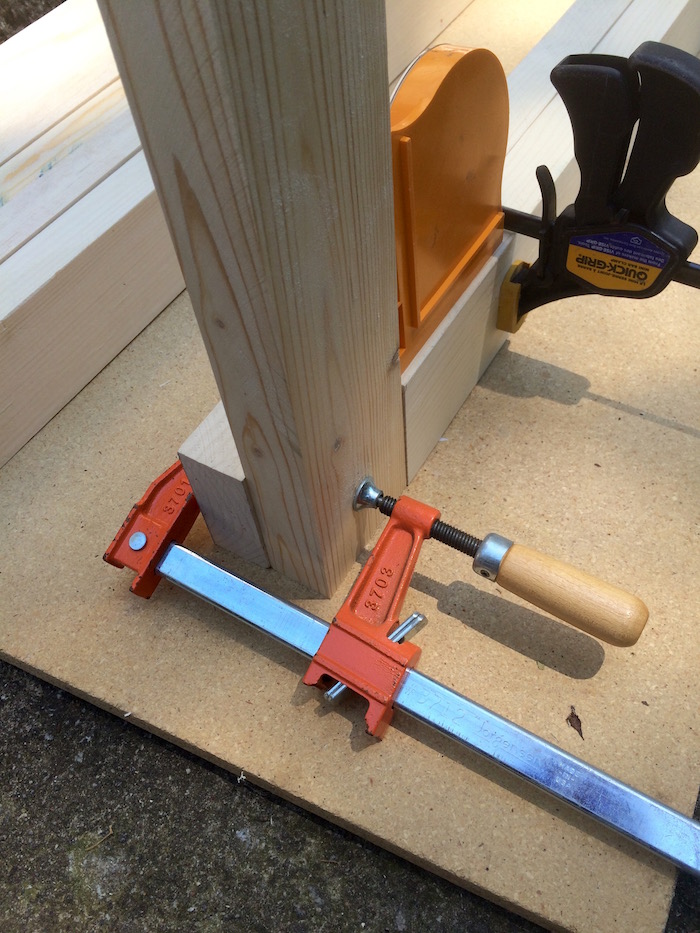 Step Three: You're going to use your pieces of wood to essentially create a box joint – and this is kind of like a puzzle (Jenga?). So try to follow me as I describe it! You'll need to have your box clamps on hand and ready, along with the Liquid Nails.
Place a 40″ piece of wood on the ground, with a 33.5″ piece in the center. On each end, you'll place a 16″ long piece perpendicular to the other two pieces, as shown in the photo above. Make sure everything is even and as flush as possible (and use a t-square or other item if necessary to for a right angle), then glue into place and clamp.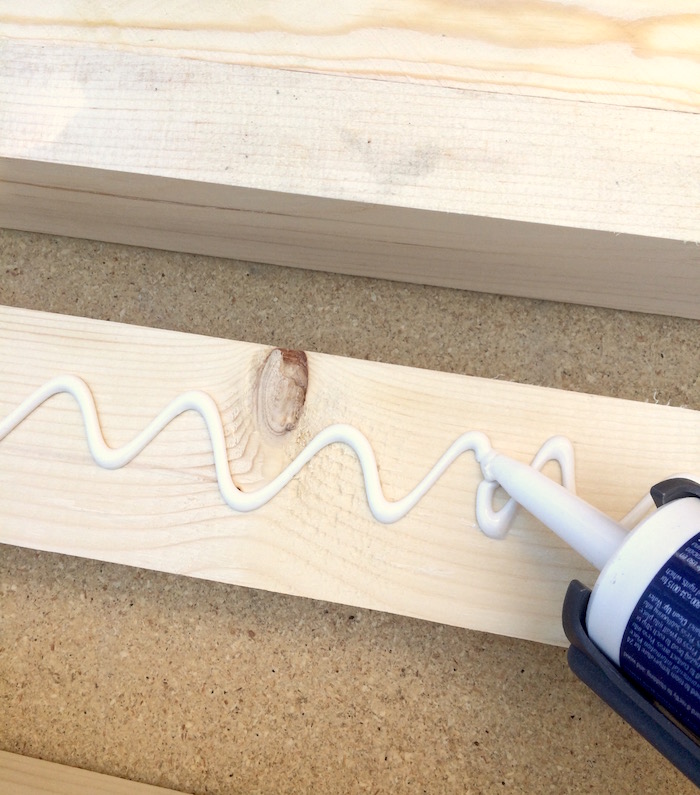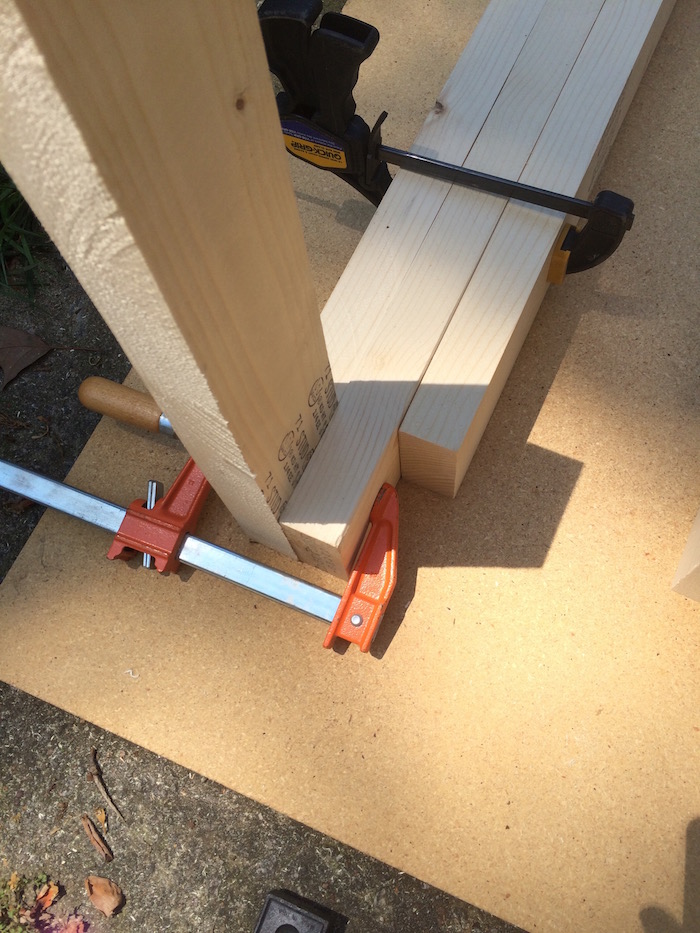 Step Four: These additional photos show you what you'll be doing. You'll be adding Liquid Nails to the wood, setting it up in your pattern as shown, then adding clamps to hold it together. Remember that you're doing a modified box joint, so you'll have one long piece of wood, then one short piece, then long, then short, and so on.
Your best bet is to follow this process:
organize the pieces of wood without gluing FIRST so that you understand how the bench goes together;
begin at one end of your bench and start assembling with the Liquid Nails, using the clamps as placeholders as you go along;
continue add Liquid Nails, wood, and increase the size of your box clamps until the bench is fully assembled
It's seriously way easier than it sounds – and doesn't take long to do once you get into your rhythm!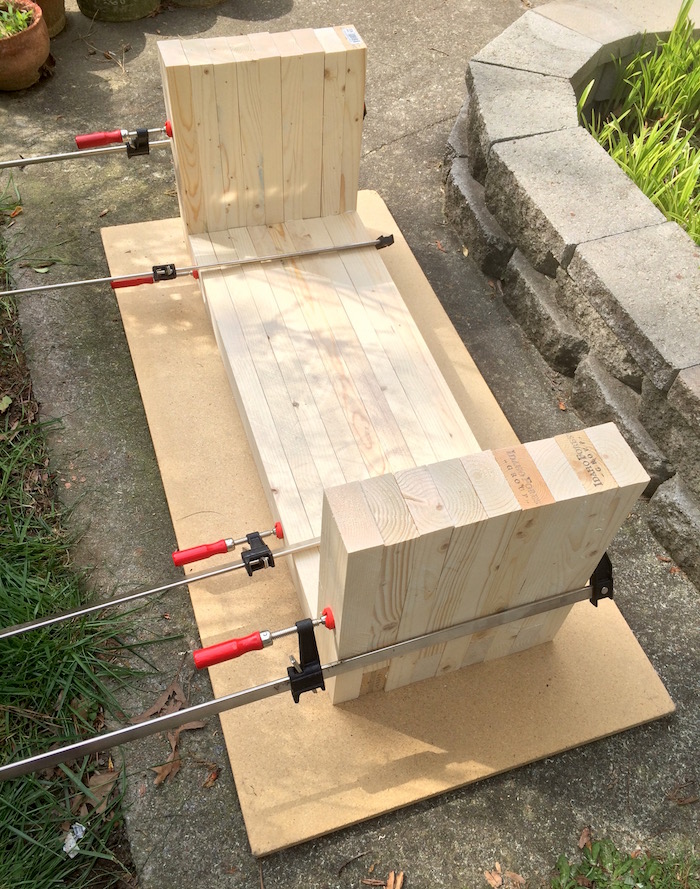 Step Five: Once your bench is full assembled as shown, keep it clamped and let it dry overnight. You'll see that some of the edges aren't even, but we're going to remedy that!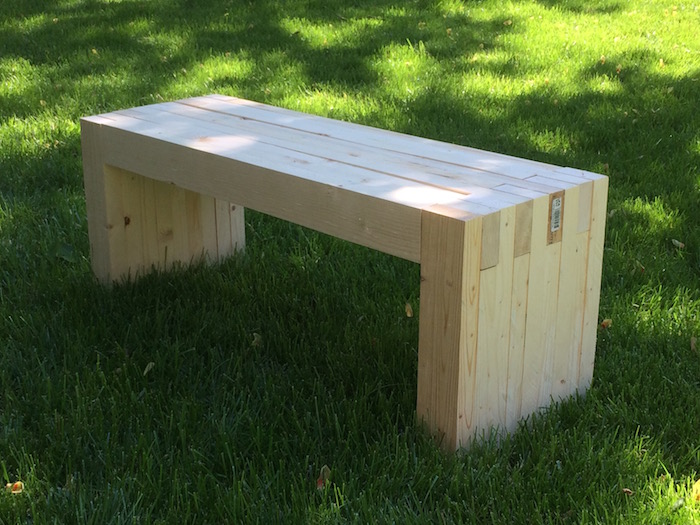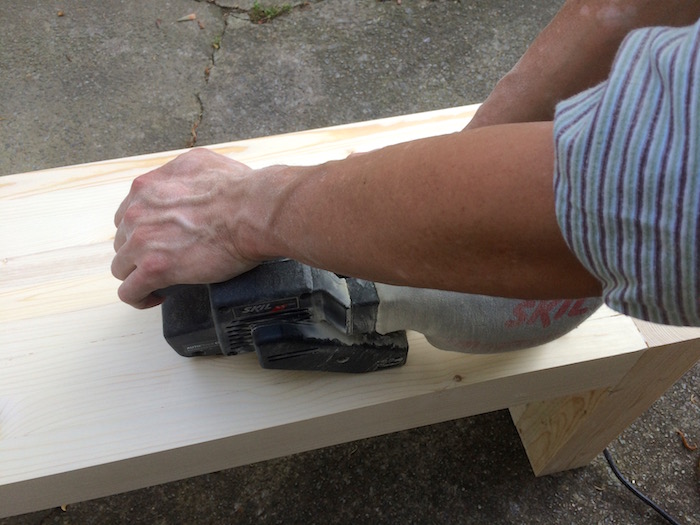 Step Six: Undo the clamps and sand with the belt sander to get everything even. Don't forget to sand with the grain! Sand until it's completely smooth and flat. Do this on the legs, too. Then wipe away all of the sanding dust.
If your bench needs quite a bit of even-ing out, start with the 80-grit and finish with the 120-grit.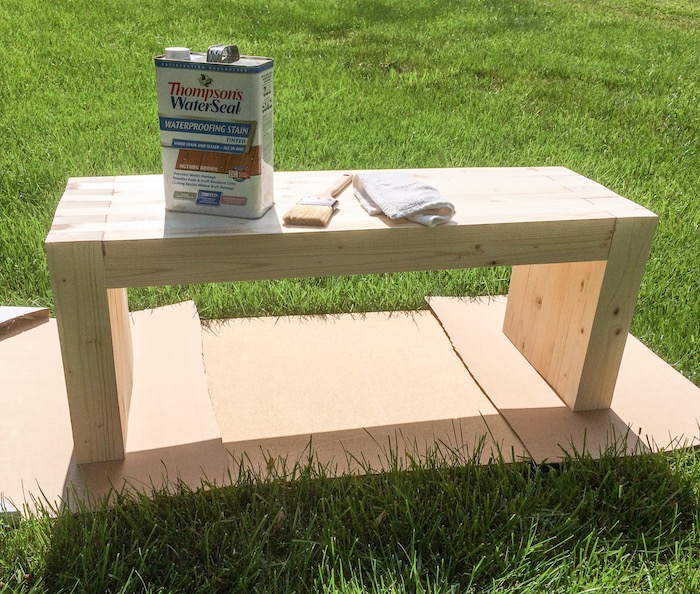 Step Seven: Use your stain to paint your bench. Applying stain is relatively easy. You can use a brush, paint it on, then wipe it off. You can read the instructions on your container to make sure you are following the process for that particular stain. Some people even apply stain with a rag and then wipe it off with a second rag to get a look they like.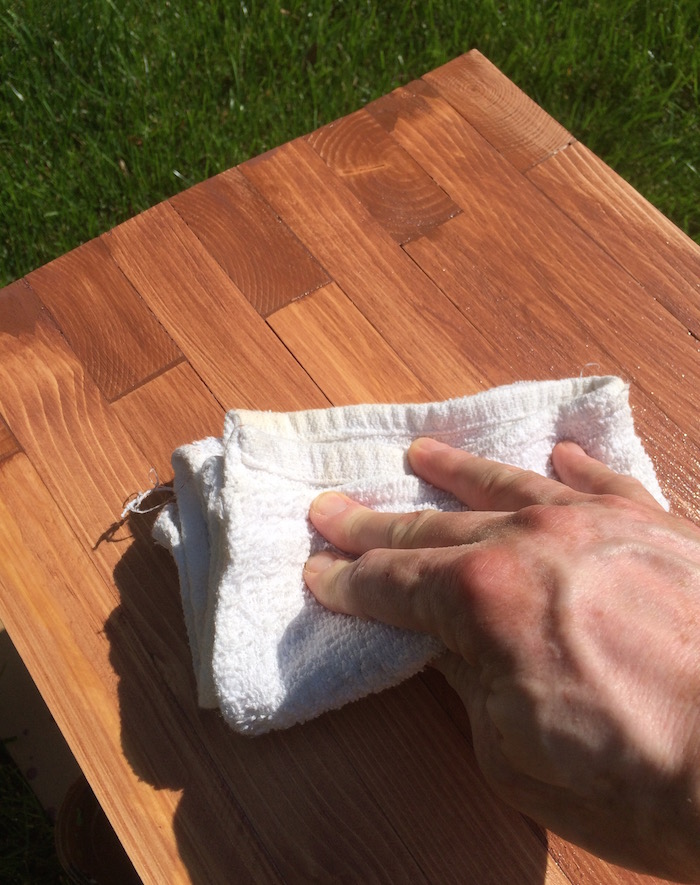 Note: Steve used two coats of stain and the stain lifted the grain of the wood slightly so that it doesn't feel 100% smooth as it did right after sanding. To prevent this, you'll probably want to apply a coat of stain, then sand with 120-grit, then stain again.
Our stain was outdoor stain AND sealer, and our project is currently under a porch covering (though it is exposed to the elements). Depending on how much your bench will see sunlight and rain, you'll likely want to make the final project a little tougher with some hard core polyurethane.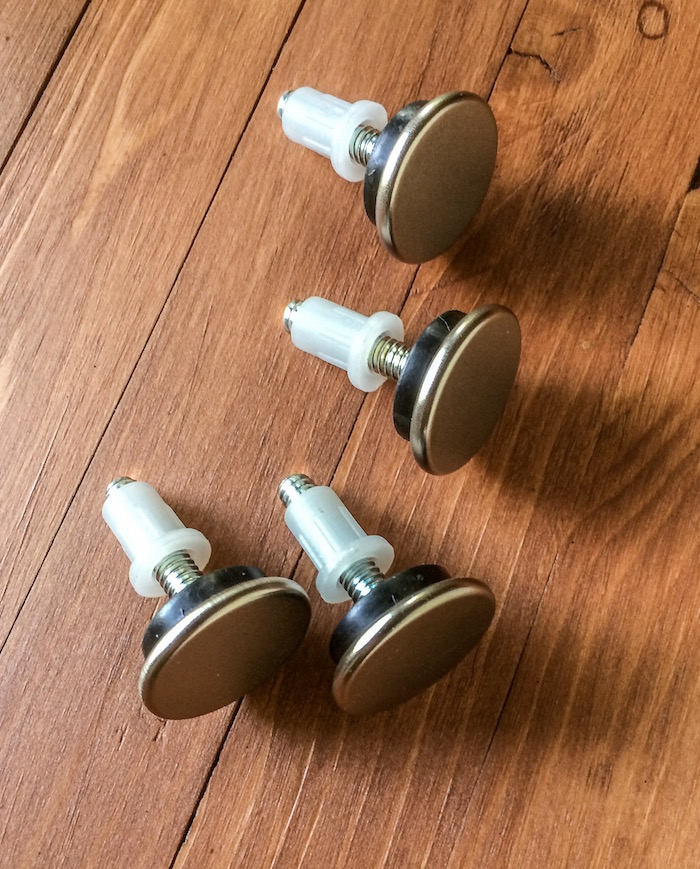 Step Eight: This step is completely optional. Our bench is sitting near ground and with the amount of bugs we have in the south, we wanted it a little raised up off of the ground.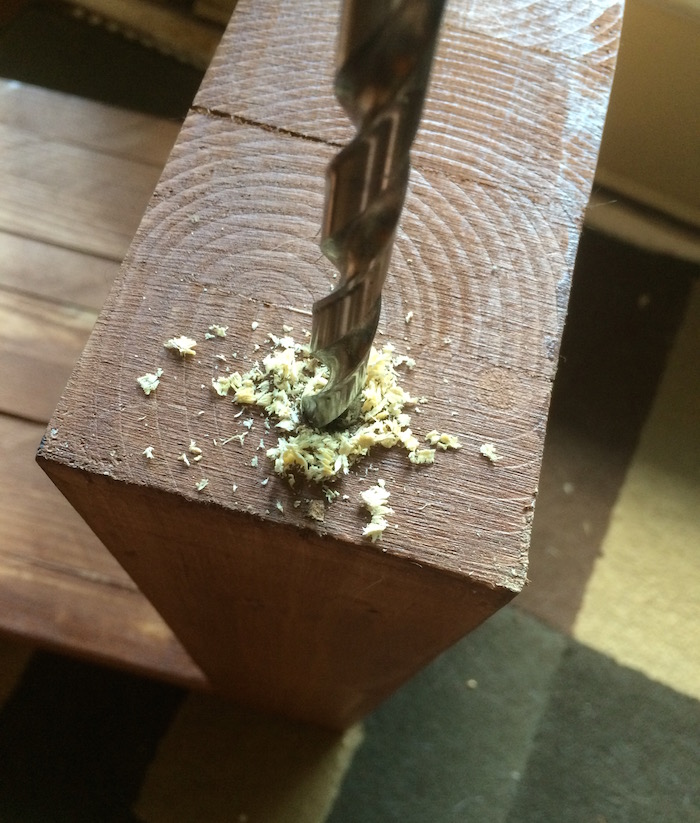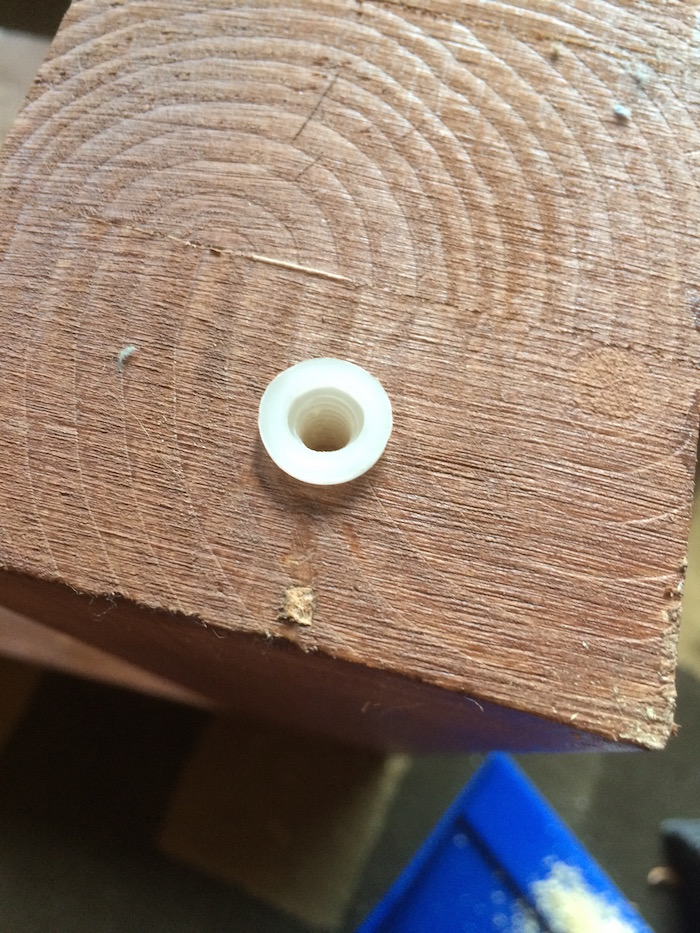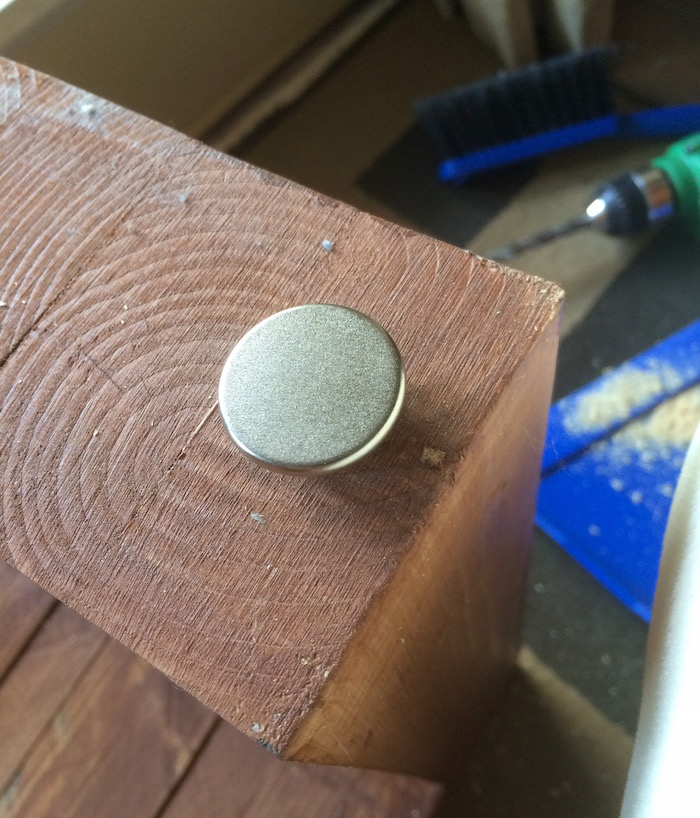 Steve purchased furniture feet, drilled holes in the legs, then inserted. It's very easy.
And that's it!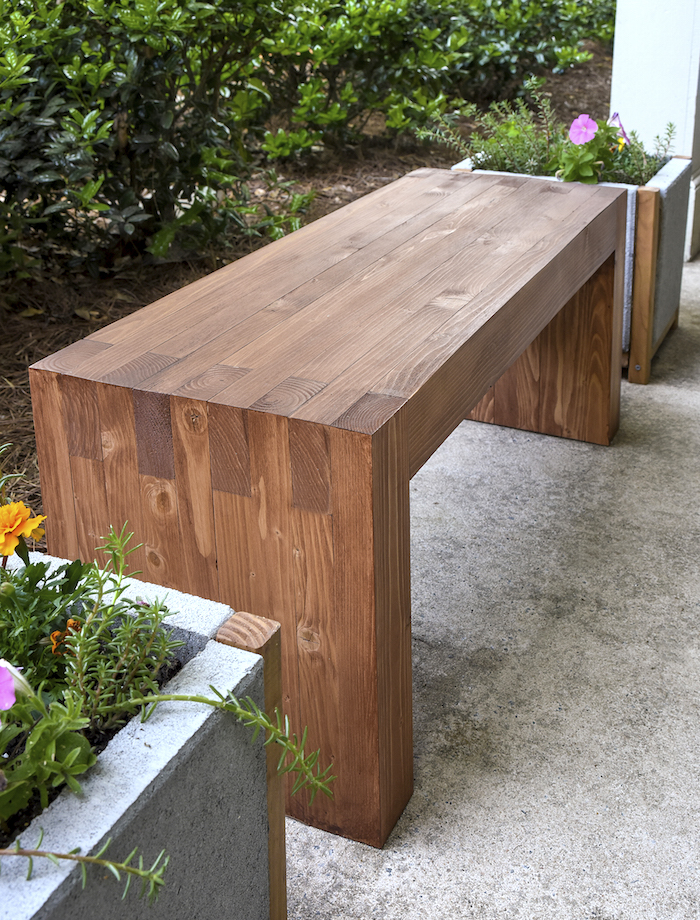 Your outdoor bench is done. And it pretty much looks amazing.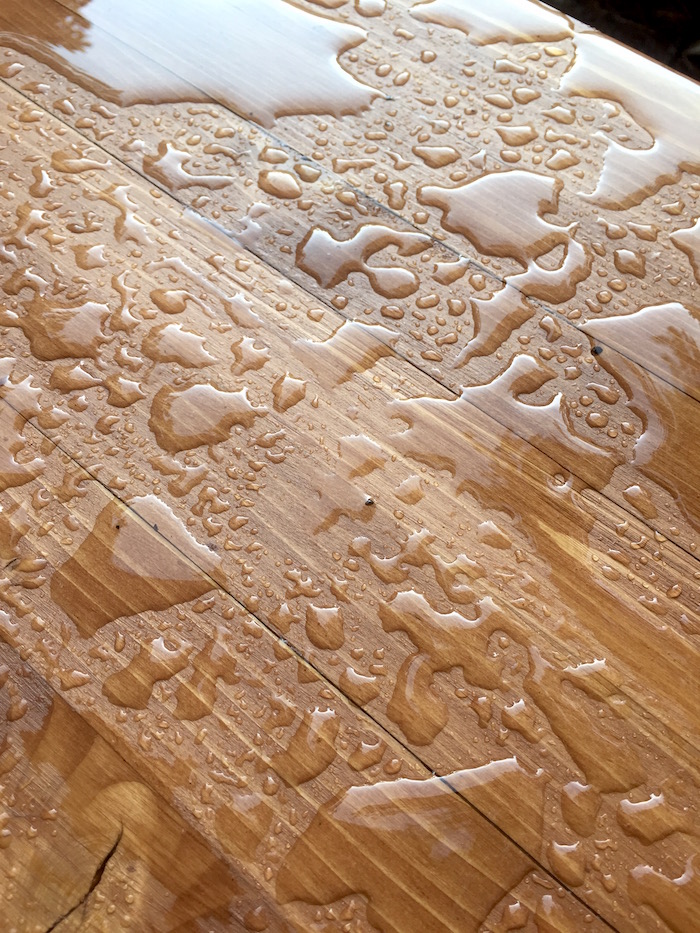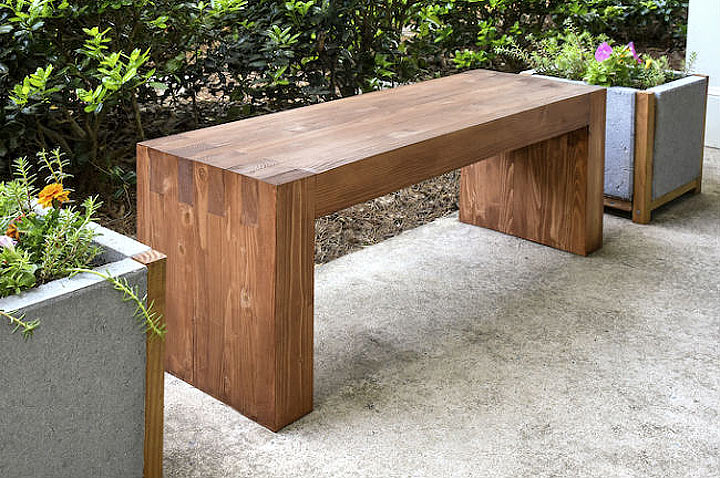 We already had a rain here so I also wanted to show you how well the stain works – the water just pools on top and comes right off . . . no soaking into the wood!
So let's review: $35 in supplies, easy to cut, easy to assemble, no nails or screws required.
If you like this project, check out DIY Adirondack Chair and Table and beautiful DIY – Garden Love Seat as well.
Source: diycandy.com