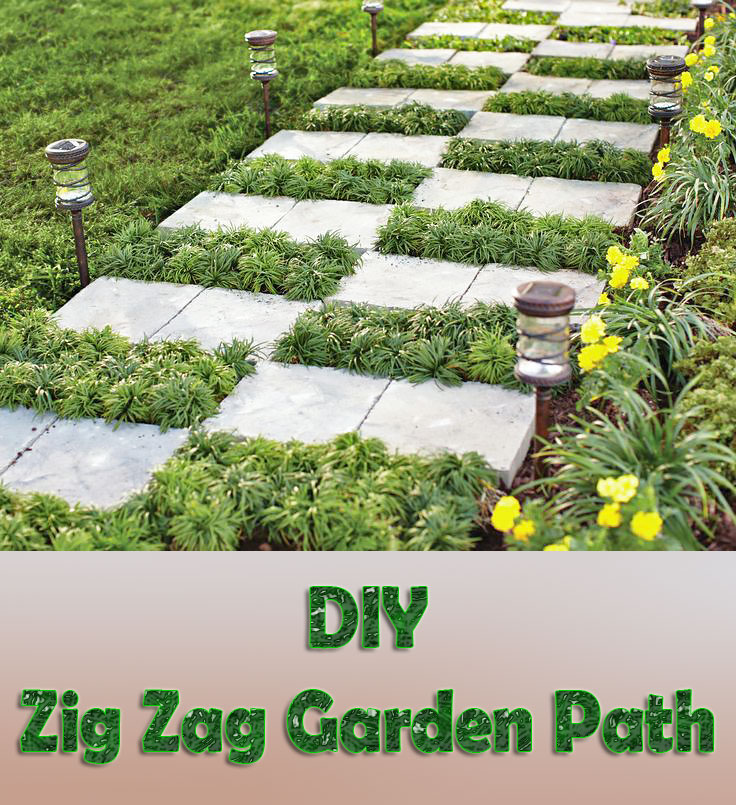 This eye-catching zig zag garden path is easy to build in just one weekend. It's practical and pretty, too. Here are the step-by-step instructions.
You can get these small concrete pavers at your local warehouse or Home Depot, as well as all the supplies you need for this project. Or pop into your local garden center and see what they have in stock while you buy some mondo grass for planting up.
SKILL LEVEL: Intermediate
TIME: One weekend
COST: About $200
TOOLS & MATERIALS
• 20 12-inch x 12-inch paver stones
• 20 bags of sand paver base
• 6 bags paver leveling sand
• 2 large bags of garden soil
• Ground cover of your choice
• Stakes
• String
• Rubber mallet
• Shovel or tiller
• Tamper
• Measuring tape
• Hand trowel




STEP 1 
Determine your project area, paver size and type, and quantities required. For our purposes we will be creating a path 10 feet long and 4 feet wide using 12-inch x 12-inch paver stones.
Since we know the length and width of the path we're creating, finding the square footage is a simple matter of multiplying the length (10 feet) by the width (4 feet), giving us a total area of 40 square feet.
The 12 x 12 pavers are going to be laid out in pairs of two with an empty space on one side. The empty space will alternate between the left side and the right side. With this pattern you'll need a total of 20 pavers.
Prepare the area by plotting out your path and clearing away any grass to a depth of around 4 to 6 inches. Use a combination of stakes — hammered in with a rubber mallet — and string to mark out the course and finished elevation of the path. Then, using a shovel or tiller, begin clearing the area.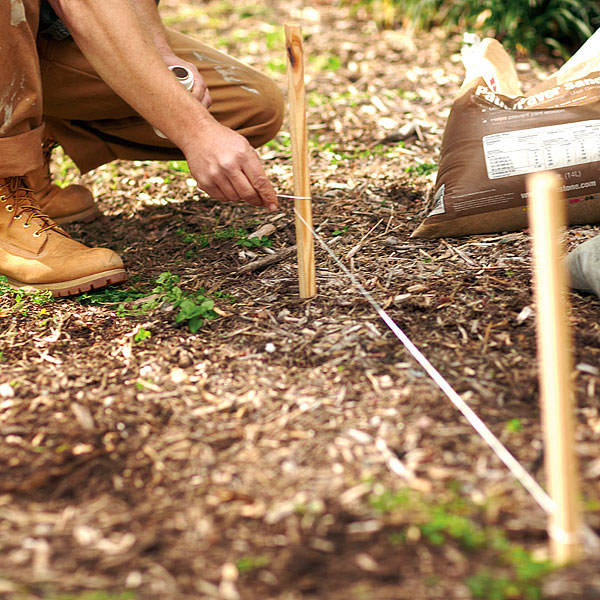 STEP 2
Fill in the path with paver base at a depth of about 4 inches, which means you'll need about 20 bags of paver base.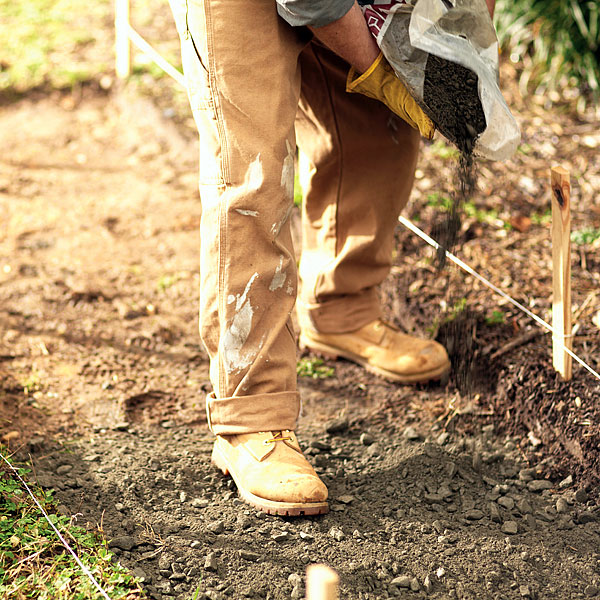 STEP 3
With the paver base in place, the next step will be to use a tamper to level out and settle the base into place. Depending on the size of the working area you are dealing with, you may also want to consider a powered tamper.
STEP 4
After finishing off the paver base, apply a layer of leveling sand at a depth of about 1 inch. Just as before, tamp the leveling sand into place. You will need six bags of leveling sand for the walkway.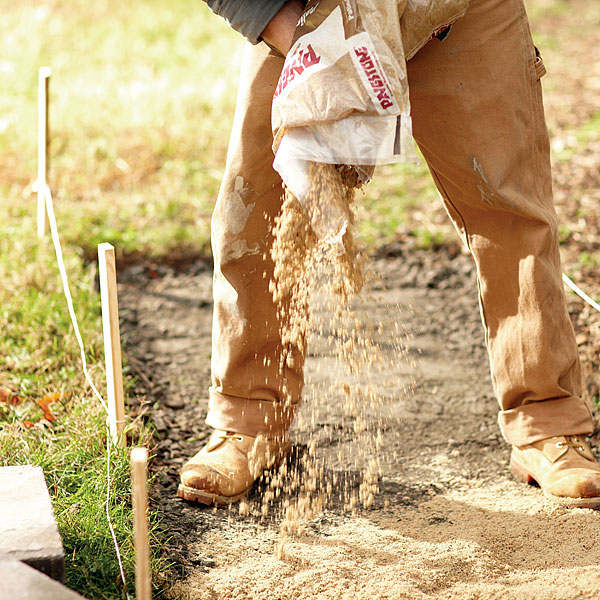 STEP 5
Using the measuring tape, begin laying out your paver stones, double checking distances as you go.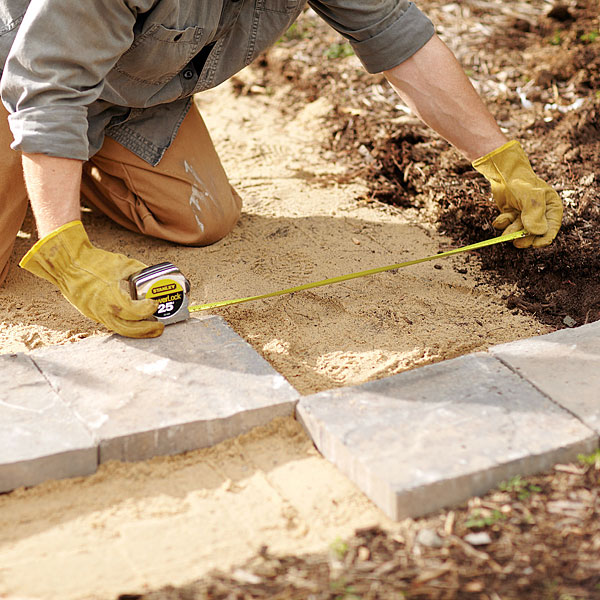 STEP 6
Use the trowel to fill in the alternating voids with garden soil. This will help your moss, ground cover or whatever you choose to plant to get a strong root system established.
Choose your ground cover based on your climate. A Home Depot Certified Nursery Consultant will be happy to help you decide. You might consider thyme, creeping phlox, dwarf periwinkle, moss, ajuga, or Dwarf Mondo, which we used.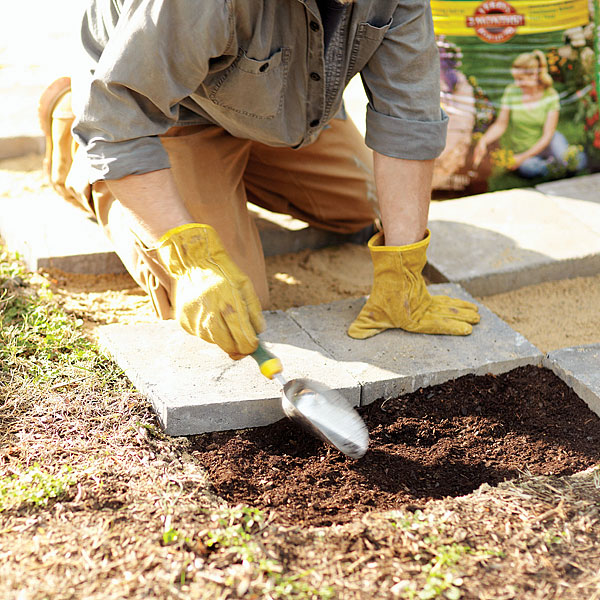 STEP 7
Enjoy your new Zig Zag Garden Path!
Sourceand Images: blog.homedepot.com