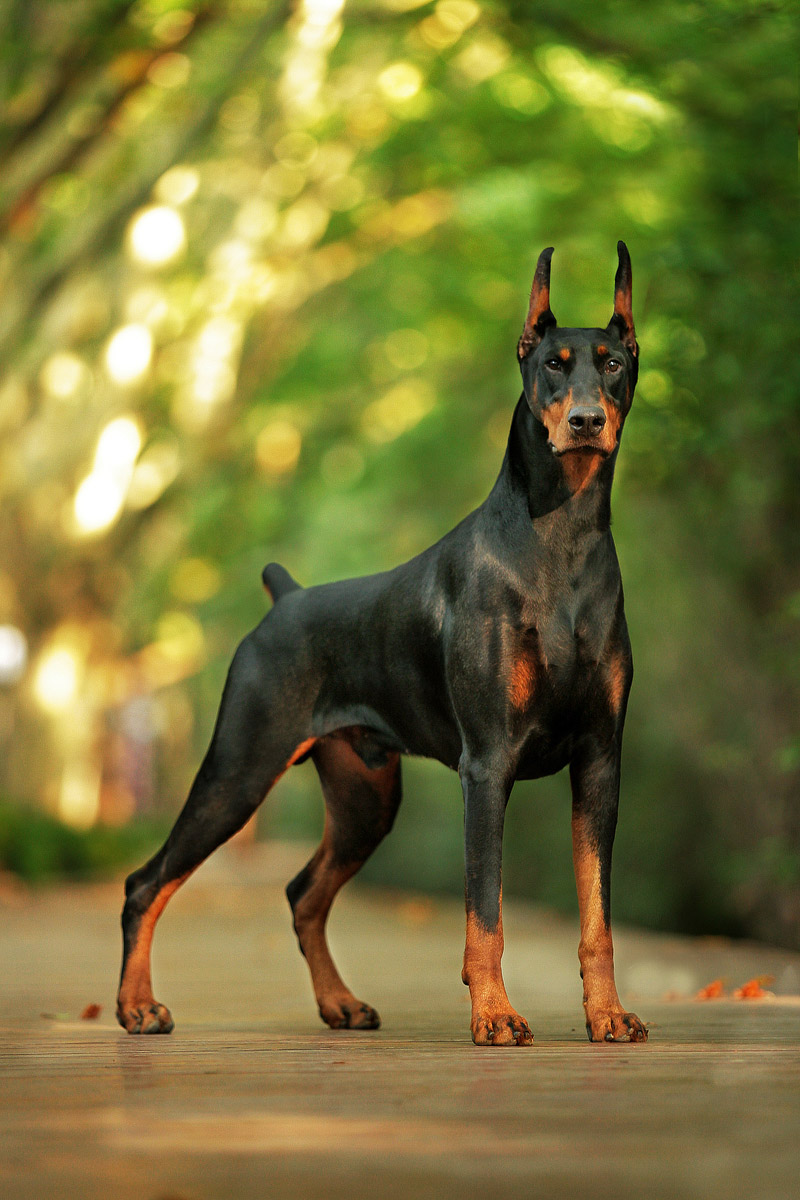 It never ceases to amaze me just how interesting the history of many dog breeds are. This is especially true of the Doberman Pinscher.
The History of the Doberman
Many years ago, during the 1800s, a man named Louis Doberman from Thuringen in Germany had a career of collecting taxes. Every day he would set out on foot and literally walk door-to-door asking people to pay their overdue taxes.
Needless to say, this job was obviously quite rough and Mr. Doberman needed an excellent guard dog to accompany him on his rounds. He then set out with the goal of creating such a breed. The most likely mix came from the old German Shepherd and the German Pinscher, with later crosses using the Greyhound, Weimaraner, and the Black & Tan Manchester Terrier.
Soon enough Mr. Doberman gathered the perfect prototype of the breed which today bears his own name. The original Doberman dogs looked a little different than today's Doberman Pinschers, with rounder heads and a thicker bone structure, which in time was bred to have a more narrow race-like look. By the year 1900, the Doberman Pinscher became so popular that it had its own breed club.
The first Doberman Pinscher found its way to the United States in the early 1900s. Both the US and European nation took to this breed has a perfect police dog and guard dog. In time, it was also used as a war dog. In time, these valuable functions became the desire of many household families, in addition to the sleek, defined appearance of the animal. By the year 1977, the Doberman Pinscher was the second most popular dog breed in the United States.
Doberman Pinscher – Coat Color And Grooming
The sleek, smooth Dobie coat is short and lies close to the skin. He may have a slight undercoat around the neck. His coat colors are black, red, blue, and fawn. He has rust markings above each eye; on his muzzle, throat, and chest; and on his legs and feet.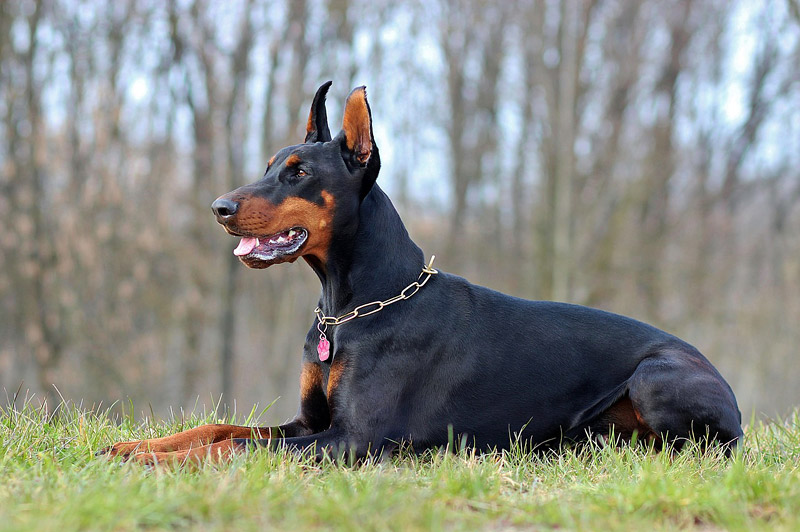 The Dobie's sleek coat requires minimal grooming. He is a clean dog, with minimal doggie odor. Don't be fooled by his coat length — the short coat does shed. Weekly brushing with a grooming mitt or rubber curry is sufficient, however, as is a bath when the Doberman rolls in something that smells bad or plays in the mud. Frequent bathing, however, isn't necessary.
Brush your Dobie's teeth at least two or three times a week to remove tartar buildup and the bacteria that lurk inside it. Daily brushing is even better if you want to prevent gum disease and bad breath.
Trim nails once a month if your dog doesn't wear them down naturally to prevent painful tears and other problems. If you can hear them clicking on the floor, they're too long. Dog toenails have blood vessels in them, and if you cut too far you can cause bleeding — and your dog may not cooperate the next time he sees the nail clippers come out. So, if you're not experienced trimming dog nails, ask a vet or groomer for pointers.
His ears should be checked weekly for redness or a bad odor, which can indicate an infection. When you check your dog's ears, wipe them out with a cotton ball dampened with gentle, pH-balanced ear cleaner to help prevent infections. Don't insert anything into the ear canal; just clean the outer ear.
Begin accustoming your Doberman to being brushed and examined when he's a puppy. Handle his paws frequently — dogs are touchy about their feet — and look inside his mouth. Make grooming a positive experience filled with praise and rewards, and you'll lay the groundwork for easy veterinary exams and other handling when he's an adult.
As you groom, check for sores, rashes, or signs of infection such as redness, tenderness, or inflammation on the skin, in the nose, mouth, and eyes, and on the feet. Eyes should be clear, with no redness or discharge. Your careful weekly exam will help you spot potential health problems early.
Doberman Pinscher- Personality
The Doberman Pinscher is a highly intelligent animal that is one of the most capable guard dogs and watchdogs a family could own. Not only is it a highly dependable family protector, Doberman Pinscher dogs are also one of the most easiest breeds to train. They are alert and always ready to serve. These dogs are quite sensitive, obedient, reserved with strangers, and are committed to loyalty.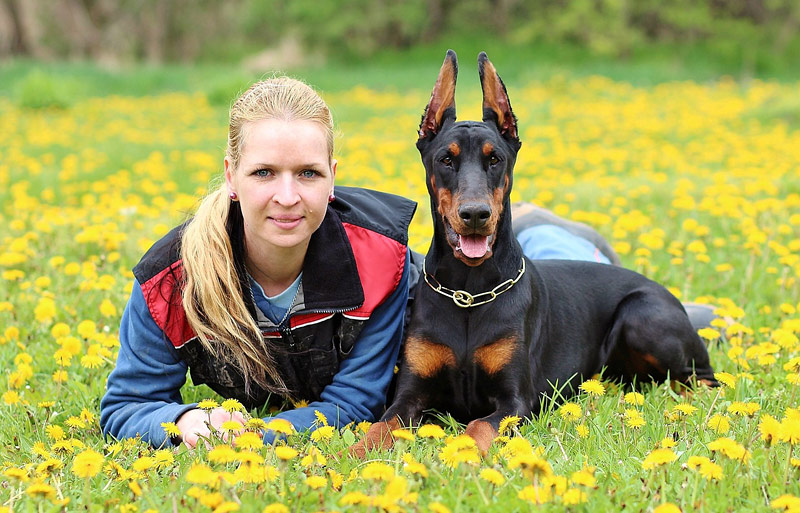 In spite of his positive qualities, the Dobie isn't the right breed for everyone. He's large, at 60 to 80 pounds, and he's extremely active, both physically and mentally. He needs a lot of exercise. He also needs plenty of mental challenges to keep him from becoming bored.
He needs a strong owner/pack leader who can take time to properly socialize and train him, and who will keep him busy every day. This may be too much to handle for people who lead a more laid-back lifestyle.
Children And Other Pets
The well-bred Doberman is a wonderful family dog. He is trustworthy and protective of the children in his family, as long as he's been socialized and trained appropriately. Children must be respectful and kind to the Dobie, and he will be just that in return.
As with every breed, you should always teach children how to approach and touch dogs, and always supervise any interactions between dogs and young children to prevent any biting or ear or tail pulling on the part of either party. Teach your child never to approach any dog while he's eating or sleeping or to try to take the dog's food away. No dog, no matter how friendly, should ever be left unsupervised with a child.
He's also friendly with other dogs and animals in his home, especially if he has been raised with them. He can be aggressive toward dogs outside his family if he considers them a threat to his loved ones.
Taking Care Of Your Doberman Pinscher
Upkeep of the Doberman Pinscher takes more than average daily exercise. Bundled with enormous pockets of energy, this dog can become very frustrated and even destructive when kept indoors too long without physical and mental stimulation.
Families considering owning a Doberman Pinscher should be prepared for a lifelong commitment of daily brisk walks and plenty of vigorous dog games to play outside. Dobermans Can live outside in both hot and cold temperatures, but is more comfortable when inside with its family.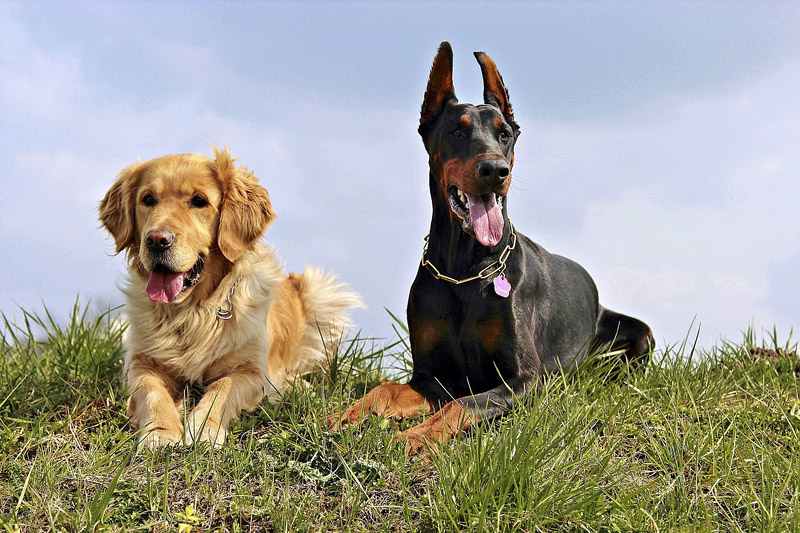 Feeding
Recommended daily amount: 2.5 to 3.5 cups of high-quality dry food a day, divided into two meals. NOTE: How much your adult dog eats depends on his size, age, build, metabolism, and activity level. Dogs are individuals, just like people, and they don't all need the same amount of food.
It almost goes without saying that a highly active dog will need more than a couch potato dog. The quality of dog food you buy also makes a difference — the better the dog food, the further it will go toward nourishing your dog and the less of it you'll need to shake into your dog's bowl. Keep your Doberman in good shape by measuring his food and feeding him twice a day rather than leaving food out all the time.
If you're unsure whether he's overweight, give him the eye test and the hands-on test. First, look down at him. You should be able to see a waist. Then place your hands on his back, thumbs along the spine, with the fingers spread downward. You should be able to feel but not see his ribs without having to press hard. If you can't, he needs less food and more exercise.
Health Information
The Doberman Pinscher has a lifespan of up to 12 years, with 11 being the average. Veterinarians suggest that these dogs get specifically tested for hip dysplasia, eye problems, cardiac issues, and DNA for vWD. Major health concerns that may arise are gastric torsion, demodicosis, vWD, and osteosarcoma. Occasionally, minor health problems sometimes include PRA, albinism, narcolepsy, and hypothyroidism.
Related
Golden Retriever – Breed Information
If you like this post, please give it a five star review and help me share it on facebook!
Please follow us on Facebook Page and enjoy our collection of recipes, crafts, fitness, health tips, gardening, DIY and more…
Sources: dogtime.com , holisticpetcare.info