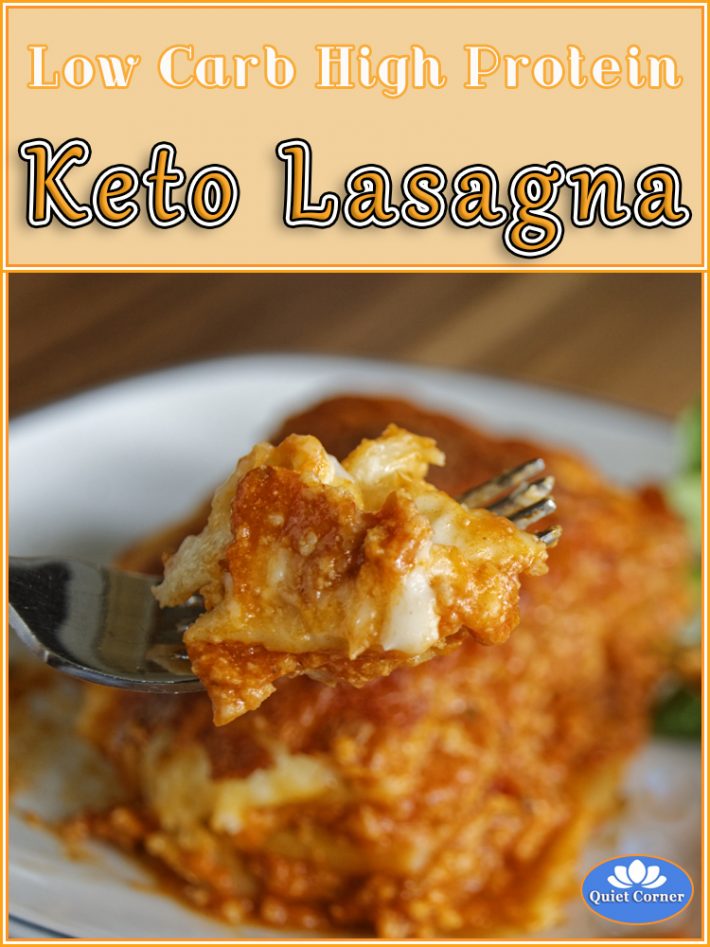 This easy keto lasagna will quickly become one of your new favorite meals! It's delicious, nutrient rich, and layers easily! For this recipe, you're basically making a meat layer, and a cheese layer and you're cooking them together. That's it.
Low Carb High Protein Keto Lasagna with just meat and cheese for maximum flavor. Low Carb High Protein Keto Lasagna is sure to become your all time favorite.  Enjoy lasagna without the carbs!
Low Carb High Protein Keto Lasagna Recipe:
Prep Time: 15 mins                    Cook Time: 50 mins                      Total Time: 1 hr 5 mins
Ingredients:
For Meat Layer
1 teaspoon olive oil
1/4 cup celery, diced
1/4 cup red onion, diced
1 pound ground beef
1 cup marinara sauce
1/2 teaspoon garlic, minced
1 teaspoon salt
1 teaspoon black pepper
For Cheese Layer (Mix all ingredients together in a bowl)
8 ounces ricotta cheese
1 cup mozzarella cheese, shredded
1/2 cup Parmesan cheese, grated
2 egg
1/2 teaspoon garlic, minced
1 teaspoon dried Italian seasoning
1/2 teaspoon garlic powder
1/2 teaspoon black pepper
Instructions:
Preheat oven to 350°F.
Heat the oil in a skillet over medium-high heat. Add the celery, onion & ground beef and cook until meat is no longer pink.
Add the rest of the ingredients of the meat layer and let it cook on a gentle heat. Pour into a small pie pan.
Meanwhile, mix up your cheese layer (saving half your mozzarella cheese) and spread it gently over the top of the meat mixture.
Cover the top with the remaining mozzarella cheese.
Bake for 30-40 minutes, until the top starts to become golden and bubbly.
Let cool for 10 minutes before slicing (the lasagna will hold together better).
Nutrition facts per serving:
320kcal | Fat: 19g | Saturated fat: 10g | Carbohydrates: 5g | Sugar: 2g | Protein: 29g
 

Please follow us on Facebook Page and enjoy our collection of recipes, crafts, fitness, health tips, gardening, DIY and more…
Source: twosleevers.com / Photo Credit: pixabay