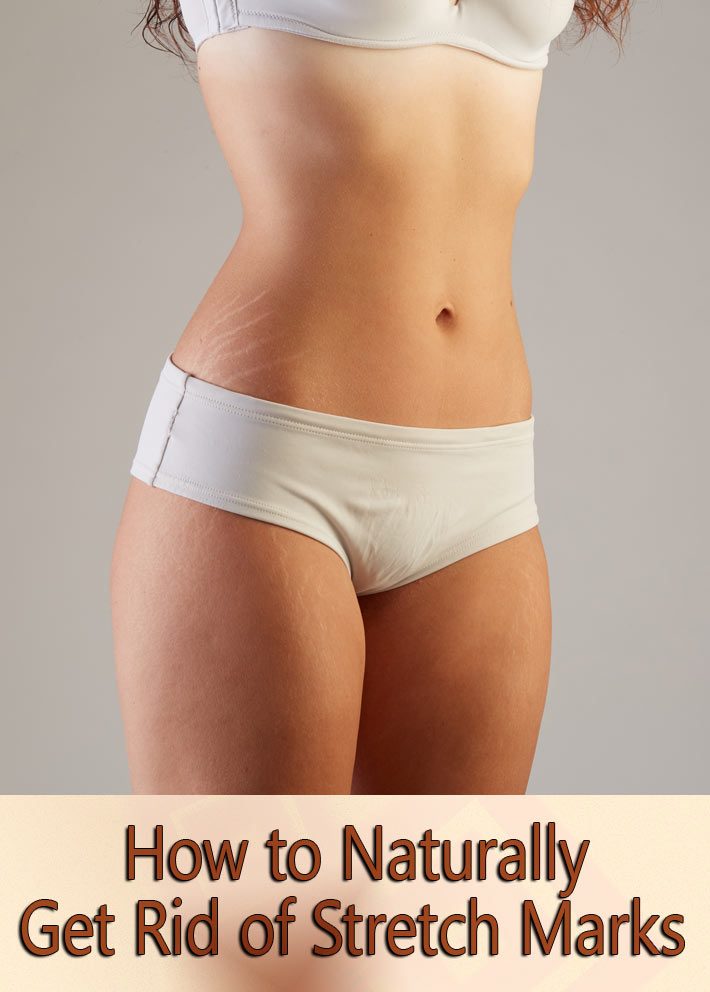 The question – how to get rid of stretch marks – bothers many ladies nowadays. Almost all women have to deal with with this problem at some point in their lives; most will develop stretch marks during puberty, often around the hips and thighs, and 90% of women get stretch marks during pregnancy. Puberty and pregnancy aren't the only causes of stretch marks though; they can be caused by weight fluctuations, genetics and even stress.
No matter how common, chances are, if you have them, you want to know how to get rid of stretch marks. There are plenty of products and treatments out there that claim to be a miracle cure, but not all of us want to use creams full of chemicals, or invest in expensive surgical or laser treatments. There are several natural remedies, and below you'll find a list of the top 6 most effective tips on how to get rid of stretch marks:
1) Exfoliation
Regular exfoliation is extremely useful for treating a number of skin problems, including stretch marks. Dry, dead skin cells build up on the skin every day, make skin feel rough and look dull. Exfoliating removes this excess build up of skin cells to reveal fresh, new skin beneath. Doing so regularly increases skin cell turnover, which helps your stretch marks fade faster.
There are plenty of body scrubs available to buy, but if you want to do it naturally, making your own scrub is simple. For a DIY stretch mark fighting body scrub, simply mix one part olive oil with two parts sugar or salt (if you have sensitive skin, stick with sugar; it's gentler on the skin and won't cause irritation). For a little luxury, add couple of drops of essential oil to the mix; lavender, rose and geranium are all recommended essential oils for treating stretch marks. Simply massage the scrub into wet skin, paying extra attention to areas with stretch marks, and rinse. Exfoliating once or twice a week is usually enough for most people.
2) Massage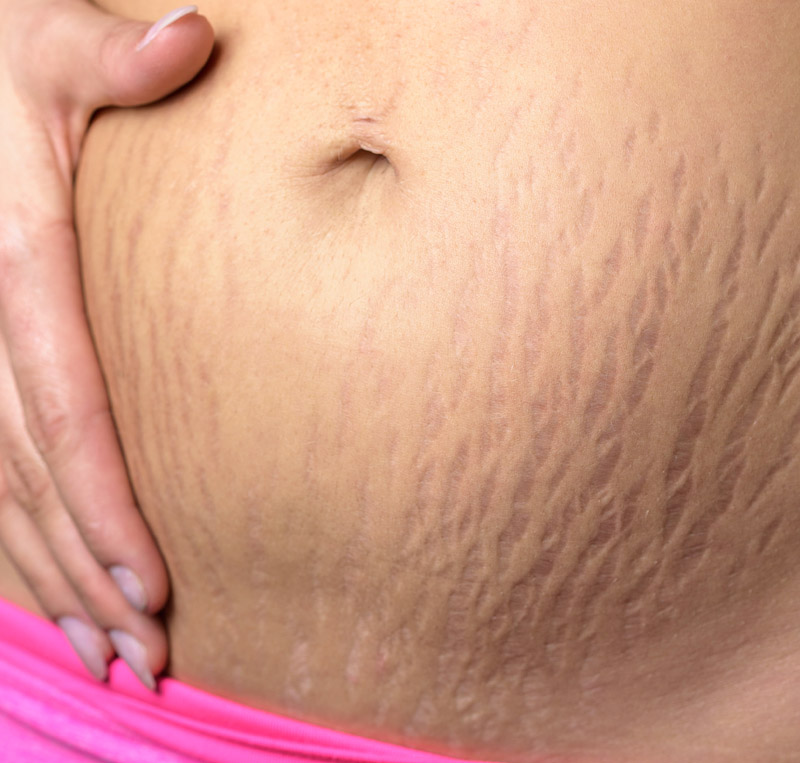 Regular massage aids the skin's healing process and helps remove toxins, reducing the appearance of stretch marks and cellulite. For best results, massage your skin with almond oil. It's rich in Vitamin E, safe for using during pregnancy and helps the skin develop collagen and elastin, which it needs to repair stretch marks. For those with nut allergies, olive oil is an excellent alternative.
3) Moisturizing
Keeping skin moisturized is an essential part of reducing the appearance of stretch marks and preventing new ones from developing. Moisturize daily, concentrating on areas that have stretch marks or may develop them in the future. Again, if you'd rather not buy an over-the-counter product, making your own moisturizer is easy. One of the most effective DIY moisturizers can be made from equal parts olive oil, aloe vera and wheat germ oil. You can also add Vitamin E capsules into your moisturizer that you use on your stretch marks, because Vitamin E is known to be one of the best natural scar remedies, it helps stimulate collagen production and improves texture and elasticity of the skin. You can find Vitamin E capsules at any drug store.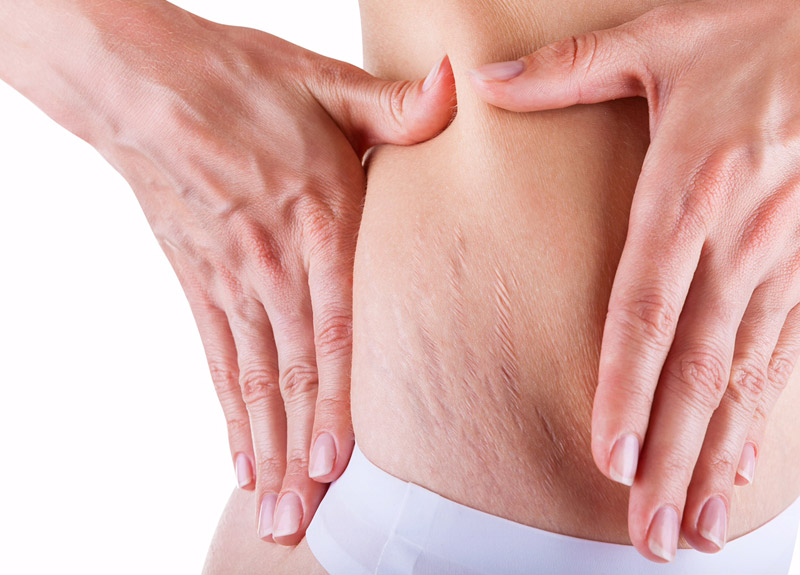 4) Aloe Vera
Aloe vera contains high quantities of plant collagen, which helps heal the skin. It's most effective form is pure aloe vera gel, which you can buy or extract from aloe vera leaves. Using aloe vera gel for stretch mark is similar to using a face mask; it needs to be left on the skin, ideally, for about an hour or two to absorb, so that you might see full benefits of the treatment, before rinsing it away with water. Doing this regularly will moisturize the skin and speed up its healing process.
5) Coffee grinds with olive oil
To stimulate the area where you have marks, apply some coffee grinds mixed with olive oil and massage this paste into the problematic section of your skin for about 5 minutes. Coffee grinds will gently exfoliate and stimulate your skin and olive oil will naturally moisturize and soften it (you can also use liquid coconut oil, instead). Do this about 3 times a week and you will soon notice significant positive difference.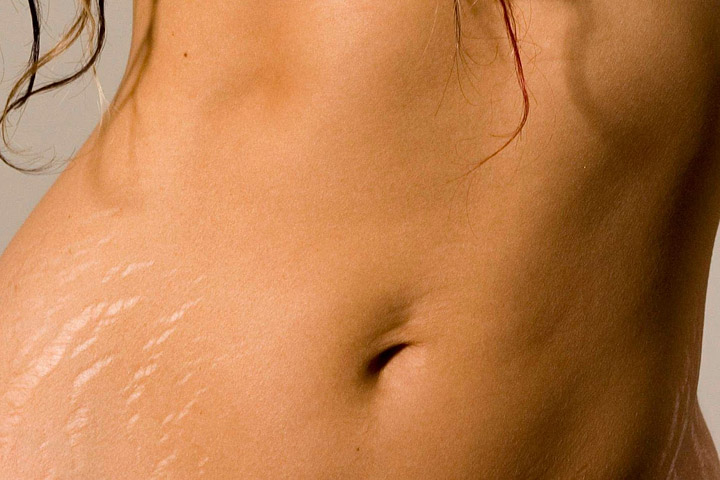 6) Gotu Kola
Gotu kola is an herb and has been used in Eastern medicine for thousands of years. Well known for its healing benefits and improving circulation, gotu kola works wonders with stretch marks and has been clinically proven to reduce the appearance of scars. It can be applied directly on the skin or can be added into your homemade stretch marks masks and treatments. (Don's use gotu kola orally without consulting your doctor.)
So now you know how to get rid of stretch marks, it's time to get into action. Of course, don't neglect the importance of eating healthy and drink plenty of water – it also will help you fight stretch marks naturally. Follow these simple tips and you'll be well on your way to a body without stretch marks.
Please feel free to comment and share your own tips on how to get rid of stretch marks naturally.
Source: beautyandtips.com