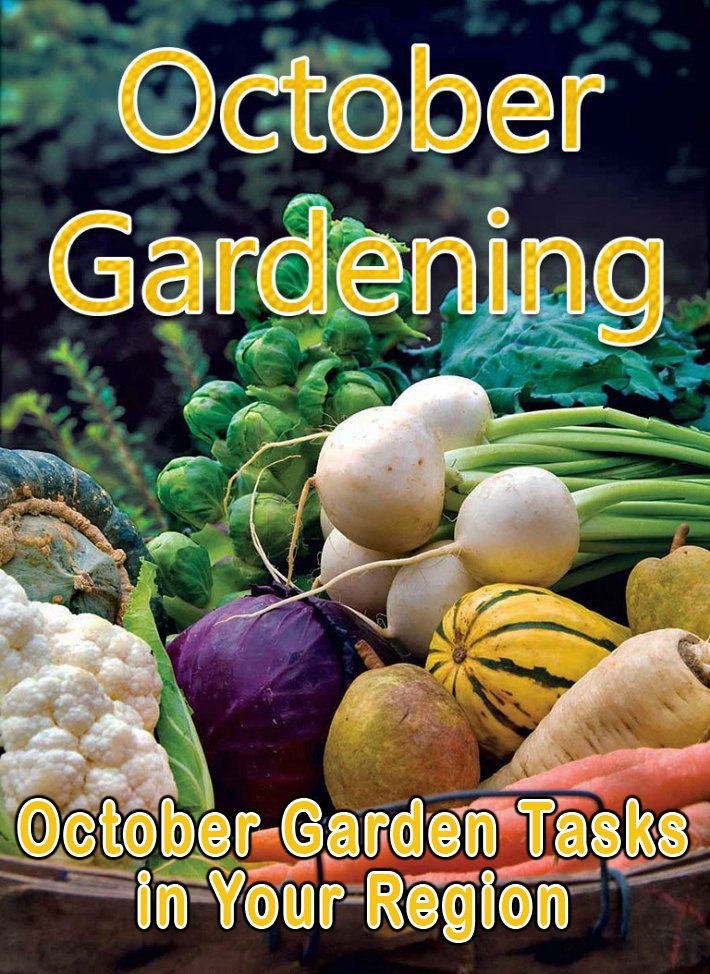 October Gardening is entirely dependent on the weather. If there's an Indian Summer, there is no better time of year to be out in the garden. While gardeners in warm areas will have more to do than their northern counterparts, there are plenty of garden tasks to keep everyone busy in October.
General October Garden Chores
Get your soil tested and add amendments as needed.
Amend your soil with a dressing of compost
Turn your compost pile.
Use your garden debris and leaves to start a new compost pile.
Plant trees and shrubs. Be sure to keep them well-watered, even through the winter (snow permitting).
Make sure all vacationing houseplants are brought back inside.
Continue planting garlic.
Plant cool season annuals. Covering mums and asters on nights when a frost is expected, will lengthen their blooming.
Clear away dead foliage.
Dry and save seed.
Take cuttings of tender perennials.
Harvest and dry or freeze herbs for winter use.
Remove green tomatoes from the plants. Either ripen in a brown paper bag or lift the entire plant and hang upside down in a warm spot, to ripen.
Harvest winter squash once the vines die back, but definitely before a hard freeze.
Continue harvesting fall crops like beets, cabbage, carrots, cauliflower, kale and leeks.
Clean and put away empty containers and garden ornaments.
Clean and sharpen gardening tools.
Continue winterizing your water garden
Clean bird feeders.
Think about a de-icer for the birdbath. If you're in an area that freezes and you don't have a de-icer, turn your birdbath over to keep it from cracking.
Enjoy the season. Show off your harvest with a fall display.
Then start thinking about putting your garden to bed.
California Garden Chores
Prune Oleander in October, before next season's flower buds have formed.
Plant cool season annuals such as African daisy, foxglove, Iceland poppy, larkspur, lobelia, pansy, petunia, phlox, snapdragon, stock, sweet alyssum, sweet pea, and viola. Keep them well watered, especially if the temperature warms.
Feed and water roses, but don't prune now.
Plant warm climate bulbs, like those from South Africa (ixia, ornithogalum, sparaxis, tritonia), for early blooms.
Pre-chill cool climate bulbs (daffodils, crocus, hyacinth and tulips) before planting. You can also purchase already chilled bulbs.
Sow cool season vegetables like beets, broccoli, cabbage, carrots, cauliflower, kale, kohlrabi, leeks, lettuce, onions, parsnips, radishes, spinach and turnips.
Feed azaleas, camellias, hydrangea and rhododendrons with a fertilizer for acid-loving plants.
Pacific NW Garden Chores
Protect winter greens from this season's heavy rain and wind with row covers.
Take advantage of upcoming rains to re-seed bare patches in the lawn.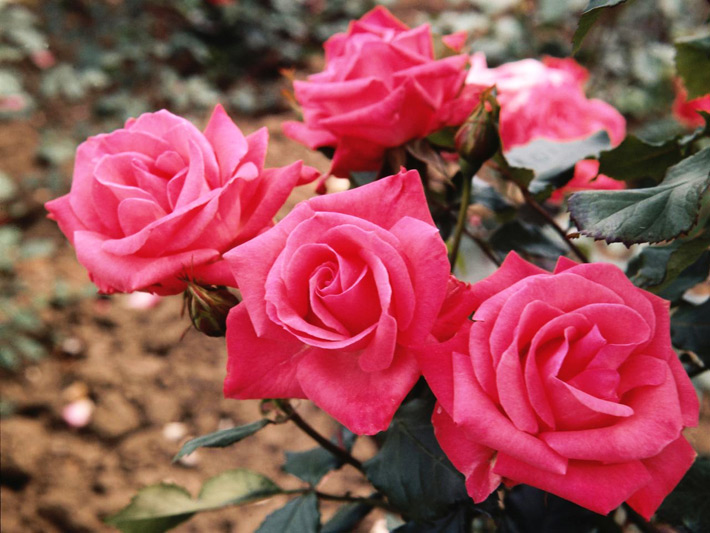 North Central Garden Chores
After the first killing frost, dig your tender bulbs, let dry and package for storage.
Winterize your roses.
Divide and/or transplant peonies.
Plant spring blooming bulbs this month.
Keep mowing, as long as the grass is growing. But set your mower to its highest level and let the grass go into winter with at least 3″ of growth.
Northeast Garden Chores
Start raking. Shred or compost this fall gold.
Cut back and remove diseased perennial foliage.
Finish planting bulbs.
Keep transplants watered.
Midwest Garden Chores
Clean up and remove dying foliage.
Continue planting spring blooming bulbs.
Harvest winter squash when the rind is too hard to poke a finger nail into.
Southwest Garden Chores
Plant strawberries now for spring harvesting.
Plant cool weather herbs, like cilantro, dill, fennel and parsley.
Seed quick growing cool season vegetable, like carrots, lettuce, radishes and spinach. Set out transplants of broccoli and cabbage.
Dig and store tender summer blooming bulbs and plant spring bloomers.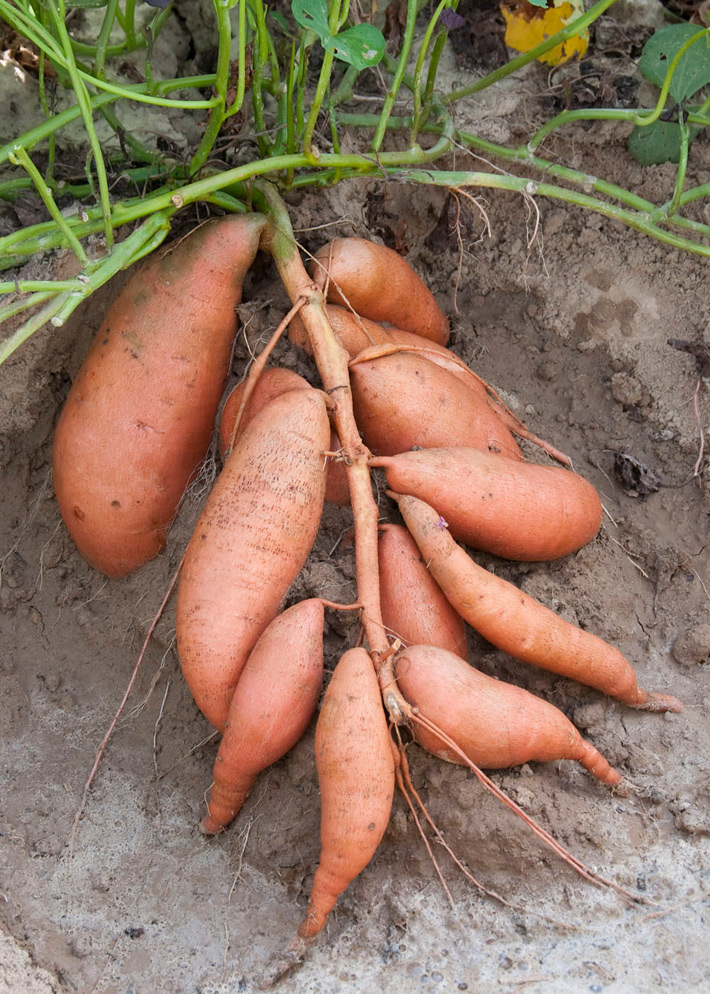 Southeast Garden Chores
Keep planting perennials.
Make sure plants receive enough water, especially transplants and winter and spring bloomers.
Plant a cover crop in the vegetable garden.
Harvest sweet potatoes before a frost.
Hawaii Garden Chores
Prune avocado, mango and plumeria trees.
Indoor Plants Garden Chores
House plants start to slow down as the days get shorter. Cut back on watering and feeding until next spring. Winter feeding will result in weak growth.
Plan for Christmas blooms on your poinsettia and Christmas cacti. Move both plants so that they are in temperatures between 50 and 60 degrees F. Make sure the Christmas cacti get at least 13 hours of complete darkness at night. Poinsettia will need about 15 hours in the dark. For most of us, this will mean covering the plants themselves. When uncovered, place in bright light. Provide them with water and a general purpose fertilizer.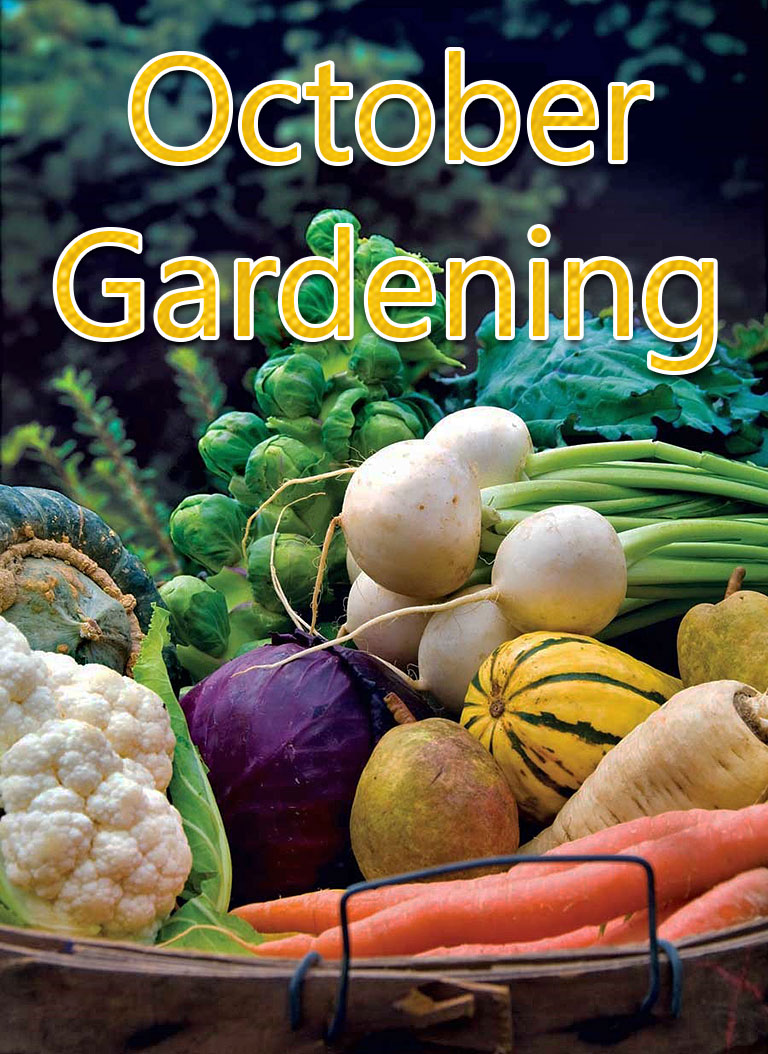 Please follow us on Facebook Page and enjoy our collection of recipes, crafts, fitness, health tips, gardening, DIY and more…
Source: thespruce.com