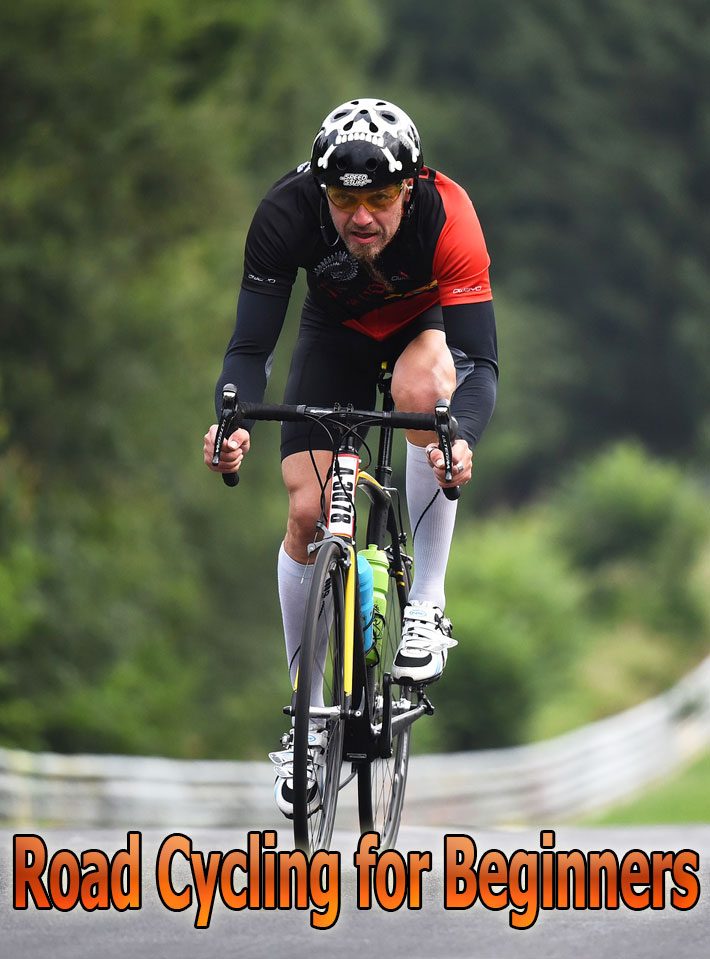 Road cycling is a great way to boost fitness and reduce body fat. Here are some tips for beginners
Road cycling is one of the easiest ways to fit exercise into your daily routine because it's also a form of transport. It saves you money, gets you fit and is good for the environment. It's a low-impact type of exercise, so it's easier on your joints than running or other high-impact aerobic activities. But it still helps you get into shape.
For example, someone who weighs 175 lb will burn more than 650 calories with an hour's riding, and tone their legs and bottom. If you ride up hills or off-road, you'll also work your upper body. The best way to build your cardiovascular fitness on the bike is to ride for at least 150 minutes every week. For example, you could cycle to work a few days a week or do a couple of shorter rides during the week with a longer ride at the weekend. You'll soon feel the benefits.
Before you start
For most people, road cycling is a safe and effective form of exercise. If you have any health concerns or an existing medical problem, see your GP before you start.
The Bike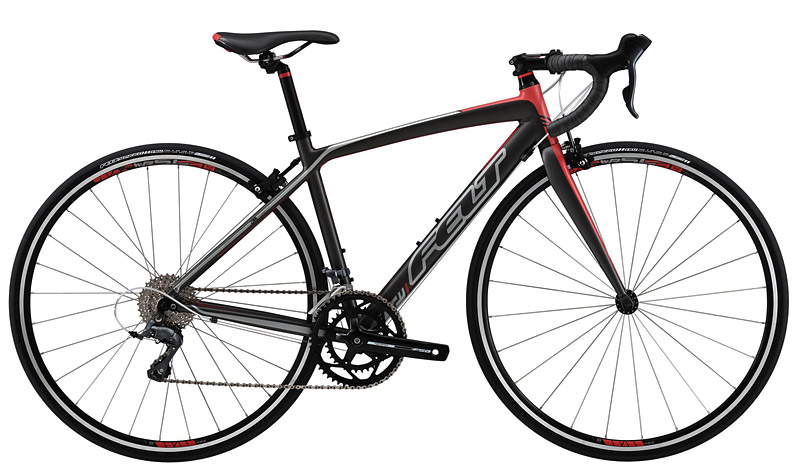 For short journeys, any good working bike will do. You might have an old 10-speed racer, a shopping bike or a bargain mountain bike that you could use. If you're buying a second-hand bike or you have an old bike that's been gathering dust, consider having it serviced at a specialist bike shop to ensure it's roadworthy.
If you're buying a new bike, there are many models to choose from. Hybrids, road bikes and mountain bikes are the most popular. A specialist bike shop will advise you on the correct frame size and help you select a bike to suit your budget and the type of cycling you want to do. What's most important is that the bike fits you. The bike should fit your height (from ground to crotch), as well as the distance from the seat to the handle.
Equipment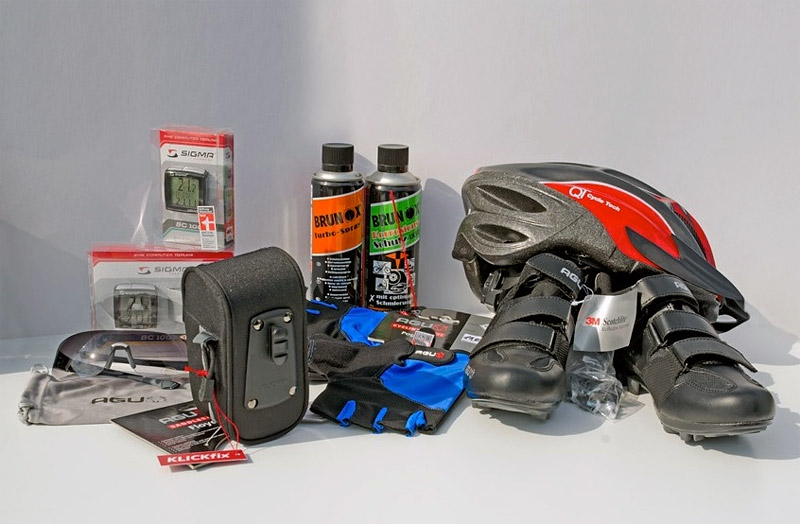 Helmet. Don't ever ride without one. It can mean the difference between a bad headache and being a vegetable. Make sure it fits well.
Water bottle. Get one with a cage that attaches to your bike. Regular bottles don't fit in this cage. An alternative is a hydration backpack. You only need hydration tools once you start cycling beyond an hour, but it's good to have just in case.
Pump. A portable pump that you attach to the bike is necessary, in case you get a flat or a slow leak. You don't want to be walking your bike back home. A floor pump is good to have at home, too, for easier pumping, but isn't absolutely necessary.
Repair kit. A simple repair kit would include a patch kit, a spare inner tube, 2 tire levers, a multi-tool for bikes, all in a small bag that attaches to the bike.
Gloves. They absorb shock from the handles (cycling gloves are padded), but more importantly, if you crash, your palms are protected.
Bike computer. This attaches to the bike and tells you how far you've gone, how fast you're going, your RPMs, and all other kinds of good info. Very useful, but not absolutely necessary.
Lights. These are a must if you ride when it begins to get dark.
There are, of course, a ton of other equipment out there. But you don't need them in the beginning.
The Clothing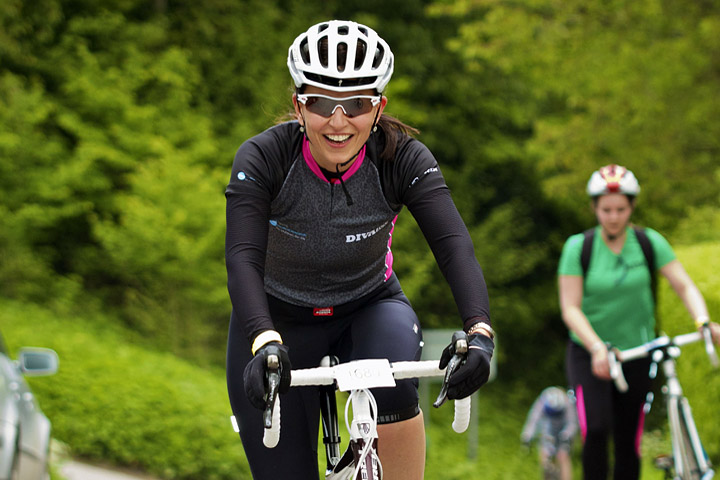 We've all seen the tight and bright clothing that the pros wear. But you can start with your ordinary running shorts and shirt and shoes. That's really all you need to start off. However, if you begin to get serious about road cycling, you should consider some good clothing. Good cycling clothing is thin, so you don't get too hot, flexible for comfort, with special material that "wicks away" sweat (basically, it doesn't soak it up and chafe your skin like cotton does).
It's also tight, so the wind doesn't flap your clothing all around and irritate the hell out of you. And the bright colors serve a purpose as well: they make you visible to those crazy drivers!
Braking
Obviously this is a pretty important area. It's a major safety skill that takes a little practice to learn. A few tips:
Down hills. The temptation going down hills, to limit your speed and make sure you don't get out of control, is to brake the whole way down. It's recommended that you don't do this, though — the brake pad could burn out. You want to do it in spurts.
Front brake. Many beginners use both brakes simultaneously to brake. But more experienced cyclists (and I'm not one yet) use the front brake most of the time. If you practice using the front brake, you will lose the fear of flipping over the front wheel.
Rear brake. This is good for certain situations, especially if it's slippery or your front tire blows out.
Hills
For beginning cyclists, hills can be a big challenge. Experienced cyclists actually have no problems with hills — they know how to shift, to brake, to pace themselves, and they have gotten stronger on hills with practice. There are two areas with hills to be concerned with:
Uphills. Road cycling uphill isn't that hard if you shift to the right gears. Build up some speed going into a hill, shifting to a bigger front gear and getting some momentum. This will carry you a little ways up the hill. As the pedaling becomes more difficult, gradually shift to easier gears until you are on the smallest front gear and largest back gear. It's also good to learn to pace yourself — don't pump the pedals too hard early on in a long hill, or you'll tire out.
Downhills. Steep downhills can be scary for beginners because of the speed. You should slowing yourself down with intermittent braking. If the downhill isn't too steep, shifting to your big front gear and smallest back gear — you can really build up some speed that will carry you when you hit the flat or the next hill.
Start slow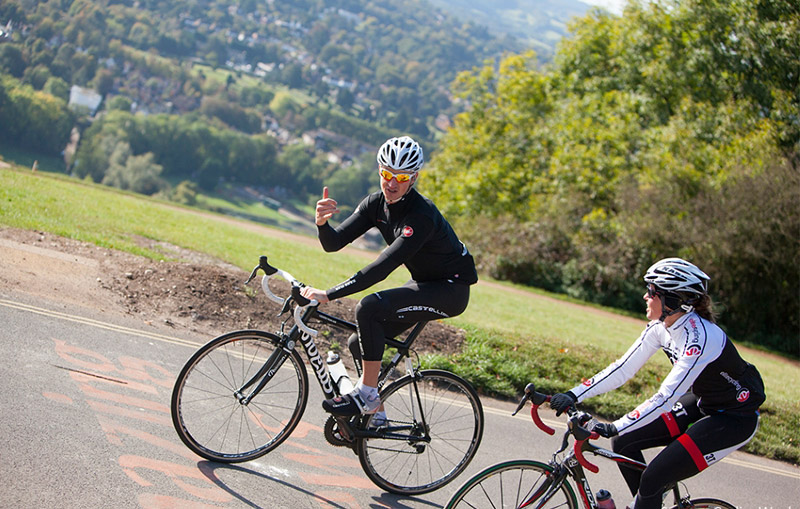 More than most sports, road cycling can be very dangerous, especially if you're on the roads with all the crazy drivers out there. Ride during the daylight hours, follow traffic laws, always yield the right of way, wear bright colors and reflectors, wear a helmet.
There's no need to kill yourself when you start. Even if you're already in good shape, cycling uses different muscles than other exercises, and your body will need time to get used to the new types of stress. Start out nice and easy, enjoy yourself, and progress gradually. Just do 2-3 miles at first, and do them nice and slow. Have fun!
Sources: zenhabits.net , nhs.uk