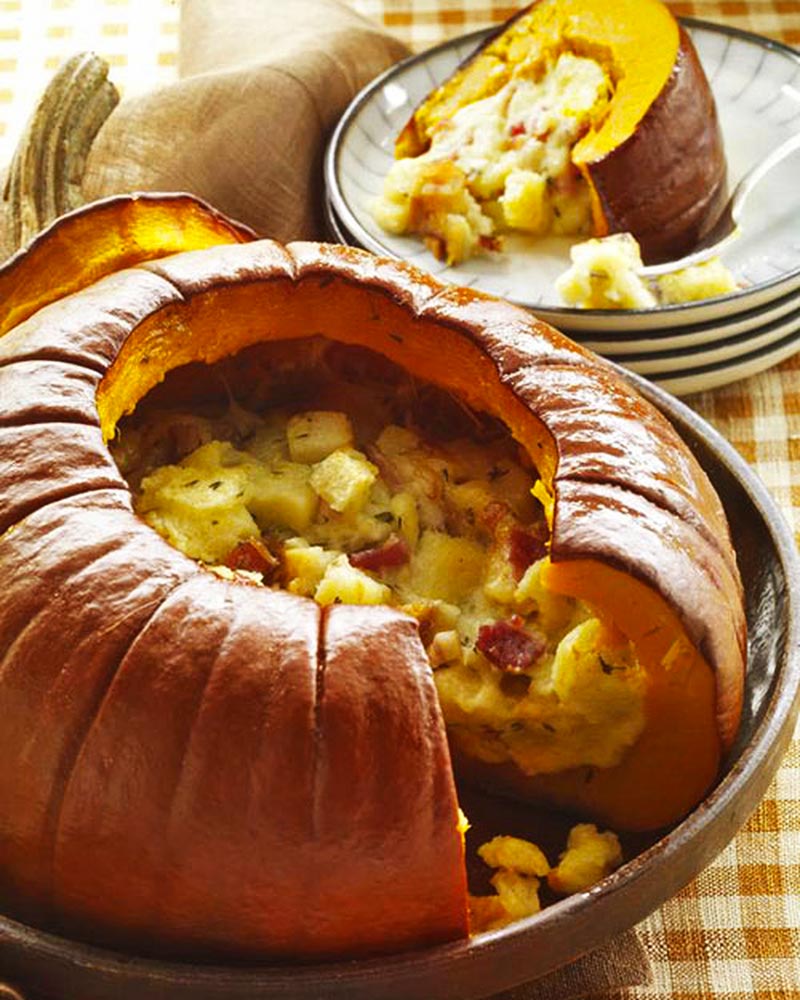 Stuffed Pumpkin Recipe
Stuffed Pumpkin is perfect Thanksgiving side dish; looks gorgeous on the table and is a seasonal decoration in itself!
Is absolutely gorgeous and easy to scale up and adapt. Sometimes I add sausage instead of bacon, sometimes I add some sage, but it is always based on this recipe and it is amazing. My family loves it!
Ingredients:
1 pumpkin, 2 . 5 to 3 pounds (preferably a sugar pumpkin)
salt & freshly ground black pepper
1⁄4 lb bread, stale and cut into half-inch
fresh garlic clove, chopped (2-4 or to taste)
1⁄4 lb gruyere cheese, cut into half-inch pieces (can also be Emmenthal, cheddar or a combination of all)
4 slices bacon, cooked until crisp, drained and chopped
1⁄4 cup chives (fresh is best, not dried!!) or 1⁄4 cup scallion, chopped (fresh is best, not dried!!)
1 tablespoon fresh thyme, minced
1⁄3 cup heavy cream
1 pinch of freshly grated nutmeg
Instructions:
Place a rack in the center of the oven and preheat to 350°F Line a baking sheet with a silicone baking mat or parchment paper (see last step for stovetop instructions). Using a very sturdy knife, cut a cap out of the top of the pumpkin (like a Halloween jack-o'-lantern) by working your knife around the top in a circle at a 45 degree angle. Cut out a large enough cap to make it easy to work inside the pumpkin. Remove the seeds and strings from the cap and from inside the pumpkin. Season the inside of the pumpkin generously with salt and pepper and put it on the baking sheet.
In a large bowl, toss the bread, cheese, garlic, bacon and herbs together. Season with salt and pepper to taste and pack the mixture into the pumpkin. The pumpkin should be well filled (you might have a little too much filling or you might need to add to it). In a small bowl, stir the cream and the nutmeg together, seasoning the mixture with salt and pepper, then pour it into the pumpkin (again, you might have too much or too little–the ingredients should not swim in cream but they should be nicely moistened).
Put the cap in place and bake the pumpkin for 90 minutes. Remove the cap and return to the oven for another 20 to 30 minutes, until everything inside the pumpkin is bubbling and the flesh of the pumpkin is tender enough to be pierced easily with the tip of a knife. Remove the pumpkin very carefully (it will be heavy, hot and wobbly) and place it on the table or transfer it to a platter. To serve, either spoon out portions of the filling and pumpkin meat, or dig into the pumpkin meat with a large spoon and mix it into the filling before spooning out portions.
You may also cook the pumpkin in a large Dutch oven and bring it directly to the table for serving.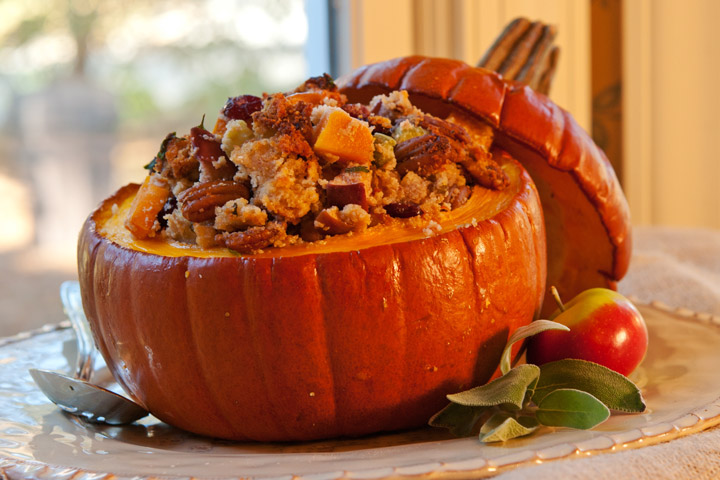 Source www.food.com
Please follow us on Facebook Page and enjoy our collection of recipes, crafts, fitness, health tips, gardening, DIY and more…