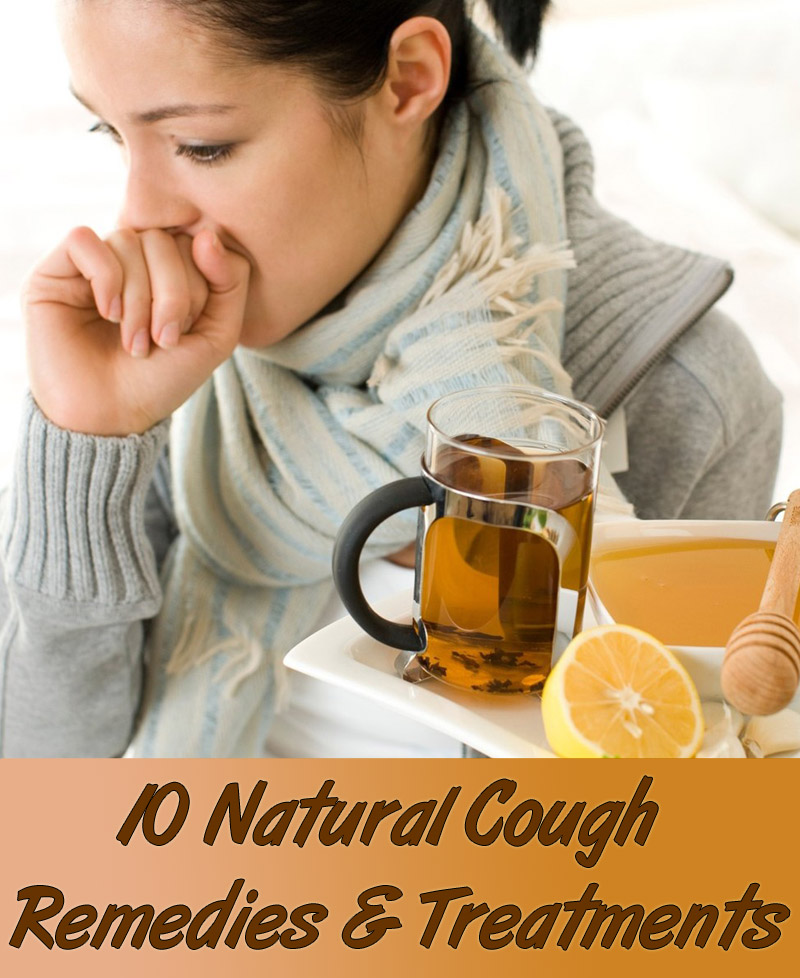 Coughing is your body's way of breaking up mucus, clearing airways and getting rid of irritants. As annoying as it can be, it's actually best to let your body take care of itself and do what it needs to do. But when your throat is painfully raw, or you're trying to sleep, sit in meetings or handle business calls all day–persistent coughing is irritating and you want relief.
Here is a collection of ten easy home natural cough remedies &  treatments that I've gathered over the years, most are simple to manage with many ingredients found readily in your pantry. If I've missed your tried-and-true, please share it in the discussion area below.
Homemade Syrup
1/2 cup honey
1 lemon (juiced)
1 TBS glycerin
Heat the lemon juice in a saucepan without bringing to a boil, add to rest of the ingredients, mix thoroughly.
Pour into sterilized glass jars and seal. Refrigerate.
Instructions for use: Take 1 to 2 tablespoons as needed.
Garlic Syrup
8 ounces garlic (skin removed & minced)
Olive oil
Put garlic in a sterile jar and cover with olive oil. Seal and refrigerate. Strain and use as needed–1 teaspoon per.
Thyme or Basil Brew
Brew 1 tablespoon dried thyme in 1 cup boiling water. Strain then drink (if treating sore throats, gargle with this).
You can also make a basil version: Dried basil (1 tsp) per 1 cup boiling water. Steep then strain, add a spoonful of honey then drink.
Horehound Medicine
1 oz. dried horehound leaves
1 pint boiling water
Pour hot water over leaves and steep for 10 minutes. Strain.
Mix 1 1/2 cups of the infused water with 3 cups of honey. Pour into sterilized jars, seal.
Instructions for use: Take 1 tsp every 4 hours (during waking hours). Do not take more than 4 tsp a day.
Simmered Onions
Simmer roughly chopped onions in water until soft. Combine onions with honey and eat every four hours.
Another option is to strain out the onion after boiling for about 15 minutes, then bottle the juice. Drink the onion juice as needed.
Ginger
Stir 1/2 tsp of ground ginger into 1 tsp of honey.
Another tip is to dip a piece of fresh ginger into coarse salt (to coat the ginger) then eat it.
Aloe Vera
Combine equal parts of aloe vera juice/gel with honey.
Apple Cider Vinegar Mix
This one's easy, just combine 1/2 tsp of apple cider vinegar with 1/2 tsp of honey and drink.
Rose Hip Brew
Quite soothing, add 1 spoonful of honey to rose hip tea. Make tea with 2 tsp dried rose hips per 1 cup of boiling water, steep for 10 to 15 minutes.
Garlic Plaster
This is used and prepared the same way as a mustard plaster (which is also something you could try). Minced onion can replace the garlic if preferred.
Chop garlic finely then cover garlic with olive oil, mix to make a thick paste (about the consistency of sour cream). Spread over fabric and fold so garlic doesn't ooze out. Apply poultice to chest then cover with hot water bottle or a microwavable heat bag.
Tips
Try adding a teaspoon of honey to your favorite tea–this might be all you need to find some relief!
If it's chronic and just won't go away after a few days, make sure to see your doctor. You could have more serious issues going on that need to be tended to.
Remember: Honey shouldn't be given to children under 1 years old (risk of infant botulism).
Note: These are simply tips We've collected, they're not professional medical advice.