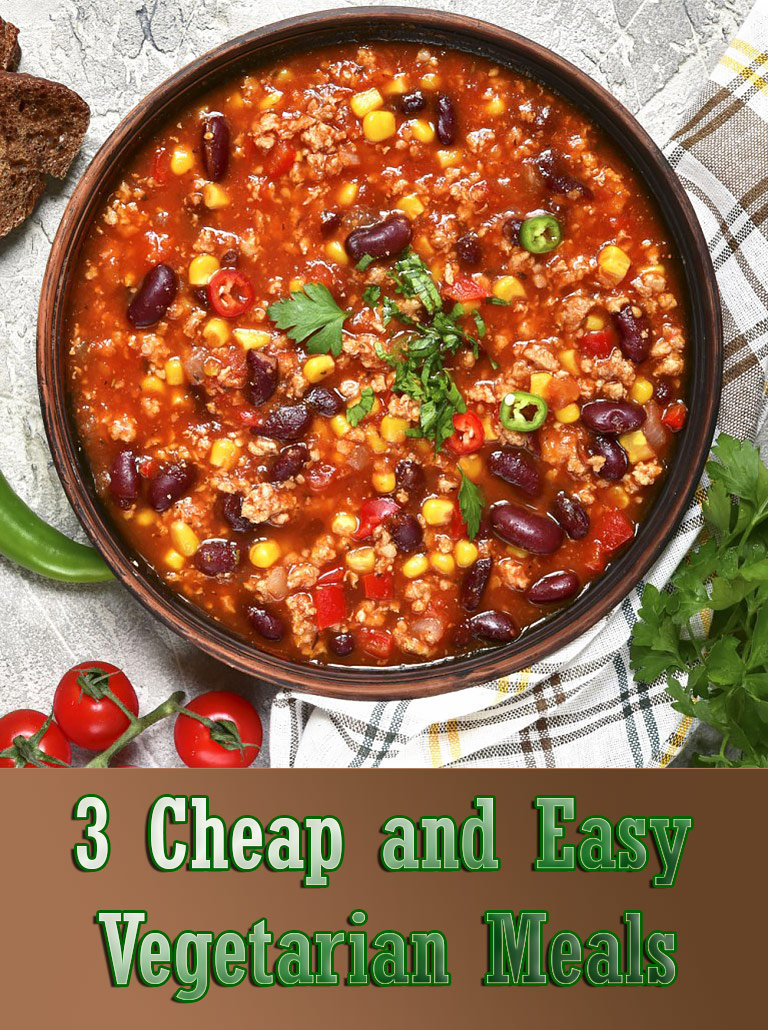 Many of us lead busy lives and everyone, especially those of us with families, is trying to get dinner on the table as quickly and easily as possible. Occasionally we fall back on using prepackaged meals from the grocery store or calling for takeout. Those meals have more fat, salt and sugar than we need, they produce a lot of garbage from the packaging and they are more expensive than cooking from scratch.
In these uncertain economic times, we need to look at our food costs and start to spend more wisely. Here are 3 vegetarian meals that will cover your dinners for a week, with some leftovers for lunch. They are as quick as takeout, as easy as many processed dinners, and more economical and nutritious than either.
Chickpea Curry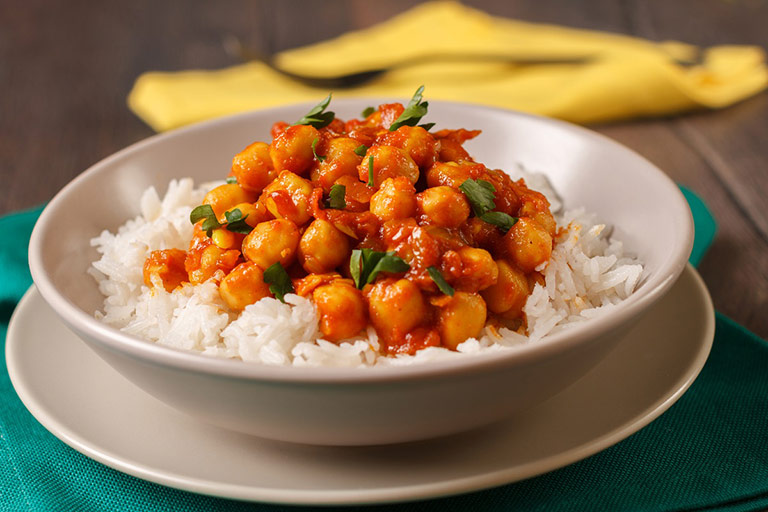 My son eats a lot of tofu and I'm always encouraging him to add more legumes to his diet, so I decided on something with chickpeas. I had in my mind a recipe from Julie Sahni's cookbook "Classic Indian Cooking" as a starting point and we made our own version. I had some dried Mexican chilies that Hugh had brought from his store. I've always rehydrated chilies, but Hugh put them in the bottom of a dry pan until they were fragrant, chopped them finely, added a bit of olive oil and then crushed them with a mortar and pestle until they made a paste. We had some leftover rice and carrots from the night before and tossed them in as well. You could add vegetables such as zucchini or cauliflower as well. Here's a variation on the Curried Chickpea recipe:
Ingredients
4 cups

 

cooked couscous

1 tablespoon

 

vegetable oil

1 large

 

yellow onion, chopped

2 cloves

 

garlic, minced

2 tablespoons

 

curry powder

1 tablespoon

 

ginger root, grated

1 teaspoon

 

chili powder

1 teaspoon

 

turmeric powder

1 pinch

 

cayenne powder

2 15.5-ounce cans

 

chickpeas, drained

1 28-ounce can

 

diced tomatoes

1

 

romaine lettuce, rinsed and stemmed

Dollop

 

plain yogurt, to taste
Cooking directions
Cook couscous according to package directions. Set aside.
Heat oil in large skillet over medium-high heat about 1 minute. Add onion and garlic. Saute until tender, 5 or 6 minutes. Add curry and other spices and stir about 1 minute until fragrant.
Add chickpeas. Stir and heat about 3 minutes. Add diced tomatoes. Cook 10 to 12 minutes, stirring occasionally. Remove from heat when ingredients darken, transitioning from reddish to reddish-brown.
Align 2 overlapping leaves to plate lettuce. Add a helping of cooked couscous and 2 tablespoons of curried chickpeas. Top with yogurt.
Beans with Tomatoes and Swiss Chard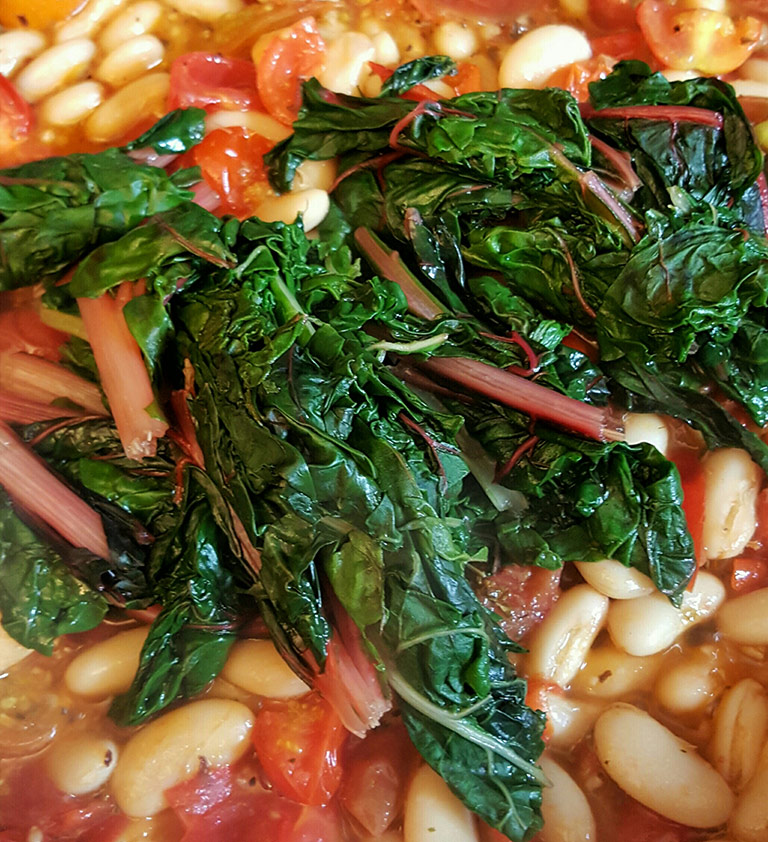 We actually ended up getting a number of meals from the Swiss chard I grew in my garden this summer, and I really enjoyed them. I had a good handful to harvest and I cooked them up with some fresh tomatoes and mushrooms for a quick, throw-together meal that was easy and cheap. All the measurements are approximate, and you can easily put together other legumes such as chickpeas or lentils, or other leafy vegetables such as kale or spinach. You can eat this as is, in a bowl, or serve it over pasta or rice. If you have any leftovers, you can eat them as a cold salad or add some liquid and puree it into a soup. Here are the step-by-step instructions for Beans with Tomatoes and Swiss Chard:
Ingredients
2 bunches about 2 lbs. swiss chard
3 tablespoons olive oil
6 garlic cloves, finely chopped
1⁄2 teaspoon crushed red pepper flakes
1 tablespoon tomato paste
4 plum tomatoes, chopped
2 (15 ounce) canscannellinni beans, drained and rinsed
salt and pepper
olive oil (for sprinkling)
Cooking Directions
In large pot, bring 6 quarts of water to boil over high heat.
Rinse the chard. Cut off and discard the stems at the base of the leaves. Slice the leaves crosswise into 1 inch wide strips.
Drop the chard into the boiling water. Cover and when it comes back to boil, reduce to simmer for 15 minutes or until tender. Drain.
In a large skillet, heat 1 T of the olive oil with the garlic and red pepper over medium heat, stirring constantly for 2 minutes or until garlic just begins to turn golden.
Immediately stir in tomato paste, continue cooking and stirring for 1 more minute.
Add plum tomatoes, turn heat to high and stir constantly for 1 – 2 minutes to soften the tomatoes.
Add the beans and the chard. Continue cooking over high heat, stirring constantly for 3 more minutes. Lower the heat to medium and stir in 2 T olive oil. Add salt and pepper to taste.
Simmer, stirring often for 2 more minutes. Sprinkle with olive oil before serving.
Vegetarian Chili
If you feel like a party, invite a few friends over and make this easy, delicious chili. Or better still, make it the day before and then you don't have to do anything but heat it up when your guests arrive. I looked at lots of recipes for vegetarian chili, but in the end I adapted my regular meat-based chili because I like the seasonings. Without the meat to soak up the heat, I found the chili a bit too hot. I have reduced the amount of dried chili peppers by quite a bit, so if you like your chili on the spicy side you could increase it. Use the list of vegetables as a guideline, and feel free to toss in whatever you have on hand. I used kidney beans, but you could add some chickpeas or black beans, as well. If you do want meat in the chili, brown 1 1/2 pounds of ground beef before you add the other ingredients. The rest of the tricks for Vegetarian Chili are in the recipe:
Ingredients
1 pound

 

dried beans (mix of black, navy, red and pinto)

2 tablespoons

 

salt

5

 

dried ancho chiles

2

 

dried New Mexico chiles

2

 

dried guajilo chiles

2

 

dried chipotle chiles

3

 

dried chiles de arbol

5 cups

 

vegetable broth

1 tablespoon 

olive oil

1

 

yellow onion, chopped

2 ribs

 

celery, sliced

5 cloves

 

garlic, minced

1 teaspoon

 

dried oregano

1 tablespoon

 

ground coriander

1 tablespoon

 

ground cumin

1 teaspoon

 

sugar

28 ounces

 

diced tomatoes, fire roasted

1 teaspoon

 

of salt

Unsweetened cocoa powder

1 cup

 

coffee
Cooking directions
Rinse the beans very well, then place them in a large mixing bowl with enough water to cover their volume by double. Add the first tablespoon of salt and let them soak for at least 12 hours.
Add the chiles to a small frying pan and toast them on each side over medium-high heat. Add 2 cups of the broth so that when pressed back down, the chiles are covered. Bring the water to a boil then remove from heat and let stand, covered, for 30 minutes, until chiles fully soften.
Puree the chiles and liquid.
Warm the olive oil in a stock pot and then sautee the onion, celery and garlic for about 2 minutes.
Add the can of tomatoes and the oregano, coriander, cumin and sugar to the pot.
Rinse the beans and add them to the pot with a teaspoon of the salt and the remaining 3 cups of broth.
Add the chili puree and the coffee and the cocoa powder. Bring to a boil.
Reduce to simmer, cover with lid ajar and cook for 2-4 hours until beans are tender and tasty.
Add in the remaining tablespoon of salt and let chili cook. Best served the next day!
Source: mnn.com