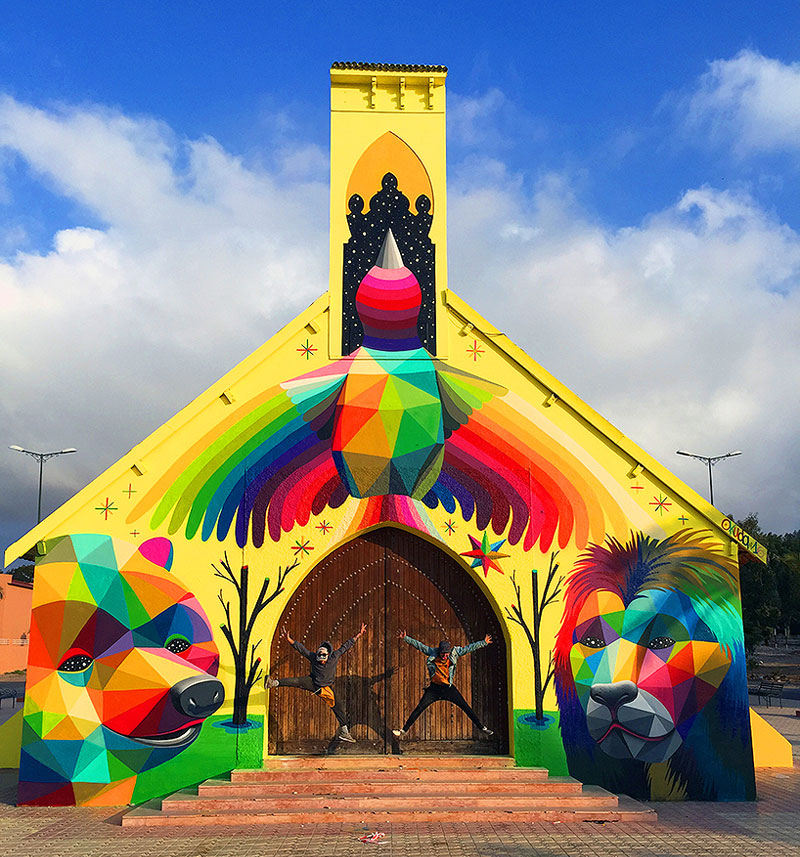 Okuda San Miguel paints colorful characters on abandoned church in Morocco
Following his recent intervention in Spain — where he realized a monumental mural within a converted church-turned-skate park — Okuda San Miguel has completed a new project in Youssoufia, Morocco on the facade of an abandoned church.
The Spanish artist has painted '11 mirages to the freedom', a fresco which wraps the building's exterior on all sides. 11 faces have been vibrantly illustrated on the surface of the structure, each interacting with the architecture of the site. Window frames become crowns placed atop the characters' heads, and bars are turned into cages for small birds in flight.
In keeping with his signature aesthetic, Okuda San Miguel has painted the abstract figures using a palette of highly saturated hues. Colored triangles form the faces of animals, birds, and headless humans, placed on a backdrop of bright yellow, red, green and blue. On the front of the church, a bear on the left and a lion on the right surround the original wooden door, while above, a large bird with rainbow colored wings flies toward the sky.
Scattered across the entryway are a sequence of a symbols and motifs, such as three-dimensional stars, trees and Moroccan architectural ornamentation. Visitors and passersby are encouraged to view the once neglected site as a living canvas that changes throughout the day as light passes across it.
The project has been realized as part of the British council's street art caravane initiative taking place throughout morocco.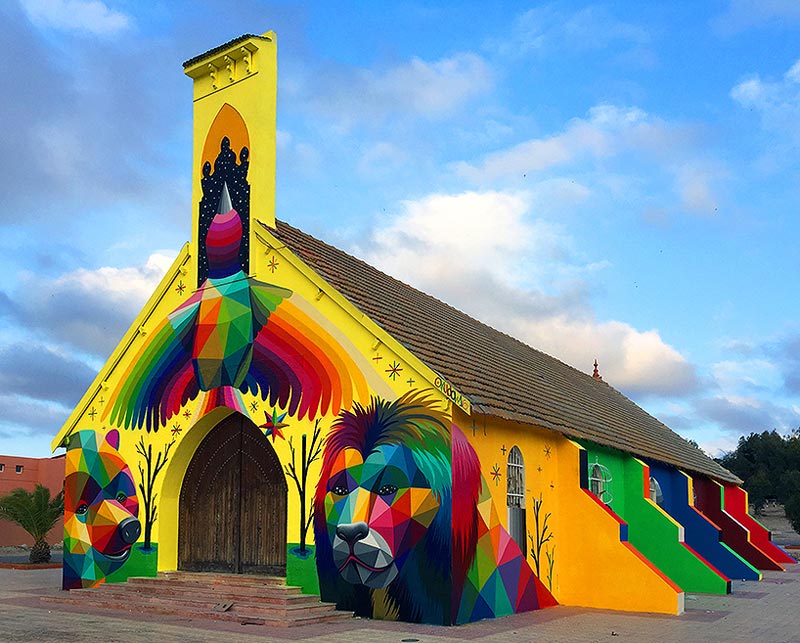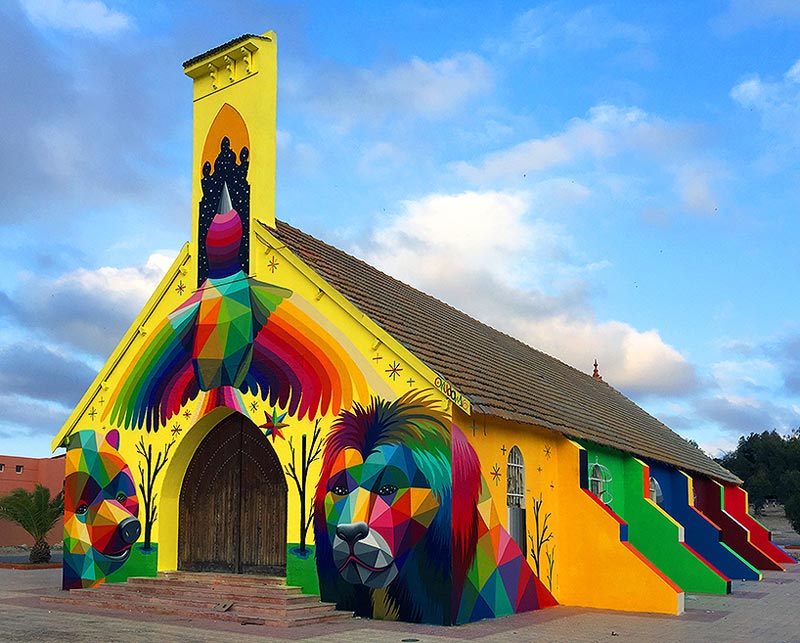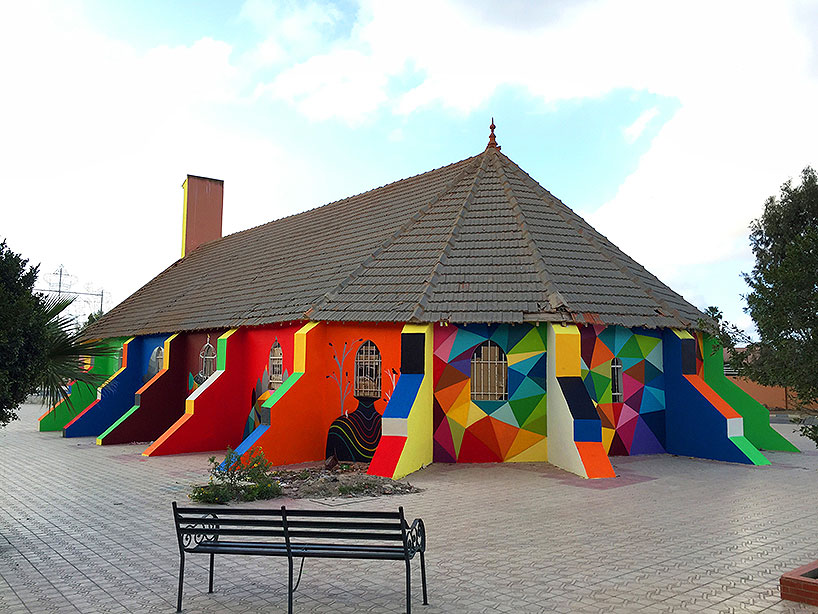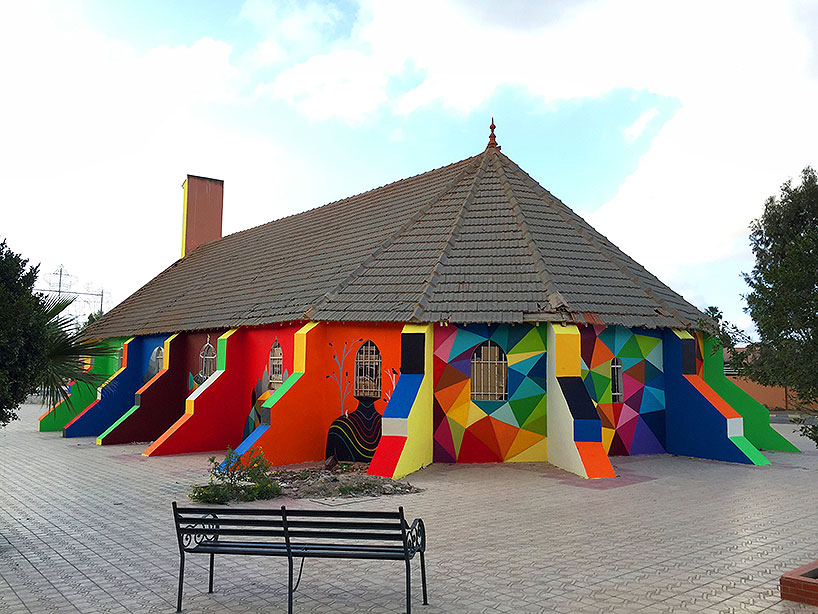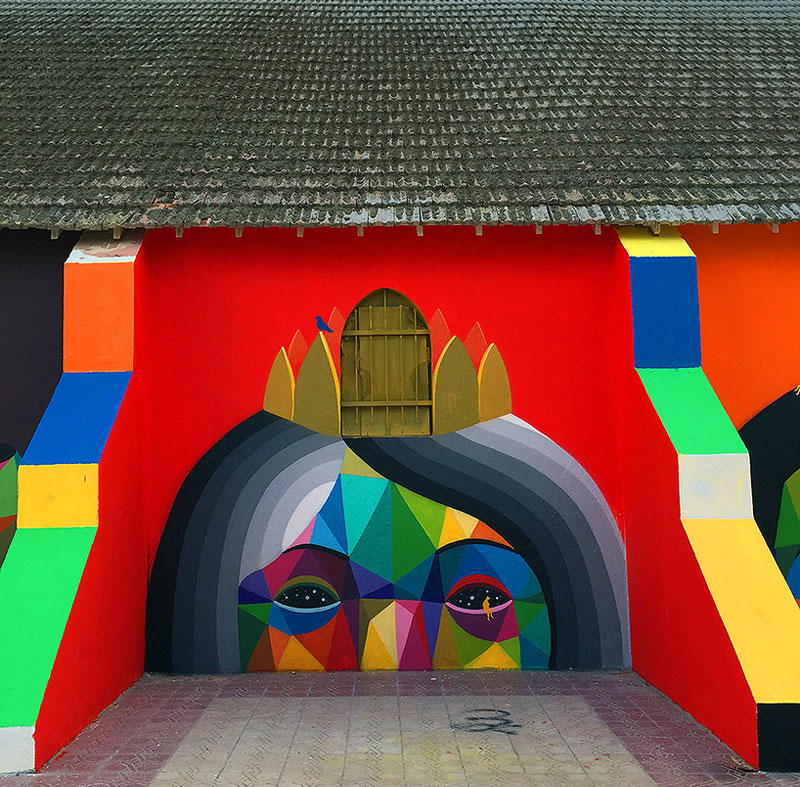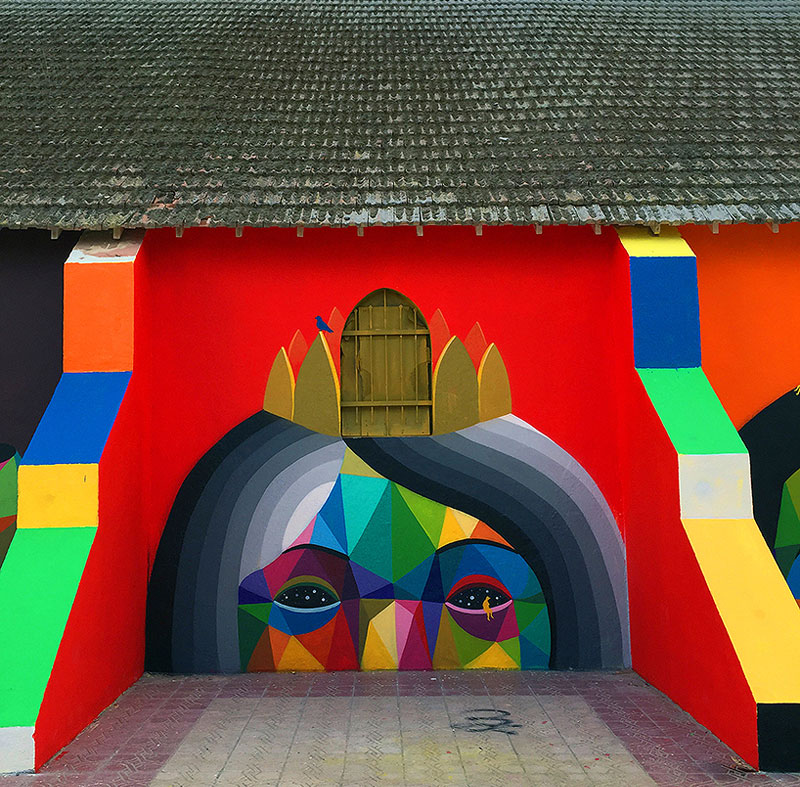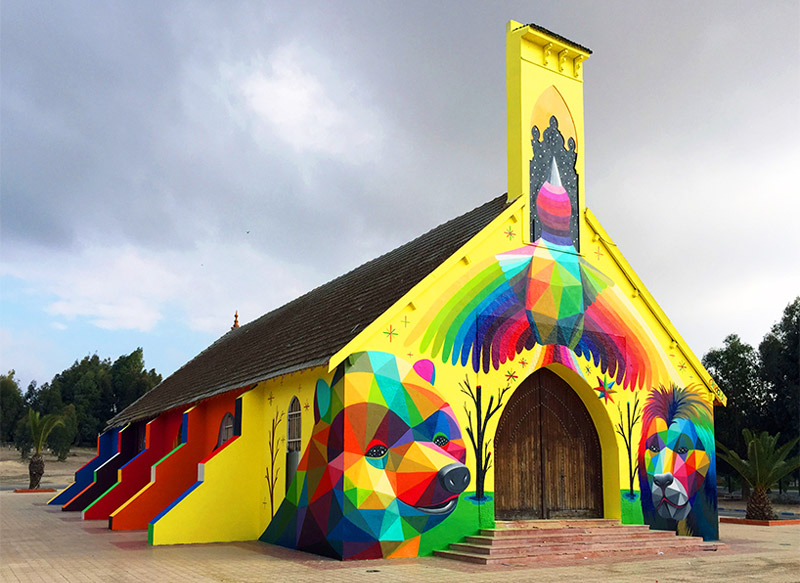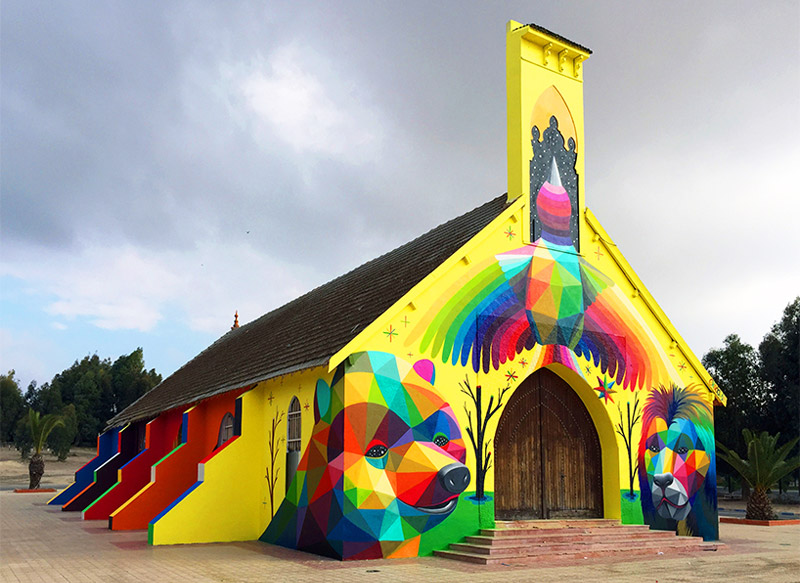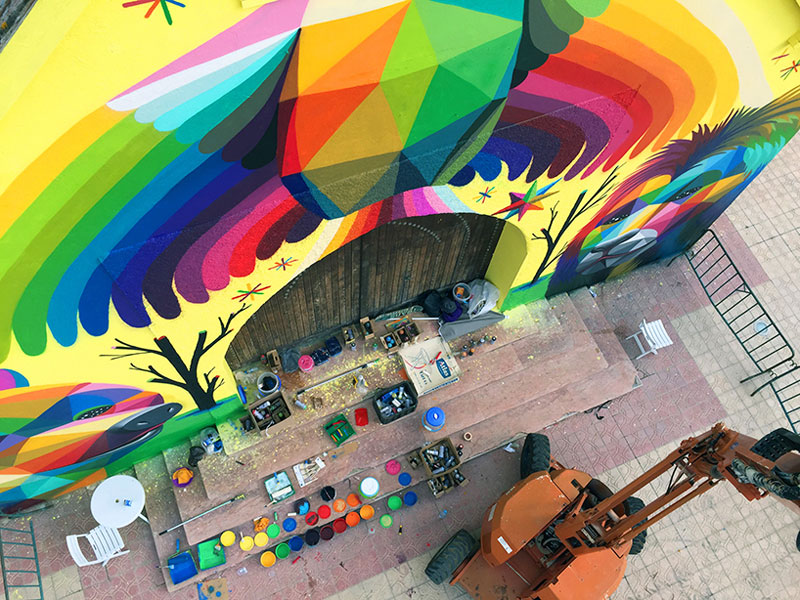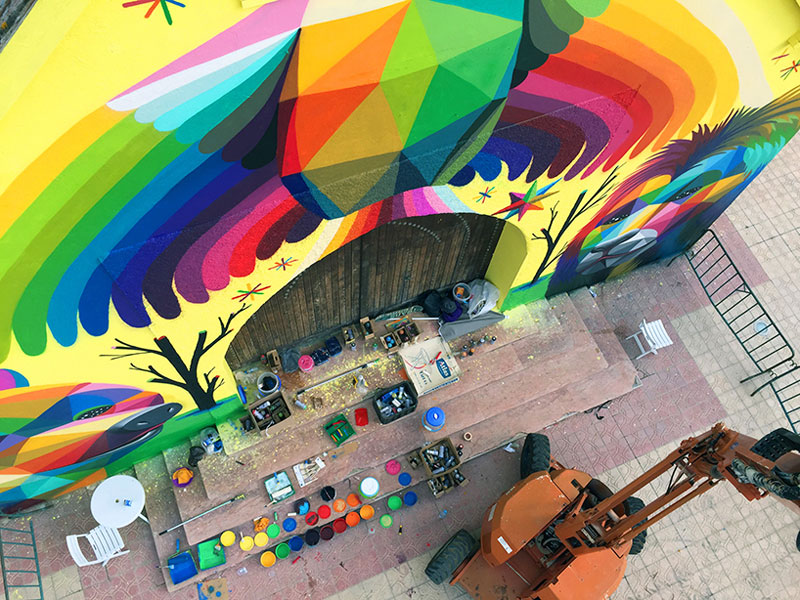 "One of the most amazing things about doing those churches was to feel that religions and spiritualism are changing with the new generations."
"It doesn't matter where it is located or the culture living in the place. It is like the painting of the church brings together different religions. Art doesn't care about borders. Muslim people came to take pictures of the Moroccan church, and pictures of me. This is love, freedom, peace and equality" told Okuda San Miguel.
Source: designboom.com
Images Source: Okuda San Miguel, iamgallerymadrid.com