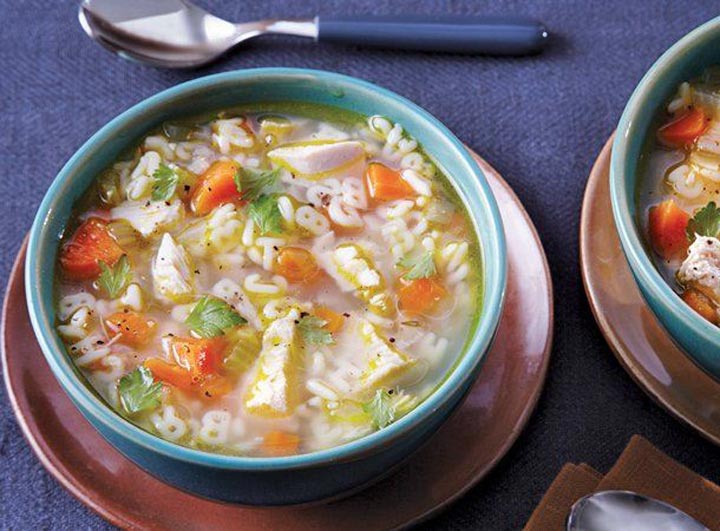 Alphabet Chicken Soup recipe
Prep time:   15 min         Total Time:  40 min              Serves:   10
Enjoy this delicious alphabet chicken soup made with veggies, Alphabet Chicken Soup – perfect for dinner.
Ingredients:
1 tablespoon vegetable oil
2 medium carrots, chopped (3/4 cup)
2 stalks celery, chopped (2/3 cup)
1 medium onion, chopped (1/2 cup)
2 cloves garlic, finely chopped
2 cartons (32 oz each) Progresso reduced-sodium chicken broth (8 cups)
2 cups chopped cooked chicken
1/4 teaspoon dried thyme leaves
1/2 cup uncooked alphabet macaroni (1 oz)
Directions:
1. In 4-quart Dutch oven, heat oil over medium-high heat. Cook carrots, celery and onion in oil 5 minutes, stirring occasionally. Add garlic; cook 1 minute longer or until vegetables are tender.
2. Stir in broth, chicken and thyme. Heat to boiling; reduce heat. Simmer 15 minutes, stirring occasionally. Stir in macaroni; cook 8 minutes or until tender.
Source bettycrocker.com