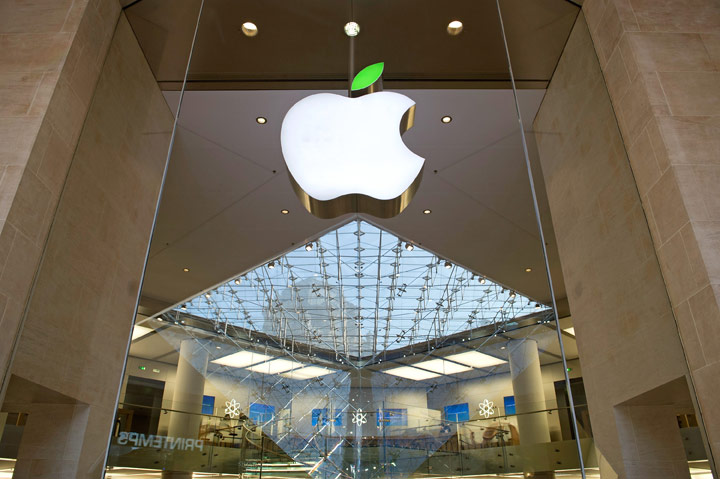 A fuming Frenchman has been caught on camera destroying thousands of dollars worth of brand new iPhones and Macs on display at an Apple store in Dijon, France. The video, apparently taken by another customer in the store, shows the unidentified man wearing a hoodie and sunglasses casually smashing up every device he could find with a steel ball used in the bowling game pétanque.
Meticulously picking up the upright iPhones on display and placing them on the table, the angry customer then smashes the heavy metal ball down on to the phones' Retina HD displays wearing a cream glove for grip as the store's alarm shrills in the background.
While calmly and methodically making his way through the store, the man, believed to be in his thirties, mutters in French while destroying at least 12 iPhones and a MacBook before being challenged by security.




When he noticed he was being filmed, the unknown man addresses the camera and explains why he is destroying the devices.
"Apple is a company that violated European consumers' rights," he said. "They refused to reimburse me. I told them, 'Give me my money back.' They said no."
"So you know what is happening? This is happening!" he yells before bringing down the metal ball on another iPhone screen. The footage then shows a shopping centre security guard approaching him as he calmly walks out of the store.
A video of the incident was posted to Twitter on Thursday (29 September), garnering over 4,000 retweets.

According to a French media report, the man was arrested by police on Thursday and placed into custody. An investigation is currently under way. French media reports that the damage is estimated to be in the "tens of thousands of euros."
BBC reports that Apple has declined to comment on the incident but mentioned that it is working with the French authorities.
Source: ibtimes.co.uk