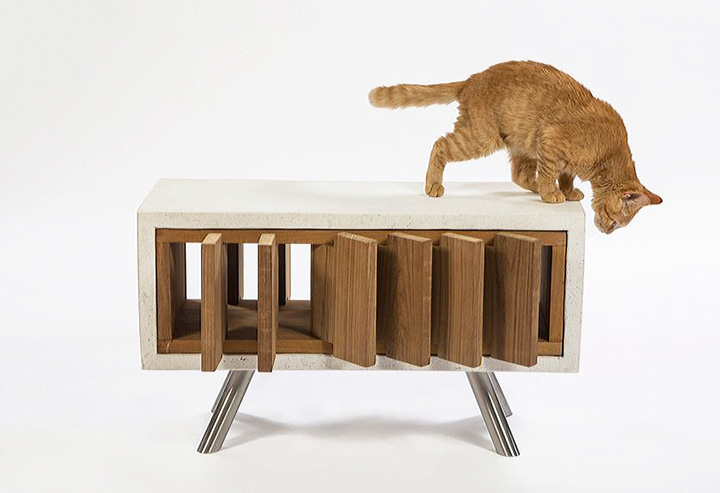 These architect-designed cat shelters are pretty darn swank
Giving Shelter, a fund- and awareness-raising charity event benefiting critters in need, returned to Los Angeles last month not with a bang, not with a whimper but with a resounding meow.
And like with the previous L.A. edition of Giving Shelter held in 2014, a generous handful of esteemed architecture and design studios — HOK, Lehrer Architects, RNL and Perkins + Will, excuse, Purrkins + Will, among them — responded to the call for high-design cat houses.
The flagship initiative of nonprofit advocacy group Architects for Animals, Giving Shelter, which has also been held in New York and Washington, D.C., is noted for producing wacky, wild and whimsical animal cat shelters that defy easy description. They also appear to not be all that practical for the target clientele, which, in this instance, are L.A. street kitties.
"I want them to use their creativity because part of this is to raise awareness. When you ask the architectural community — these very cool, talented people — it helps change the perception of these suffering animals. If this group is willing to help, then [people] will think, 'Oh, I can help, too.'"
No matter how eye-popping, the shelters had to be habitable and abide by a loose set of guidelines that required the designs to be playful, portable and able to accommodate two to three cats at once.
"These cat shelters are absolutely remarkable," Karn Myers, executive director of FixNation, said of the designs in a press release. "Some of the most talented architects and designers in the city are participating, creating innovative shelters that will not only help raise awareness about the plight of homeless cats, but also provide practical and humane solutions that can be implemented throughout our community."
Check out the rest of the hyper-stylish cat shelters displayed during Giving Shelter 2016 below …
Source: mnn.com
Title Image: California Cat Cube by Standard Architecture Design (Photo: Architects for Animals/Meghan bob Photography)