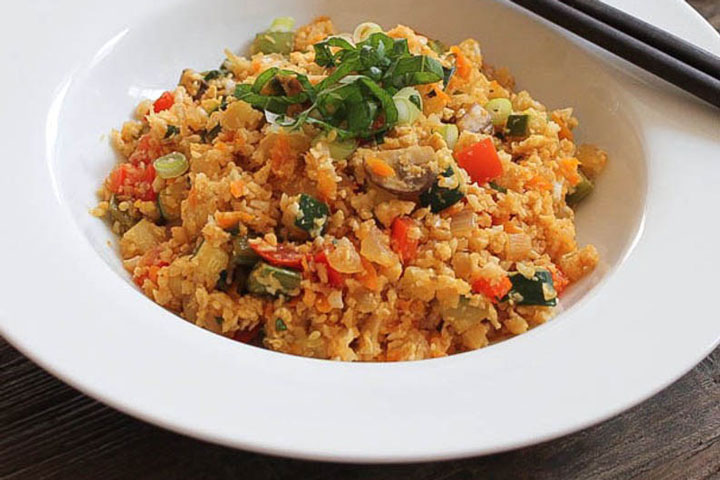 Cauliflower Fried Rice Recipe
Cauliflower is a member of the cruciferous family, which means that it's detoxifying, high in fiber, and packed with vitamins and disease-fighting phytochemicals. On top that, you've got the added nutritional value of bell peppers, mushrooms, sugar snap peas, zucchini and carrots. I'm talking vitamin-C, beta-carotene, and anti-oxidants galore. Eggs add some protein to this vegetable-packed meal, and coconut oil boosts immunity and has been shown to help balance cholesterol levels.
Yield: 4 servings
Ingredients:
½ Spanish onion, finely diced
2 garlic cloves, minced
¾ cup thinly sliced cremini mushrooms (about 5 whole mushrooms)
1 small red bell pepper, diced
1 small zucchini diced
½ cup grated carrot
½ cup sugar snap peas, chopped
½ head cauliflower, florets removed
5 tablespoons soy sauce
1½ teaspoons rice vinegar
2 teaspoons fresh ginger, minced
½-1½ tablespoons Sriracha (It totally depends on how much heat you can handle.)
2 teaspoons coconut oil (in solid form)
2 large eggs
2 tablespoons fresh basil, chopped
For garnish: (optional)
Scallions, thinly sliced
Fresh basil, chopped
Instructions:
Start by prepping all of the vegetables, keeping the diced onions and minced garlic separate from the rest of your veggies. Briefly set them aside while you "rice" your cauliflower.
Place cauliflower florets in a food processor and pulse gently until the cauliflower is the size and texture of rice. If you don't have a food processor (you are not alone), don't panic! Just throw the florets in a blender and pulse on the chop setting OR use a box grater. Be careful not to over-process or grate your cauliflower too finely, or it will release too much water and get mushy when you cook it! Set aside your "rice" until ready to use.
In a small bowl, combine the soy sauce, rice vinegar and minced ginger. Set aside until ready to use.
Heat two teaspoons of coconut oil in a wok or large pan until melted. Add the onions and garlic and sauté for 2-3 minutes until the onions soften and the garlic becomes fragrant. Add the mushrooms, red bell peppers, zucchini, carrot, and sugar snap peas and sauté for 3-4 minutes until they are just tender.
Stir the cauliflower rice into the sauteed vegetables. Cover and cook for five minutes over medium-low heat. The cauliflower should be tender but not mushy.
Push the rice and vegetables to one side of the pan and crack two eggs in the empty space. Scramble them using a spatula until they are no longer runny. Mix the eggs into your fried rice. Add the soy sauce mixture and chopped basil and cook for 1 minute.
Serve your cauliflower fried rice garnished with extra fresh basil and finely sliced scallions if you feel fancy. Healthy looks good on you.
Source domesticate-me.com