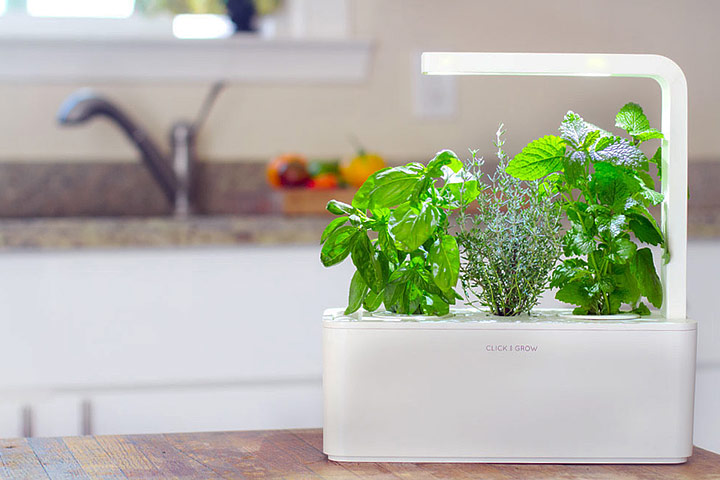 Click and Grow's team announced their second generation Smart Herb Garden for indoor cultivation …just in time for planting season. The new Click & Grow Smart Herb Garden lets everyone grow fresh herbs at home with extremely limited maintenance.
The Smart Herb Garden is easy to use and no gardening knowledge is required, just add water, plug into an electrical outlet and the technology does all the work. The nano-tech growth medium combined with a removable LED grow light helps yield plants even in less-than-perfect conditions. The Smart Herb Garden's unique LED technology provides the plants with enough light to grow, consuming minimal electricity, costing around 6 dollars for an entire year.
Unlike its first incarnation, which only allowed room for one plant, the new model lets you raise up to 3 herbs at once ( Each starter kit comes with basil, thyme and lemon balm. ) .
Seeds come included and embedded in a cartridge, ready to be inserted into the growing bed.  The design now also features a built-in light that can be plugged in to let artificial sun shine whenever it is needed.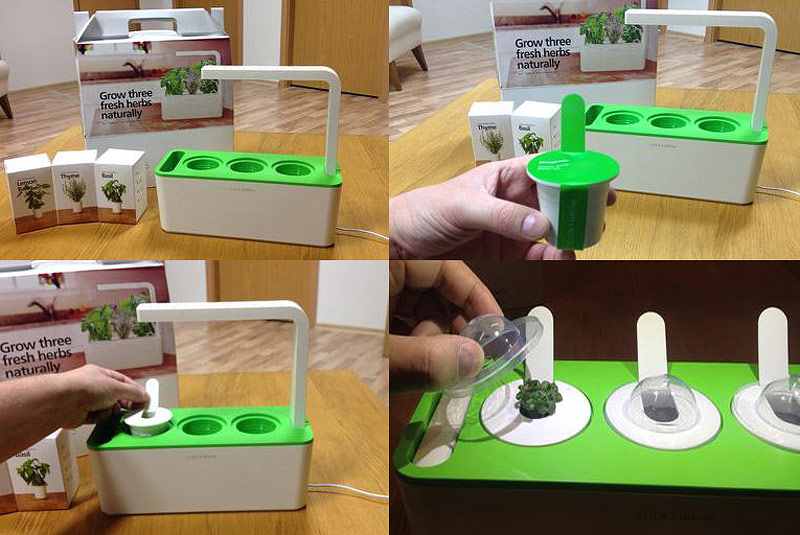 Interesting technology behind Click & Grow : The Smart Herb Garden
The nano tech growth medium, exclusively available with Click & Grow products, contains pockets for oxygen and guarantees aeration to the plant roots even when material is fully saturated with water. Click & Grow has also engineered a chemicophysical nutrient release system into the growth medium. Nutrients are released to the plants by decomposing organic components. The same happens in nature – leaves fall and become nutrients for future generations of plants.
The growth medium is made of natural renewable sources only and contains no pesticides, fungicides, hormones or any other kind of harmful substances. All in all, despite lots of high technology involved, plants are grown naturally, using biomimicry as the main source for inspiration and innovation.
The light spectrum in traditional LED lights makes plants look unnatural and can be harmful for children's eyes. Click & Grow has worked with the world's leading LED technologists to invent an energy efficient light system that is safe and looks natural. The light requires just 6 watts which keeps the electricity bill for runningthe light to around 6 dollars for a whole year
Are Click & Grow plants organic?
As fans of pure food and non-GMO plants, Click & Grow hasn't put anything in their products that is remotely suspicious. There are no pesticides, fungicides, insecticides, plant hormones or any other suspicious substances in their products. And there's no need for them – a well-watered and fed plant with perfect growing conditions can defend itself without any outside help.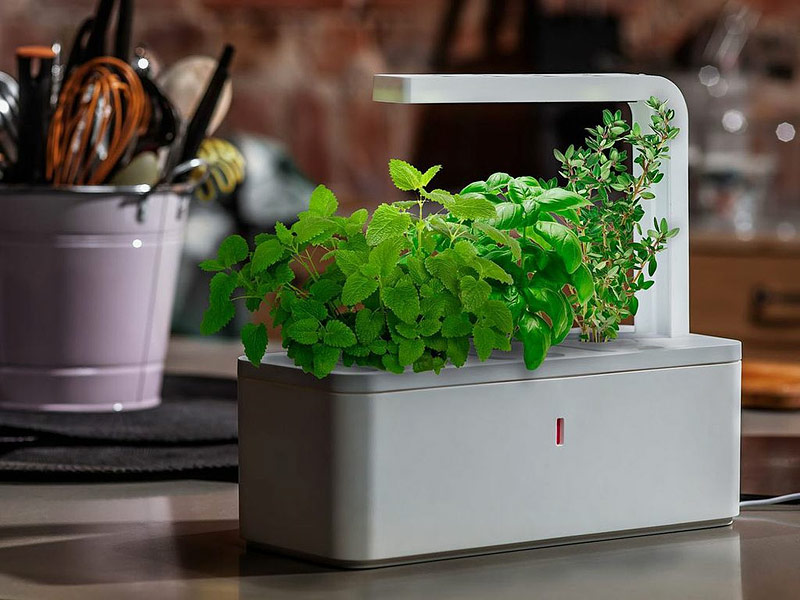 What they have added are some minerals to feed the plant. Although the mineral salts they use are chemically the same as in all organic fertilizers, in most countries it cannot be certified as "organic".
How often do you need to fill the water reservoir?
You'd need to fill the water tank once every 3-6 weeks, and an electronic indicator mechanism will remind you of that.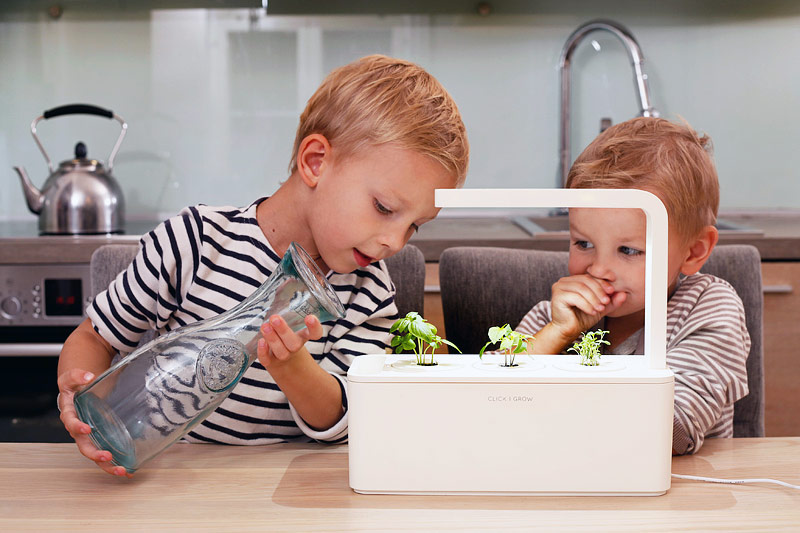 Who is this product for :
People who don't have a garden, but want to grow some plants.
People that travel a lot and don't have time to take care of their plants.
People that have killed a plant or two in the past by not watering them.
People that are geeky enough to want a hi-tech flowerpot.
Measurement and Specs
Dimensions: 11.8" length x 4.7" width x 11.4" max height
Weight: Approximately 850g
Light: Built-in light contains 2 LEDs, 3W each.
Electricity:  US AC wall adaptor
Source: freshome.com