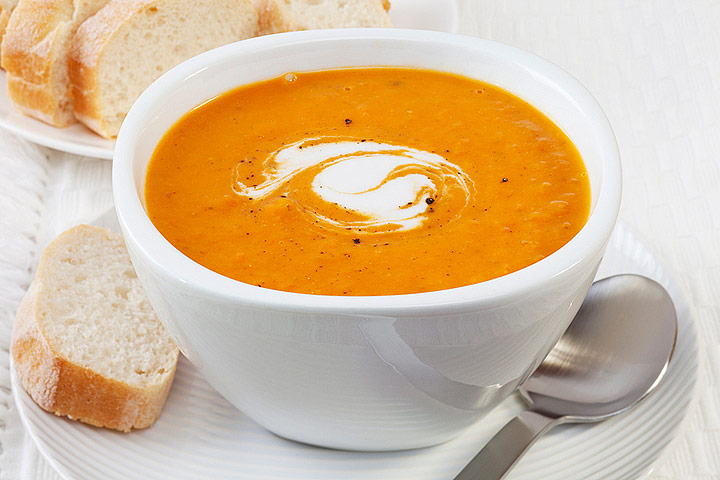 Make creamy pumpkin soup with sweet, sugar, pie, or cheese pumpkins (small baking pumpkins). Add onions and potatoes for a sweet-savory flavor or substitute tart apples for the potatoes for a sweet-tart soup.
Small pumpkins are sweeter, meatier, and have less fibrous flesh than larger ones. Roasting pumpkin in advance of preparing soup will add deep flavor to the soup. Here's how: Preheat the oven to 400°F/200°C; prick the pumpkin around the top with a fork several times; brush the pumpkin with olive oil and bake for 45 minutes or until tender; allow the pumpkin to cool—there will be steam inside—then slice open and scoop out and discard the seeds; scoop out and chop the flesh. (If you have a large pumpkin, cut off two or three wedges, brush with oil, then roast the slices for 20 to 30 minutes until tender.)
This recipe serves 4 to 6.
Ingredients for Creamy Pumpkin Soup:
1 tablespoon sunflower oil
2 tablespoons butter (use 3 tablespoons butter if you do not use sunflower oil)
1 large onion, sliced
6 cups pumpkin cut into 1- to 2-inch chunks (about 1 pound pumpkin)
3 cups sliced potatoes (or 1 pound tart apples such as McIntosh or Granny Smith, peeled, cored and chopped)
2½ cup vegetable stock (best warmed)
A big pinch of freshly grated nutmeg
1 teaspoon chopped fresh tarragon leaves or ¼ teaspoon dried tarragon
2½ cups milk (or 1 cup heavy or light cream)
1 to 2 teaspoons lemon juice (optional)
Salt and freshly ground black pepper
Directions to Make Creamy Pumpkin Soup:
1. Place the oil and butter in a heavy-bottomed saucepan; turn the heat to low. When the butter melts, add the onion and sauté for 4 to 5 minutes until soft and golden but not brown, stirring frequently.
2. Add the pumpkin and potatoes (or apples) and stir well. Cover and sweat over low heat for about 10 minutes until the pumpkin is almost tender, stirring occasionally to stop from sticking. Season with salt and pepper.
3. Stir in the stock, nutmeg, tarragon, and seasoning. Turn the heat to medium-high and bring to a boil. Lower the heat, partially cover, and simmer for about 10 to 20 minutes until the pumpkin and potatoes (or apples) are completely tender.
4. Let the soup cool slightly. Pour into a food processor or blender and process until smooth. (At this point, you can cover and refrigerate for up to 2 days, then reheat and proceed.)
5. Pour back into the rinsed saucepan and add the milk (or cream) and cook gently over medium-low heat until heated through (do not boil). Heat slowly and taste, adding the lemon juice and extra seasoning, if necessary, about 1 minute.
Garnish and serve piping hot with crusty bread.