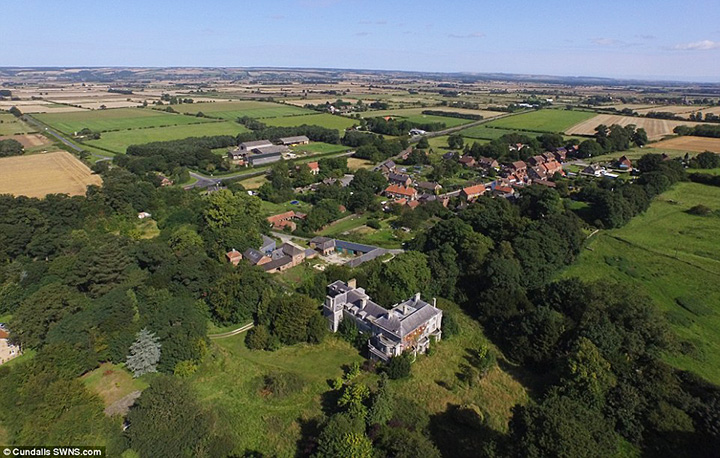 Prospective lords and ladies of the manor have the chance to live out their dream and take ownership of some 2,000 acres.
An entire village – including a 21-bedroom mansion, 43 houses and a pub – is up for sale near Scarborough for £20m.
The last owner of West Heslerton died five years ago and the decision to sell the village has only just been made. Potential lords and ladies of the manor also get a petrol station as part of the package, as well as 2,000 acres of farmland.
Estate agents say there has already been a lot of interest in the North Yorkshire village, which is a half-hour drive from the coast
West Heslerton was owned by Eve Dawnay's family for 150 years. But when she died, aged 84, she had no single heir and the estate is now up for grabs for the same price as a large family home in London's Knightsbridge.
"My phone's been ringing off the hook. We've had about 50 requests for details already," said Tom Watson from Cundalls, the estate agent in charge of the sale.
The centrepiece property – West Heslerton Hall with its 21 bedrooms – may need a bit of updating by the new owners however. It has not been lived in for 30 years after Miss Dawnay moved out to a smaller house.
Her sister Verena Elliott said the village is full of "loyal and loving people" and that her sibling had created a tight-knit community.
"She was very kind and the property rents are, and have always been, very low", added estate agent Mr Watson.
"This has helped keep a vibrant village community with a mixed group of ages and there are obviously a lot of people hoping that somebody with a similar benevolent nature will come along to take over the estate.
"It would be perfect for somebody wanting to build up and leave a legacy," said Mr Watson.
"The estate has been very much untouched in the past 50 years and is now a blank canvas, ready to be shaped for the next generation."
Source: news.sky.com