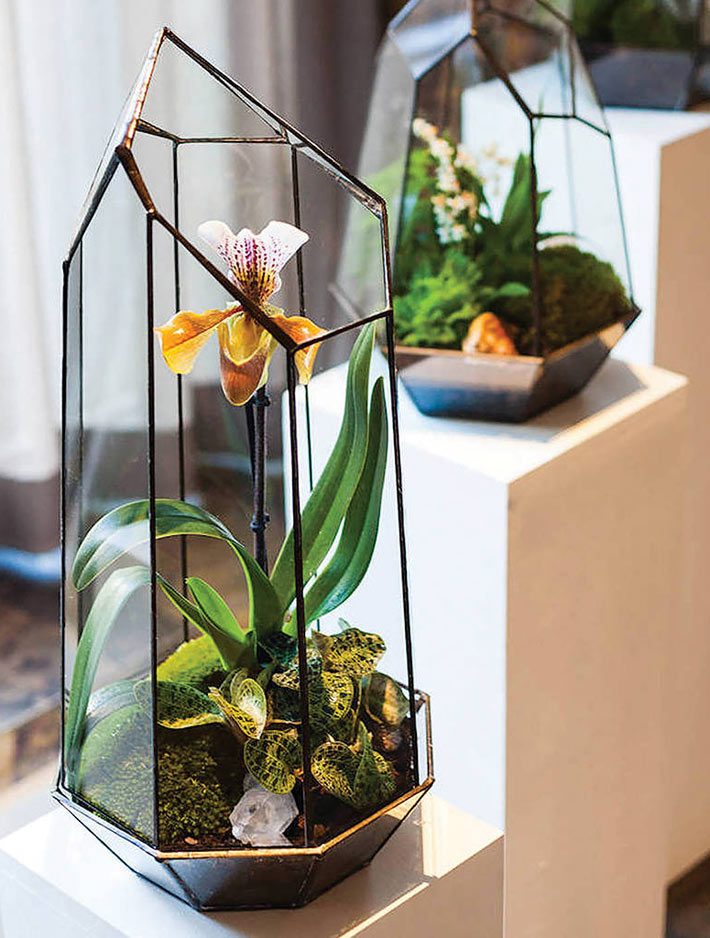 Terrariums are the perfect way to spruce up your home with a little greenery. They don't take up much space, are quick and easy to make, and add a wonderful whimsical quality to any space. The best part is, terrariums are incredibly easy to care for and even the most gardening inept can find success.
Building a DIY terrarium only takes a few minutes and you can inject plenty of creativity and individual style into your piece. This is a great project to do with the kids, or to make as gifts for that housewarming or birthday party in your future.




There are two main types of terrariums, open and closed.
The only physical difference between the two is the type of container used, but this difference decides the types of plants you'll use and the watering requirements.
An open terrarium doesn't have a top, which allows plenty of air flow and water evaporation. Open terrariums need to be watered regularly and can sit in direct sunlight without much trouble. Open terrariums are great for dry weather plants like cacti and succulents.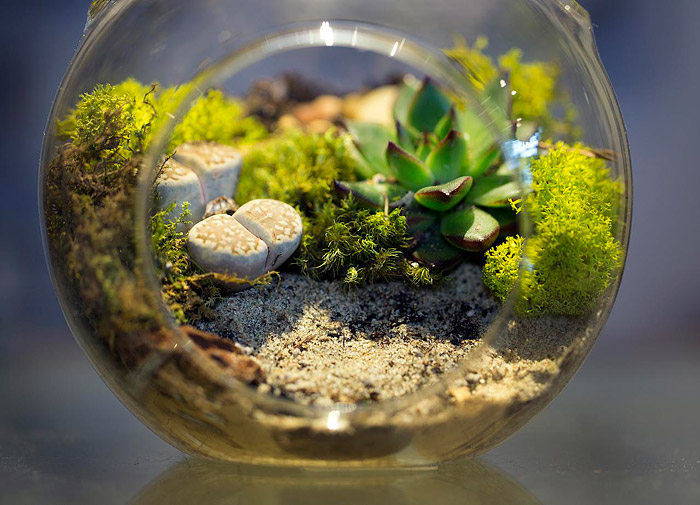 A closed terrarium has a lid, trapping air and moisture inside. These terrariums can go long bouts of time without being watered, some have even gone decades without being opened! A closed terrarium forms its own tiny and self-sufficient ecosystem. Open terrariums should be placed in indirect sunlight, as the sun's rays are intensified by the closed glass, causing overheating or burning of the plants. Closed terrariums are great for humidity-loving plants.
No matter which type of terrarium you'd like to make, you'll need the same materials, the only difference will be the type of container.
Tips for choosing a container for your DIY terrarium
Glass is the way to go with a terrarium. Any of the following ideas will work great, but keep in mind smaller sized items will have limited plants that can fit. You can get really creative with your containers, anything see-through that won't leak will work great.
Here are a few creative container ideas:
Jar
Vase
Bowl
Cup/glass
Lightbulb
Lamp
Carafe
Teapot
Salt and pepper shakers
Pitcher
Lantern
Jug
What are the best plants for a terrarium?
The best terrarium plants are those that tolerate low to moderate light. If you're creating a closed terrarium it's also best to select plants that will thrive in humid conditions. Terrarium plants need to be able to survive in a close knit environment and not outgrow their space too quickly.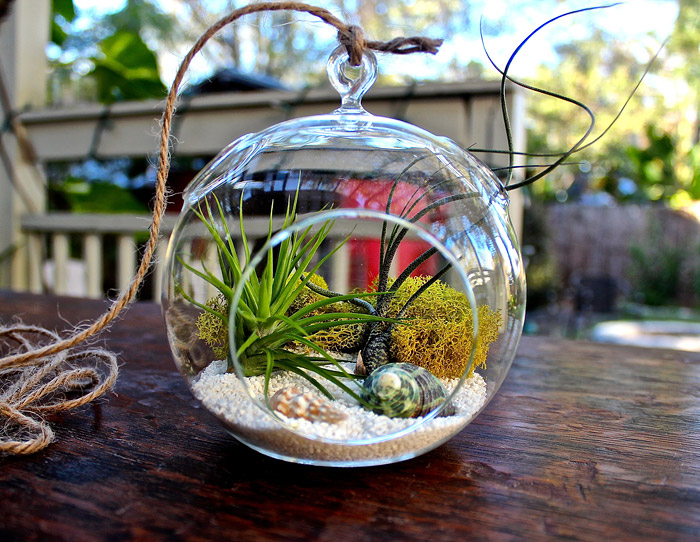 Here are some of our favorite plants for terrariums:
Succulents
Cacti
Thyme
Air plants
Ferns
Creeping fig
Moss
Ivy
Aloe
Sedum
Baby's tears
How to make a terrarium
What you'll need:
Glass container
Pebbles or stones
Activated charcoal
Potting soil
Plants
Layer 1: Cover the bottom inch or two with a layer of pebbles or stones. Due to the fact that terrariums don't have drainage holes, this layer is necessary to make sure excess water won't sit and rot your plant's roots.
Layer 2: Put a thin layer of activated charcoal on top of the stones. This will keep bacteria and mold from developing in the terrarium. Activated charcoal can be purchased at the garden center or online.
Layer 3: Add an inch or two of potting soil. At this point the layers should equal about 1/4 of the size of the terrarium. If the levels are off, the potting soil level can be adjusted. Keep in mind that different plants require different soils. If you're planting desert types like cacti or succulents, be sure to get soil that is specifically labeled for these plants.
Layer 4: Place the plants artistically into the soil, from largest to smallest. The plants you choose should have the same light and moisture requirements. Don't plant dry-loving plants like cactus with plants that love humidity.
Layer 5: Add interest with decorative shells, stones or figurines. This layer is purely optional for the artistically inclined.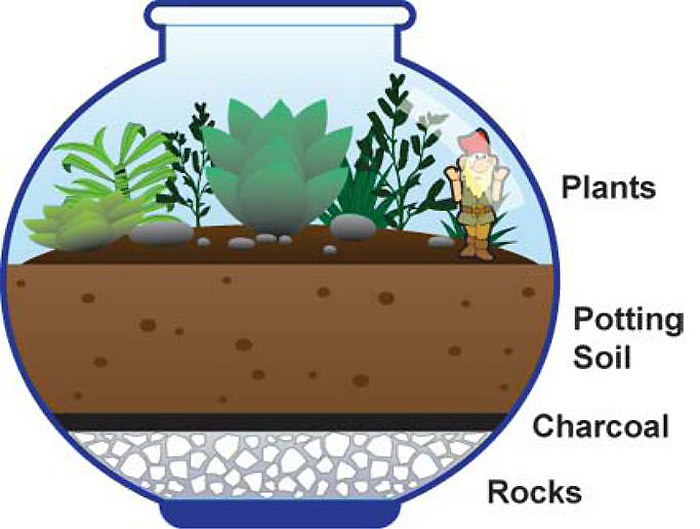 Caring for your terrarium
Keep the terrarium near a window where it will get indirect sunlight. Direct sunlight can overheat and burn your plants.
Lightly water the plants every week, or mist with a spray bottle. Take care not to overwater, as terrariums have no drainage hole for excess water and plants will drown.
Closed terrariums will only need a light misting a few times and should maintain their own water thereafter.
Prune the plants frequently to cut off dead pieces and cut back on plants growing too vigorously.
Within a few weeks your new terrarium should be thriving and bringing you peace and joy at every glance!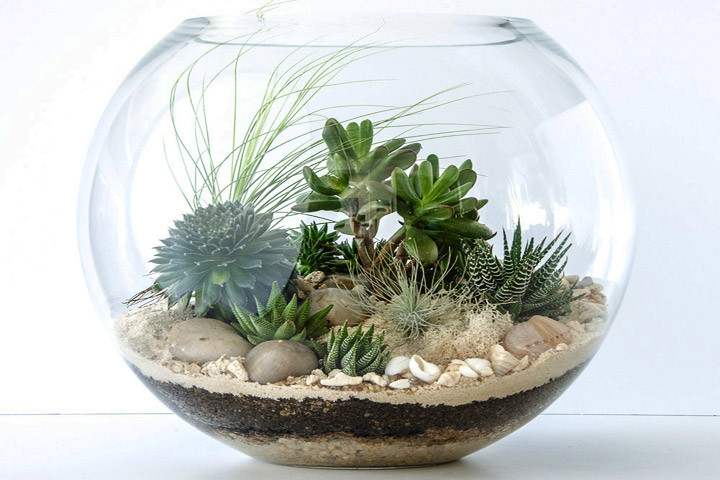 Source: craftsy.com