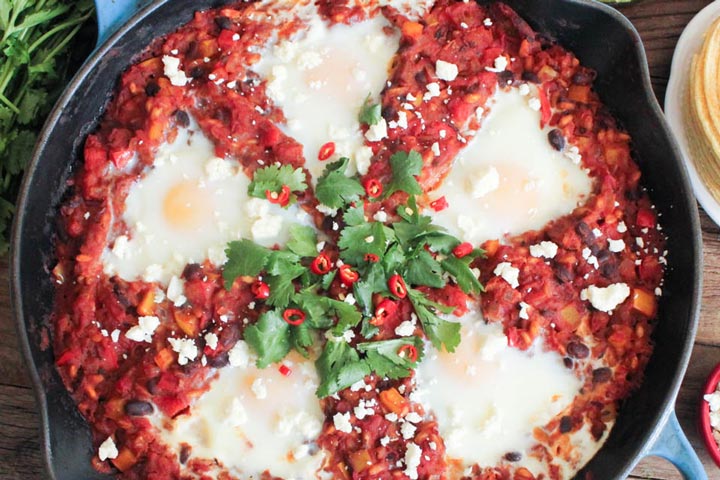 Fiesta Baked Eggs with Farro and Black Beans Recipe
Ingredients:
½ cup semi-pearled farro, uncooked
2 teaspoons olive oil
2 spicy chicken sausages (I recommend these), diced
1 large bell pepper, diced (I used a mix of red and yellow peppers because that's
what I had on hand, but any color will do.)
½ Spanish onion, minced
2 cloves garlic, minced
1 14.5-ounce can black beans, drained and rinsed
1 28-ounce can crushed fire roasted tomatoes (Yes, you can use regular crushed
tomatoes if you can't find fire roasted. Duh.)
1½ chipotle peppers canned in adobo, minced
1¼ teaspoons ground cumin
¾ teaspoon paprika
¾ teaspoon dried oregano
5 large eggs
For garnish: (optional)
¼ cup crumbled Cotija cheese
2 tablespoons fresh cilantro
Diced avocado or guacamole
Corn tortillas
Instructions:
Pre-heat the oven to 375 degrees
Start by cooking the farro. Bring a small pot of salted water to a boil. When boiling, add the farro and cook for 10 minutes until just al dente. Strain and set aside until ready to use.
Heat 2 teaspoons olive oil in a large skillet. When hot, add the sausage and cook until lightly browned, about 4 minutes.
Add the bell pepper, onion, and garlic to the pan and sauté for 3-4 minutes until the garlic is fragrant and the vegetables are just tender. Stir in the black beans, crushed tomatoes, cooked farro, chipotle peppers, cumin, paprika and oregano, and simmer for 10 minutes until the "fiesta sauce" thickens slightly. Taste and season with a pinch of salt if necessary.
Remove the skillet from the heat and use a spatula or spoon to make 5 wells (about 2 inches wide) in the sauce. Carefully crack an egg into each of the wells.
Transfer the skillet to the oven and bake for 10-11 minutes until the whites are just set. The eggs will continue to cook once you remove them from the oven, so be careful not to overcook them, peeps!
Top eggs with crumbled Cotija and fresh cilantro and serve with warm corn tortillas if you're so inclined.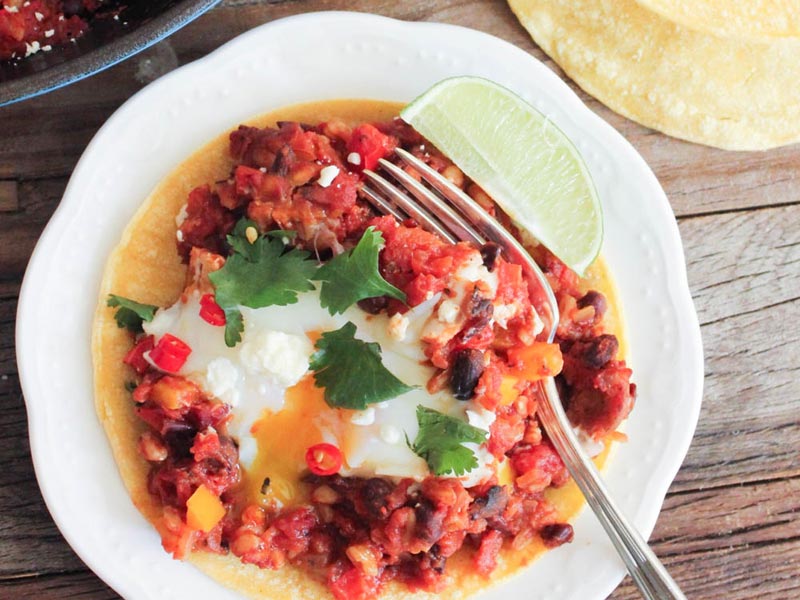 Source domesticate-me.com