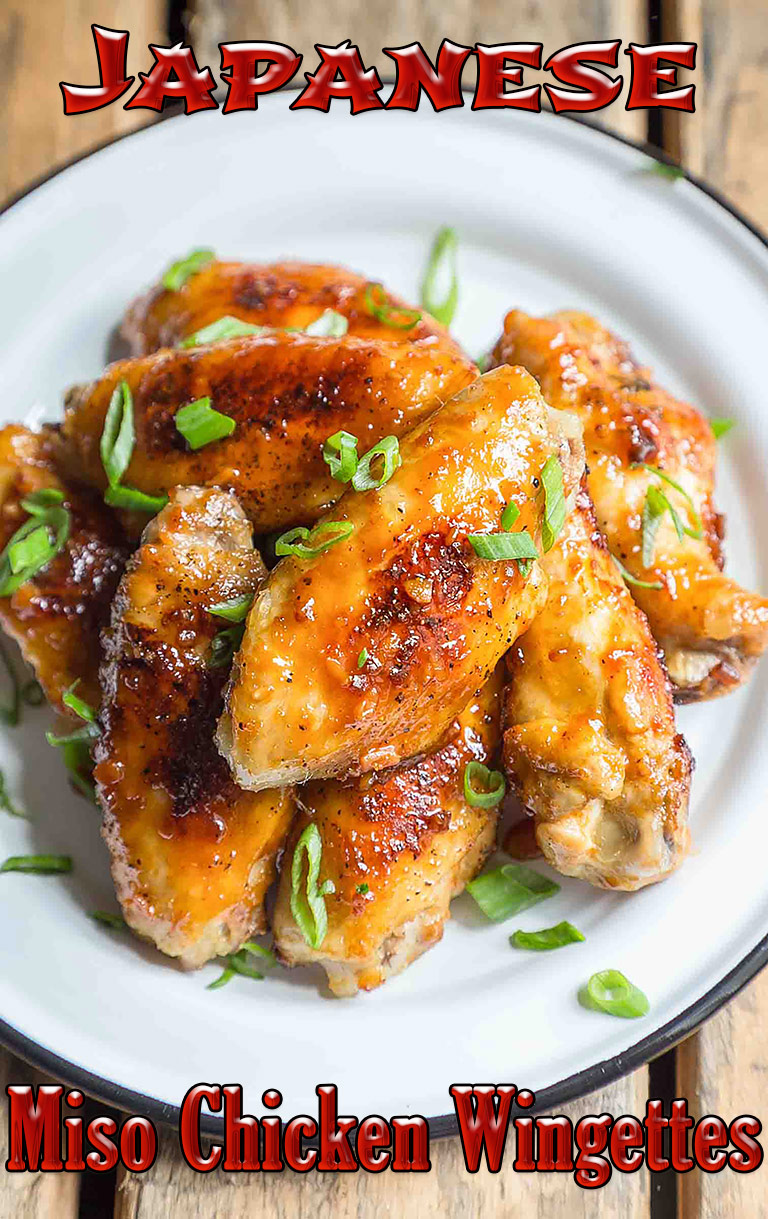 Miso chicken wingettes are seasoned with a sweet Japanese miso (fermented soy bean paste) and baked in the oven until juicy and delicious. Chicken wings are a popular dish in Japanese cuisine, known as "tebasaki", but they are often served whole, and not cut up into smaller wingettes as they are in this recipe.
This recipe is fairly quick and easy as the ingredients for the sauce are simply mixed and then tossed with the wingettes. There are several options below to help tailor the recipe to perfectly suit your tastes. Enjoy!
Recipe Tips
Any type of miso may be used: red, white, awase (mix of red and white miso).
Make it spicy by adding Japanese 7 spice chili flakes (shichimi togarashi), Ra-yu spicy Japanese chili oil, or dried chili peppers slices or flakes.
As with any recipe, make it to suit your own taste by adjusting the amount of sugar.
If you're a garlic lover, try adding about a 1/2 to 1 teaspoon of chopped garlic to the miso marinade in the recipe below to add a bit of boldness to the dish.
Ingredients:
1 pound of wingettes (drumettes and wingettes); yields about 5 to 6 pieces
2 tablespoons Japanese miso (fermented soy bean) paste
2 tablespoons mirin (sweet cooking sake)
2 tablespoons granulated white sugar, adjust this to taste
1 1/2 teaspoon rice vinegar
1/4 teaspoon ginger, chopped (or substitute with prepared fresh grated ginger in a tube)
1 teaspoon olive oil
Canola oil cooking spray to coat baking dish
2 teaspoons roasted white sesame seeds, optional garnish
1 tablespoon chopped green onions, optional garnish
Directions:
 Pre-heat oven to 400 degree Fahrenheit.
In a large bowl combine miso paste, mirin, sugar, rice vinegar, olive oil and ginger. Mix the ingredients until well incorporated. Set aside.
If you purchased wings, cut these down into two pieces, the drumette and the wingette. The tip can be discarded if you choose.
Add all of the wingettes to the bowl and coat well with the miso mixture.
Spray a baking dish with canola oil, or cover with foil and spray with canola oil to prevent chicken from sticking to the dish, and also for easy clean-up
Bake chicken for 35 to 40 minutes until juices run clear and internal temperature of the meat reaches 165 degrees Fahrenheit. Chicken should appear lightly browned. Note, if you prefer that the chicken be darker, simply broil on low for 1 to 2 minutes until it reaches desired color. Be sure to keep an eye on the chicken while its broiling as it can quickly burn.
Plate the chicken wingettes and garnish with roasted sesame seeds and, or, chopped green onions if you desire.
Prep Time: 20 minutes
Cook Time: 35 minutes
Total Time: 55 minutes
Yield: 2 servings
Source: japanesefood.about.com