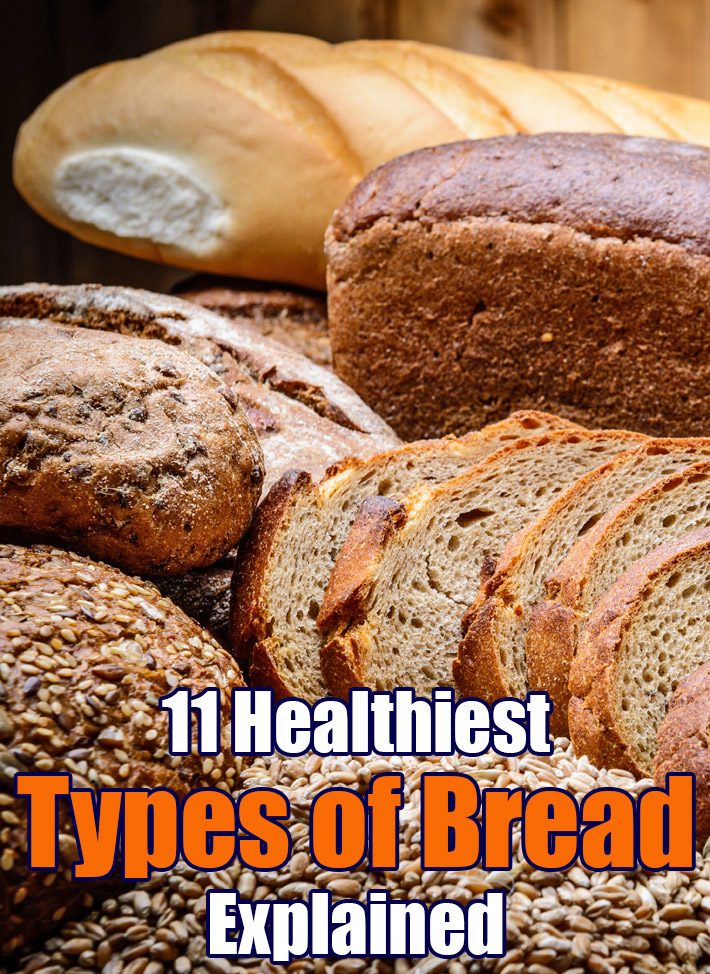 Many fit and health-conscious men and women banished bread from their pantries long ago because it's high on the glycemic index scale. Its sugars are quickly broken down and surged into the blood stream, spiking blood sugar levels and increasing your odds for obesity and diabetes. But that's largely because of old-school white bread.
If you haven't noticed, whole grains are in. Recent research from Harvard T.H. Chan School of Public Health found people who ate 70 grams (about 4 servings) of whole grains per day, compared with those who ate little or no whole grains, had a 22 percent lower risk of premature death, a 23 percent lower risk of death from heart disease, and a 20 percent lower risk of death from cancer.
100% whole grain and whole wheat bread varieties are typically regarded as the best, but other types have their benefits, too. We've rounded up the healthiest ones to make your trip to the grocery store quicker and easier.
The truth is, most people can tolerate grains/gluten—and research backs it up. Figures from the American Journal of Gastroenterology reveal only about one percent of the population is afflicted with the autoimmune disorder in which the ingestion of gluten can damage the small intestine. It is possible you're sensitive to grains, however. Check with your doc or nutritionist to be sure, then have a slice of one of these healthy breads. If you are grain-sensitive or have celiac disease, we've got you covered to with gluten-free options as well.
1. Ezekiel Bread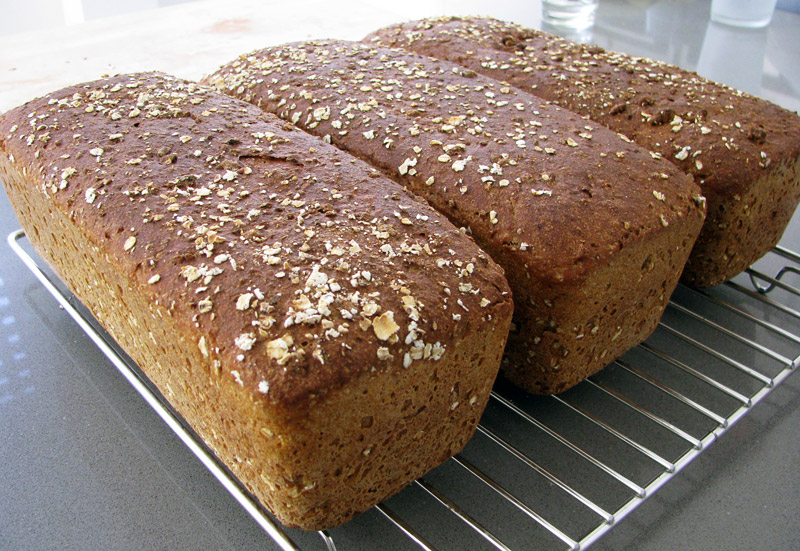 Ezekiel bread stands out among most varieties because it's made without added sugar and from sprouted whole grains. The sprouting process increases the amount and bio-availability of vitamins, like Vitamin C, and minerals, like folate and lysine, so Ezekiel bread is a bonafide nutritional powerhouse. Quick lesson on sprouting grains: Companies can do it one of two ways—dry or wet.
Dry Sprouting Process: You can sprout the grain, then dry it to lock in the nutrients when they're at their peak. The sprouted grain can be stored until it's cooked or milled into sprouted grain flour and then make bread.
Wet Sprouting Process: You can also mash wet, sprouted grains into a thick paste to make breads, tortillas, and more; these products are often described as "flourless."
Ezekiel bread is an amazing choice for vegetarians, because it's made from wheat, barley, beans, lentils, millet, and spelt. When these six grains and legumes are sprouted and combined, they create a complete protein similar to that found in milk and eggs. It's also high-quality, containing all 9 essential amino acids (and 18 total). What's more, sprouted grains are more easily tolerated by people with grain protein sensitivities, may help fight diabetes, protect against fatty liver disease, and reduce your risk for cardiovascular issues.
Macros per serving (1 slice): 80 calories, 15g carbs, 0g sugar, 4g protein
2. Flaxseed Bread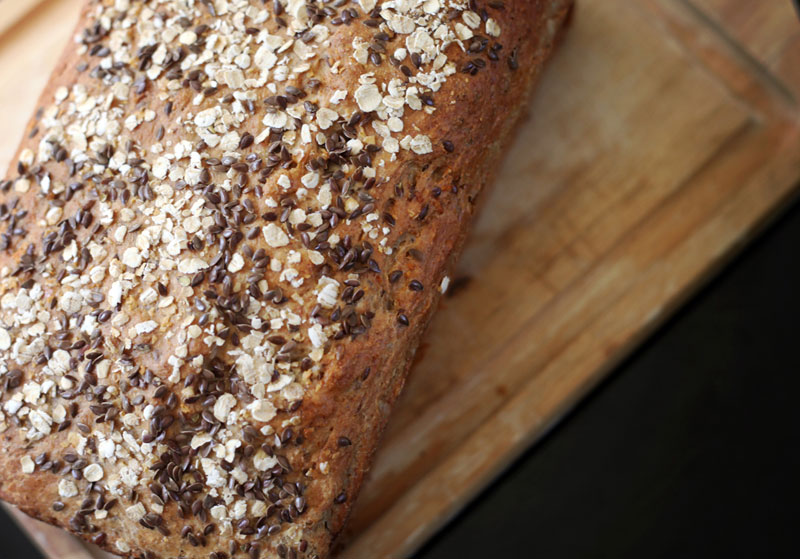 For heart-healthy Omega-3 fatty acids, fish oil and oily fish are typically the best supplement and animal source, respectively. But for vegans, that's not an option (i.e. animal byproducts are a no go). Flax seeds, however, are. So it's a no-brainer flax seed bread is a great alternative to your regular loaf. Research shows flax seed and flax bread can reduce your risk of heart disease, cancer, stroke, and diabetes to boot.
We like Alvarado St. Bakery Essential Flax Seed Bread, made from sprouted organic whole flax seeds and wheat berries. It's incredibly low in calories (one of the few where you'll see two slices for a single serving), low in sodium and carbs. Pick up a loaf through their online store or in supermarkets and natural food stores throughout the country.
Macros per serving (2 slices): 100 calories, 19g carbs, 1g sugar, 6g protein
3. Rye Bread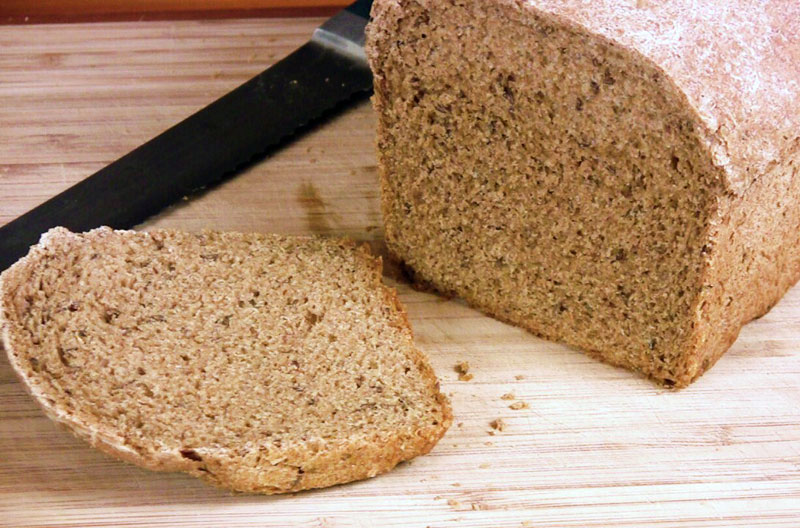 In a study conducted at Lund University in Sweden, mice were fed whole grain diets based on either wheat or rye for 22 weeks. Whole grain rye reduced body weight, slightly improved insulin sensitivity, and lowered total cholesterol in the mice. Further research, published in Nutrition Journal, found people who ate rye bread (with three varying levels of rye bran—the highest amount of bran) for breakfast experienced decreased hunger and desire to eat 8 hours later compared to people who ate wheat bread. Rye bread is made with rye flour, which comes from a wheat-like plant. We like Oroweat Real Jewish Rye. It's firm and hearty enough to handle all your favorite sandwich toppings and spreads.
Macros per serving (1 slice): 90 calories, 16g carbs, 1g sugar, 3g protein
4. Oat Bread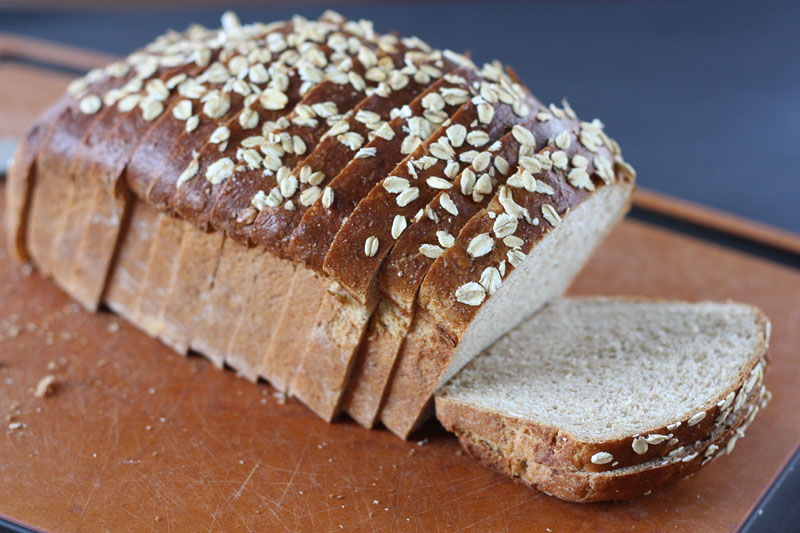 Oats have always been touted as one of the healthiest source of good carbs. They're slow-digesting and make you feel fuller longer. It's thanks to their high source of cholesterol-lowering fiber called beta-glucan, which has also been shown to reduce certain cancers, like colon cancer, diabetes, digestive problems, and heart disease. Oats are also richer in protein than wheat (about twice the amount), which is obviously beneficial if you're trying to build and repair muscles; they have a bevy of vitamins, like vitamin E, and nutrients, like iron and calcium. Oat bread may contain whole grain oat groats, steel cut oats, and thick oats.
Macros per serving (1 slice): 120 calories, 22g carbs, 3g sugar, 4g protein
5. Whole Wheat Bread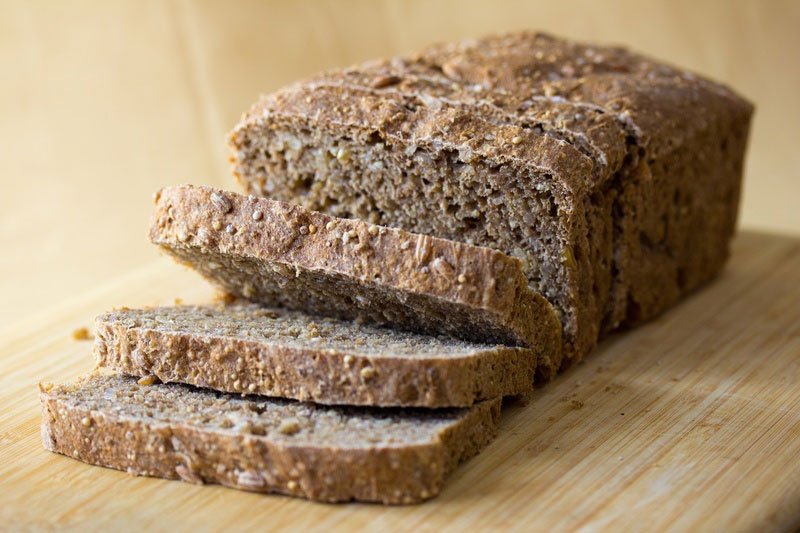 Since 1941, the U.S. has required manufacturers to enrich wheat flour with vitamins B1, B2, B3, and iron because processing takes about 60 percent of the nutrients out, according to The University of Chicago Press. But even then, the same value of B vitamins and iron that's taken out isn't put back in, which is why you want to choose 100% whole wheat bread.
Whole wheat (in its original non-enriched form) is a very good source of dietary fiber, manganese, and magnesium. Just know for something to be whole wheat, the product has to be made from the entire wheat kernel. (Whole grain means the bread can be made of any whole-grain kernel, like spelt, oats, or barley.) "Whole wheat is one kind of whole grain, so all whole wheat is whole grain, but not all whole grain is whole wheat," says the Whole Grains Council.
Macros per serving (1 slice): 100 calories, 19g carbs, 3g sugar, 4g protein
6. Whole Grain Bread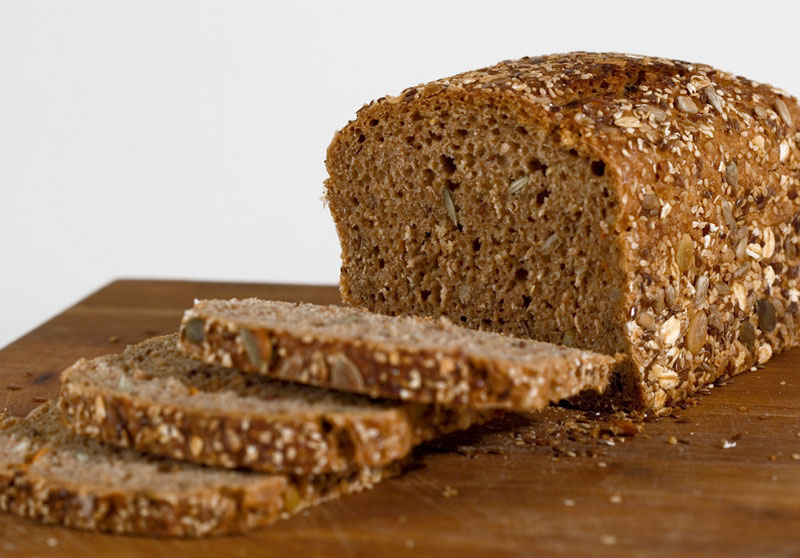 Whole grain foods are a healthy choice because they contain a bounty of nutrients, fiber, and healthy plant compounds naturally found in the grain, according to the Mayo Clinic. Look for products that list the first ingredient as "whole wheat," "whole oats" or a similar whole grain. And to clarify, whole grains can mean it has one of many types of healthy grains included in the product, while whole wheat labels the specific grain that's being used. We like Mrs Bairds Whole Grain Wheat. There's no high fructose corn syrup, artificial flavors, or colors.
Macros per serving (1 slice): 60 calories, 12g carbs, 0g sugar, 3g protein
7. Multigrain Bread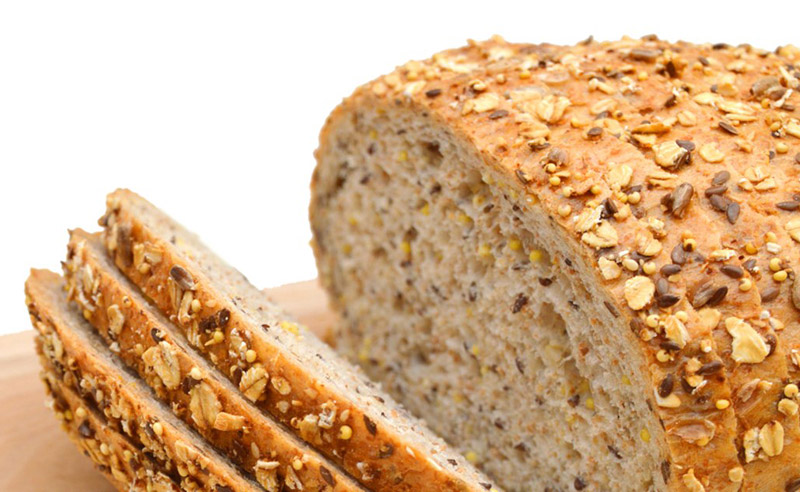 Just like whole wheat and whole grain are different, so too are multigrain and whole grain breads. Whole grain means all parts of the grain kernel—the bran, germ and endosperm—are used to make the bread or product. Multigrain—like 7- or 12-grain bread—means a food has more than one type of grain, although they might not all be whole grains, according to the Mayo Clinic. You want to choose multigrain bread with whole grains.
Macros per serving (1 slice): 100 calories, 18g carbs, 3g sugar, 5g protein
8. Brown Rice Bread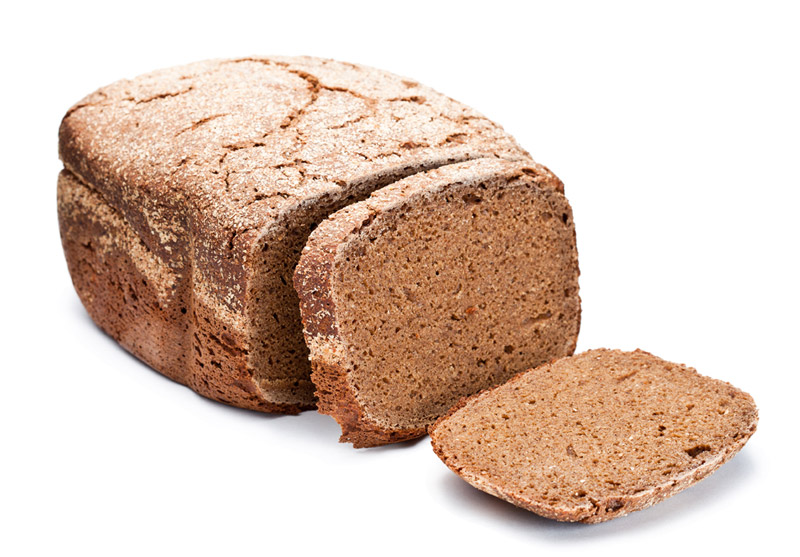 Brown rice bread is a good option for men and women who are vegan and gluten-free because you still get the benefits of fiber, proteins, thiamine, calcium, magnesium, fiber, and potassium natural to the rice. We like Food for Life Brown Rice Bread. It's made without dairy or eggs.
Macros per serving (1 slice): 110 calories, 19g carbs, 1g sugar, 2g protein
9. Gluten-free Bread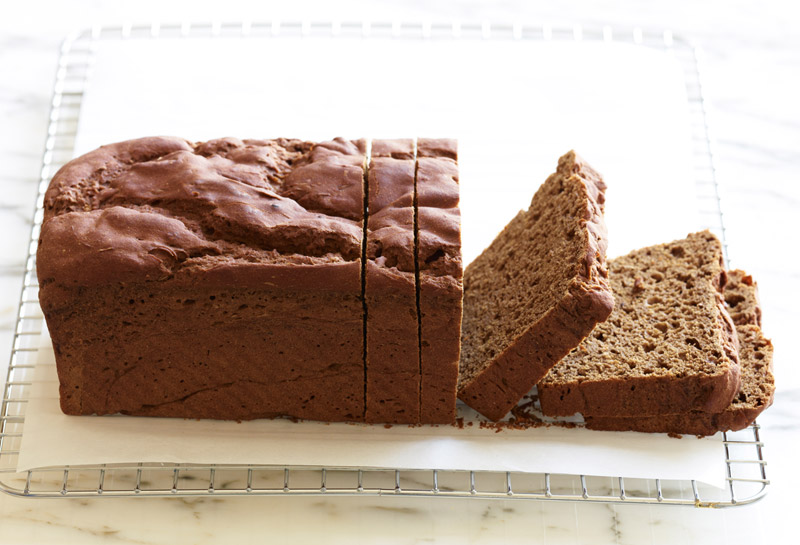 Gluten-free bread is void of wheat, rye, and barley. Four other starches are used in their place—cornstarch, rice flour, tapioca starch, and potato flour. We like Glutino Seeded Bread. It's made with modified tapioca, corn, and potato starch and is heartier than its other gluten-free counterparts. This is obviously the go-to for men and women with Celiac disease or those with gluten allergies. But if you don't have either, don't buy it. A gluten-free diet consists of stripped foods, meaning you're eating products void of a lot of nutrients. Plus, on average, gluten-free products are 242% more expensive than regular products, according to research from the Canadian Journal of Dietetic Practice and Research.
Macros per serving (1 slice): 80 calories, 13g carbs, 1g sugar, 1g protein
10. Protein Bread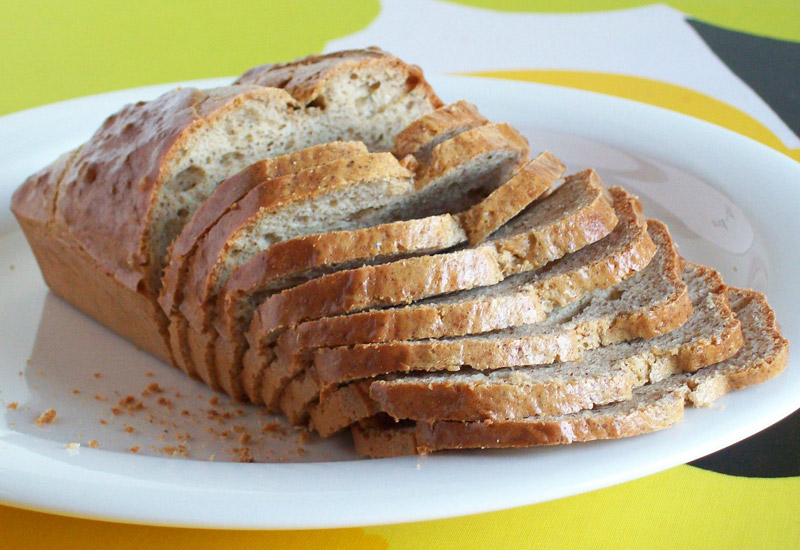 If you're an active guy who plays sports, is trying to gain muscle mass, or trying to lose weight, protein bread could be a great supplement to your diet. (It's also great for diabetics and bariatric patients, vegetarians looking for better sources of protein, and children who need essential amino acids that promote growth.)
We like P28 High Protein Bread. It's made with whey protein isolate, which has been stripped of lactose, fat, and carbs; it's also the fastest-absorbing protein available. What's more, the bread is 100% Whole Wheat and also made with oats, flax seed, sunflower seeds, and sillet to provide your body with a rich source of 8 essential amino acids. Two slices of bread gives you 28g(!) of protein.
Macros per serving (1 slice): 130 calories, 12g carbs, 3g sugar, 14g protein
11. Sourdough Bread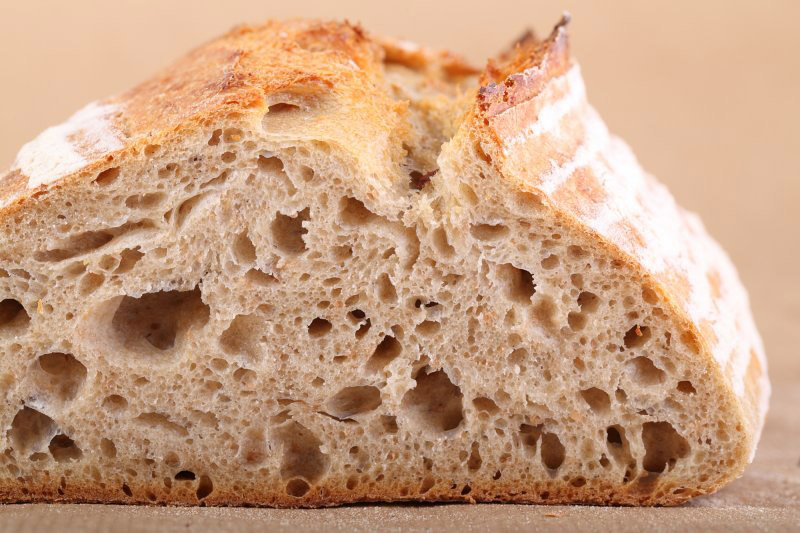 It's more labor-intensive to make sourdough bread. There's a longer rise time and that increases the lactic acid and creates an ideal pH for the enzyme phytase. This enzyme breaks down phytates—which bind to minerals, like iron, zinc, and manganese, slowing their absorption) more effectively than other breads. Also, the long fermentation process allows the bacteria to break down the carbs and gluten in the bread, making it easier for you to digest and releasing the nutrients so they're easier to absorb, according to the Mayo Clinic. We like Francisco International Extra Sourdough Sliced Bread.
Macros per serving (1 slice): 140 calories, 26g carbs, 1g sugar, 5g protein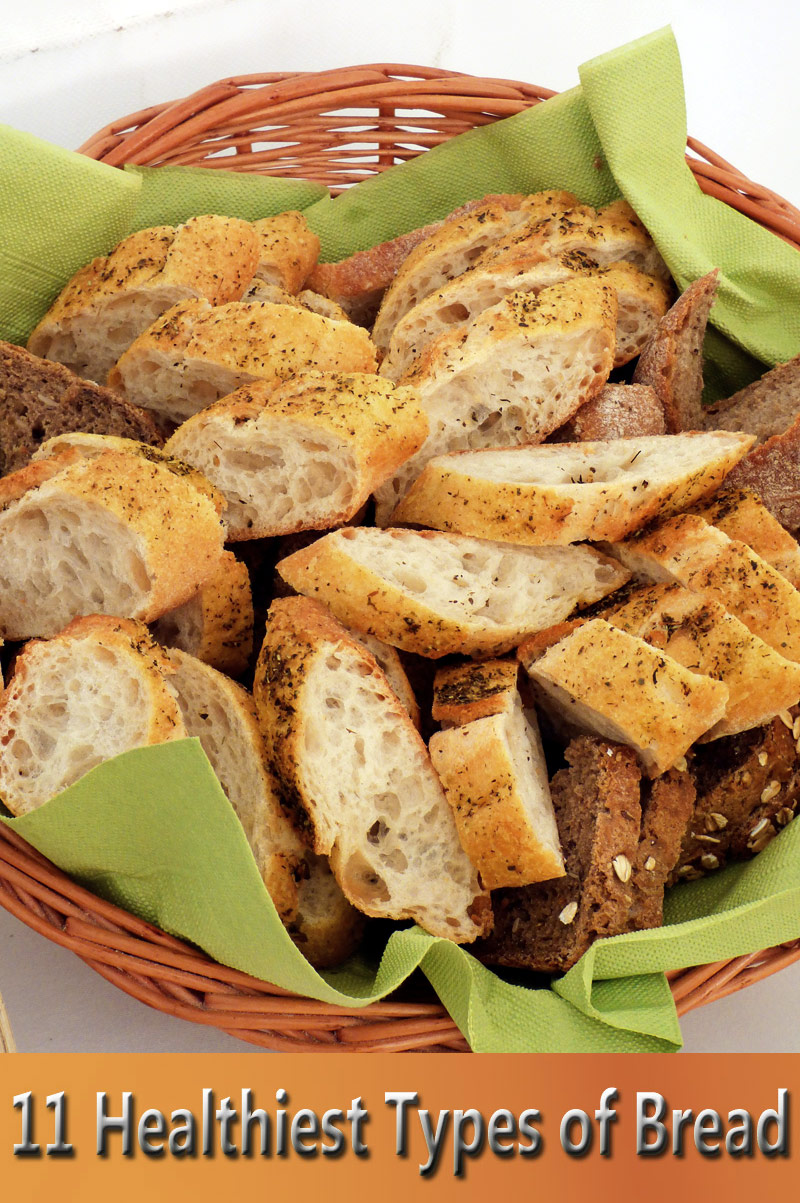 Source: mensfitness.com