Healthy 4-Ingredient Maple Peanut Butter Fudge
This 4-ingredient healthy maple peanut butter fudge only takes a few minutes to make and is naturally vegan, gluten-free, grain-free, and dairy-free.
Prep Time: 10 min  Cook Time: 2 min   Ready in: 12 min    Yield: 12 pieces of fudge
Ingredients
1/2 cup (120 milliliters) pure maple syrup
1/3 cup (85 grams) salted natural peanut butter (the kind with just salt and
peanuts)
1/4 cup (56 grams) coconut oil1
2 teaspoons vanilla extract
1/2 cup (55 grams) roasted salted peanuts, coarsely chopped, optional – divided
Directions
Line a mini muffin pan with 12 waxed or silicone muffin liners. You can alternatively line a small container with parchment paper or waxed paper.
In a small saucepan, mix together the maple syrup, peanut butter and coconut oil over medium heat. If your peanut butter is unsalted, add a pinch of salt. At first it won't appear to come together well. Stirring constantly, bring to a boil and while continuing to stir constantly, boil for about 2 minutes. It should have thickened a bit. If you use a heavy bottom pan, you may need to boil it a little longer. Stir in the vanilla until well combined. Stir in 5 tablespoons chopped peanuts, if using.
Pour into the waxed or silicone liners, top with remaining 3 tablespoons chopped peanuts, if using, and place the pan in the freezer. If you don't have room in your freezer, refrigerate for a few hours until firm and then transfer the fudge pieces to a small container that does fit in your freezer.
Freeze for about 2-3 hours. The liners will be easy to remove once the fudge has thoroughly frozen.
This fudge does not travel well (unless you have a cooler!) It should be kept refrigerated or frozen.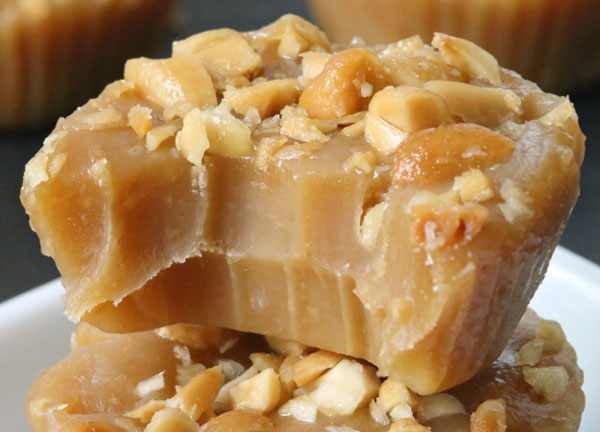 Source texanerin.com