No Bake Chocolate Covered Peanut Butter Balls
This Chocolate Peanut Butter Balls Recipe is super easy and tastes amazing! I have such an easy and delicious recipe to share with you today 😉 They're no-bake and  they are that delicious!
Say good-bye to store bought peanut butter cups, and say hello to these no bake chocolate covered bites. It doesn't get much simpler than 4-ingredients, most of which you already have in your pantry. Pairing our love of peanut butter, confectioners sugar and melted chocolate into one delicious treat? You know that these Chocolate Peanut Butter Balls are a hit.
They're easy to make and even easier to eat! The chocolate peanut butter balls should be stored in a covered container in the refrigerator.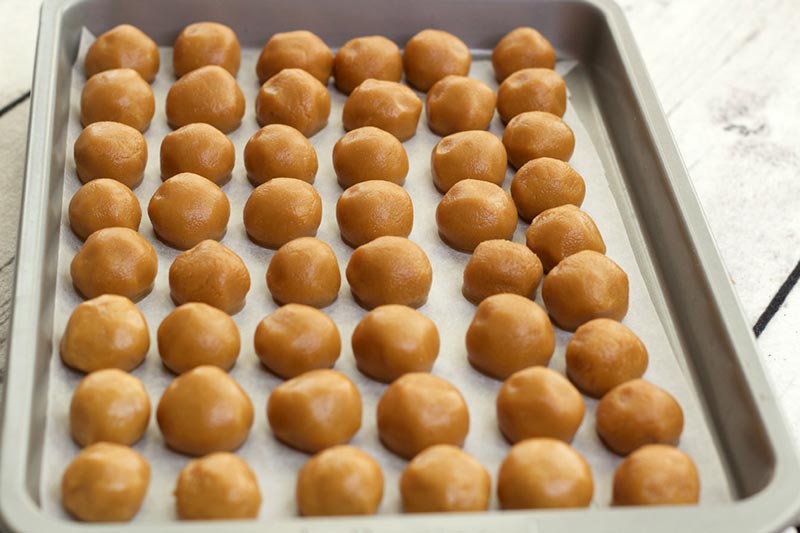 Ingredients:
1 jar 18 oz peanut butter
1 bag 16 oz powder sugar
1/4 cup butter
1 package chocolate almond bark
Preparation:
In a large bowl, stir together the peanut butter, confectioners sugar and melted butter until the mixture is crumbly. For the next step, the best way that I've found to make a smooth filling is to use your hands to mix everything together.
Line a baking sheet with foil. Roll the peanut butter filling into 1 inch balls and line the baking sheet with rows of the balls. Set the baking sheet in the freezer for 5-7 minutes to chill the peanut butter balls for easier dipping.
While the peanut butter balls are chilling, melt the chocolate in the microwave in a microwave safe bowl that is deep enough for dipping. I melted 6 blocks of chocolate almond bark at a time, stirring at 45 second intervals until smooth.
Remove the baking sheet from the freezer. Insert a toothpick or wooden skewer into a peanut butter ball and then dip it into the chocolate, turning quickly to cover the entire candy. Place onto a second baking tray that has also been lined with foil. Swirl the chocolate on the top of each candy for a pretty design. Refrigerate until the chocolate had completely dried.
Store the candies in a sealed container in the refrigerator.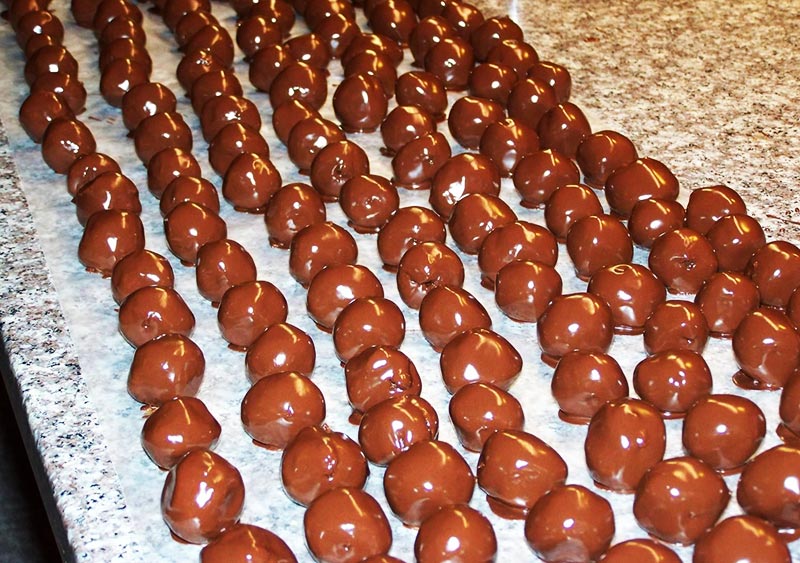 Source myrecipes.com