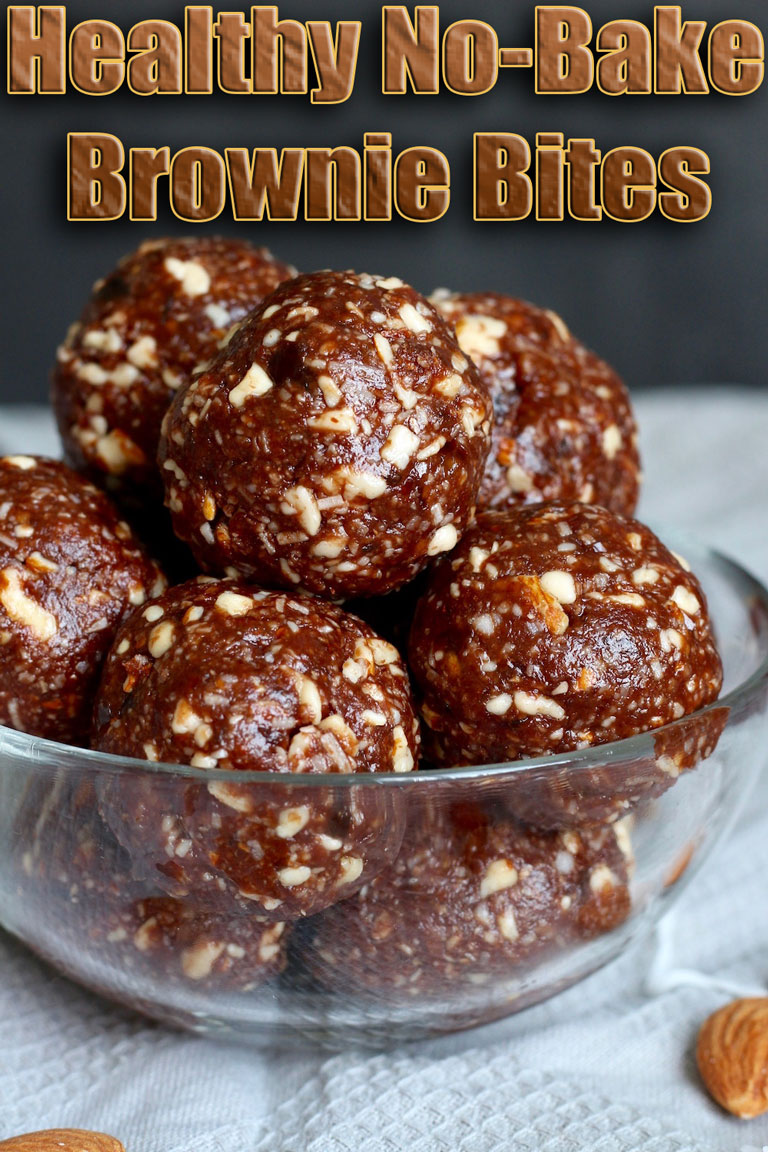 Healthy No-Bake Brownie Bites Recipe
These Healthy No-Bake Brownie Bites are so rich and fudgy that all you need is one to satisfy your craving. Plus they're made with wholesome ingredients that will keep your blood sugar from crashing 10 minutes after you eat them.
Dates make up the base of the brownie bites, offering a soft texture and natural sweet flavor. Dates are naturally high in sugar so they help add that sweet flavor that we all love, but they also offer a host of healthy vitamins, minerals and fiber.
Walnuts are an omega-3 powerhouse which an essential fatty acid we could all use more of in our diet.
Cacao Powder is essentially the less processed version of cocoa powder but either will work here. Besides giving the bites their chocolate flavor, cacao is rich in antioxidants and magnesium.
Coconut Oil provides moisture but is not totally necessary if you aren't a fan. You can substitute drippy nut butter, tahini, a bit of water, or possibly even extra virgin olive oil if you're okay with the flavor profile.
Vanilla Extract gives these bites a little more depth in flavor. I like to use alcohol-free extract for best results.
Just a touch of Fine Sea Salt balances out the sweetness from the dates.
Chocolate Chips makes them feel more like real brownies but depending on the type you use, they will likely add refined sugar to the recipe. If you want to keep the sugar as low as possible you can either leave them out or finely chop a dark chocolate bar that's very low in sugar and add that instead. Or you can make your own low carb chocolate chips… here's a recipe!
Prep Time:  10 minutes       Total Time:  10 minutes      Yield: 15 bites
Ingredients:
1 cup walnuts
1 cup Mejdool Dates, pitted (about 11)
1/3 cup + 1 tablespoon unsweetened cocoa powder
1 teaspoon vanilla extract
1 tablespoon melted refined coconut oil
1/4 teaspoon sea salt
Instructions:
Place walnuts in a food processor and blend on high until finely ground. Add the remaining ingredients (except for the chocolate chips) and pulse until a uniform dough has formed.
Place dough into a medium size bowl along with chocolate chips, then mix together with your hands. Take one heaping tablespoon worth of dough at a time and roll into balls.
Refrigerate for at least thirty minutes before serving. (refrigeration isn't necessary but it helps them solidify)
Store in an airtight container in the refrigerator or at room temperature for up to one week.
 

Please follow us on Facebook Page and enjoy our collection of recipes, crafts, fitness, health tips, gardening, DIY and more…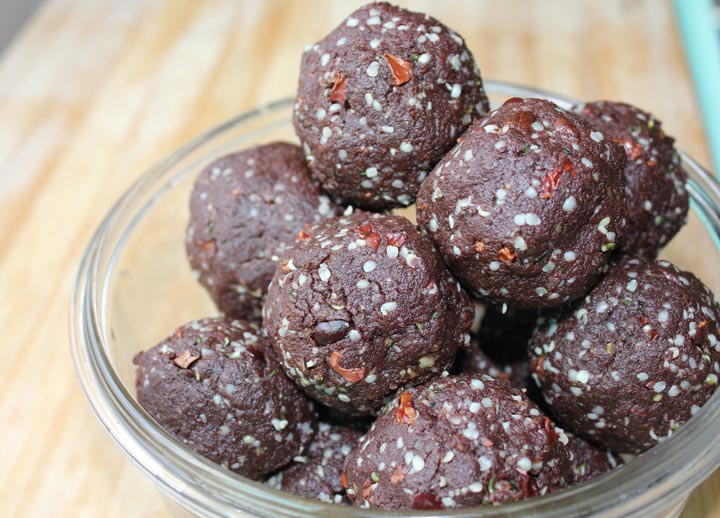 Source makingthymeforhealth.com