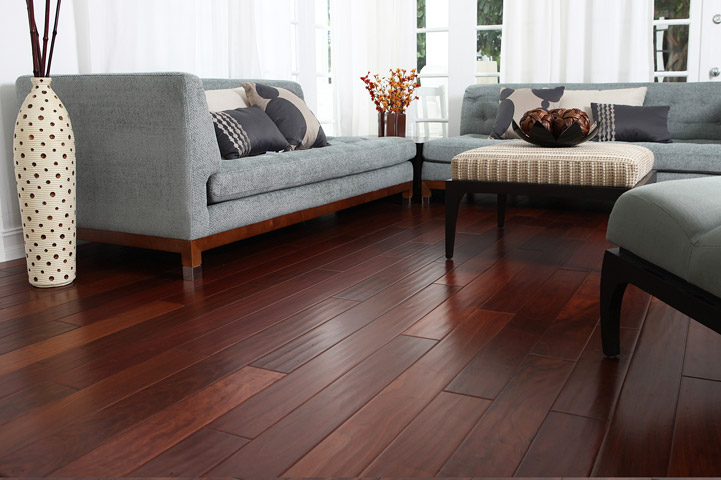 A dark wood floor is a very popular interior solution nowadays, or rather a timeless and ever-trendy one which conveys a bold message. The most beautiful contrasts are easily achieved with dark wood flooring ideas, which are a smart option for every room, including your kitchen and hallway.
The ideal scenario is to design a dark wood floor living room, where both your friends and your family would enjoy a classy and welcoming setting. Living rooms with dark wood floors, however, are not just a decorative addition, but also a durable choice that can withstand high traffic and damage.
At the same time, dark wood allows you to contrast with a variety of other colors and design elements and personalize your living room the way you like it.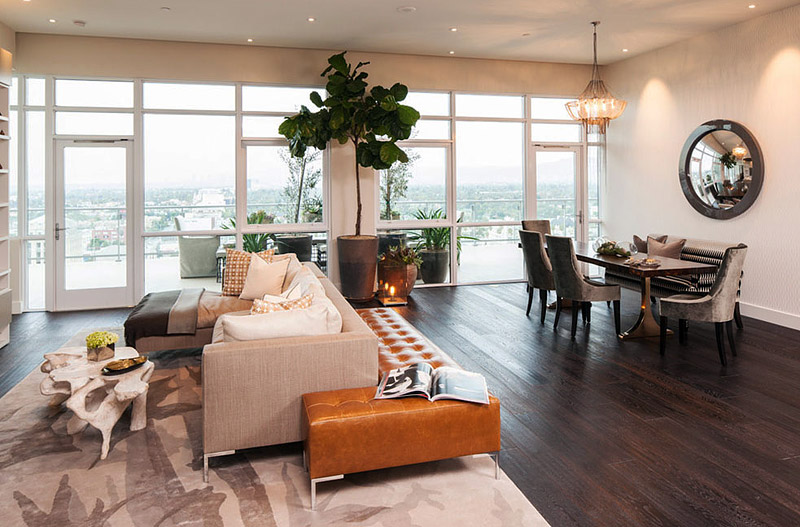 Not everything about dark colors is so easy though, as you're risking making smaller spaces 'heavier' than necessary for a pleasant atmosphere. A chic and sophisticated room will still be possible, if you overcome this risk with appropriate balancing of colors and light.
What we recommend you is to be brave, and consider all those amazing dark wood floor decorating ideas. It may be an intimidating process at first, but it will eventually become the easiest décor solution and design concept for setting an inviting mood and tone in your living room.




Dark or Too dark wood floors?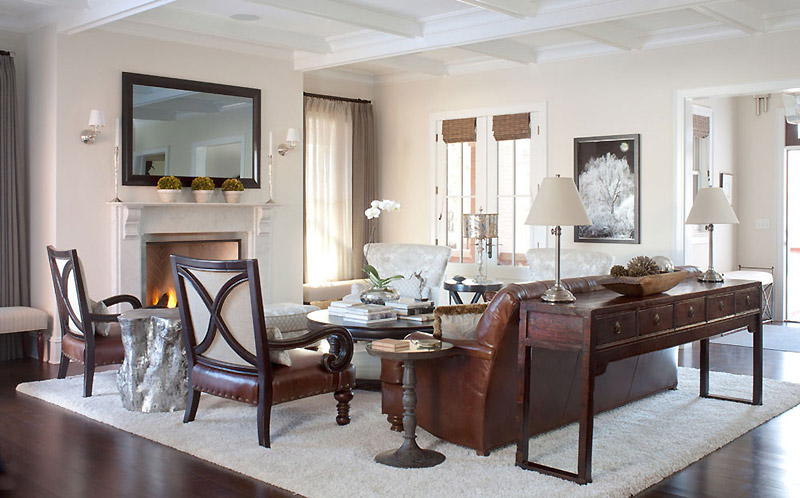 The first impression will be shocking, but will do if properly combined with neutral walls. The best options we can think of are white trims on pale blue walls, warm bamboo walls, or soft-colored area rugs in different zones of the room.
If you still believe the floor is too dark for your taste, try to cover as much of it as you possibly can, which shouldn't be a challenge with a carpet or a couple of super-size rugs. This will do for bedrooms and similar low-traffic areas, where you don't need to rely that much on the floor's durability.
The benefit of using dark (or even black) floors is that they suite every home/office style solution, and will allow you to refresh your interiors with minimal investment. Still, remember that you only have to focus on lighter walls and furniture pieces, so that they will blend with the floor and highlight its effect.
Tricks and best practices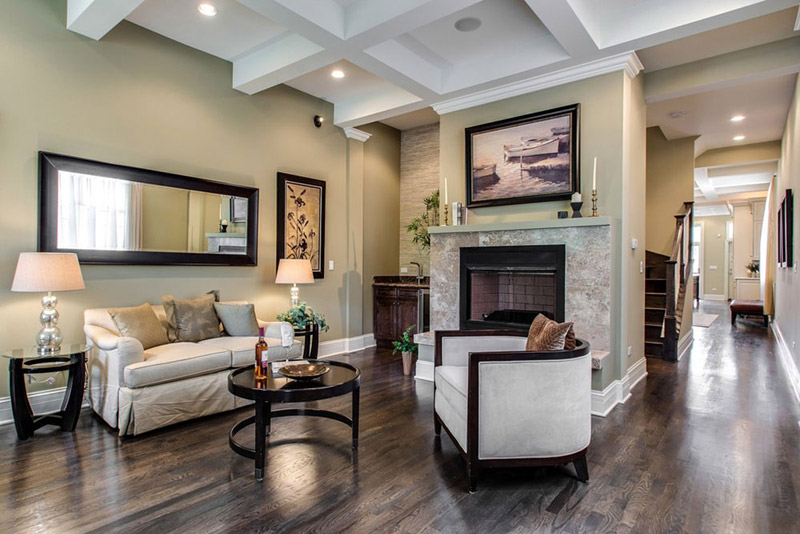 When the bottom is dark, the top should be much lighter. If you desire a light and inviting living room with a stylish dark floor, you must consider contrasting the bottom with each and every element in your that room. The ceiling, walls, and furniture must remain lighter, so that the dark areas will only complement the atmosphere rather than taking over it. We recommend series of neutral tones, including beige, white, and gray, and add a bright flare that will make inhabitants feel more pleasant.
A 'must remember' tip for darker and black floors is to keep them in perfect condition, which requires regular maintenance and frequent polishing. In case you want to keep their state impeccable, try placing few rugs over them, so that you will prevent filth and dust from damaging them permanently.
Light furniture and white walls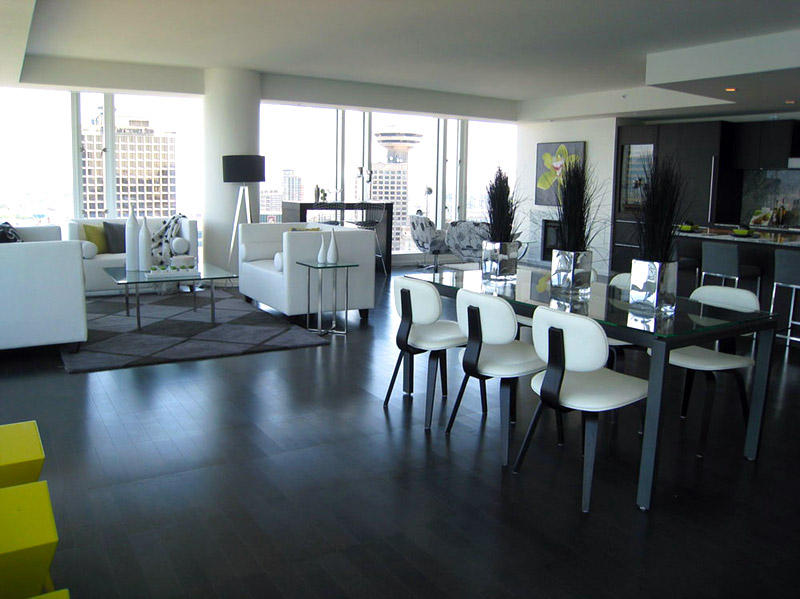 The most harmonious setting is to combine the warmth of dark floors with much lighter walls and furniture. For example, you can consider weathered white walls for every black or grayish floor, or beige furniture for warmer floor nuances, such as maple and cherry. In both cases, we encourage you to use soft and fluffy rugs in light colors to prevent the floors from looking too heavy and stark.
The right way to balance between dark and light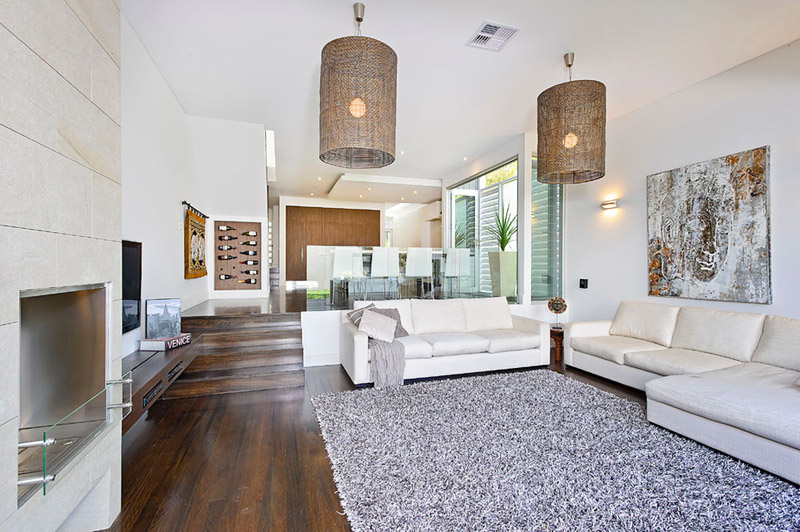 The lighter your furniture and your walls are, the more they'll be overpowered by your dark flooring, so think of a harmonious setting where dark shades will repeat themselves on a variety of objects, and thereof look more natural. For instance, you can boost the warming effect of your cherry-chocolate or mocha laminate with lamps, picture frames, throws and pillows in a similar shade.




White combined with more than one wood type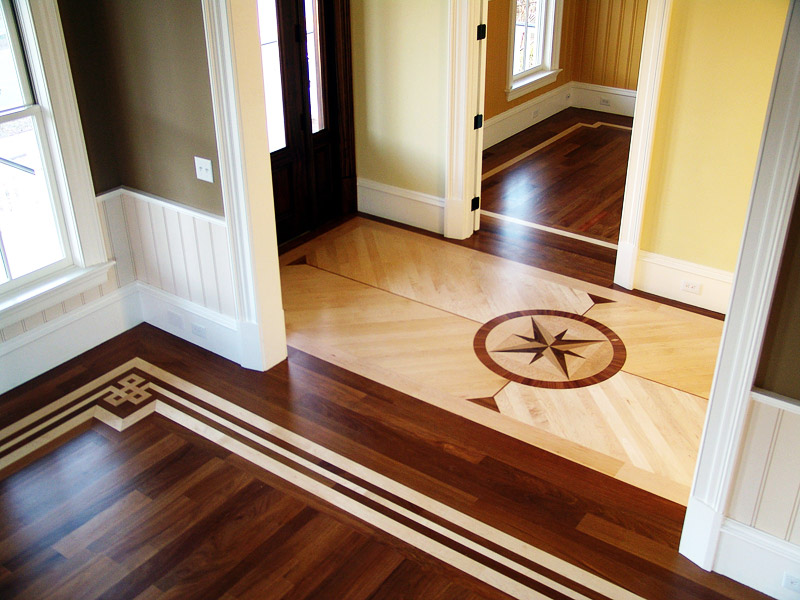 Designers like to call this 'the organic setting', because it replicates nature as it really is – in a forest, different trees look good together, and the same effect can be obtained by applying different woods in your living room and using white to contrast them. In the best possible case, the walls will be crispy white, and there will be a lot of greenery to refresh the place.
Working with several styles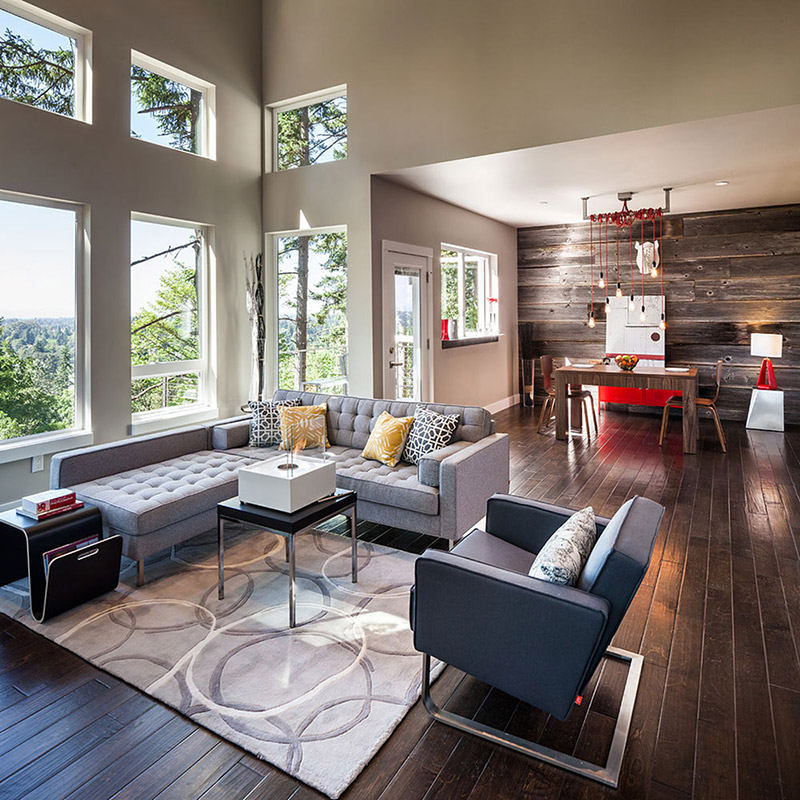 The reason why dark wood floors are so popular is that they match literally every setting, and suit well modern and traditional interiors. Expect them to look equally good in a sleek-line industrial setting as they do in French country houses – the trick simply works!
Wooden floors with white, bronze, and marble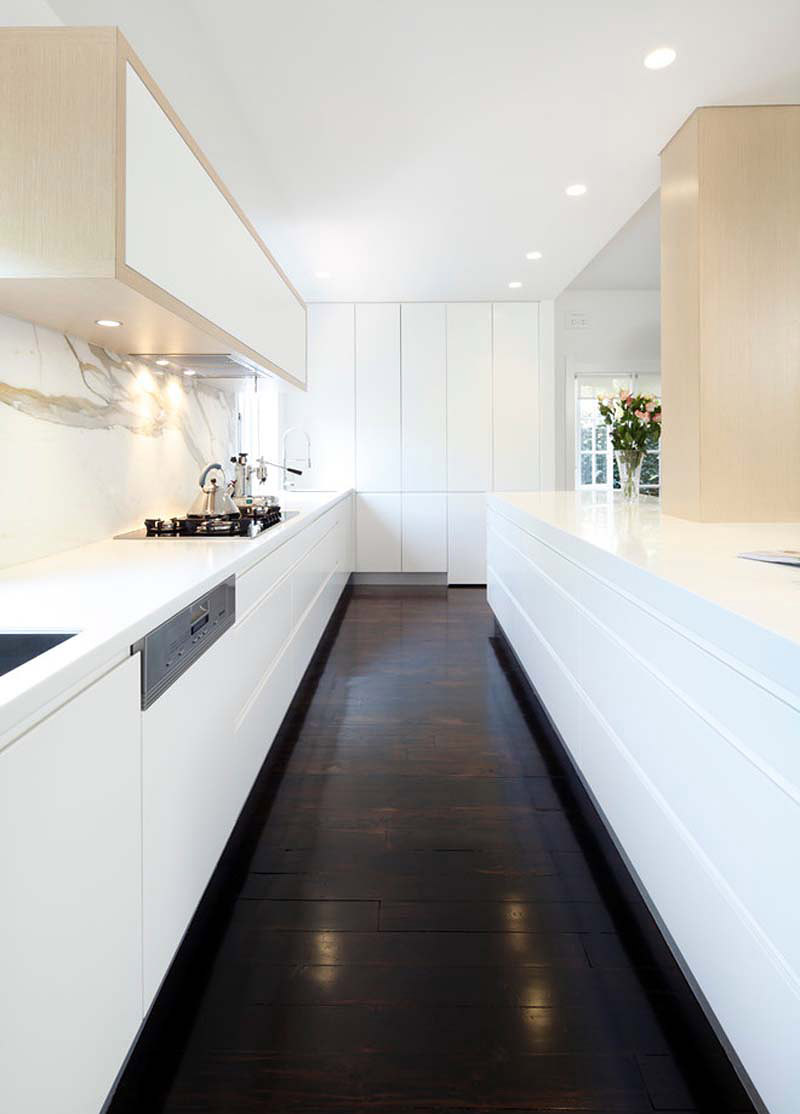 A kitchen with dark wood floors is also a chic idea, as long as you mix the above mentioned stylish materials to make it more elegant. The most important thing here is to pay attention to lighting, and pick white cabinetry with bronze accents to make the floor stand out.
Bringing nature inside
A couple of leafy plants will complement the dark wood base better than you can imagine, and will make even the smallest room feel airy, fresh, and lovely. They will look the best surrounded by light wooden furniture and completely white walls, as in the organic setting case we discussed before.
Lively color pops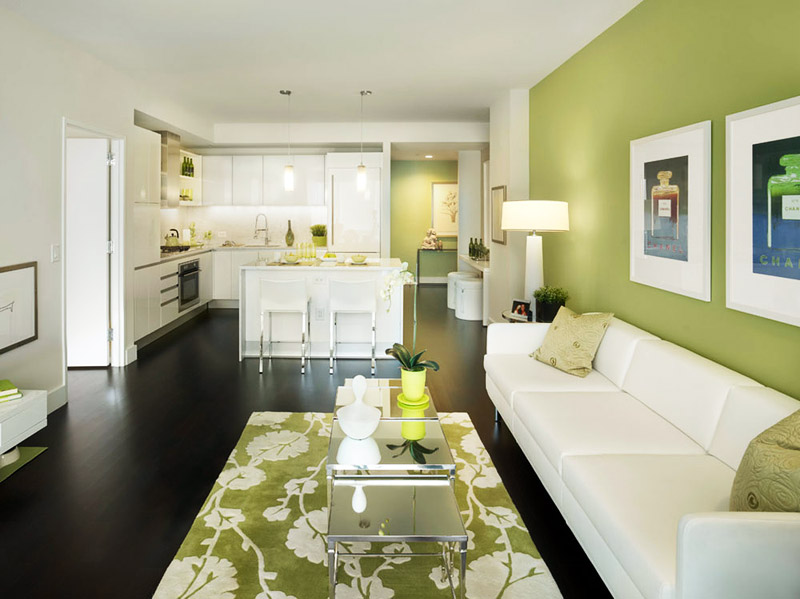 When it comes to color pops and details in a dark-and-white setting, you are allowed to choose literally every color you like. Those can be calming pale accents, such as mint and lavender, or lively statement colors which extend the effect of your dark floor. In this case, think of the scenario that will help you personalize your space.
Texturing
Most of the time, textures will simply impose themselves through the rustic and earthy shades you designed to use, in which case you will be supposed to extend the trend with industrial features and plush fabrics, such as suede, velvet, and leather. While doing it, remember to keep walls crispy white, or paint them with a modest taupe shade to make the place feel comfortable and warm.




Moroccan rugs in Greige-wall settings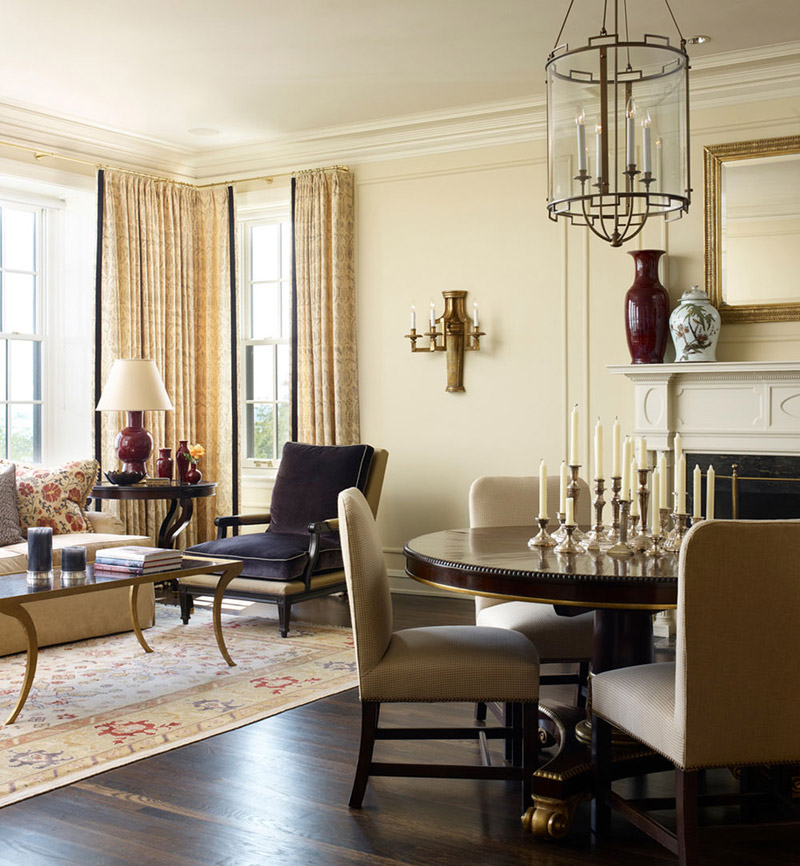 The reason why Moroccan rugs are so popular in interior design is that they fit any concept or idea, but in the case of dark flooring they were just cut for the purpose. To make them stand out more, paint walls with warm greige, and buy neutral furniture pieces.
Skipping dark flooring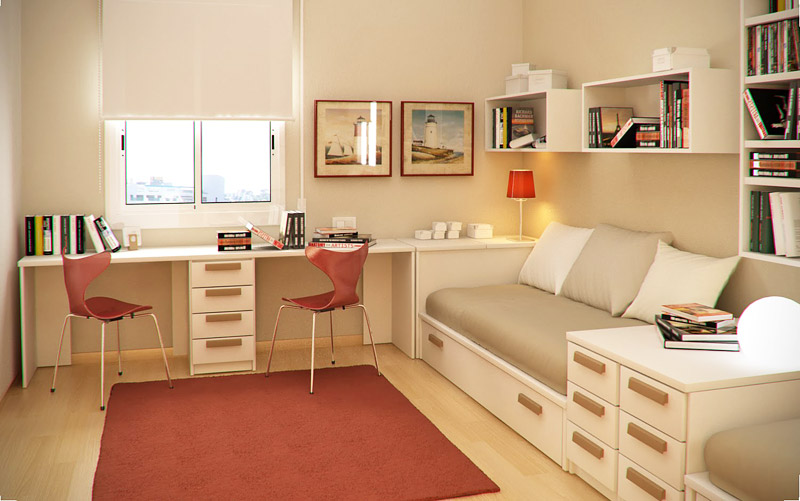 There are only two cases in which we recommend you to skip dark flooring. The first one is considerably small rooms which nevertheless have a function (dark flooring will make them look busy and narrower than they already are). In case you're absolutely decided you want a brown floor in there, don't accept anything else than an 8 inches wide board which will balance the dark shade out.
The second case is rooms where you've already solved the furniture question with darker materials, because even if it feels as if your Walnut cabinet is matching your floor, the final result will be overwhelming. The stubborn homeowners should work really hard to ensure colors are absolutely identical, and consider only one lighter shade that would contrast their flooring and their furniture.
Ending thoughts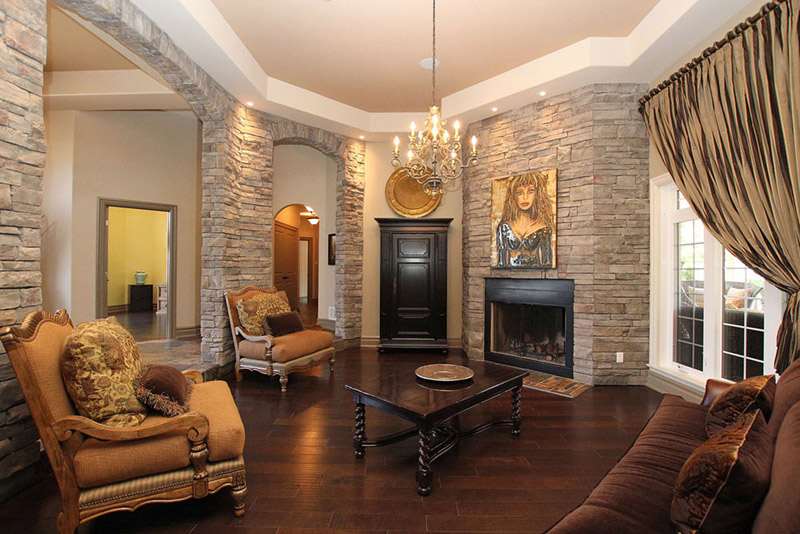 If you want to add an elegant flare back home, dark floors are an ideal solution. You can choose wood, carpets, or tiles for the purpose, and complement the setting easily with any type of lighter furniture or wall paint. Before you make a decision, compare shades carefully, and think of the colors that are most suitable to your home's overall theme. Remember that the ultimate purpose is to enhance the homey atmosphere, and you're your family and visitors feel as comfortable as possible.
Source: impressiveinteriordesign.com