These Keto Coconut Cookies are seriously magical! They are great because they're gluten free and low carb! Simple one of the best crispy cookies and easy to make! I made them yesterday for my family and they all loved it. These simple Keto Coconut Cookies are also a great portable snack! They are definitely my favorite cookies of all time.
How to make Keto Coconut Cookies
This recipe is one of the the most easy keto cookies recipe. A 1-bowl recipe with only 6 ingredients for a quick keto snack. All you need to make those Keto Coconut Cookies are:
Coconut flour – fine almond flour or almond meal, both work well in this recipe
Unsweetened coconut or shredded coconut. Now, you probably wonder is shredded coconut keto? well, not always – some brands adds sugar into it so make sure you buy unsweeetened coconut for this keto cookie recipe
Coconut oil or melted butter.
Splenda or any sugar free keto sweetener you like.
Egg or flaxseed egg if on keto vegan. Note that the color and texture of the cookies will be very different using flaxeggs.
Baking soda
Due to the high oil and low flour ingredients you should treat this dough as you would shortbread.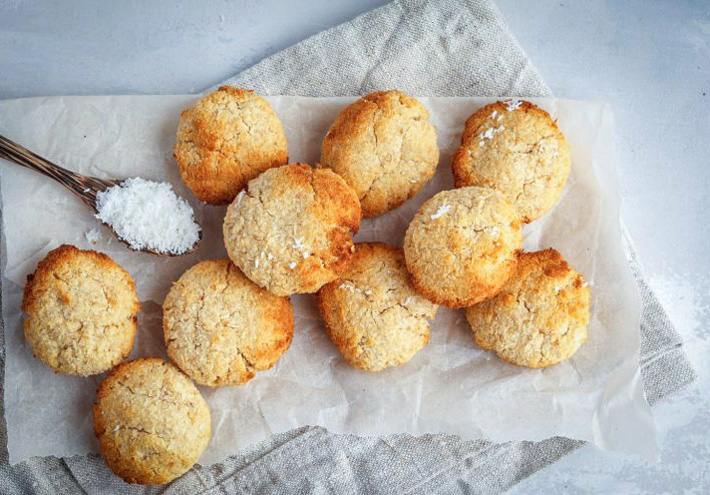 Keto Coconut Cookies
Simple one of the best crispy cookies and easy to make!
Ingredients
1/2

cup

raw coconut flour

1/3

cup

unsweetened coconut

1/2

tsp

baking soda

4

tbsp

butter

2

tbsp

coconut oil

1

cup

Splenda

1

egg
Instructions
Preheat the oven to 165C (325F)

Combine dry ingredients in a bowl and mix well

Melt the butter and the coconut oil in the microwave for 20 secs on high

Add the melted oils and the egg to the dry ingredients

Mix well using an electric hand mixture or wooden spoon

Tip the mixture onto parchment paper and knead into a dough

Place a second piece of parchment paper over the top of the dough and roll to around 5mm depth

Place the rolled dough into the fridge – the oils will need to set slightly before you are able to cut the cookie shapes

Cut the dough using a small glass or a cookie cutter – due to the high oil content the dough can be volatile simpler shapes are easier to prepare

Reform the ball of dough, the heat from your hands should be enough to make the oils malleable again and then roll flat

Repeat until all the mixture is used

Place on baking paper and put in the oven to bake for 5-7 minutes

Once browned leave to cool on a cooling rack, the dough will firm significantly once cooled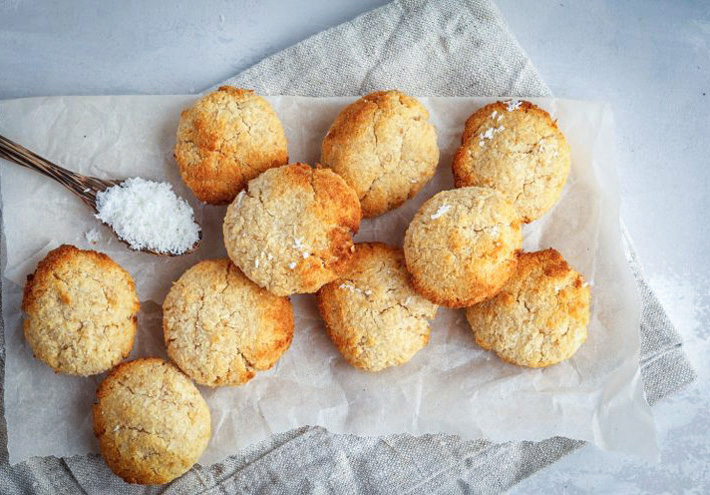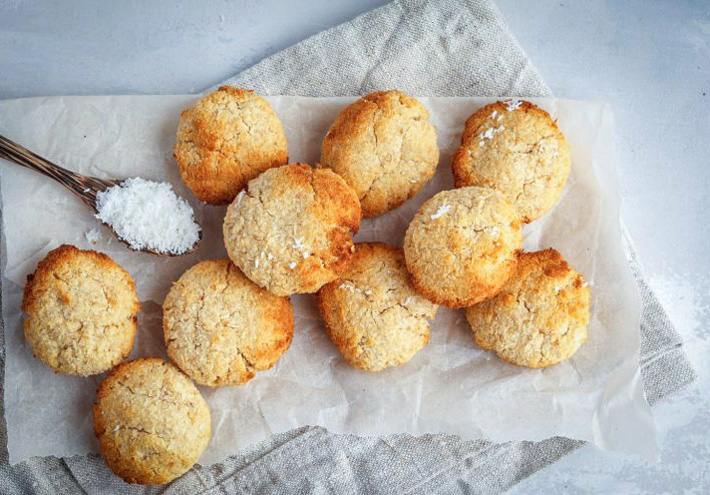 Nutrition
Makes: 24 small cookies
Macros per 1 cookie:
50 calories,
3.4g carbs (1.5g net),
3.8g fat
Are These Cookies Crunchy or Chewy?
These cookies are definitely soft and chewy. What makes them unique is that while they are chewy, they do have a slight baked crunch on the outside.
It is best to store these tasty cookies in an airtight container. I also recommend storing them in the refrigerator. I mean, that is assuming they aren't eaten up in the first hour! They should stay fresh for a good 3-4 days if stored properly. I keep them for longer, but 3-4 days is the safe recommendation!
If you love this Keto Coconut Cookies as much as I do, please give it a five star review and help me share this recipe on facebook!
Please follow us on Facebook Page and enjoy our collection of recipes, crafts, fitness, health tips, gardening, DIY and more…