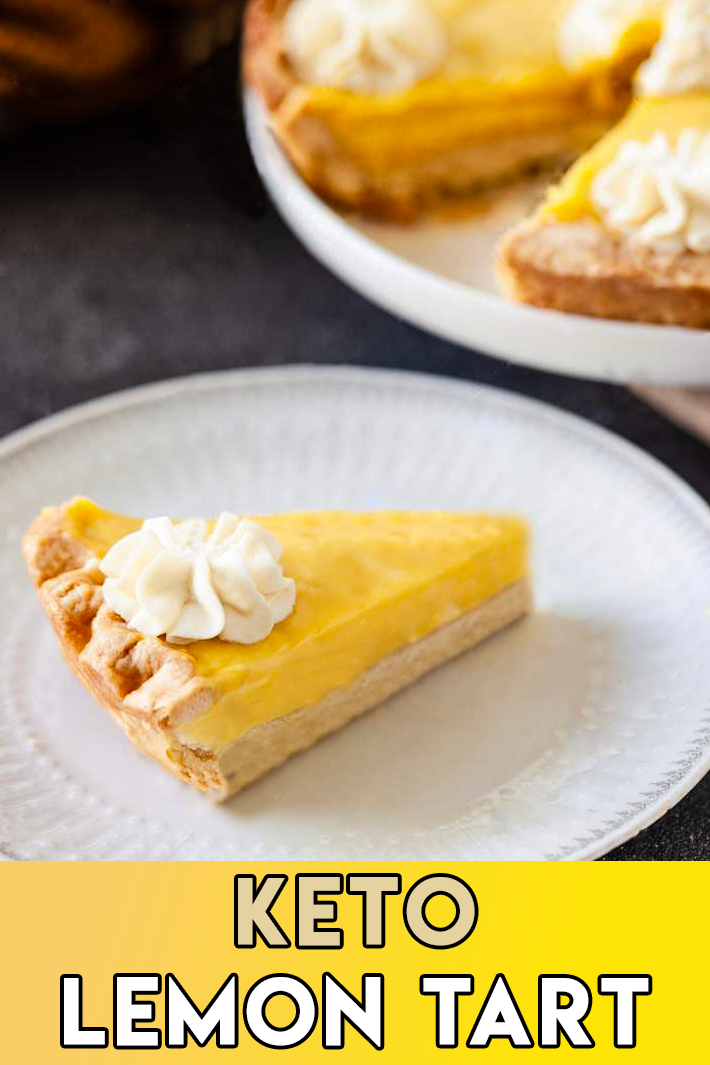 Keto lemon tart is a very simple recipe – basically just a shortbread crust and lemon custard filling. It is tangy and fruity and makes a great low-carb dessert, especially for those of you who miss eating lots of fruit.
Keto lemon tart – making the crust
This part is quite simple – we are going to use ground almonds, egg whites and butter. I also added a spoonful of psyllium husks to improve texture. You could use xanthan gum or guar gum instead, or just skip this step – the crust might be a bit more crumbly then, but it doesn't matter too much as the filling will help to hold it together to some extent.
Keto lemon tart – making the filling
The filling has a similar texture to cheesecake, but lighter and a bit more creamy. You will need to get some unwaxed lemons for this, as we will be using the zest. I used four small lemons, but really it depends on your preferences. Taste the mixture before baking to make sure the balance between sweet and tangy notes is right for you.
When mixing filling ingredients, take care not to overbeat it. If there are many small bubbles on the surface, they will get baked in and the texture won't be even on top.
Decorating
I put a layer of slightly sweetened whipped cream on top of the tart. It looks nice and works well against the tangy lemony taste of the filling. Other options could be powdered sweetener (just blitz it in a coffee grinder) or bits of fresh lemon.
Keto Lemon Tart
Fruity and tangy low-carb lemon tart with almond flour crust and lemon custard filling
Prep time:10 min | Cook time:50 min | Total time:60 min Yield: 1 9″ tart (8 servings)
Ingredients
For the crust:
1.5 cups (140g / 4.5oz) ground almonds
1 tbsp Truvia
1 tbsp psyllium husks
1 small pinch of salt
3 egg whites (save the yolks to use for the filling)
60g (2oz) unsalted butter, melted
For the filling:
grated zest and juice of 4 small lemons or 3 average-sized lemons
3 egg yolks (saved from making the crust) plus 2 whole eggs
1/2 cup (80g / 3oz) Truvia
150 ml (5 oz) double cream (this is called heavy cream in USA)
For decorating (optional)
Extra 50 ml (5 oz) double cream, whipped
Instructions
Make the crust first
Preheat oven to 190C/375F/Gas Mark 5
Mix dry ingredients together
Slightly beat egg whites
Combine dry ingredients with egg whites and melted butter and mix thoroughly into dough
Put the dough into a loose-base tart tin (I used 23cm wide one)
Press the dough into the tin using your fingers to make up a crust
Bake for 10-15 minutes, until slightly golden
Take out and cool completely
Make the filling
Grate the zest and squeeze juice from the lemons
Beat egg yolks, eggs and Truvia together lightly
Add cream to the egg mixture and stir with a spoon
Add lemon zest and juice and mix well
Place the tart tin with the crust on top of a baking tray (in case of any leaks)
Pour filling mixture into the crust
Bake at 160C/Gas Mark 3 for 45 minutes, or until fully set (wobble the tray gently and watch the filling to make sure it's not too liquidy)
Take out and cool completely before serving
Decorate with whipped cream, powdered sweetener and bits of lemon
Nutritional information
Serving size: 1 slice (1/8 of the whole tart)
Per serving (without topping): 310 calories, 3g net carbs, 30g fat, 9g protein
Per serving (with whipped cream topping): 406 cal, 3g net carbs, 40g fat, 9g protein