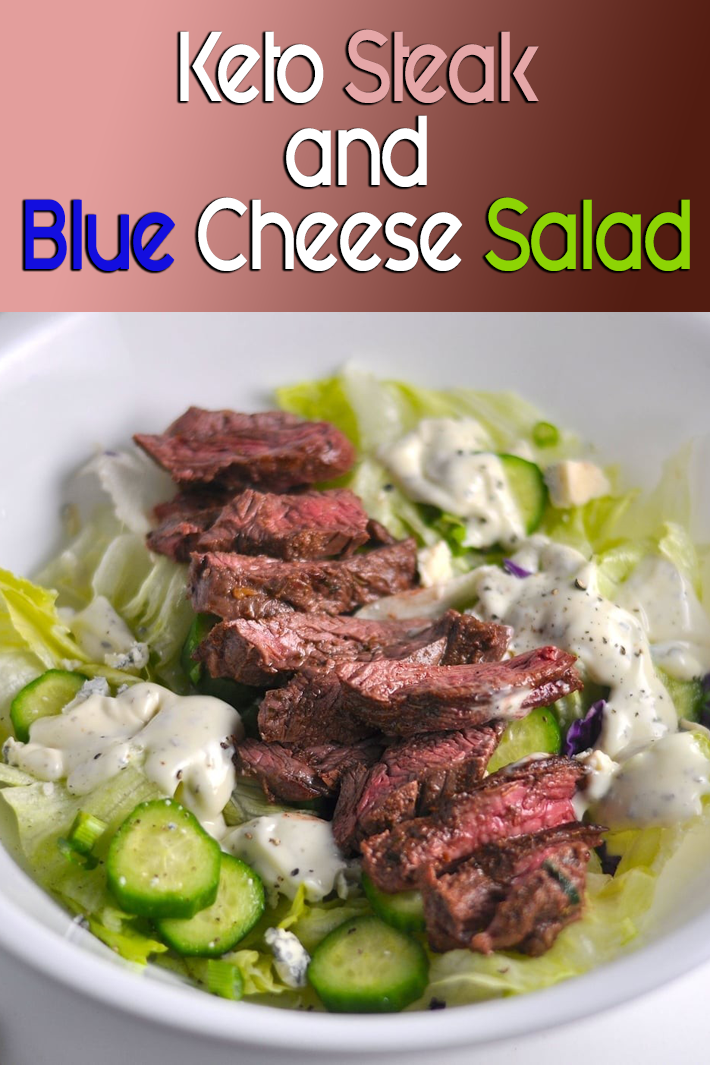 Skirt steak and flank steak are inexpensive cuts, and they taste super flavorful when marinated for a bit. I dropped this one in some simple oil and vinegar, used a great steak rub and seared both sides. Butter lettuce, crunchy cucumbers, creamy homemade blue cheese dressing and this spectacular steak and you have a main course keto steak blue cheese salad!
Keto Steak and Blue Cheese Salad
Yield – 2 servings
Ingredients:
1/2 pound skirt or flank steak
4 cups iceberg lettuce
1/4 english cucumber (you can use regular but I like the seedless)
4 tbsp blue cheese dressing
2 tbsp blue cheese crumbles
2 tsp green onion
salt and pepper to taste
1 tbsp montreal steak seasoning
1 tbsp worchestershire sauce
2 tbsp extra virgin olive oil
For Blue Cheese Dressing:
1/2 cup homemade mayo
1/2 cup heavy cream
1 tbsp red wine vinegar
2 tbsp sour cream
1/3 cup blue cheese crumbles
salt and pepper to taste
Preparation
Begin by marinating steak in 1 tbsp. olive oil, worchestershire and montreal steak seasoning sprinkled over the meat. Place in a sealed bag or dish and refrigerate for at least an hour. Remove from refrigerator for cooking.
Add remaining olive oil to a grill pan over medium high heat. Add meat to pan and cook for approximately 3-4 minutes on each side until seared on the outside but still pink on the inside. Remove from pan and allow to rest for 5 minutes.
While meat is resting, add chopped lettuce, blue cheese crumbles, green onion and chopped English cucumber to a bowl. Cut cooked steak against the grain into 1/2″ thick slices. Add to the top of the salad. Season with salt and pepper.
Nutritional Information per serving
544 calories
44.8 grams fat
5.8 grams carbohydrate
1.4 grams dietary fiber
4.4 grams net carbohydrate
34.1 grams protein.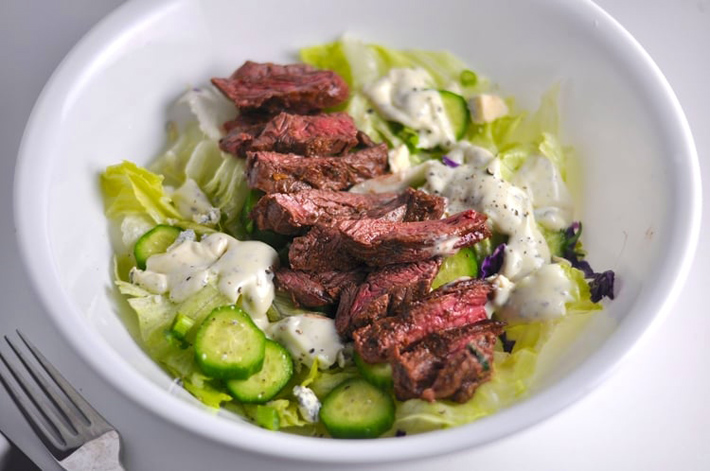 Source: modernlowcarb.com