I've made this Low Carb and Gluten Free Lemon Cream Cake three times in the last two weeks, and it was fabulous every time! I love lemon desserts and this one is so light, fluffy and delicious! Two layers of white cake filled with a cream cheese-based lemon cream – simply divine! The lemon cream filling is heavenly. It is light in texture but rich in flavor, with the lemon coming through perfectly.
I'm very pleased with my Low Carb and Gluten Free Lemon Cream Cake. You definitely must try this recipe!
Low Carb and Gluten Free Lemon Cream Cake
Ingredients:
Cake:
2 cups almond flour
1/4 cup granulated erythritol
1/4 cup whey protein powder
1 tsp xanthan gum
2 tsp baking powder
1/2 tsp baking soda
1/2 tsp salt
6 oz greek yogurt
1/4 cup butter, softened
3 large eggs
1/2 tsp vanilla extract
10 drops stevia extract
1/4 cup almond milk
Lemon Cream Filling:
6 oz cream cheese, softened
3/4 cup powdered erythritol
1 tbsp lemon zest
2 tbsp lemon juice
8 drops stevia extract
3/4 cup whipping cream
Crumb Topping:
1/4 cup almond flour
3 tbsp powdered erythritol
1/4 tsp vanilla extract
1 1/2 tbsp butter, cut into small pieces and chilled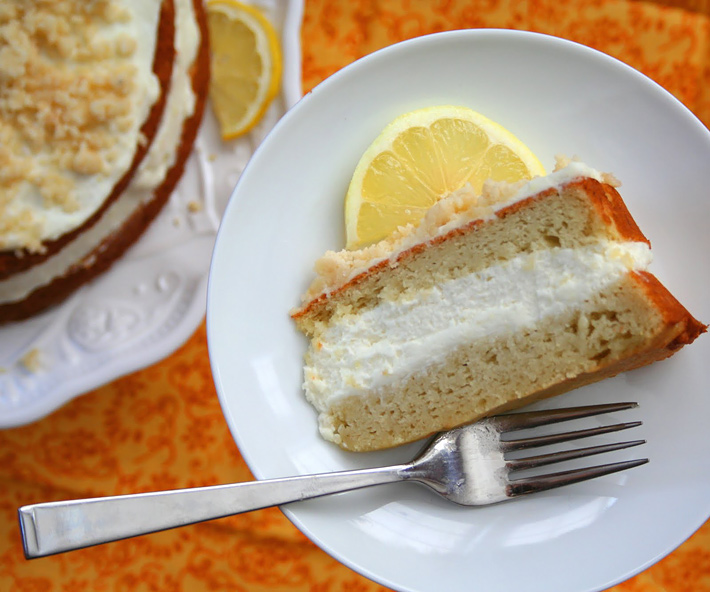 Instructions:
For the cake, preheat the oven to 350F and grease an 8-inch round cake pan.
In a medium bowl, whisk together the almond flour, erythritol, xanthan gum, protein powder, baking powder, baking soda and salt, breaking up any clumps with the back of a fork. Set aside.
In a large bowl, beat yogurt and butter together until smooth. Add eggs, vanilla and stevia and beat until just combined. Add half of almond flour mixture and beat until combined, then beat in almond milk. Beat in remaining flour mixture until thoroughly combined.
Spread batter in prepared pan and bake 35 to 40 minutes or until edges are golden brown and a tester inserted in the center comes out clean. Cool in the pan 10 minutes and then flip out onto a wire rack to cool completely. When cake is completely cool, cut in half horizontally with a serrated knife.
For the cream filling, beat cream cheese in a medium bowl until smooth. Beat in erythritol, lemon zest, lemon juice and stevia extract until combined. In another bowl beat cream until stiff peaks form. Gently fold whipped cream into cream cheese mixture until combined.
Spread all but 1/2 a cup of filling onto one half of cake, then gently top with the other half of the cake. Spread remaining filling over the top of assembled cake.
For the crumb mixture, combine almond flour, powdered erythritol and vanilla in a small bowl. With a pastry cutter or two knives, cut in butter until mixture resembles crumbs. Sprinkle over the top of the cake and refrigerate for at least 2 hours before serving.
Nutrition
Serves 10. Each serving has 7.7 g of carbs and 2.7g of fiber. NET CARBS = 5 g per slice.
 

Please follow us on Pinterest and enjoy our collection of recipes, crafts, fitness, health tips, gardening, DIY and more…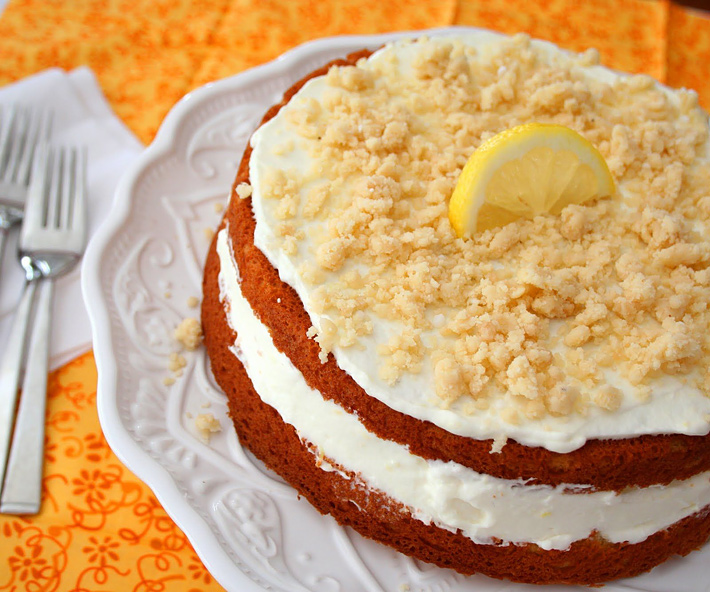 Source: alldayidreamaboutfood.com