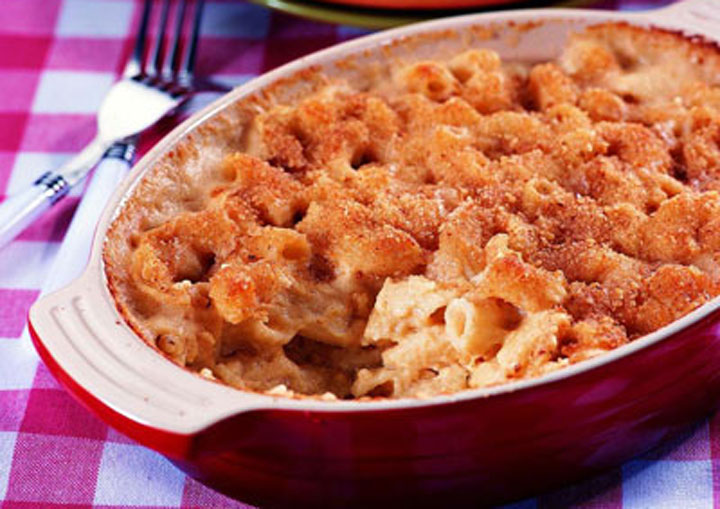 Mac Attack recipe – easy to make
Who doesn't love mac & cheese? I guarantee this recipe is tastier than the kind from a box. Grating the onions adds flavor without messing up the texture.
Ingredients:
water
1 tsp. salt
1 tbsp. vegetable oil
11 c. dry macaroni
3 tbsp. butter
1 onion
3 tbsp. flour
2 c. milk
1 pinch nutmeg
4 oz. Monterey Jack cheese
4 oz. Cheddar cheese
4 oz. mozzarella cheese
Cooking spray
1 c. bread crumbs (optional)
Directions:
1. Preheat the oven to 375 degrees. Fill the 4-quart pot halfway with water. Add the salt and oil, and bring to a boil over high heat.
2. Add the macaroni and boil over low heat. (The package directions will tell you exactly how long to let the macaroni cook. But you should reduce this time by 5 minutes, because it cooks more in the oven later.)
3. When the macaroni is cooked, turn off the stove. Use pot holders if needed to pour the cooked macaroni into the colander to drain. If the pot is too large for you to easily and safely handle, have an adult do this step.
4. Melt the butter in the sauce pot on medium heat. Then cook the onion in the butter for 2 to 3 minutes. Next, whisk the flour into the butter. This is called a roux (pronounced "roo").
5. Gradually add the milk, whisking to break up as many lumps as you can. Cook the sauce, stirring occasionally with the whisk, until it thickens. It should take 5 to 8 minutes.
6. Stir the grated cheeses into the sauce with the whisk until the cheeses melt. Next, stir the macaroni into the cheesy sauce.
7. Dump the mac and cheese into the greased baking dish. Sprinkle the bread crumbs on top if you want to. Bake for 30 to 35 minutes. Use your potholders to take the baking dish out of the oven.
Source delish