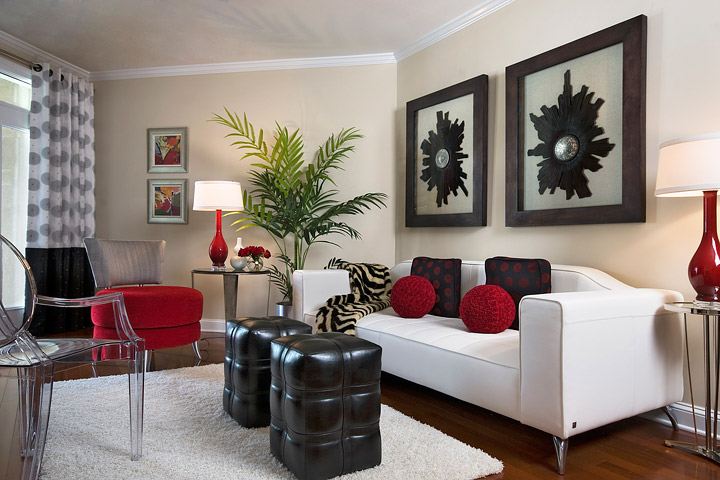 Living rooms are the central area of our homes and our everyday life. As such, living room serve many purposes, from relaxing in front of the TV to entertaining guests. Whatever our favorite activities are, we spend a lot of our time exactly in the living room.
Therefore, it's no wonder people spend fortunes for making the living room look larger. What we are about to reveal today is that generating extra space doesn't have to be painful-instead of demolition and partition; you can use few simple visual tricks.
Check out our tips for making the living room look bigger:
Wallpapers and mirrors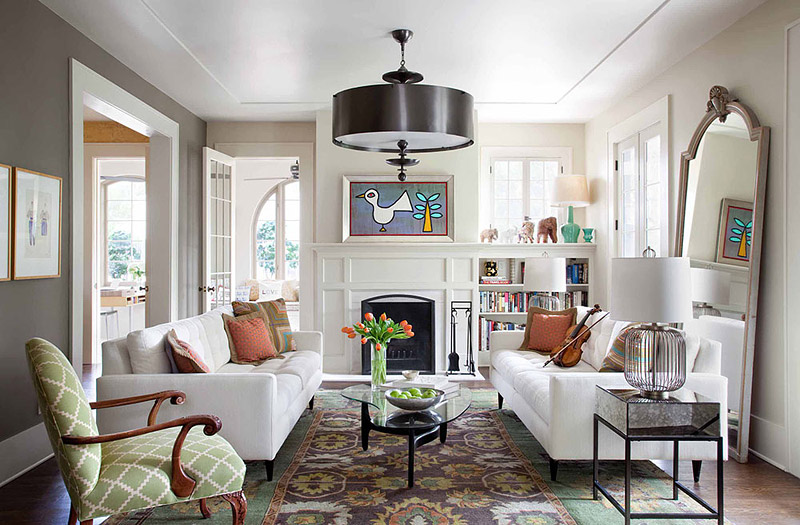 Short living rooms, especially such that lack access to natural light, look a bit claustrophobic. Still, there is a trick to make them look bigger: choose a central point; buy new wallpapers with bright and interesting colors; and hang a mirror across the biggest window. In such way, the mirror will play the role of an additional window, and will reflect the magnificent view.




Make peace with the architecture you already have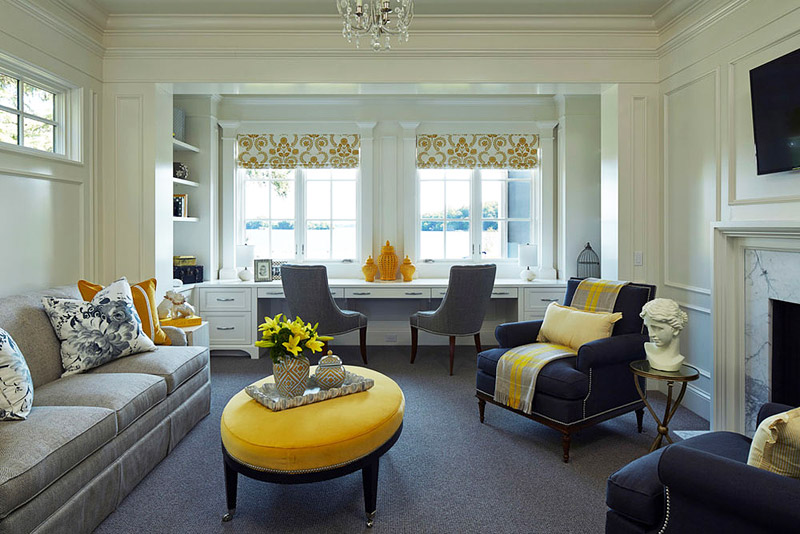 The limited size of your living room can often make you neglect incredible design possibilities. For instance, unutilized nooks and crannies could be used for cut benches and functional desks; while coffered ceilings are excellent for gracious chandeliers.
The most useful trick in small living rooms is to attract attention towards the ceiling, which is why hanging artwork is also a great solution. Furthermore, decorate your windows with long and elegant curtains that can highlight their importance.
Choose furniture strategically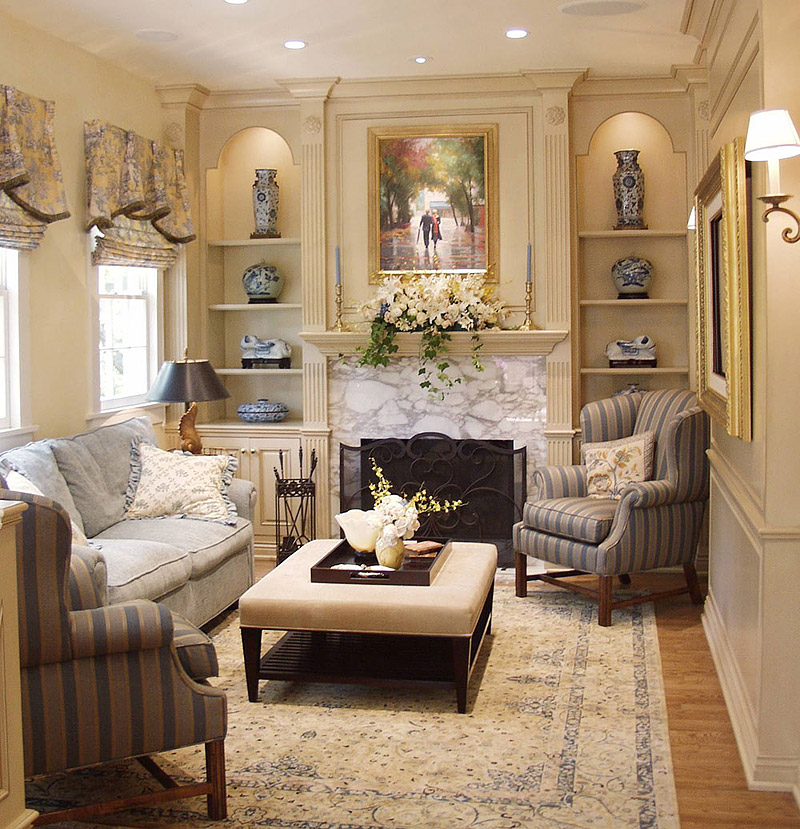 The biggest mistake you could make when decorating a small living room is to choose incompatible furniture. Large pieces occupy too much space; and they create visual clutter even in the cleanest room.
Try to replace them with modular furniture which serves more than a single purpose: for instance, forget royal-size sofas and choose two small ottomans instead. Ottomans and petite sofas look spacious and cute; and they can easily be moved to the side when you need extra space.
Select the right colors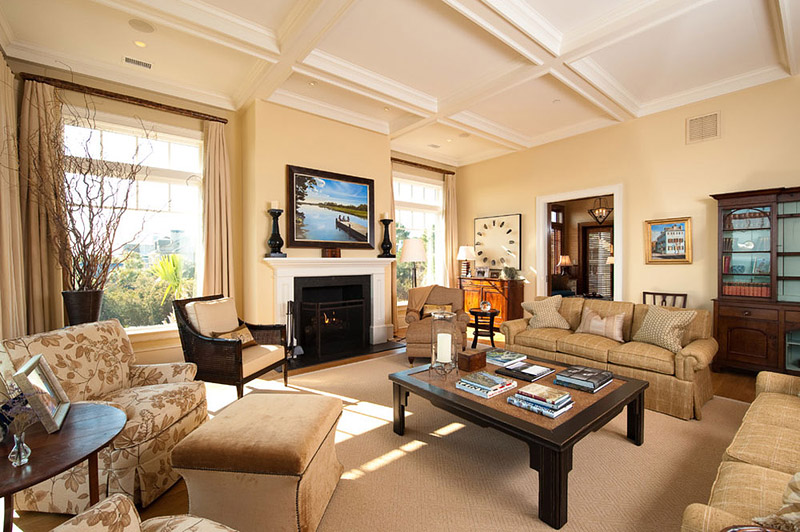 The color scheme can definitely make or break small living rooms. Many people make the drastic mistake of following popular trends; and applying dark and bold palettes. Small living rooms look much better when dressed in matte and neutral tones, especially popular nuances of lime, ivory, or sky blue.
Fill the corners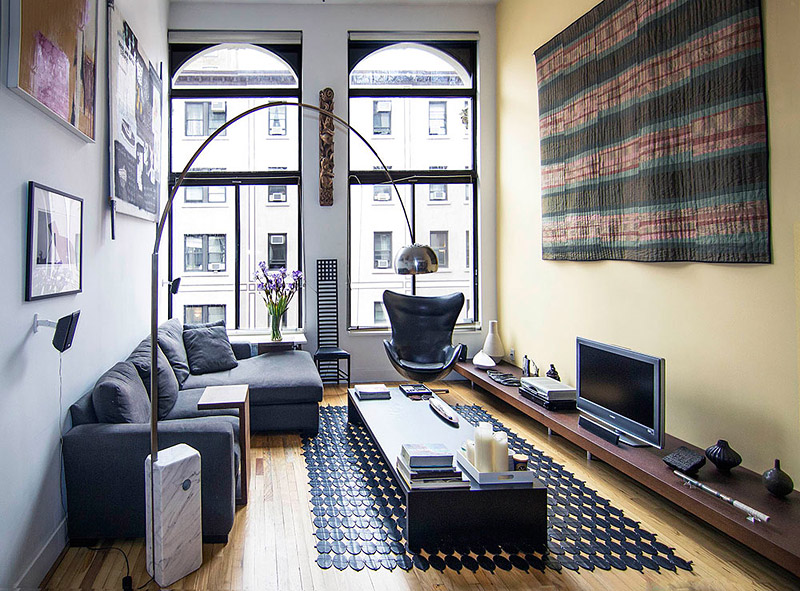 It sounds like a counterproductive idea, but filling a single corner in a small living room can actually increase its visual size. Large furniture pieces store lots of items; and they can accommodate more people than standard sofas. In such a way, the room will not look crowded and cluttered.
An additional recommendation would be to use modern pieces with clear and sharp lines, instead of overstuffed or rounded furniture.




Take advantage of high ceilings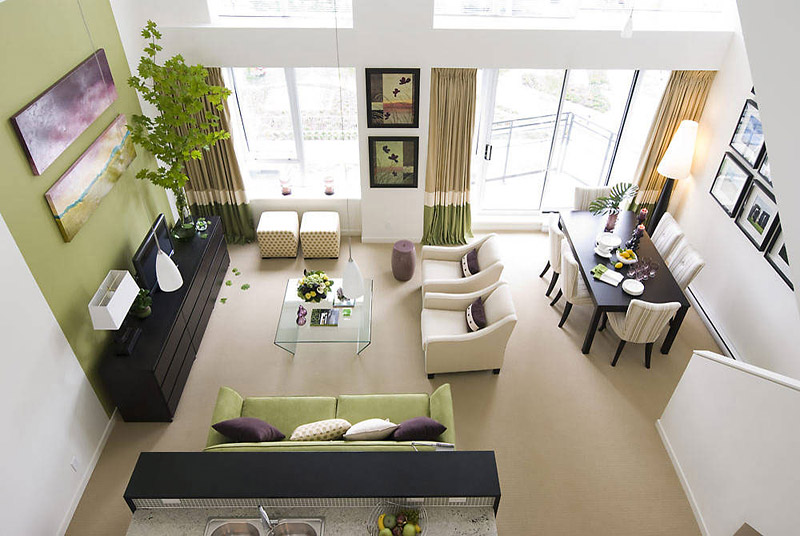 High ceilings are a real blessing for small rooms! It's true-you may not be able to add extra seats, but you could always squeeze exquisite vertical pieces and draw attention towards the ceiling. The final result would be optical spaciousness, and grandness that could not be achieved otherwise.
For instance, we recommend hanging shelves, art collections, or creative light fixtures. Beams, on the other hand, would be a smart addition for rustic environments.
Make it as light as possible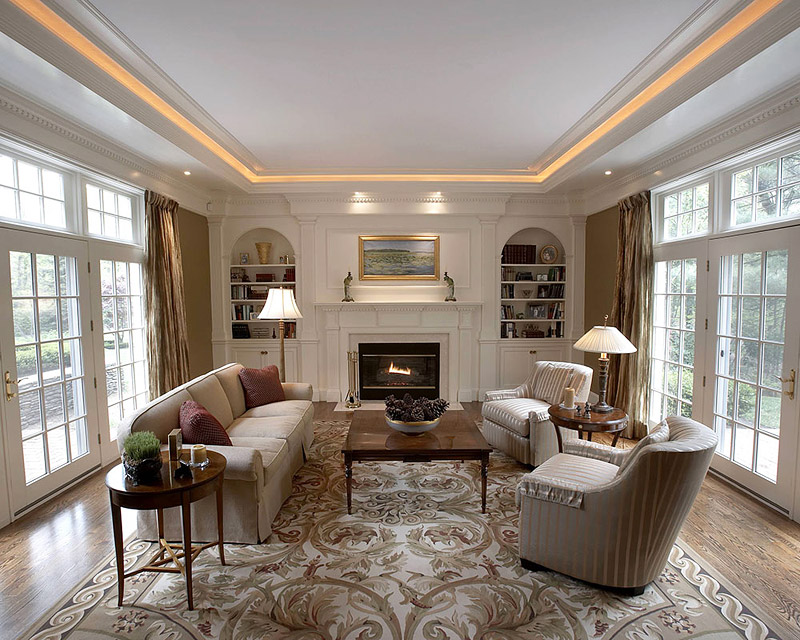 In case there is not enough natural light in your room, keep the coverings transparent and airy. Heavy drapes made of thick and dark materials are modern and practical, but they are a luxury small rooms cannot afford. Light curtains, on the other hand, will ensure both brightness and freshness inside your place. Alternative lighting, such as floor lamps or lavish chandeliers is also welcomed.
Focus on the fireplace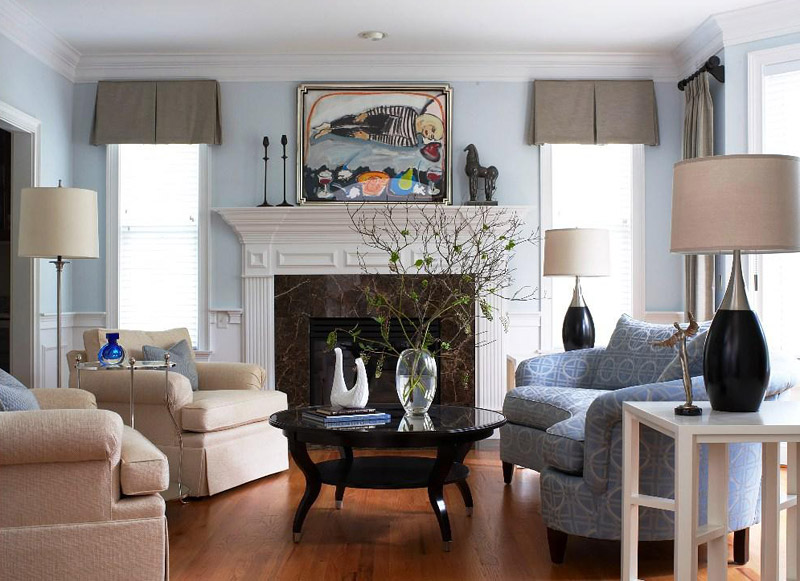 Those of you who are lucky enough to have an inbuilt fireplace should think about converting it into the focal element of their living rooms. The fireplace can be more than an adornment-it can serve as a pleasant gathering area!
All it takes is to surround it with comfortable stools, creative benches, or a pair of cute ottomans. Their warm and inviting nature inspired many designers to recommend them, especially in terms of saving space and providing concealed storage.
You don't really need a sofa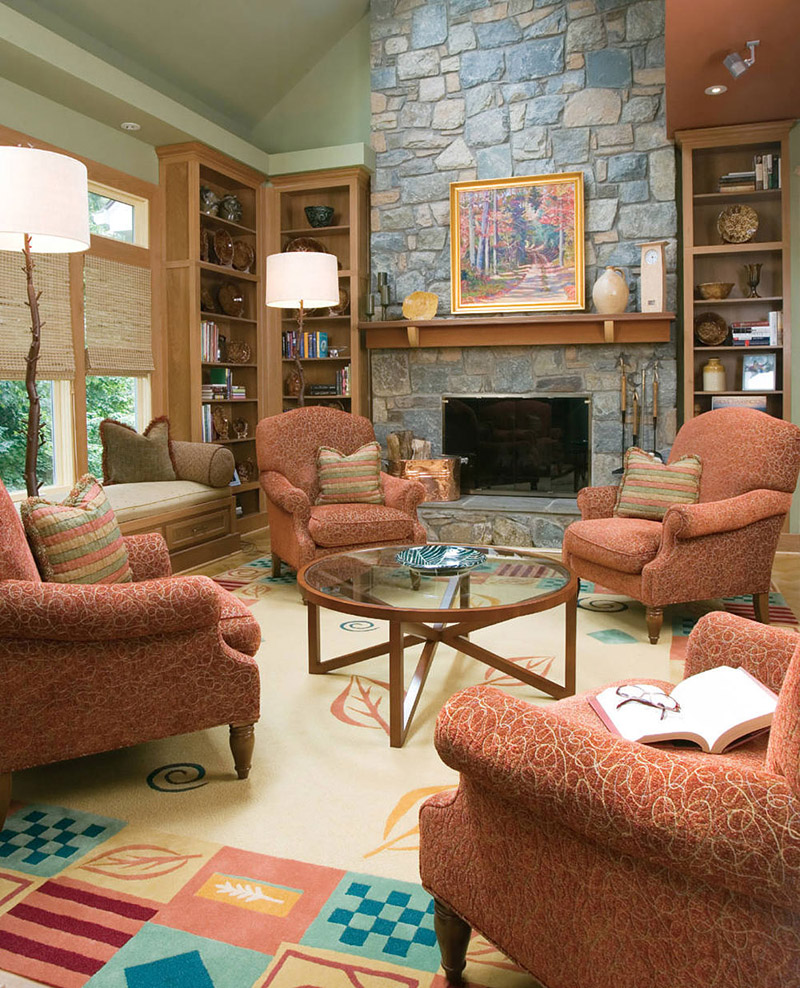 As we already said, sofas ought to be avoided in small living rooms. Wouldn't it be more 'breathable' with a pair of cozy ottomans, or a set of attractive arm chairs? Besides, it will take only few stools or poufs to ensure that accommodating people will not be an issue.
'Hidden' storage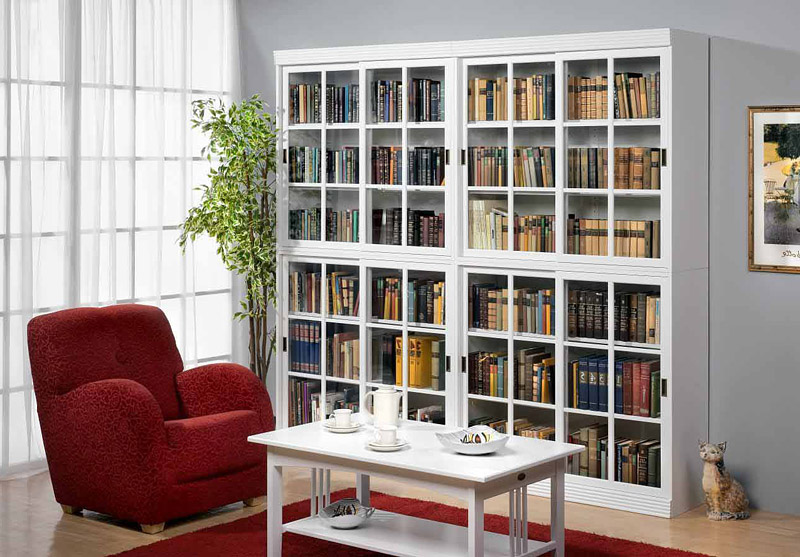 In most of the cases, small living rooms are part of generally small houses, which deprives owners from the luxury of sacrificing functionality for style. While this doesn't mean you have to renounce the beautiful looks of your furniture, you have to choose pieces which are highly practical; and can 'hide' the piles of personal belongings.
Therefore, we recommend inbuilt cabinets, banks of creative shelves, or hidden drawers. The more artistic and playful you become the more spacious your room will appear.




Add greenery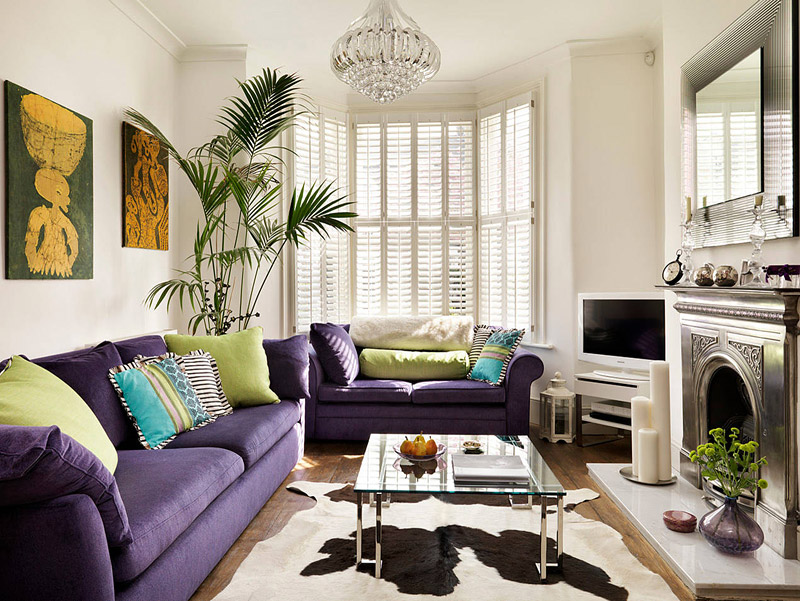 Plants are capable of making the eye believe there is more space in the room than there actually is. Just few of them can make your place look fresh and cheerful, especially if you put them in the corners, or behind larger furniture pieces.
Emphasize the vertical ax in your room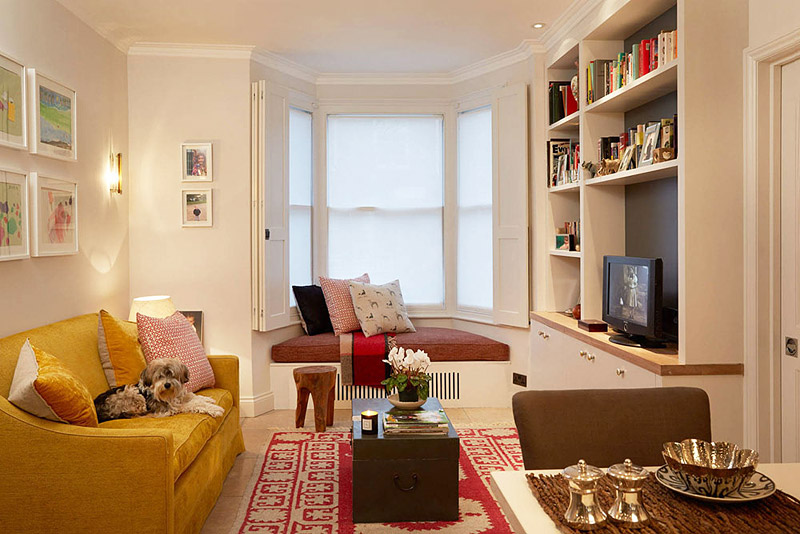 The benefits of our rooms' vertical axes are often undermined. The truth is that emphasizing the vertical dimension of the room can actually encourage visitors to believe that the room is larger. Achieving this is quite simple-you'll need large floor lamps, long vases with reeds, oversized drapes, or full-size mirrors. In fact, every vertical item on disposal could be an excellent choice.
Use transparent materials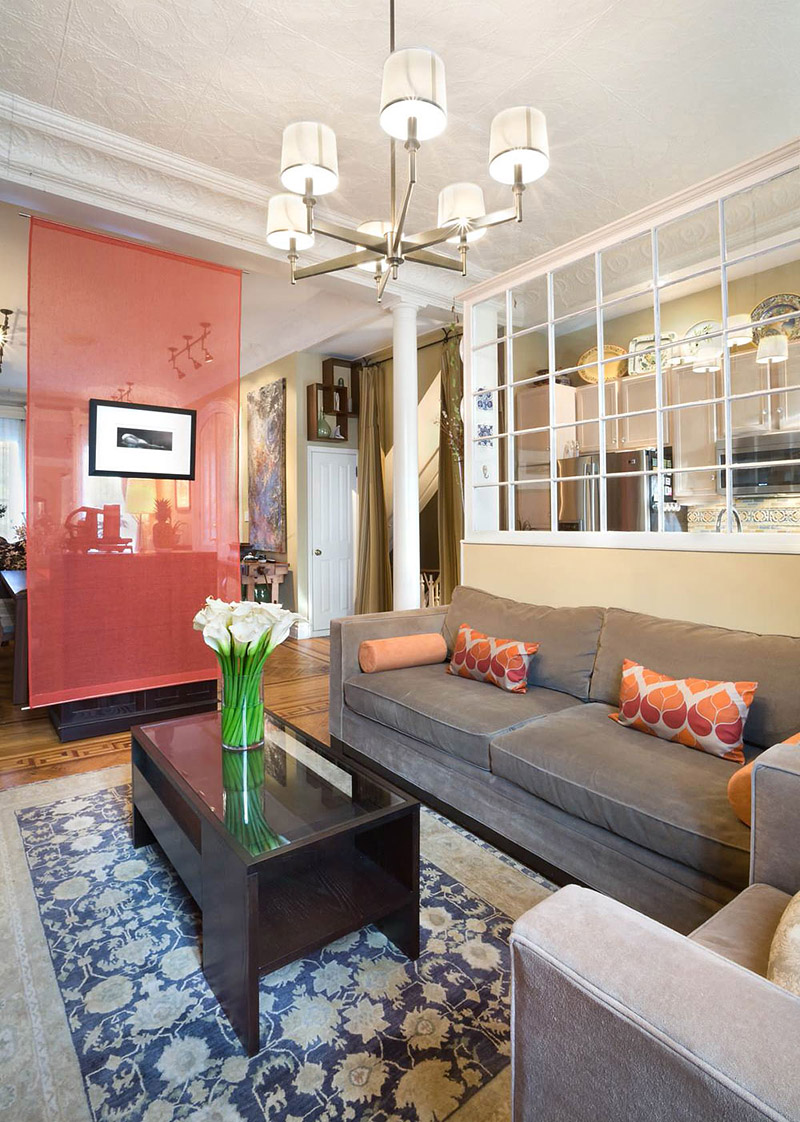 Transparent materials are sensitive and prone to damage, but with care and regular maintenance they could enrich your small living room for a long time. Lucite chairs (especially such that have a 'window seat' and enable you to see through them) or classy glass tables are 'invisible' for the eye; but are at the same time practical and elegant. Acrylic accessories are even more desirable.
Go for backless seating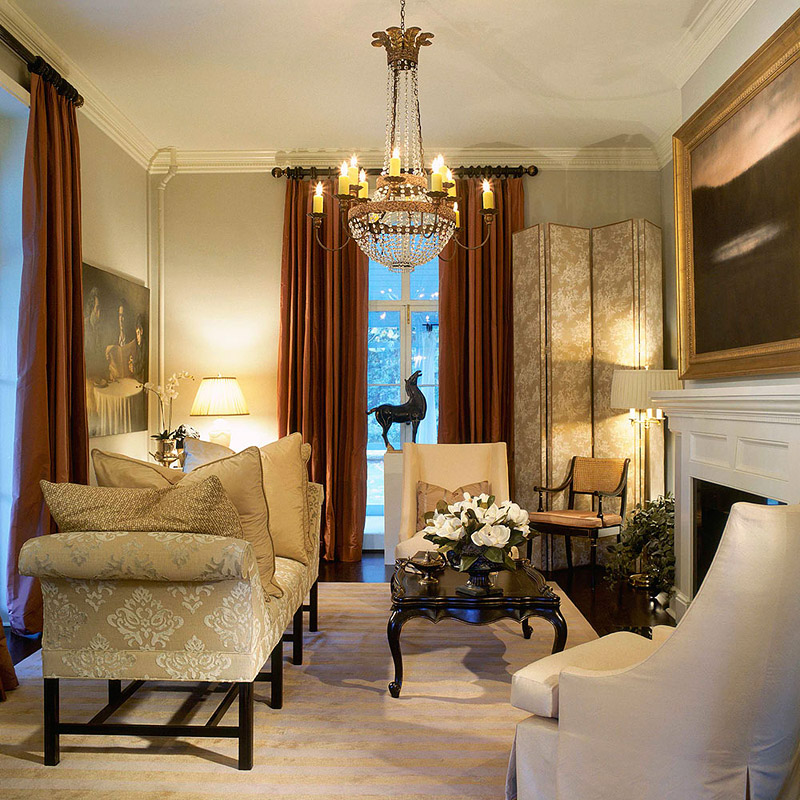 Sitting appliances in small rooms look better in the middle, than next to the wall. In order to create a pleasant sitting environment, choose small and backless pieces. They will ensure more space for your guests; and will create a modern vibe in your home. Besides, backless furniture looks equally good in larger spaces, where they could be used to 'divide' two different seating areas.
Source: impressiveinteriordesign.com