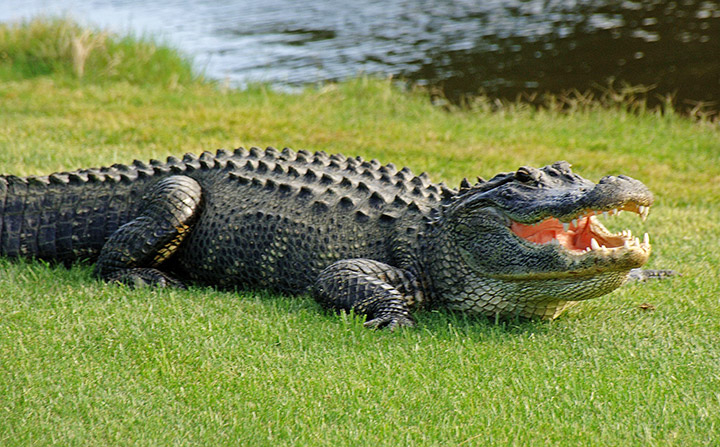 Talk about a big catch!
This massive alligator was recently tracked down by hunters at Outwest Farms in Okeechobee, Florida. Outwest Farms owner Lee Lightsey, along with his son Mason, his guide Blake Godwin and two hunters discovered the creature Saturday at one of the ponds on their private ranch.
"We were on a hunt for hogs and happened to come across the gator. There are natural ponds and waterways around for the cows to drink," Godwin told CNN. "There are lots of gators out there," Lightsey told CNN. "It's the start of mating season. This was a big one."
'Godzilla'-sized gator discovered in parking lot A big one indeed, the animal weighed in at 780 pounds, according to Lightsey. His son Mason told CNN he estimated it was "almost probably close to 15 feet."
Lightsey told CNN he isn't concerned over records. "It's just fun to see a great day for the hunters, the big ones like that are exciting for the hunters." Nine-year-old Mason said this wasn't his first hunting trip, and it was "not scary at all" to hunt such a huge animal.
He even posed next to the animal that was hoisted above the ground by a tractor's loader. The picture posted on Outwest Farms Facebook page has been shared over 4,000 times.
Some people have doubted the photo was real, Godwin told CNN, "There's a lot of folks saying that, but it's 100% real. I took that picture (referring to the photo of Mason laying on the alligator), the photo is real."
American alligators are especially common in Florida and can range from 10 to 15 feet long. They live in freshwater environments, such as ponds, marshes and rivers. The Florida state record for the largest alligator caught is 14 feet, 3 1/2 inches from Lake Washington, according to the Florida Fish and Wildlife Conservation Committee.
That gator weighed in at 654 pounds but is not the heaviest on record. The record holder in Florida for weight is 1,043 pounds. Outwest Farms has been in business for over 18 years and specializes in alligator and wild boar hunts. According to its website, a hunt for a 13-feet-long gator will cost you $10,000.
So what happens to the gator? Taxidermy, Lightsey says. Any meat that the hunter doesn't take will be donated to charity.
Source: cnn.com