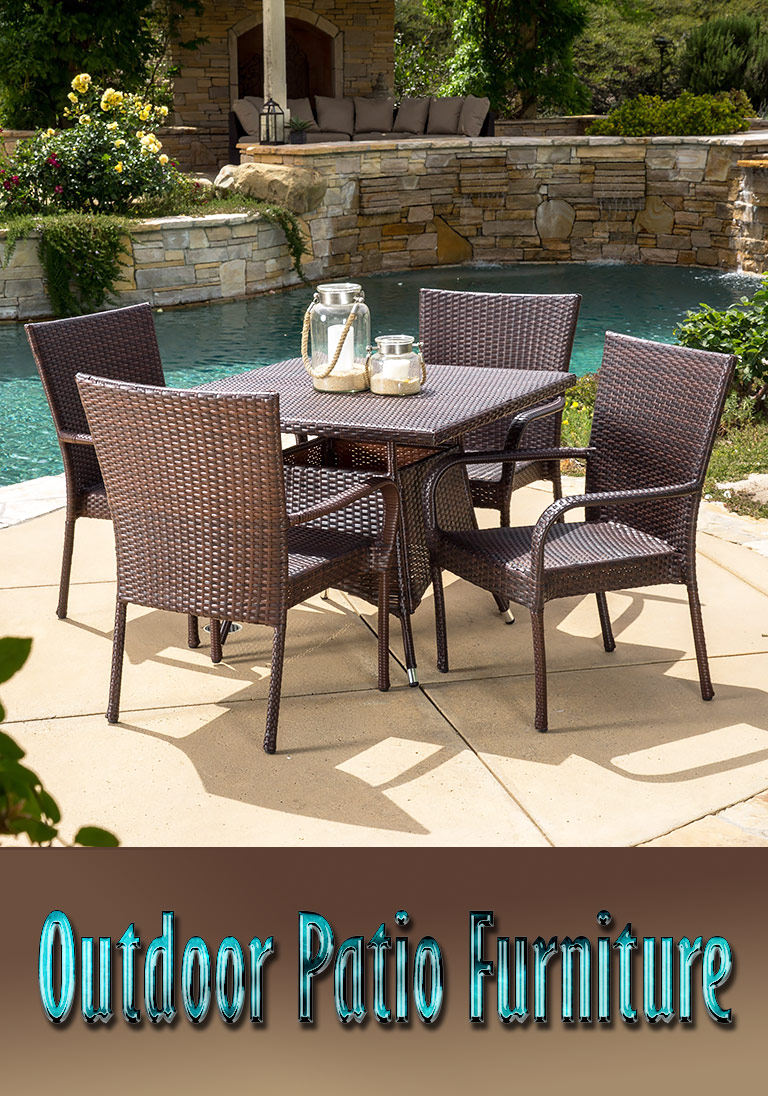 Patio furniture has come a long way from the green plastic resin chairs of old. There is a world of choice in the market and many fine pieces of furniture.
We can separate the categories into five main types.
Traditional wood furniture.
Metal patio furniture.
Rattan or wicker furniture.
Plastic resin furniture.
Ceramic or concrete furniture.
Wooden Garden Patio Furniture
Wooden outdoor furniture has been widely used for years, either for dining sets or generally for garden furniture such as benches, hammocks and planters. The wood used has primarily been hardwood although tanalised Pine is popular in the Swiss designs.




Teak
The best and of course most expensive is Teak which mainly comes from Indonesia. Teak is graded, grade A is the highest quality. Most people agree that Teak can be left untreated and will mellow to lovely silver grey over the years.
Most other grades of Teak will be supplied pre oiled, the furniture will last just as long if you treat regularly. The reason for the lower grade is that the wood will have defects in and grain anomalies, apart from that the lower grade Teak can sometimes not be kiln dried.
Other woods are used for garden furniture include Keruing, Acacia, Rose wood and Juniper.
Keruing 
Keruing is a good solid hardwood that will last up to 25 years. Great for outdoor dining furniture and bistros, a trend at the moment is to have a Keruing frame on a chair with textilene back and bottom for comfort.
You can also find steamers, loungers, picnic tables and benches in Keruing all in all it is a very hard wearing heavy set wood ideal for outdoor furniture.
Acacia
Acacia is becoming popular as it is better value for money. A MIR has developed a major range in Acacia. The only thing to watch for is that it is plantation Acacia, as there has been a problem with lower quality wood that has not been properly dried.




That aside you can buy an Acacia dining set, 4 chairs and a table for under $200, which is a bargain.
Rosewood 
Rosewood is fantastic but only if you have deep pockets as dining sets can set you back $2/3000 a time.
Juniper 
Juniper is mostly used for the pole of wooden parasols but still is a good solid wood and will last years outside with proper maintenance.
Source: streetdirectory.com