Pumpkin Cinnamon Pancakes Recipe
Recipe for Pumpkin Cinnamon Pancakes – Fall is upon us so it is time to start thinking pumpkin. And what better way to start than with breakfast.
Ingredients:
1 cup maple syrup
chopped pecans
cranberries
Pancakes:
1 cup buttermilk pancake mix
2/3 cup cold water
1/3 cup canned pumpkin
1/2 teaspoon ground cinnamon
1/8 teaspoon ground ginger
Nonstick vegetable cooking spray
Butter
Instructions:
For pecan syrup
In a small microwave-safe bowl, combine maple syrup and pecans. Microwave on high for about 25 seconds or until hot. Set syrup aside and keep warm.
For pancakes
In a medium bowl, whisk pancake mix, water, pumpkin, cinnamon, and ginger just until blended (do not overmix; batter should be lumpy).
Spray a heavy griddle with nonstick spray; heat griddle over medium heat. Spoon 2 tablespoons of the batter onto griddle to form each pancake. Cook about 2 minutes or until bubbles appear. Turn pancakes over and cook 2 minutes longer. Transfer pancakes to plates. Top with butter and warm syrup.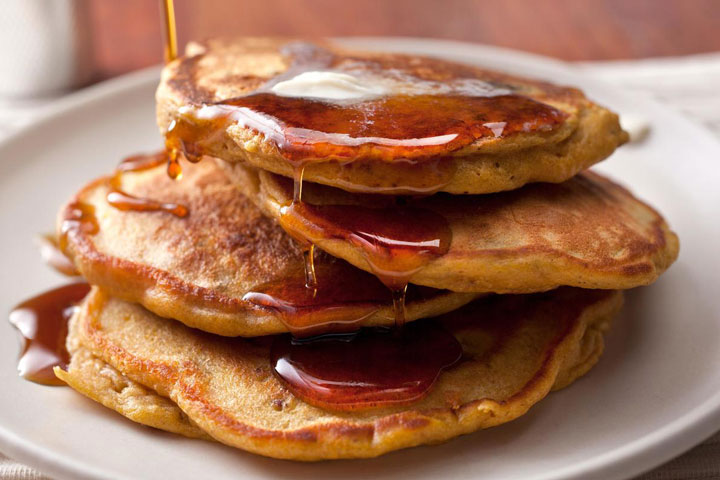 Source flavorite.net