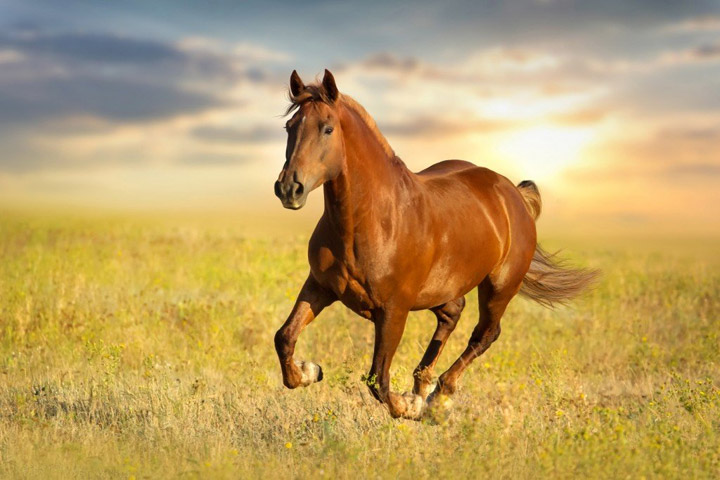 Humans domesticated horses somewhere around 3000 B.C., and since that time the horse has been one of our closest allies in work, war, travel and entertainment. Over these many thousands of years and millions of equines living alongside us, there have been quite a few standouts. Be it their speed, strength, smarts or simply their good looks or loyalty, the stories of a few special and famous horses have become popular and stood the test of time.
From horses living in ancient times whose memory still lives on today to beloved television stars of the 20th century, here are 10 celebrities from the equine world whose stories you want to know about.
Figure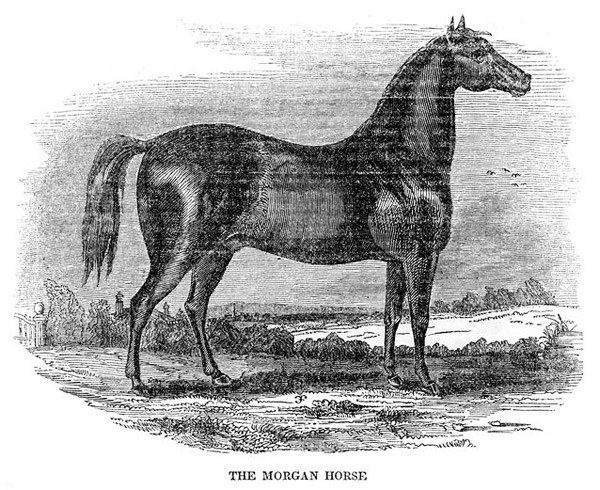 While many people have likely heard of the Morgan horse breed — one of the earliest breeds developed in the United States — far fewer know about the much loved horse who started the lineage, Figure.
Figure was a small bay stallion, who stood just 14 hands high. But despite his smallish size, he was strong, fast and had a stylish way of moving. At 3 years old, he was given to Justin Morgan, a music teacher and composer, as payment for a debt Morgan was owed.
While under Morgan's care, Figure gained fame for his abilities as a workhorse and his speed as a racehorse. Figure famously beat two New York race horses in a 1796 sweepstakes race, and he became known as the Justin Morgan horse.
According to the American Morgan Horse Association, "[Figure's] ability to out-walk, out-trot, outrun, and out-pull other horses were legendary. His stud services were offered throughout the Connecticut River Valley and various Vermont locations over his lifetime. However, his most valuable asset was the ability to pass on his distinguishing characteristics, not only to his offspring, but through several generations."
The features and talents that made Figure stand out could still be readily spotted in his grandfoals.
He continued to sire foals even as he was traded from owner to owner in his later years, and he was used for everything from logging to racing to being a parade mount. In 1819, he was sold to his final owner, Levi Bean. He was put out to pasture and in 1821 and then died after being injured by a kick from another horse.
The legendary sire of a new breed of horse is at the center of author Marguerite Henry's "Justin Morgan Had a Horse" as well as a 1972 film by Walt Disney Studios with the same name.
Copenhagen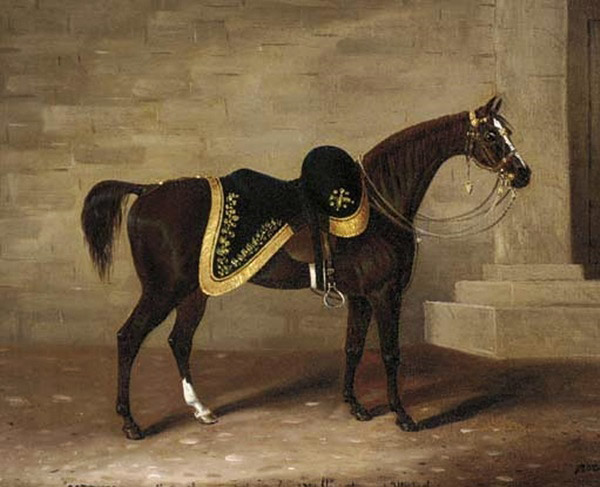 Many of the most famous equines in history are those that served alongside humans during war. This is true for a 15-hand-high, ornery stallion named Copenhagen who gained fame after carrying the Duke of Wellington for 17 consecutive hours in the Battle of Waterloo.
Copenhagen was born in 1808 and was of thoroughbred and Arabian stock. The latter breed likely gave him particular stamina and his fiery temperament.
When the Duke dismounted Copenhagen after the lengthy battle, he gave Copenhagen a pat of gratitude on the flank. But his grumpy — and apparently tireless — steed nearly took his head off with a sharp kick.
According to The Regency Redingote: "Copenhagen very nearly achieved what the French had failed to do throughout that gruelling battle. But the Duke was quick enough to avoid that lethal hoof, the last danger he would face on that terrible day. His groom took the stallion's reins and led him away for a well-deserved rub-down and rest."
Years later, and after a long retirement, Copenhagen died at the age of 28. But his story doesn't quite end there. When he was buried, the Duke noticed that one of Copenhagen's hooves had been cut off as a souvenir. He flew into a rage over it, and it wasn't until some time later that the stolen hoof was recovered and returned to the Duke. The Duke's son eventually turned the hoof into an ink stand.
Marengo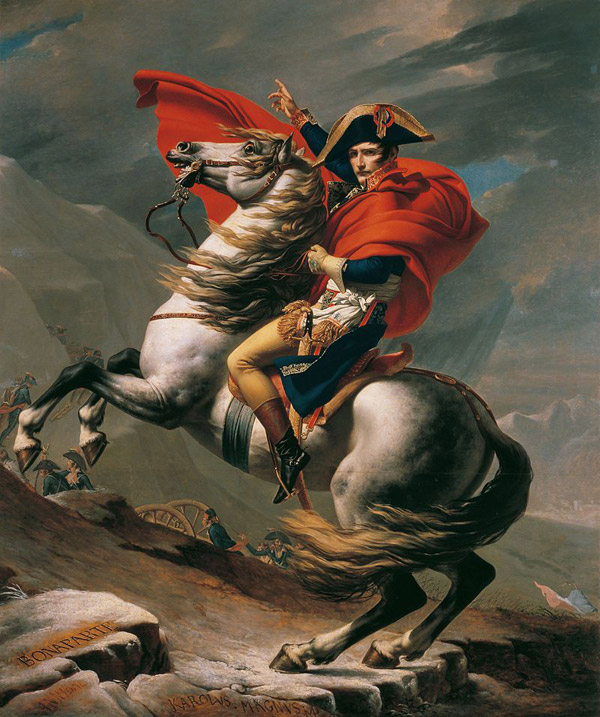 On the opposite side of the battle line from Copenhagen was a horse named Marengo, a small gray Arabian who carried none other than Napoleon Bonaparte on his back.
While Copenhagen returned home after the battle, Marengo was captured and taken to Britain where he was put on exhibition. After his death in 1831 at the age of 38, his skeleton was preserved and stands at the Imperial War Museum in London to this day.




The odd thing about Marengo is that while we know about him, there's no mention of him anywhere in Napoleon's stable records. According to Tom Holmberg, "It is possible that Marengo was a nickname of another horse. Napoleon had a penchant for giving nicknames (Josephine's, his wife, real given name was Rose). A number of his horses had nicknames… [author Jill] Hamilton concludes the horse may actually be Ali (or Aly), a horse Napoleon did ride throughout his career and which could be considered a 'favorite.'"
Marengo is one of two horses used as models for the steed featured in this famous painting of the French emperor.
Comanche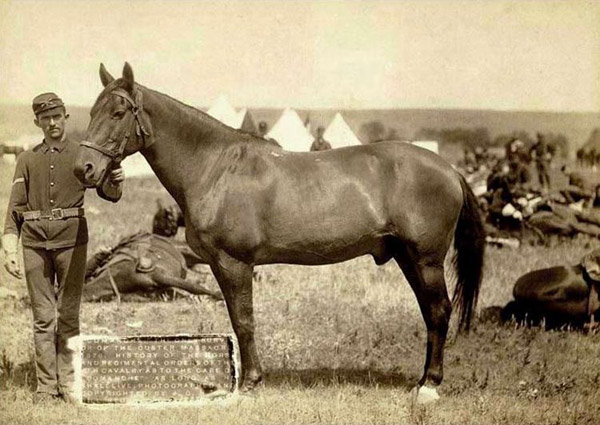 You know whose hooves were not made into inkwells, despite being an equine war hero? Comanche's. This bay gelding was of mustang stock and was part of the U.S. Cavalry.
Comanche is often cited as the only survivor of the Battle of Little Big Horn. (Technically, roughly 100 other horses survived but were captured by the victors.) The mount of Captain Myles Keogh, Comanche was seriously wounded in the battle, including seven bullet wounds, and members of the Army found him in a ravine two days later. He was collected and cared for, and he soon recovered from his wounds.
This wasn't the first time the stoic horse had to tough out injuries. Indeed, his toughness is what earned him his name. During a battle against the Comanche in 1868, he was shot by an arrow in the rump and yet continued on with Keogh on his back. After that day, he was named "Comanche" as a way to honor his bravery and steadfastness. He was wounded some 12 times during battles, including those injuries sustained during his final battle at Little Big Horn.
After Comanche was retired in 1878, Colonel Samuel D. Sturgis issued an order stating that the horse, "being the only living representative of the bloody tragedy of the Little Big Horn, June 25th, 1876, his kind treatment and comfort shall be a matter of special pride and solicitude on the part of every member of the Seventh Cavalry to the end that his life be preserved to the utmost limit." The order included that Comanche would have a comfortable stable, that he'd never be ridden again or have to work under any circumstances. Comanche was allowed to wander the parade grounds at his leisure, became a favorite pet of the soldiers at Fort Riley, and apparently enjoyed his fair share of beer. Not a bad retirement for a war horse.
When he died at the age of about 29 in 1891, he was given a military funeral with full military honors, one of only two horses in the United States to be honored in such a way. His remains were preserved, and he can be seen on display at the University of Kansas Natural History Museum.
Godolphin Arabian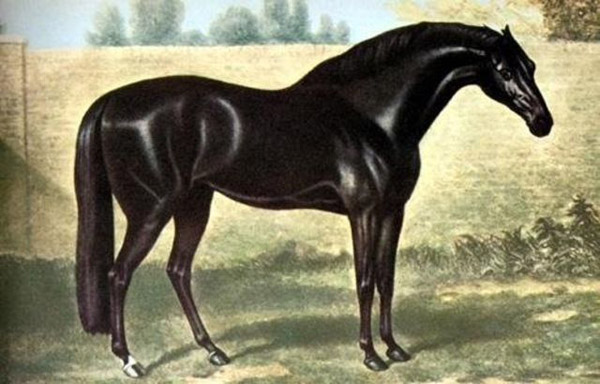 Any child who has read Marguerite Henry's "King of the Wind" knows a little something about the Godolphin Arabian, though the novel is a highly fictionalized version of the stallion's life. What isn't fiction is that this famous Arabian horse is credited as being one of the founding sires of the thoroughbred breed.
But before becoming the Godolphin Arabian, the young horse experienced quite a journey. Likely born in Tunisia, the stallion was given to Louis XV of France in 1730 as a diplomatic gift. The unimpressed king didn't keep the horse and instead the stallion eventually made his way into the hands of the Earl of Godolphin, from whom he got his name. The stallion was the sire of several outstanding race horses, and his genetic impression on thoroughbred horses lives on even today.
According to Godolphin.com, "The Godolphin Arabian died in 1753, aged 29 and is buried at Wandlebury Hall in Cambridgeshire. His lasting influence on succeeding generations of thoroughbreds can be gauged from the fact that 50 years after his death, the first 76 British Classic winners had at least one strain of him in their pedigree. Many great modern champions such as Seabiscuit and Man o' War have been descendants of the Godolphin Arabian."
Seabiscuit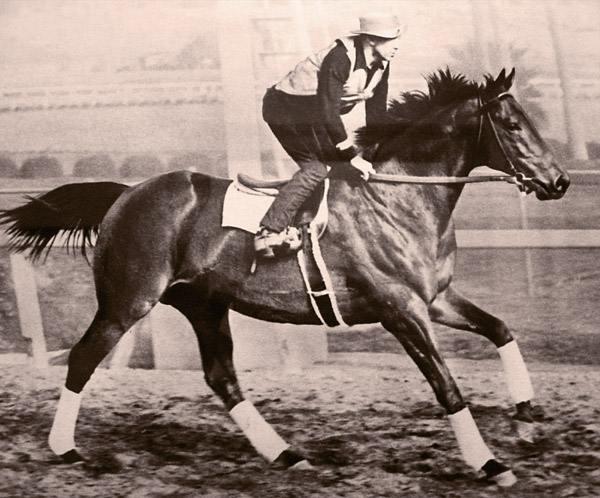 Speaking of Seabiscuit…
Quite a few race horses have had films made telling their story, including Phar Lap, Secretariat and Ruffian. But the highest grossing movie about a horse — any horse — to date is Seabiscuit. No one can hear this horse's story and not feel a swell of affection.
With a less-than-perfect body with short legs and an initially lazy personality, Seabiscuit seemed to have little potential despite being descended from legendary racehorse Man o' War and, farther back, the Godolphin Arabian. That is, until he landed in the hands of trainer Tom Smith and jockey Red Pollard.
It is through the unorthodox training approach of both men as well as their unflappable faith in the stallion that Seabiscuit finally found his stride, so to speak, and raced with a spirit that dazzled onlookers. Despite challenges and injuries for both Seabiscuit and Pollard, the pair went on to win big, including the Santa Anita Handicap.
Seabiscuit retired from racing in 1940 and died seven years later at the relatively young age of 14.
Bucephalus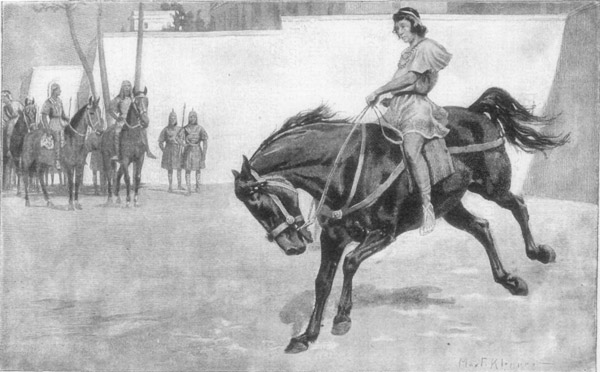 Now let's go back — way, way back — in history. One of the most famous horses of antiquity is the favorite steed of Alexander the Great.
According to ancient accounts, Bucephalus was a huge black stallion and, as legend goes, was untamable until a young Alexander came onto the scene. The skittish horse would rear when anyone came near him, yet was finally quieted when Alexander turned him toward the sun, putting his shadow — the source of his fears — behind him.
Ancient History Encyclopedia writes: "According to Plutarch, as Alexander returned to the arena with Bucephalus and dismounted, Phillip said, "O my son look thee out a kingdom equal to and worthy of thyself, for Macedonia is too little for thee." Historians claim this taming of the wild Bucephalus was a turning point in the young prince's life, demonstrating the confidence and determination he was to show in his conquest of Asia.




Bucephalus became Alexander's favorite horse and rode him in battle. At one point, the steed was stolen and Alexander promised to lay waste to the land and kill the inhabitants if the horse was not returned — which, of course, he promptly was.
Bucephalus died in 326 B.C. after the Battle of Hydaspes. Alexander founded the city of Bucephala in the horse's honor.
Sargent Reckless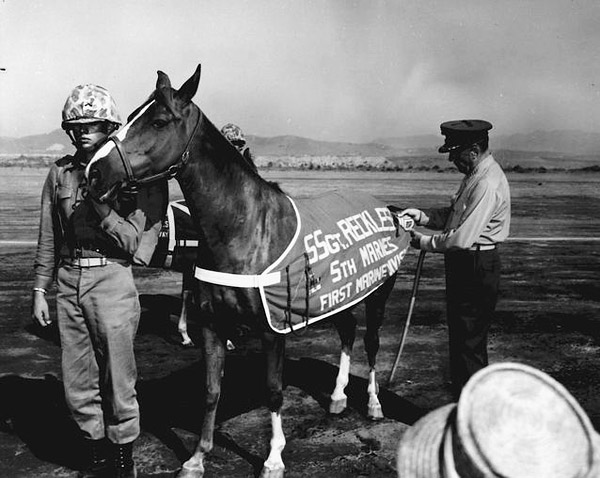 A more modern-day war horse — one far less noble in appearance than famous Bucephalus, but just as noble at heart — is Sargent Reckless. She is perhaps the most decorated horse in U.S. military history.
The young mare became part of the U.S. Marine Corps in 1952 when Lieutenant Eric Pedersen purchased the mare from a young Korean man, and she became a pack horse carrying ammunition for recoilless — or "reckless" — rifles and other supplies to the soldiers during the Korean War.
According to Robin Hutton, "During [a] five-day battle, on one day alone she made 51 trips from the Ammunition Supply Point to the firing sites, 95% of the time by herself. She carried 386 rounds of ammunition (over 9,000 pounds — almost FIVE TONS! — of ammunition), walked over 35 miles through open rice paddies and up steep mountains with enemy fire coming in at the rate of 500 rounds per minute. And as she so often did, she would carry wounded soldiers down the mountain to safety, unload them, get reloaded with ammo, and off she would go back up to the guns."
As beloved as she was for her bravery, she was also famous for her appetite.
The Marine Corp Association and Foundation notes that she, "liked to supplement her diet with what the Marines were eating. She once strolled near the galley tent and ate some scrambled eggs that were offered to her. She then washed them down with coffee. On later occasions Reckless ate bacon and buttered toast with her scrambled eggs."
Despite her diet and the many bullets whizzing around her, the horse survived the war and was recognized for her role. Reckless was brought back to the United States in 1954 where she was cared for by the 5th Marines. She was promoted to staff sergeant in 1959, then retired with full military honors in 1960. The mare was the recipient of two Purple Hearts, Good Conduct Medal, Presidential Unit Citation with star, National Defense Service Medal, Korean Service Medal, United Nations Service Medal and Republic of Korea Presidential Unit Citation. Several books have been written about this remarkable and quirky little horse.
Beautiful Jim Key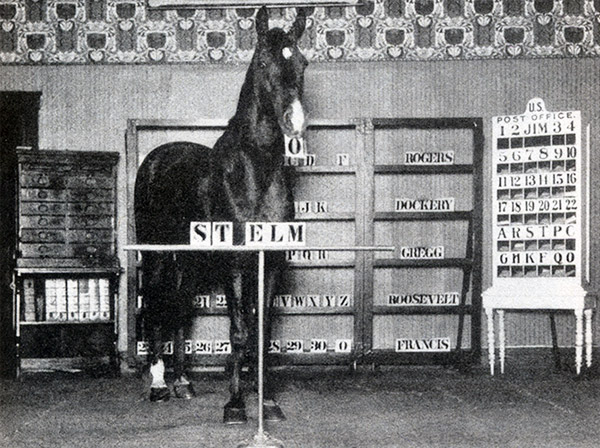 Famous horses aren't only found on battlegrounds or race tracks. The story of Beautiful Jim Key takes a different turn.
This handsome horse was a performer during the turn of the 20th century. He was known as the smartest horse on Earth and could, among many skills, count and do math, spell words by selecting letters from an alphabet, cite Bible verses, tell time, use a phone, and take cash to a cash register and bring back correct change.
The horse and his trainer were a huge act, traveling around the country performing before amazed audiences from 1897 to 1906. They were the biggest act of the 1904 St. Louis World's Fair. By the end of their tours, they were seen by an estimated 10 million people.
But perhaps equally as wonderful as the horse's abilities was the story of his trainer. "Dr." William Key was a former slave and a self-taught veterinarian who advocated for the kind treatment of animals. He trained Beautiful Jim without the use of a whip.
Anita Lequoia writes, "Animal organizations took note of the excellent treatment Beautiful Jim received, and activists that might normally picket animal acts instead presented Dr. Key and Jim with awards! William Key was the first African American recipient of MSPCA's Humanitarian Gold Medal, and Beautiful Jim Key was the first non-human recipient of multiple humane and literacy awards. Two million children joined the 'Jim Key Band of Mercy' and signed his pledge. The pledge simply stated, 'I promise to be kind to animals.' That's a mighty fine pledge!"
Together, Doc Key and Beautiful Jim made strides toward the humane treatment of animals, and breaking down barriers for African Americans. As Mim Eichler Rivas writes on the Beautiful Jim Key website, "The idea that a horse could actually do all that he appeared to do remains as controversial today as it did a century ago, probably more so. Yet what is crucial is that by appearing to do all that was claimed of him, Beautiful Jim Key and Dr. William Key managed to change the world."
Trigger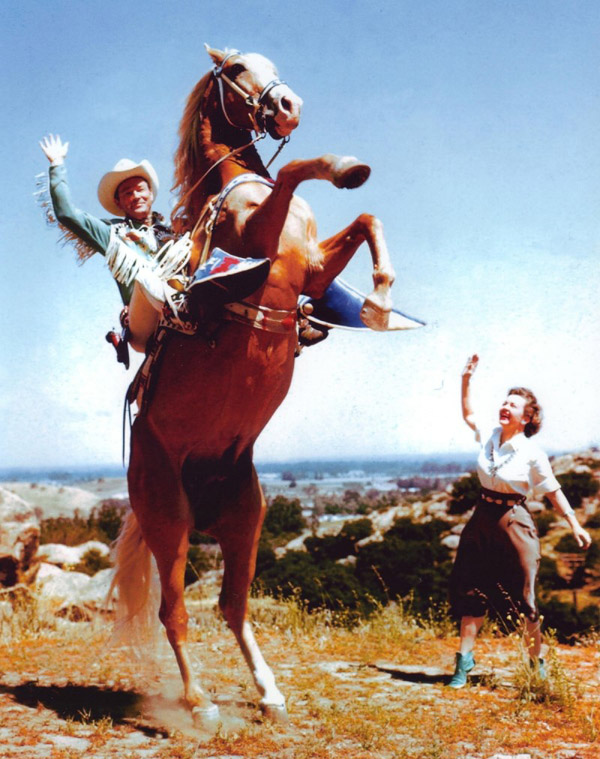 Among the most famous horses ever to grace the television screen was Trigger, the palomino stallion and sidekick of Roy Rogers.
Born in 1932, Trigger was originally named Golden Cloud until he was tested out by Rogers as his potential mount for a film.
According to IMDB, "Smiley Burnette, who played Roy's sidekick in his first two films, was watching and mentioned how quick on the trigger this horse was. Roy agreed and decided that Trigger was the perfect name for the horse. Roy purchased the horse for $2,500 and eventually outfitted it with a $5,000 gold/silver saddle."
It was a match made in heaven, as horse and cowboy worked wonderfully together.
"Over a period of almost 20 years, the original Trigger appeared in each of Roy's 81 starring films at Republic and all 100 of Roy's television episodes," writes Happy Trails. "This is a remarkable record unmatched by any other motion picture animal!"
Trigger lived to the ripe old age of 33. When he died, he was taxidermied and was on display in the Roy Rogers-Dale Evans Museum in Missouri until 2009. In 2010, he was sold at auction to cable network RFD-TV for $266,000.
Source: mnm.com