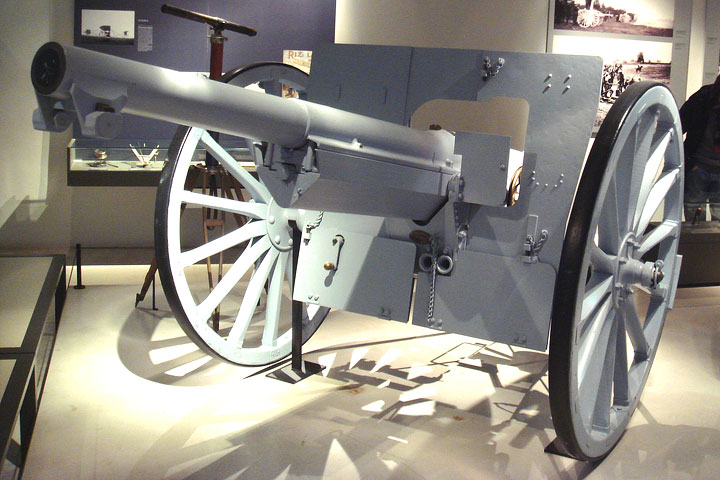 Thieves managed to steal a 1-ton World War l cannon from a veterans home in California. Local police are seeking the suspects in the May 1 theft as they hope to return the cannon which has stood outside the home since 1947.
Police in California are seeking the suspects that were caught on surveillance camera attempting to steal a World War l cannon from a local veterans home. Richmond police department shared a Facebook post seeking information regarding the 1-ton, 5-foot World War l cannon that was stolen from Veterans Memorial Hall on May 1.
"The suspects towed away the inoperable World War l cannon with a teal or blue regular cab, midsize to full size pick up truck with grey or silver rear bumper and wheels," the post stated.




Investigators told NBC Bay Area that thieves would likely try to melt down the cannon in order to sell the metal. Police went on to say that the cannon, which had been stationed outside the home since 1947, represented more than just a weapon to the residents.
"This act is about stealing a piece of our country's history, and stealing from our war veterans who fought bravely for our country and our freedom," they wrote.
Veteran Art Hunt, 79, shared in the sentiment, calling the World War l cannon a priceless symbol of freedom. "It's a precious item to us," he said. "It's worth more than gold to this building. It's worth more than gold." Richmond Police Lt. Felix Tan said that the theft happened in less than a minute and no witnesses reported seeing the suspects, as the area prepared for a Cinco De Mayo celebration. "It was literally on the run and we did not receive any call of anybody driving our city limits with a cannon in tow," he said.
Source: upi.com