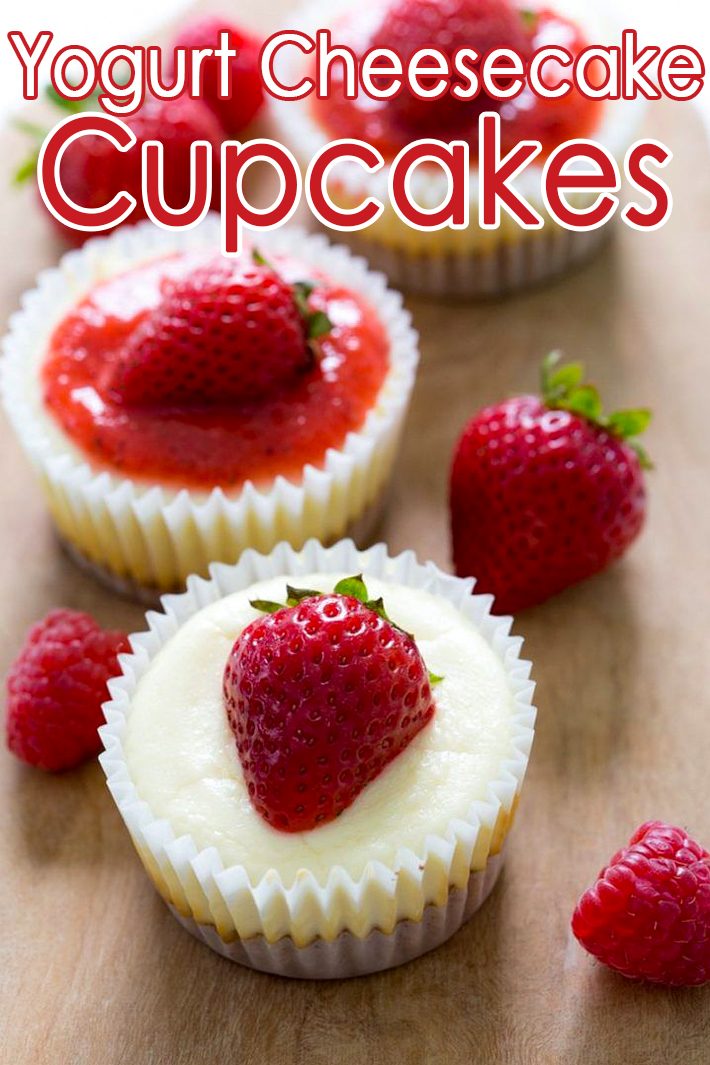 Yogurt Cheesecake Cups with Raspberry Sauce Recipe
Who doesn't love cheesecake? So heavenly rich and deliciously creamy. Indulge yourself in this rich, creamy and lush cheesecake cup made with Greek yogurt and raspberry sauce.
Preparation time: 20 minutes to prepare, 30 minutes to bake, 4 hour to refrigerate
Ingredients: 12 cups
5.3 oz (150 gr) of graham crackers, one package with 9 crackers
2 oz (57 gr) of unsalted butter (half stick)
3 cups of Chobani Greek yogurt vanilla or plain, 5.3 oz (150 gr) each
3/4 cup (150 gr) of sugar
3 eggs
1 teaspoon of vanilla extract (2 if you use plain yogurt)
3 tablespoons of corn starch
For the raspberry sauce:
1 1/2 cups of (frozen) raspberries, crushed
3 tablespoons of sugar
2 teaspoons of cornstarch
fresh raspberries for decoration (12 or 36 if you use one or three per cup)
Directions:
1. Preheat the oven to 350º F (175º C). Crumble the graham crackers and melt the butter. Mix the two ingredients together.
2. Press the mixture onto the bottom of 12 silicone muffin cups, or paper lined regular cups. Place in the refrigerator until the filling is ready.
3. Blend together the yogurt with the sugar, eggs, vanilla extract and corn starch until smooth.
4. Fill the cups evenly with the yogurt mixture and bake for 30 minutes. Turn off the oven and leave the cheesecake inside to cool down for about one hour. Refrigerate several hours (or overnight) before serving.
Note: if you used a silicone pan, be careful when you remove the cups from the mold, or the bottom crust might come apart. Run a thin-bladed knife around the edges if necessary. I suggest to refrigerate first, and then remove from the mold.
5. For the sauce: puree the raspberries in a blender. Combine the pureed raspberries, sugar, cornstarch, and a couple of tablespoons of water in a pan. Cook over medium heat until it's slightly thickened. It should take about 2 to 3 minutes. Remove from the heat and let it cool.
Remove the cheesecake from the refrigerator about 30 to 60 minutes before eating, top the cups with the sauce and fresh raspberries right before serving.
Enjoy!
 

Please follow us on Facebook Page and enjoy our collection of recipes, crafts, fitness, health tips, gardening, DIY and more…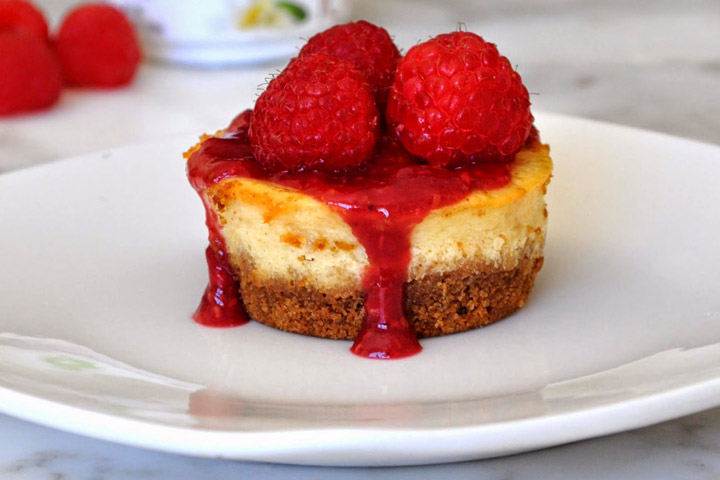 Source cookingwithmanuela.blogspot.ba