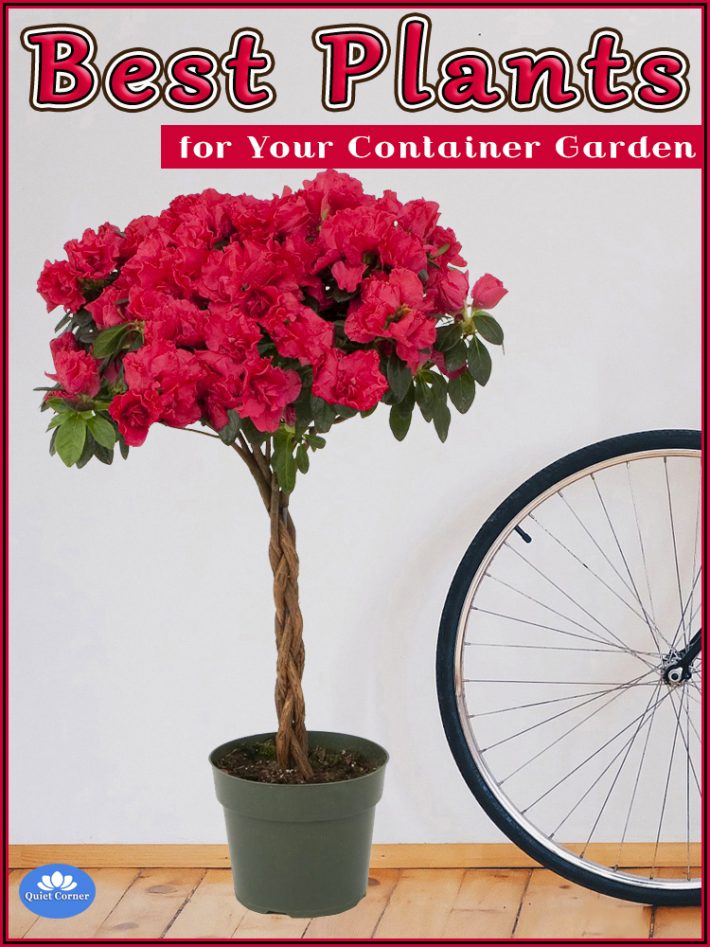 Best Plants for Your Container Garden
Here are some of best plants for your container garden. You might know some plants and some may surprise you but one thing is sure– You'll like to have some of these shrubs right away in your container garden.
Whether you have a small patio garden, a roof top garden, a balcony garden or a big backyard garden this list of best shrubs for containers will provide you so many options to choose from.
Many perennials and shrubs can live for several years in a container. Your containers can provide you with year-round interest, depending on the plants you choose, and you can lend consistency to your designs. If you want to add some personality to your container garden, use one of these unique containers.
For a plant, life in a container is much different than one in the ground. Containers can provide excellent drainage, but the plants depend on you for water and nutrients. Shrubs and larger perennials often stay smaller in a pot, though this depends on the plant, climate, and container. Also, containers don't insulate a plant's roots from winter temperatures
If you have a container garden, the chances are that it may be a collection of plants than a garden. If you love the look of shrubs but don't have room in your garden for large plants, create a container garden using smaller sized shrubs on your outdoor deck or balcony.
Abutilon (Flowering Maple)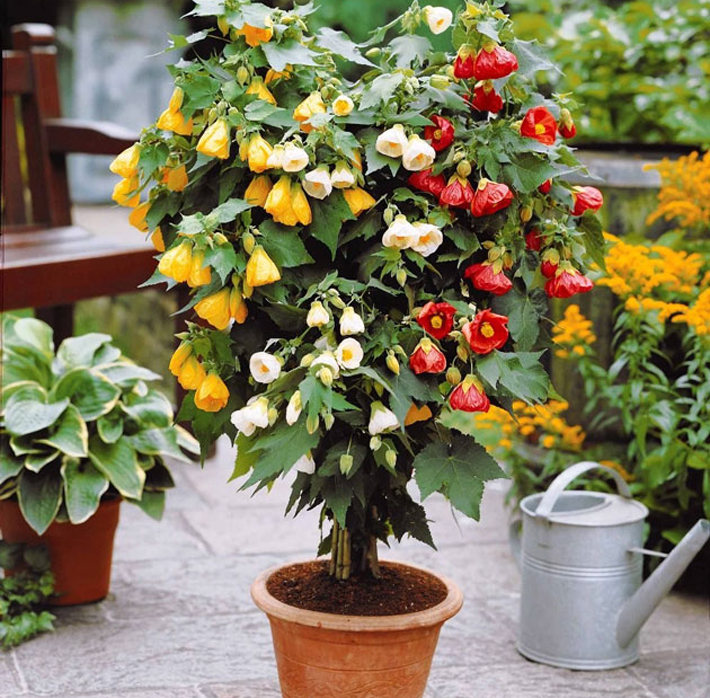 USDA Zones— 8 – 11
Climate— A subtropical shrub that can also be grown in cold climates, keep it indoors in winter.
It is also called "Indian Mallow" or "Flowering Maple". Abutilon is a beautiful shrub that grows around 1 m tall when grown in containers and have beautiful hibiscus and hollyhock-like flowers.
Andromeda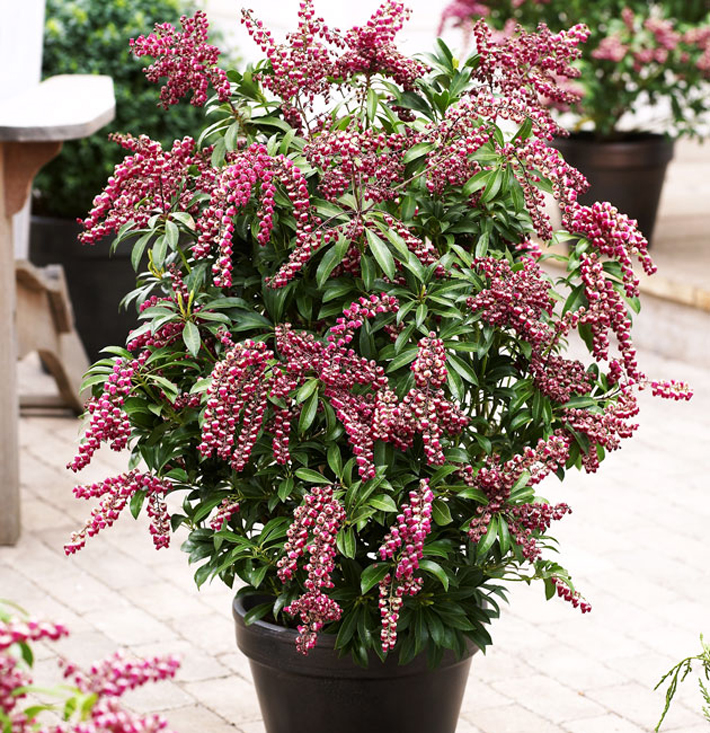 USDA Zones— 5 to 9
Climate— It grows in temperate to subtropical climates. Growing requirements are similar to Azalea, which means it requires acidic soil in order to grow.
"Pieris Japonica" or "Lily of the valley shrub" is a great bush for container gardens. With some attention and care, it can grow up to 2 m tall.
Anisodontea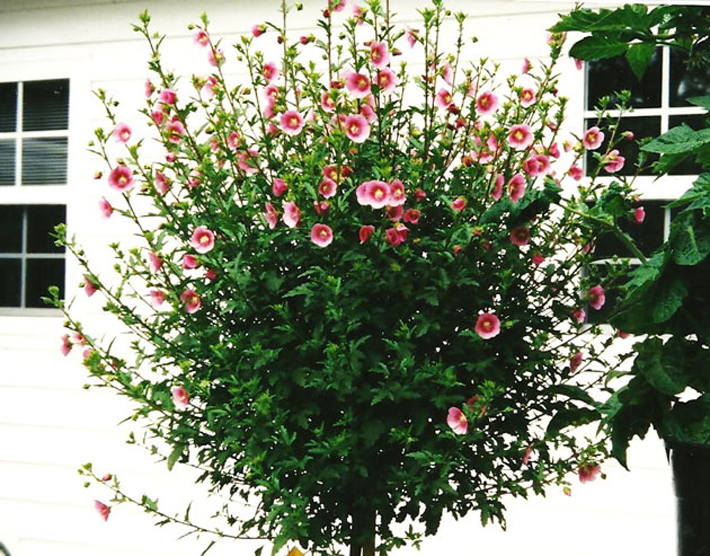 USDA Zones— 9 – 11
Climate— Beautiful shrub, suitable for both warm tropical climate and temperates. In colder regions you can grow it from summer to fall (autumn).
This charming South African shrub grows in full sun and requires dry soil to thrive. A balcony, terrace (roof) or patio facing south or West is perfect for this shrub. It pleases the eyes with its almost continuous flowering.
Aucuba Japonica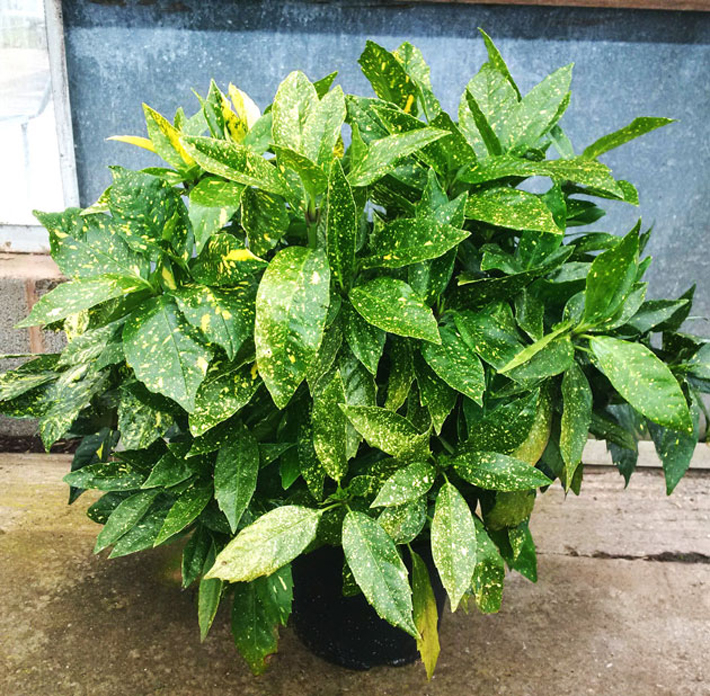 USDA Zones— 7 – 10
Climate— Subtropical and mildly temperate. In colder zones, grow it indoors.
Also called "Gold Dust" due to its speckled foliage. It is one of the best shrubs for containers. You can grow it for its beautiful foliage as its flowers are not as aesthetic. It is a low maintenance perennial plant that can grow up to 2 m (8-10 f) tall.
Azalea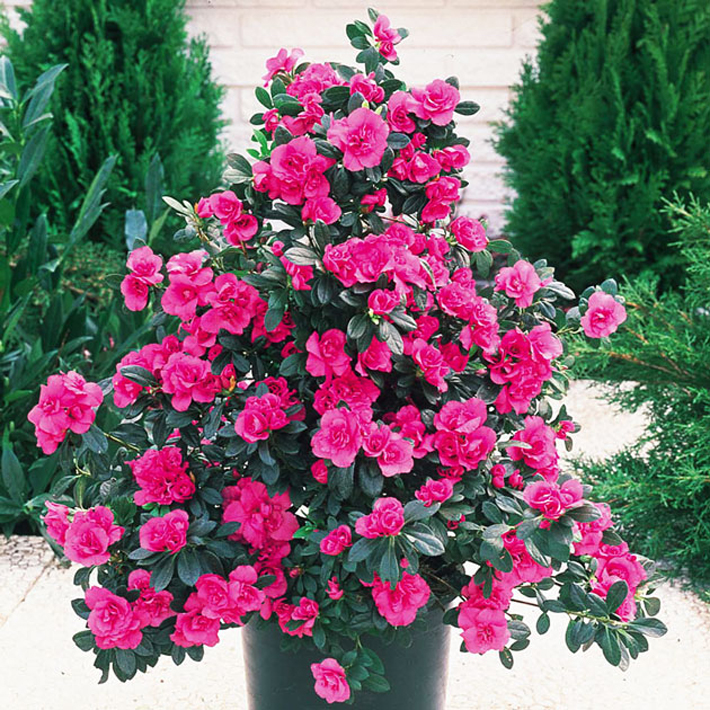 USDA Zones— 4 – 9
Climate— Climate with adequate rainfall and moist summer.
Azalea is definitely one of the most profusely blooming flowering plants. It requires moist soil, partial sun and acidic soil in order to thrive.
Bougainvillea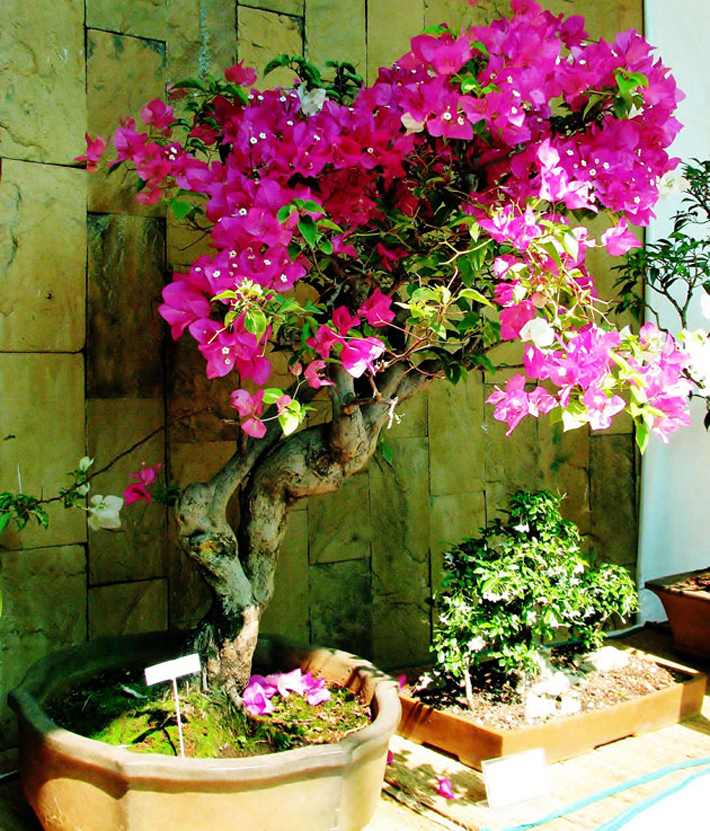 USDA Zones— 9 – 12
Climate— Tropics, subtropics, grow it as a houseplant in colder regions.
This beautiful ever blooming perennial shrub is so vibrant and colorful and almost require no care in tropical and subtropical areas. It requires full sun and dry soil to thrive and it is not susceptible to many pests and diseases.
Brugmansia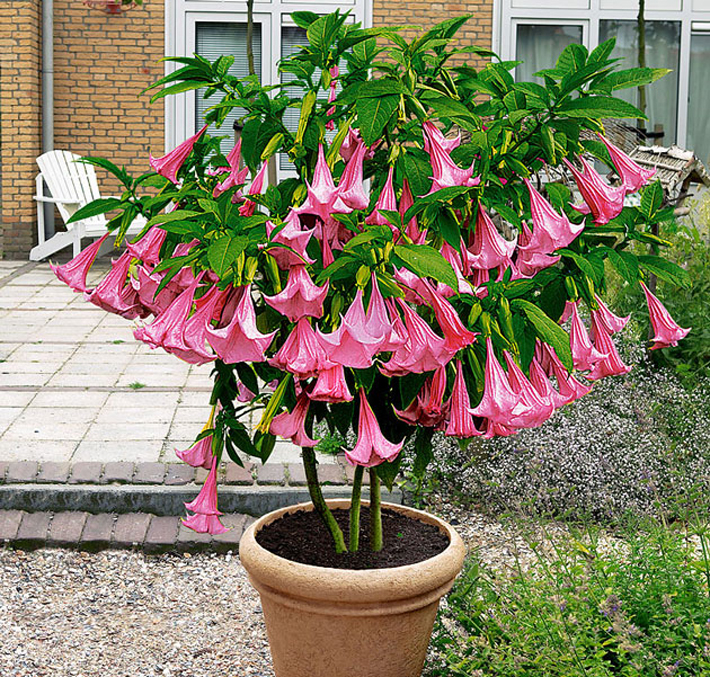 USDA Zones— 9 – 11
Climate— Brugmansia is a tropical evergreen shrub but it is also easy to grow in cold climates. To overwinter it, keep it indoors when the temperature starts to dip down below 50 F (10 C).
Brugmansia flowers smell well in the night and attracts pollinators. Growing Brugmansia in a pot is easy. It is also called "Angel's Trumpet", and it is often confused with datura.
Buddleia (Butterfly Bush)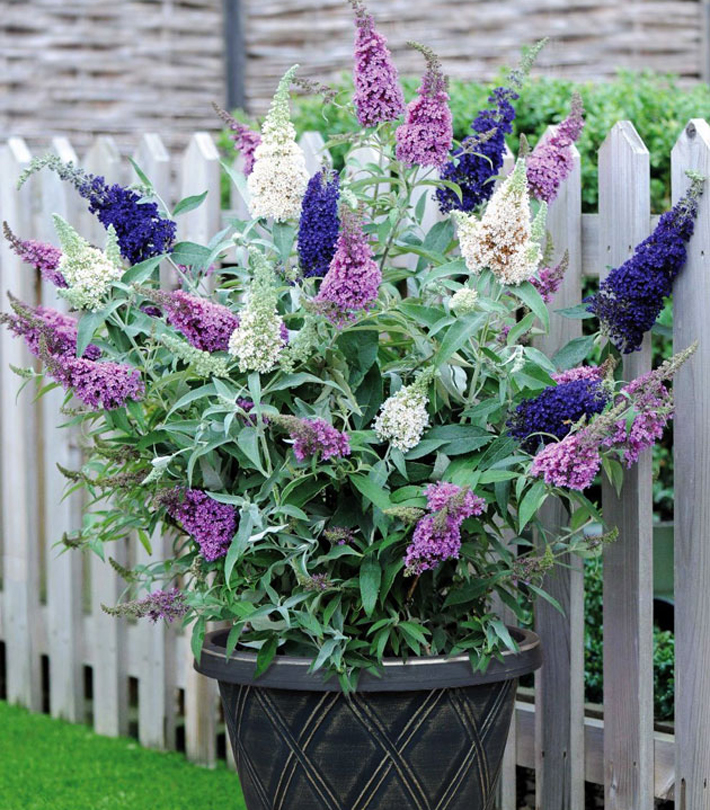 USDA Zones— 5 – 11
Climate— Butterfly bush can be grown in both temperate and tropical zones, wooly butterfly bush grows well in tropics.
More commonly known as the "Butterfly Bush", buddleia offers abundant flowering panicles with white to red through pink to purple or blue colors. Grow a dwarf variety in a large and deep pot. Remember that due to its rapid growth, it requires regular pruning and fertilization.
Boxwood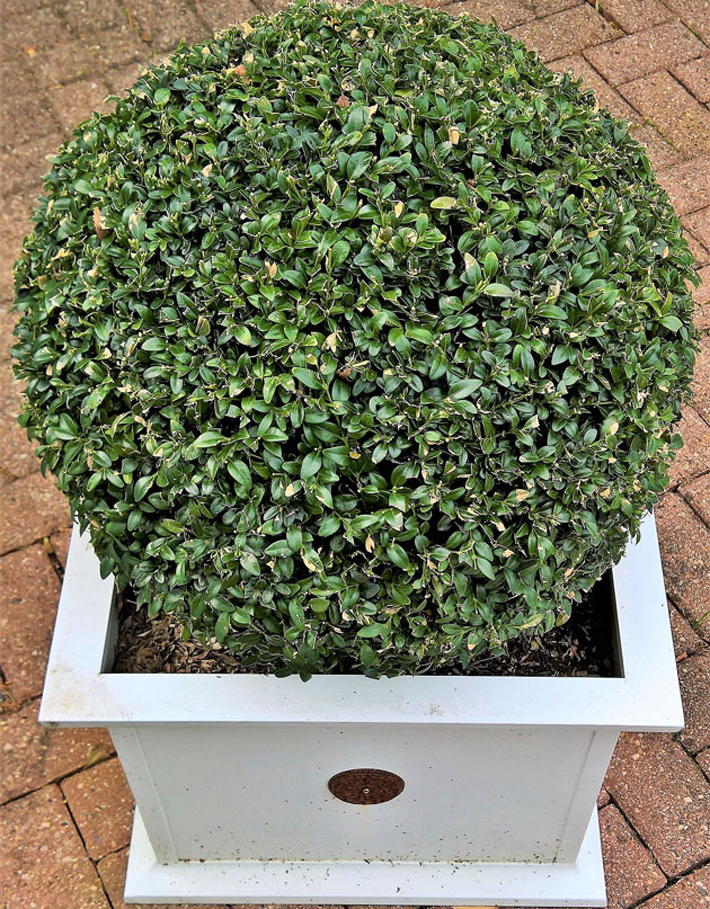 USDA Zones— 5 – 11
Climate— Boxwood is the most versatile shrub, it grows almost everywhere in all the continents.
The most adaptable and easy to grow shrub, boxwood is landscapers' favorite and without a doubt one of the best shrubs for the containers.
Callistemon (Bottlebrush)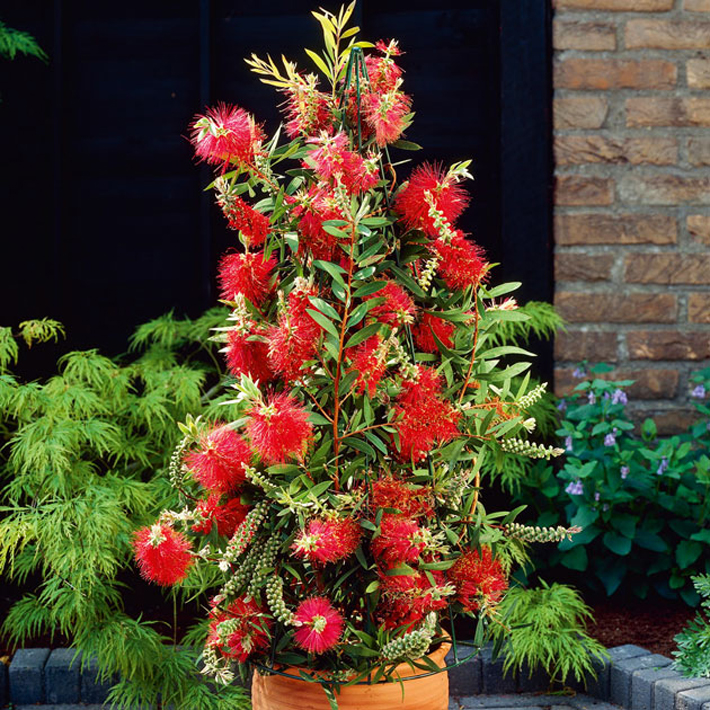 USDA Zones— 8 – 11
Climate— Bottlebrush grows in climates with mild winters, easily in tropics. You can grow bottle brush in cooler zones in the pot but it requires care in winter.
A Beautiful shrub that attracts pollinators and looks exquisite in its bright red blooms, it also comes in other colors like purplish pink, lemon yellow or white.
Camellia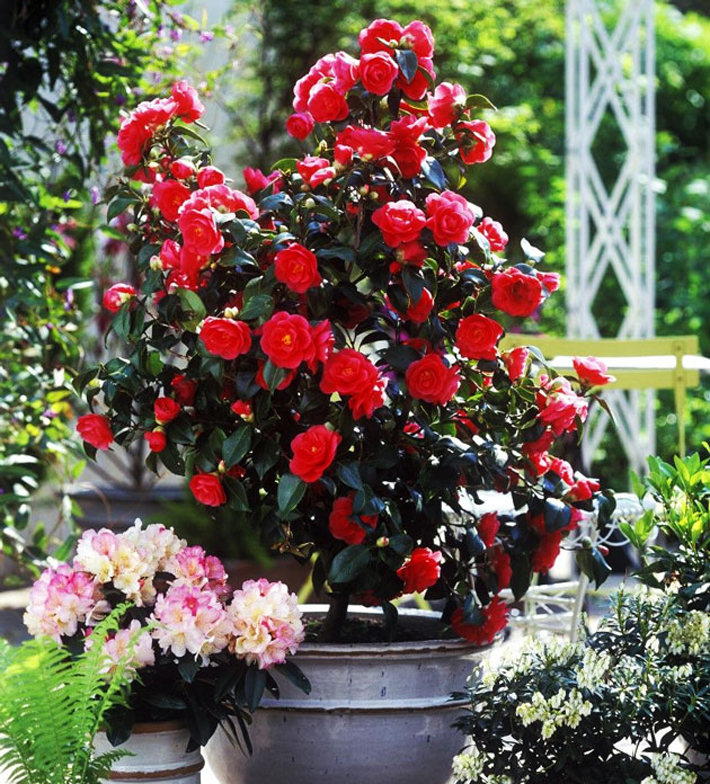 USDA Zones— 6 – 10a
Climate— Camellia grows best in the climates with mild summer. In temperates to subtropics.
It is a beautiful flowering shrub but when grown in pots, it becomes demanding. Camellia requires humus rich acidic soil and regular maintenance.
Lemon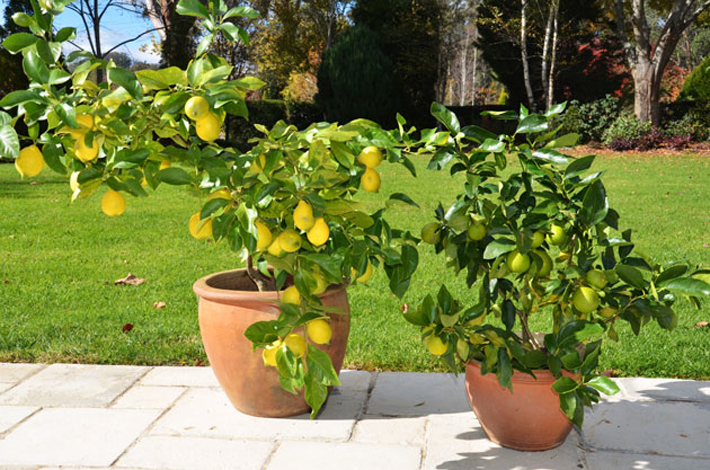 USDA Zones— 10 – 11
Climate— A tropical fruit tree that is not restricted to tropics. Lemons are planted in pots everywhere. If you don't live in a warm climate plant a lemon tree in a pot and keep it indoors in winter.
Choose a sunniest location that is sheltered from drafts.
 

Please follow us on Facebook Page and enjoy our collection of recipes, crafts, fitness, health tips, gardening, DIY and more…
Source:
finegardening.com
balconygardenweb.com