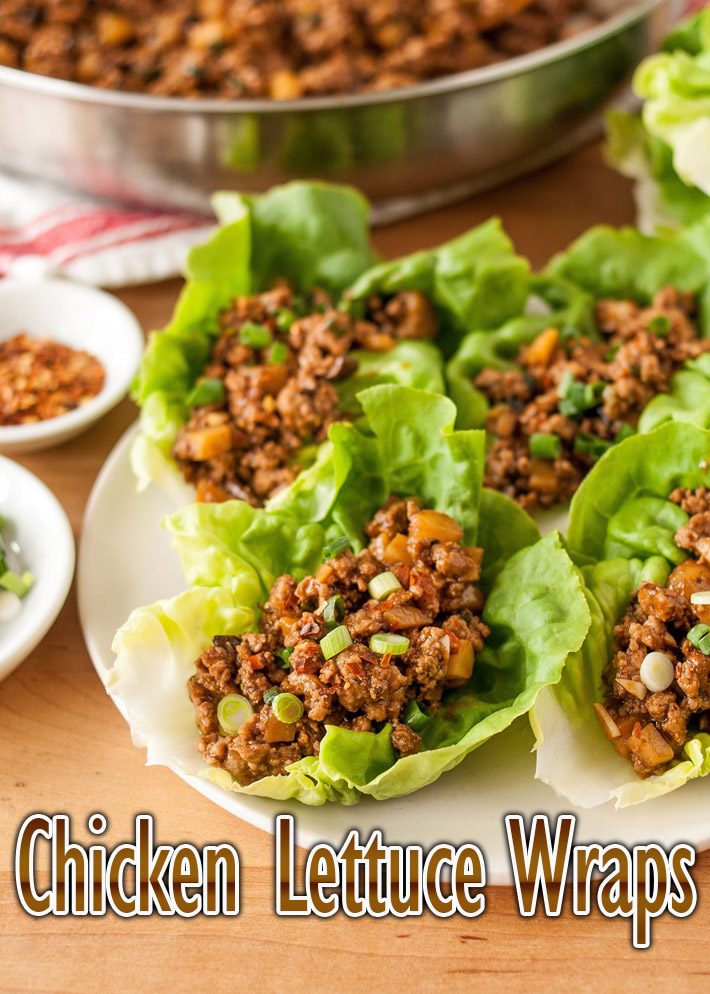 At first sight this Chicken Lettuce Wraps recipe may seem difficult because of the long list of ingredients. But it comes together quickly and once you buy the odd ball ingredients you'll have them for future batches of lettuce wraps or other asian dishes. Sesame oil, soy sauce and rice vinegar are ingredients you will use a lot in other asian recipes.
Ingredients: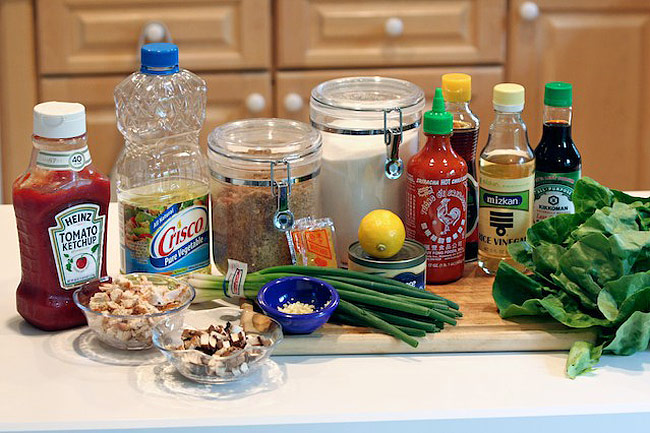 For the Stir Fry:
3 tablespoons vegetable oil
2 boneless skinless chicken breasts; cooked
1 can water chestnuts; drained
2/3 cup mushrooms; diced
3 tablespoons green onion; chopped
2-3 cloves garlic; minced
1 head Boston Bibb lettuce
For the Special Sauce:
¼ cup sugar
½ cup water
2 tablespoons low sodium soy sauce
2 tablespoons rice wine vinegar (we used rice vinegar, not sure if it's the same)
2 tablespoons ketchup
1 tablespoon lemon juice
1/8 teaspoon sesame oil
1 tablespoon hot mustard
1-2 teaspoons hot chili sauce (we used Sriracha brand)
For the Stir Fry Sauce:
2 tablespoons soy sauce
2 tablespoons brown sugar
½ teaspoon rice wine vinegar (we used rice vinegar, not sure if it's the same)
Directions:
In a small bowl, dissolve the sugar in water to make the Special Sauce. Add soy sauce, rice wine vinegar, ketchup, lemon juice, hot mustard, chili sauce, and sesame oil. Mix well and refrigerate until you're ready to serve.
To make the Stir Fry Sauce, mix soy sauce, brown sugar, and rice vinegar in a small bowl.
Bring 2 tablespoons oil to high heat in a wok or large frying pan. Sauté the chicken breasts for 4 to 5 minutes per side, or until done. Remove chicken from the pan and cool. Keep oil in the pan and keep it hot. As chicken cools mince water chestnuts and mushrooms to about the size of small peas. When chicken is cool cut it into small pieces, about the size of the mushrooms and water chestnuts.
With the pan still on high heat, add another tablespoon of oil. Add chicken, garlic, green onion, water chestnuts and mushrooms to the pan. Add the Stir Fry Sauce to the pan and sauté the mixture for a couple minutes then serve it in the lettuce cups. Top with Special Sauce or use it as a dipping sauce.
Add in the stir fry sauce
Serve on Bibb Lettuce with dipping sauce. It makes a great presentation
Source: livelovepasta.com