Chocolate Coconut Bonbons Recipe
This Chocolate Coconut Bonbons recipe makes about 28 Chocolate Coconut Bonbons using 1½ teaspoon of filling per bonbon. Use a smaller measuring spoon if you want smaller bonbons or a larger one if you prefer giant bonbons.
This recipe may also be completed in stages. The filling may be made up to a day ahead. The frozen balls may stay in the freezer longer than 30 minutes (just be sure to wrap them well) before dunking into the melted chocolate.
Ingredients:
2-2/3 cups (7 ounces) sweetened flaked coconut
½ cup sweetened condensed milk
⅔ cup confectioners sugar
¼ cup sliced almonds, chopped
2 tablespoons unsalted butter, room temperature
¼ teaspoon vanilla extract
12 ounces semisweet chocolate chips, melted
Instructions:
For the filling:
Mix the first 6 ingredients together in a mixing bowl on low speed for 30 seconds, then increase speed to medium high and mix for 1 minute. Transfer to a small bowl and cover with plastic wrap. Refrigerate for 1½ hours.
Wrap a baking sheet with aluminum foil or parchment paper. Use a small cookie scoop (1½ teaspoons) to scoop the coconut mixture out and shape into balls. Place in the freezer for 30 minutes.
For the topping:
Wrap a second baking sheet with aluminum foil or parchment paper. Set aside.
Melt the chocolate chips. Dunk the coconut balls into the melted chocolate and use two forks to lift the bonbons out of the chocolate and drip the excess chocolate off. Transfer to the clean foil or parchment lined baking sheet. Repeat until all of the bonbons are done.
Use the tines of a fork to drizzle the remaining melted chocolate over the bonbons for a decorative flair. Refrigerate until set.
Store in the refrigerator or freezer.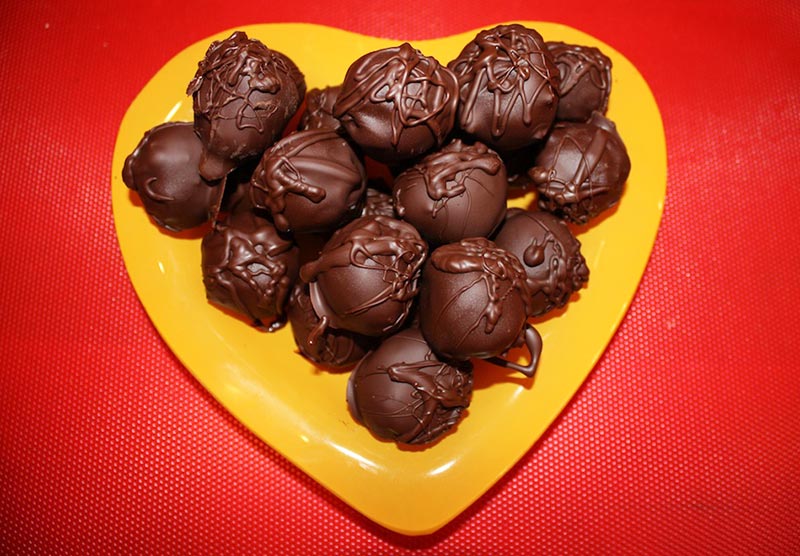 Source dessertsrequired.com