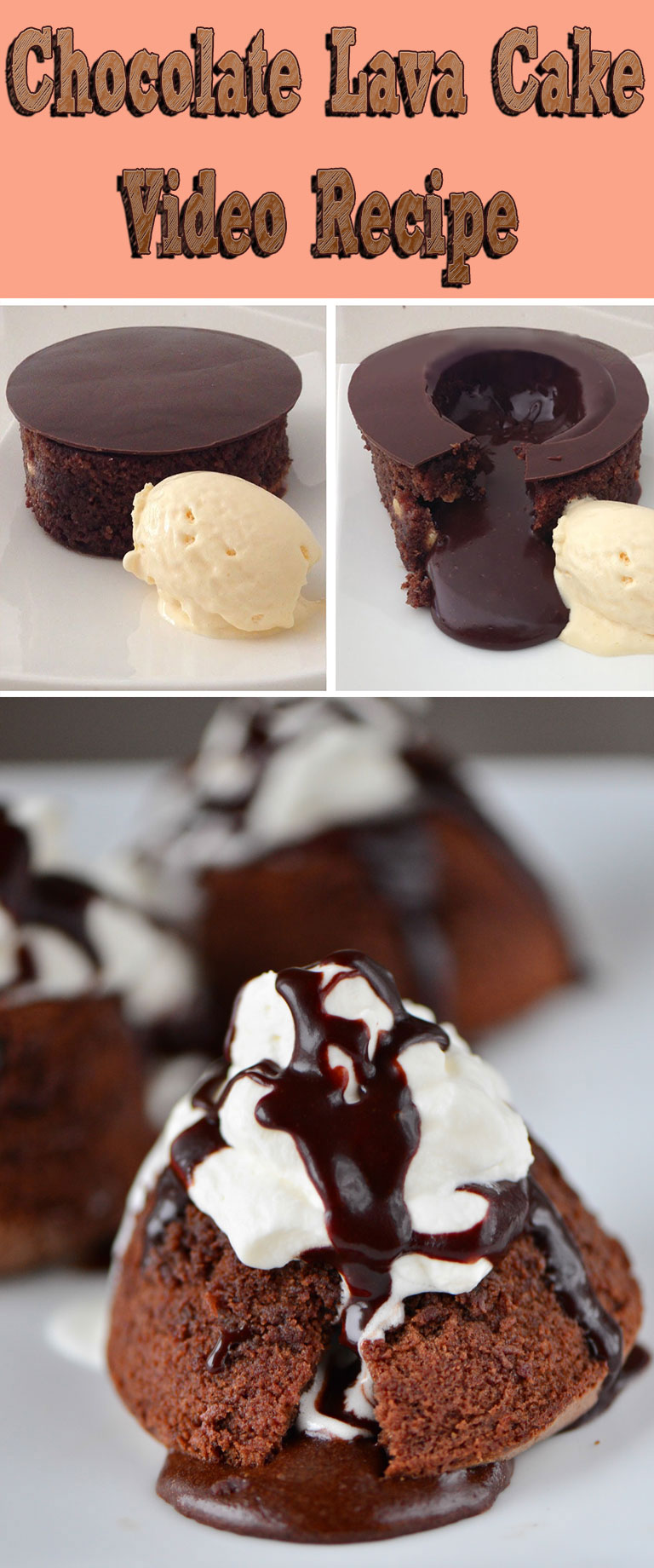 Step 1: Serve the Chocolate Lava Cake to the guests at the table.
Step 2: add some hot chocolate sauce.
Step 3: The sauce magically drops down into the middle of the dessert.
Step 4: Take a spoonful and chocolate ganache oozes out of the centre like molten lava onto the cold plate.
Chocolate Lava Cake Recipe
Ingredients:
Chocolate Discs
140g (4.94 ounces) tempered chocolate
Chocolate Brownie Base
300g (10.58 ounces) or 1 1/3 cups plus 2 tspns butter or margarine
6 eggs
3 cups or 654g (23.07 ounces) sugar
1 tsp vanilla essence
dash of marsala (optional)
3/4 cup or 90g (3.17 ounces) cocoa powder
2 1/4 cups or 360g (12.7 ounces) plain flour
3 tsp baking powder (optional – you can add nuts, dried fruit or chocolate chips)
Instructions:
Line a baking tin 26cm (10.24 inches) x 38cm (14.96 inches) with baking paper, if your tin is not deep use the baking paper to make a wall around the edge and staple into place. This prevents it overflowing in the oven.
Melt butter in the microwave, beat in sugar, eggs, cocoa, flour and baking powder until just combined.
Add the vanilla and marsala, pour into baking tray and sprinkle with chopped chocolate or nuts.
Bake at 356°F (180 degrees Celsius) (or 180°C (356 degrees Fahrenheit)) until a knife inserted into the centre comes out clean




Ganache
200g (7.05 ounces) milk chocolate
80g (2.82 ounces) dark chocolate
100millilitres (3.38 fluid ounces) cream (if you can't get hold of cream you can use milk but use slightly less)
Place chocolate pieces in a bowl, melt the chocolate (if using a microwave be careful not to burn it, do 30 seconds, stir, 20 seconds, stir, 10 secs stir then 10 secs until melted). Then pour in your cream and keep stirring until it comes together to make a nice smooth ganache. Make sure your ganache is warm when you place it on the dessert.
Source: howtocookthat.net