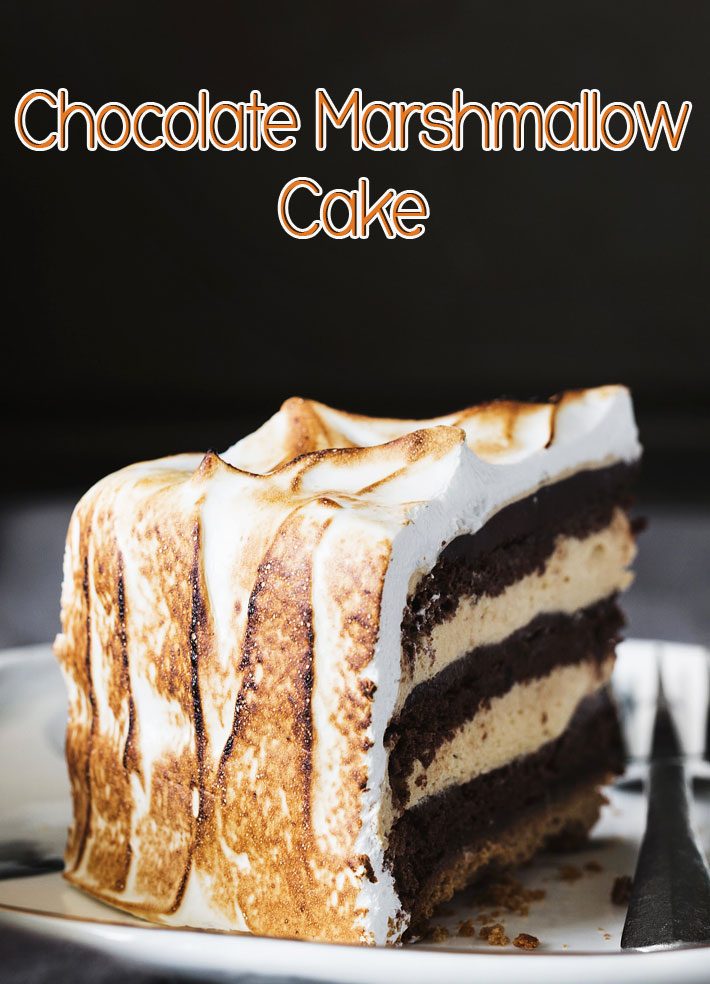 Layers of malted chocolate ganache give a rich, textural crunch to this Chocolate Marshmallow Cake. This Chocolate Cake with Marshmallow Frosting is an utterly blissful cake that will make your taste buds sing! It's the perfect treat for any occasion!
INGREDIENTS
Nonstick cooking spray
1 cup (2 sticks) unsalted butter, room temperature
2 1/3 cups plus 3 tablespoons superfine sugar
1 1/4 cups extra-dark cocoa powder, sifted
2 large eggs, room temperature
1 large egg yolk
1 1/3 cup plus 4 teaspoons all-purpose flour
1 1/2 cup plus 4 teaspoons cake flour (not self-rising)
1 tablespoon plus 1/4 teaspoon coarse salt
2 1/4 teaspoons baking powder
2 teaspoons baking soda
2 cups boiling water
1/2 cup canola or sunflower oil
Marshmallow Frosting
Malted Chocolate Ganache
For Malted Chocolate Ganache
INGREDIENTS
1 cup heavy cream
3/4 cup malted milk powder
1 cup chopped milk chocolate
1 1/2 cups chopped dark chocolate
DIRECTIONS
In a small saucepan whisk together heavy cream and malted milk powder; bring to a boil over medium-high heat.
Place both chocolates in a medium heatproof bowl. Pour boiling cream over chocolate and let stand until melted, about 1 minute. Using an immersion blender, blend until smooth. Let stand at least 6 hours and up to overnight before using.
For Marshmallow Frosting
INGREDIENTS
1/2 cup unsalted butter softened
1 1/4 cups powdered sugar
1/2 teaspoon pure vanilla extract
1 tablespoon milk
1 7 oz container marshmallow creme/marshmallow fluff
DIRECTIONS
With a hand mixer or stand mixer, beat the butter and powdered sugar until creamy and combined, about one minute. Add vanilla extract and milk, and beat for another minute. Add the marshmallow creme and beat until completely combined, about one additional minute.
Place one layer of cake on a serving platter and spread with half of the marshmallow frosting, leaving a 1/4 to 1/2 inch border around the outside (so the frosting won't spill out the sides). Place another layer of cake on top, and spread with the remaining marshmallow frosting, leaving a 1/4 to 1/2 inch border around the outside. Place the third layer of cake on top of that, and transfer the cake to the refrigerator while you prepare the chocolate ganache.
DIRECTIONS
Preheat oven to 325 degrees. Spray two 9-inch round cake pans with nonstick cooking spray. Line bottom of each pan with a parchment paper round and spray again; set aside.
In the bowl of an electric mixer fitted with paddle attachment, cream together butter and sugar on medium speed until light and fluffy, 5 to 8 minutes. Add cocoa powder and beat until combined, 3 to 5 minutes more, scraping down the sides as necessary.
In a small bowl, whisk together eggs and egg yolk. With the mixer on low, slowly add eggs, mixing until smooth and well combined, scraping down sides of the bowl as necessary.
In a large bowl, sift together both flours, salt, baking powder, and baking soda. Add to butter mixture and mix on low speed until combined.
In a medium bowl, mix together boiling water and oil. With the mixer on low, slowly add water mixture and mix until combined. Divide mixture evenly between prepared cake pans. Transfer to oven and bake until a cake tester inserted into the center comes out clean, 35 to 40 minutes.
Transfer cakes to wire racks; let cool completely, at least 2 hours. Unmold cakes and remove parchment paper. Using a serrated knife, trim tops of cakes to make level, then cut each cake in half horizontally. Place four strips of parchment paper around perimeter of a serving plate or lazy Susan. Place the bottom side of one bottom half on the cake plate. Evenly spread top with one-third of the ganache. Repeat process twice with top halves of each cake and top with the remaining bottom half of cake bottom-side up. You should have three layers of ganache and four layers of cake.
Transfer marshmallow frosting to a pastry bag fitted with a plain 5/8-inch round tip (such as Ateco #808). Pipe frosting over cake to cover; evenly spread using an offset spatula. Using a kitchen torch, toast frosting until lightly browned.