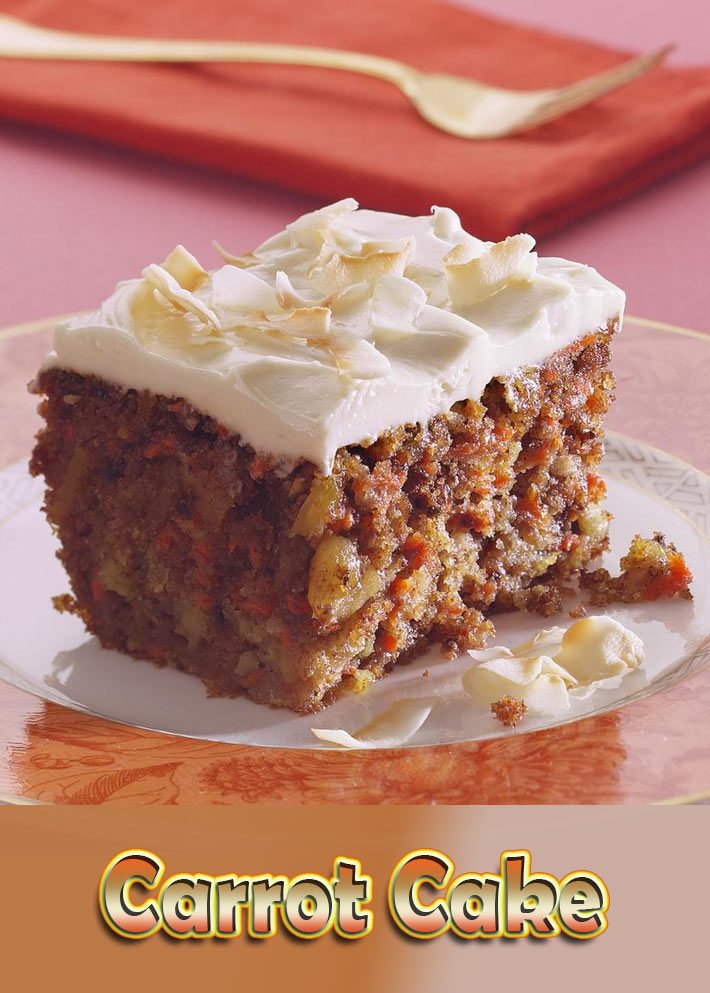 Carrot Cake Recipe
Love carrot cake, or is it the cream cheese frosting? This moist cake also has nuts, pineapple and coconut. If you don't like pineapple or coconut, you can leave it out. Nothing beats a classic carrot cake – this one has a touch of cinnamon and walnuts. …
Ingredients
Cake
1 1/2 cups granulated sugar
1 cup vegetable oil
3 eggs
2 cups Gold Medal™ white whole wheat flour
2 teaspoons ground cinnamon
1 teaspoon baking soda
1 teaspoon vanilla
1/2 teaspoon salt
3 cups shredded carrots (5 medium)
1 can (8 oz) crushed pineapple in juice, drained (1/2 cup)
1 cup chopped walnuts or pecans, finely chopped
1/2 cup coconut
Cream Cheese Frosting
1 package (8 oz) cream cheese, softened
1/4 cup butter or margarine, softened
2 to 3 teaspoons milk
4 cups powdered sugar
Directions
Heat oven to 350°F. Grease bottom and sides of 13×9-inch pan or 2 (8- or 9-inch) round cake pans with shortening; lightly flour.
In large bowl, beat granulated sugar, oil and eggs with electric mixer on low speed about 30 seconds or until blended. Add flour, cinnamon, baking soda, vanilla and salt; beat on medium speed 1 minute. Stir in carrots, pineapple, nuts and coconut (batter will be thick). Pour into pan(s).
Bake 13×9-inch pan 40 to 45 minutes, round pans 30 to 35 minutes, or until toothpick inserted in center comes out clean. Cool rectangle in pan on cooling rack. Cool rounds 10 minutes; remove from pans to cooling rack. Cool completely, about 1 hour.
Meanwhile, make Cream Cheese Frosting. In medium bowl, beat cream cheese, butter and milk with electric mixer on low speed until smooth. Gradually beat in powdered sugar, 1 cup at a time, until smooth and spreadable.
Frost 13×9-inch cake or fill and frost round layers with frosting. Store covered in refrigerator.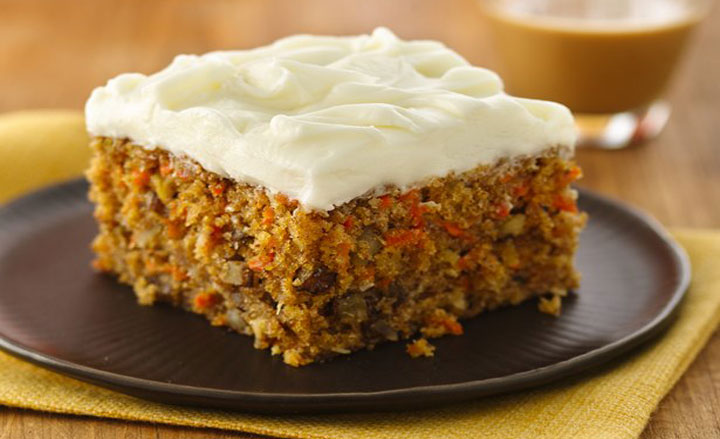 Source : bettycrocker.com